<Pictures are clickable if you have any desire to see us in HI RES! I was too lazy to reduce the sizes since there are sooooo many pictures>
Never has there ever assembled the largest amount of Captain Jack Sparrows in one location especially at Disneyland. Good men! Good pirates!
We all descended upon the park at varying times but when we saw one another we knew one reason why we were present. Captain Jack Sparrow Day at the Park.
My day started out at 11:00am gearing up. I was sporting the new On Stranger Tides look after a grueling month of late nights finishing up that blasted wig! But in the end it was well worth the effort.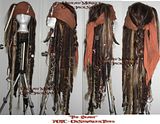 These two costumes have consumed me since January 01, 2010!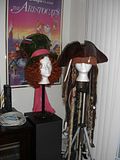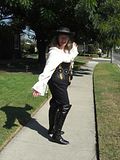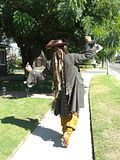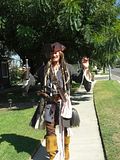 We arrived at the park around 2:00PM and started our descent upon the masses. The looks, the stares, the comments, the accolades, and the confusion. Mostly people wondering how did Captain Jack Sparrow, Angelica Teach, and mini-Jack Sparrow manage to enter the park fully dressed during normal operating hours!!! My friends Scarlett and Elizabeth Swann had not arrived yet so my wifey's Angelica waistcoat was enroute!
We had to remind the entrance people that the "unwritten rule of costumes" was truly in effect. This was about the type of stares we were getting!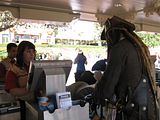 Finally met up with my Scarlett but she was not quite dressed yet. So infront of the Gallery area we cinched up my Scarlett. Albeit Captain Jack is more used to the corset coming off than he is putting it back on his "strumpet!" This is my friend my "seamistress" because she does great costuming work! She made her Scarlett and my wifey's waistcoat. She is currently working on Winnifred and will be making Angelica's frock coat before the premiere!
Some character pictures and a tour around the park on the train (as per the request of the little one)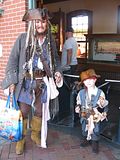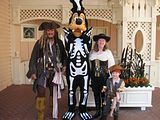 Now the good Captain's started arriving. It is fun when you meet your fellow Captains in person having known each other online for over three years!!! Also other friends start arriving but they are Prince and Princesses!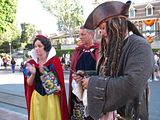 So where is the first place you go when you are dressed as a pirate and in Disneyland? Well not really the first but you know what I mean...YES Pirates Lair!!!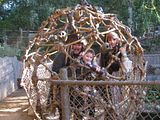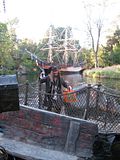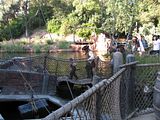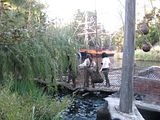 Now the real place you go when you are in Disneyland dressed as a bloody pirate! POTC ride! The stares were unmanageable borderline uncomfortable (hahahahaha!)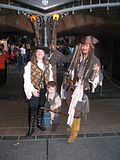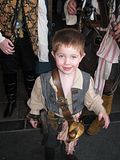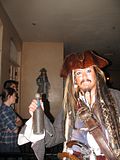 We heard the parks Jack was in town so we thought we would go commandeer (nautical term) the good Sailing ship Columbia. We had to because it is a very piratie thing to do and we had been kicked off Pirates Lair! Alas the ship wasn't sailing and Jack wasn't present yet! So we had to settle for that other pirate and his friends!
Also more Jacks were arriving and we had to take advantage of the pirate props!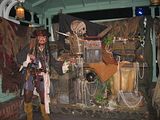 Meanwhile across the park in DTD our other Captain Jacks were assembling. Not my pics but ganked from their links!
These boots are made for walking!
It's not easy to get all of us in one location but we eventually found one another outside New Orleans Square. Fifteen Captain Jack Sparrows descending upon New Orleans was a sight to see! Alot of confusion by people around us. We immediately went to the Haunted Mansion. Most people didn't know why we were in line or why we were present. I shouted out we were attendees of the First Annual Captain Jack Sparrow Convention over at the Anaheim Convention Center. People bought it but a few Cast Members said, "Don't listen to him...he is only joking!"
More ganked photos from me mates!
Night fell upon the park and we were in full assembly. Now it was time to hit up the parks Captain Jack! But we were still spread out through the park so we made due with what we had!
Taking a break from piracy! We tried our darnedest to get all of us into the parade but no one would have us. Supposedly costumed guests were to walk in the parade but we didn't see any. Only a family as the Grand Marshall. I don't know what happened to the guest participation as stated for this parade.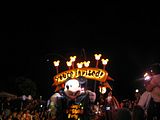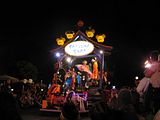 I didn't get any pictures of our group but the second group definitely made it finally to the POTC ride!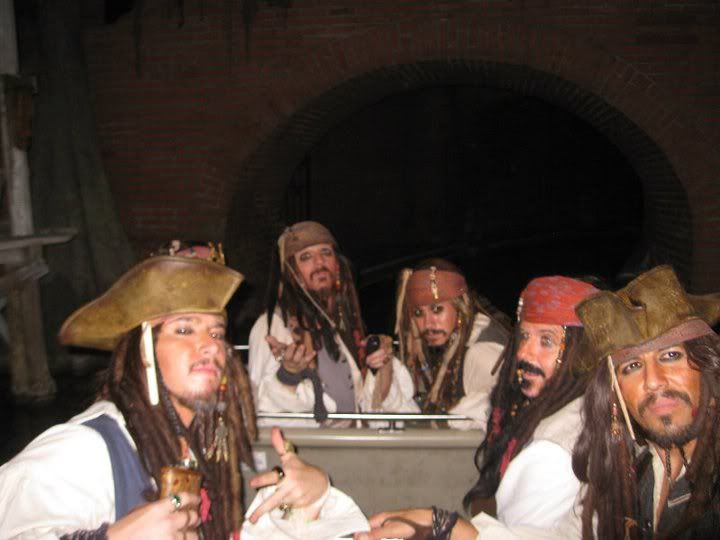 Pony rides! The second time I rode side saddle because I saw Mary and Cindy doing the same thing. Wish I had pics!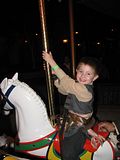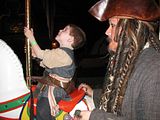 This family had to have been the best "group" costume in all the park. To the annoyance of other guests we saw them earlier lined up in Alice ride. I sang out "Who's the leader of the pirates that's made for you and me!" But they didn't finish it off with J-A-C-K S-P-A-R-R-O-W instead they used some mouse!" Buggah! I had to get a picture with them and they were pretty responsive to the same!
With less than two hours to go we decided it was time to ride another "sea going" ride and commandeered a log! We rode it four times without even getting off. My response was "We seem to have sprung a leak!"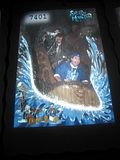 Winding down for the evening!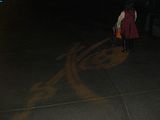 Play misty for me! The mist effects were great coming off of the Rivers Of America! Very At World's End like!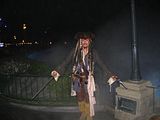 Parting shots with fellow Jacks!
My Angelica Teach and close up of my friends handy work on the waistcoat! Nine months before the premiere and we are already costume ready!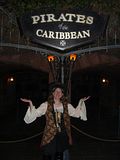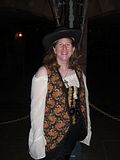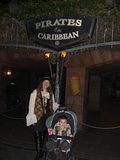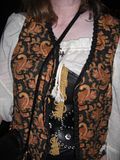 About how we felt after walking around in pirate boots since 2:00pm!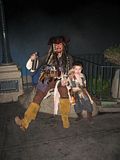 All in all a great time had by all!
Never have so many Captain Jacks descended upon one location! Good men! Good pirates, savvy?