**so guess what me and Thia learned, kids?
you can't bring duct tape into Disneyland.
no no no, we brought it in case our costumes fell apart, why would you EVER think we brought it to kidnap Naveen and Aladdin *cough* ;D
***
GOSH IT'S BEEN FOREVER SINCE I'VE BEEN ON. but i remember doing a trip report for last year for this event, so here goes nothing. XD
for starters HELLO MY NAME IS VIDIA [yeah like the somewhat evil fairy XD] bonjour nice to meet you cream stew!!!! i also go by Vi. 8D my sister's name is Thia. we are cos-partners in crime.
For Mickey's Trick or Treat Party, originally, i was going to be Femme Buzz, as i was for Anime Expo--
but with the wings and hoop skirts and all...yeahh, not a good idea. XD so i opted to do Bo Peep, who would also match Thia's Femme Woody<3 gosh though, this costume...I HAD LIKE NO TIME TO DO IT BECAUSE OF SATS TT__TT the sheep was done last minute too and in general the stitching was weaker than i usually do it because i like my stuff to be STRONG RAH. SURVIVE THE STORM.
so on 10/15 after school we got ready, and took a few pics in the natural daylight.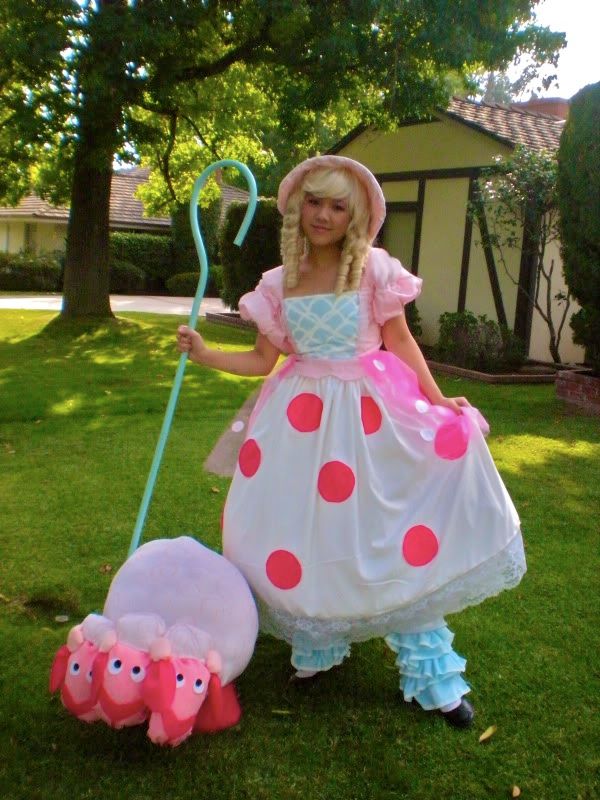 YOU''VEEE GOTTT A COS-PARTNERRR IN MEEE.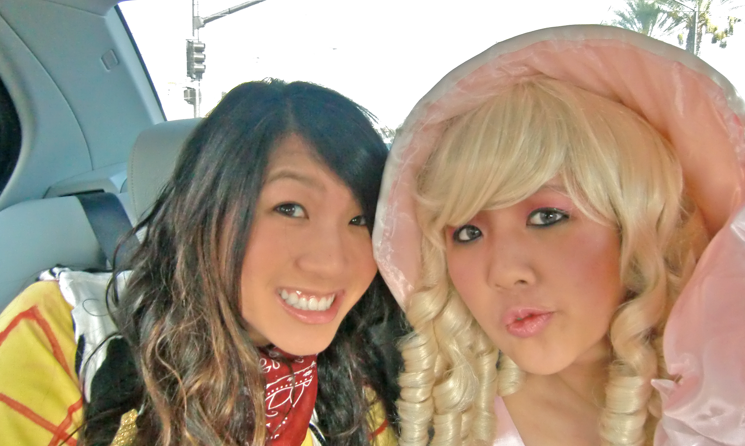 sooo! we got ready and headed off to the car where we were slapped in the face with traffic >_> watched some vids on sis's phone for a while and eventually, WE GOT THERE.
we got soo many stares and so many "aw"'s and "cute"s! O_O i was surprised! people really liked my sheep, which made me so happy because i did work hard on that boy XD given the amount of time i had to make him...them >_>
we tried to figure out where to eat and i wasn't too hungry so i just settled for some BEIGNETS and an icee XD with Thia getting a taco. BEIGNETSSS!!!!<3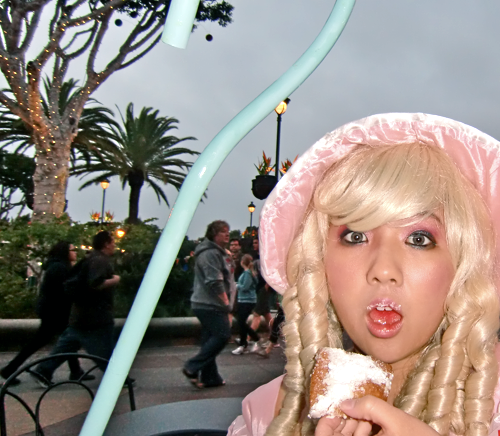 a lot of people took our pictures, some of them without asking LOL which didn't really bother me but i was like WHOA WHAT when that happened X_X. some people thought we worked there too, haha. BUT THE CUTEST THING EVER WAS THIS LITTLE BOY. he approached us as Thia was munching on her taco and i was all salivating and ready to eat my beignet and asked "would you mind if i took a picture?" and we were like of course! 8D *wipes mouth gets up etc*
he took the picture, and then GAH SO CUTE HE WAS LIKE "Another? =D" and we were like SURE!! and he took another one, then thanked us and went back to his table<333
later his mom approached us and was like "oh, thank you so much for letting him take your picture! he was so shy, we had to encourage him!" and we were all like "awww no, we were so flattered, etc. he's so cute XD" and she was like "it's really refreshing to see young girls dress up in costumes that aren't inappropriate" and i talked about how i didn't like the short princess dresses [YO IT'S NOT ACCURATE D<. unless you make it really cool in your own way. some of them though i'm just like BLEH] and then the boy joined us and was like THEY MADE ME TAKE YOUR PICTURE! *points at family*
and the mom was like "oh, um, i already told them that you wanted it"
and he was all bashful<3 ;w; SOO CUTE.
after that, we headed over to the park, but we saw him running around with his mom, spreading happiness everywhere. O_O THEN HE TRIPPED. and me and Thia were like OMGOSH ARE YOU OKAY but then he just grinned and laughed it off ;w; MY HEART. IT HAS BEEN STOLEN.
then we entered the park. but not before taking a picture with a giant letter. we chose C. for convenience. because we could sit. XD LOL.
we got into the park, and then this guy was like WHOA your costumes are amazing! and complimenting us on them, and, flattered, we talked. and then he was like "YOU GUYS WERE AT ANIME EXPO, RIGHT? As Ariel and Eric!"
and i was like HOLYYYY MOLY HOW DID HE RECOGNIZE US D8 i would understand Buzz and Woody because Thia was the same. but...HE RECOGNIZED US FROM ARIEL AND ERIC. and i was like WHOAA and then i realized that TRACI HINES WAS WITH HIM [JIMMY]. i don't know how i didn't see her earlier. XD IT WAS VERY DARK!!!
and i was like OMGOSSHHHHH IT'S TRACI *O* ! i took a picture with her at AX last year so i was like OH THAT'S HOW THEY HAD MY PICTURE. we chatted with them for a while, introduced ourselves, GOSH they were so sweet, they really liked our costumes and i was, yup, you guessed it, super flattered. oh, and we talked about Flynn and Rapunzel too XD. Traci said Flynn was hot XD!!! unfortunately though, they closed the meet 'n greet for the Halloween thing DARN IT D<.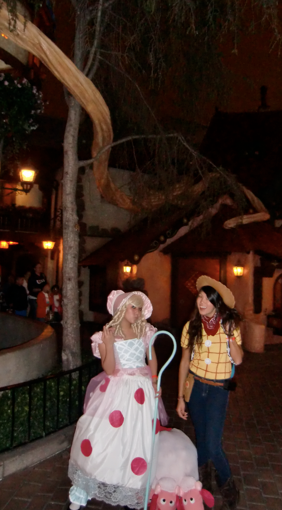 WHY ARE YOU CLOSED, TANGLED MEET 'N GREET PLACE ;w;
so the first villains we saw were...the Tremaines!!! =D
Drizella pointed out that my hair is just like Anastasia's, but blonde. XD WHICH IS FUNNY. because i planned on doing an Anastasia cosplay before and this was the exact wig i wanted, but in red, of course XD HAHAHA.
then then next villain was RADCLIFFE. and i got my favorite picture.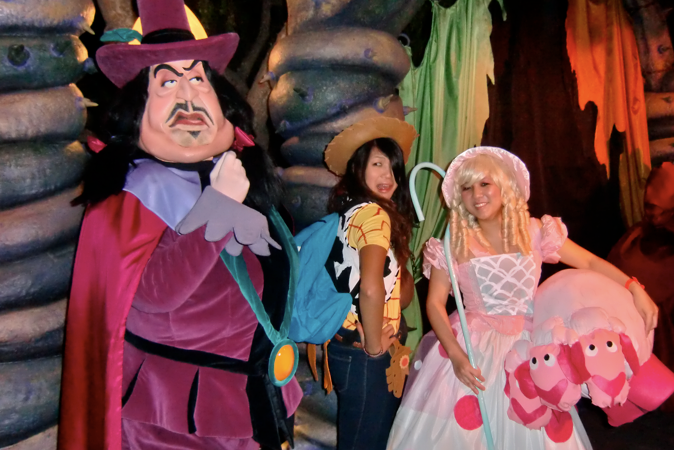 gosh. just look at Thia's face. TERROR. terror in her eyes, her everywhere. XD he really scared her. and he took advantage of it, clapping and stomping and whirling around at her. she hates things in masks. XD
after that i was like WE MUST. SEE WOODY. and Thia was insulted that she wasn't good enough, and insisted that he had plastic surgery done to him. XD
when we got there, there was Jessie, so we waited off to the side for Woody [made me feel kinda bad though like OH YOU'RE NOT GOOD ENOUGH >_> SORRY JESSIE<3.] and while waiting, GUESSS WHO WE SAWWW.
FAVORITE COUPLE COSPLAY OF THE NIGHT. they were very cute and friendly and HOLY MOLEY KEN'S SHOES LOOKED REALLY LIKE PLASTIC GAH I SHOULD HAVE TAKEN A PICTURE OF THEM BUT THAT WOULD HAVE BEEN WEIRD >_>
and then we met Woody, my love.<333 the cast member was all like LOOK IT'S YOUR GIRLFRIEND XD LOL.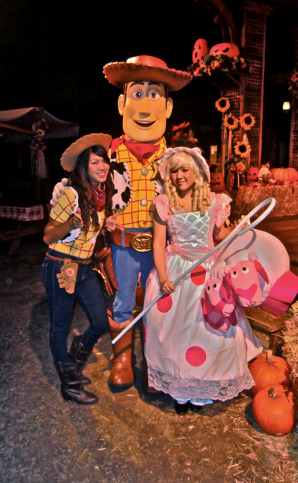 and i couldn't resist--i
asked for a couples shot XD
don't worry Thia, i'm still hooked on you 8D HAHAHHAHAHAHAH. and my friend Rune pointed out that the moon is whispering sweet nothings into my ear XDDDD
OHOHOHOOH LOOK WHO WE SAW.
probably one of the most lively characters we saw that night. XD Aladdin really liked our costumes and when he found out we made them, he was all like Wow! Jasmine wants to get me new clothes too, could you make them for me? I've had these clothes for a long time, but I got the patch restitched. and we said we would make him a bedazzled Prince Ali outfit XD
FAIRIES NEXT. but while waiting in line we met this really friendly cast members XDDD who loved the sheep and the crook. then one of them took my crook and said this joke--
two pretzels were walking down the street.
*grabs other guy with crook* one was assaulted.
XD [do you get it? Thia didn't. I DID, BEING TEH PUNNY FEWL]
SOO FUNNY. XD
OH MY GEYSERS. SIL!!<33 FINALLY. now i just have to meet Rosetta and Vidia! XD SHE WAS SO CUTE OMGOSH GAH *dead* Thia declared her love for her, that she was her favorite fairy, and she said we were her favorite of the night!!!<333 YAYYY!! and she asked us our names LOL and said that i seem a lot nicer than fairy Vidia, and then askedd for the names of the sheep, which we kinda on the spot named Pinky, Dinky, and Rinky >_> LOL.
my crook fell apart when i saw Tink because the thing is like detachable because i made it so you can take it apart and put it in your backpack or something and she offered to let me use her glue. she said we were tinker fairies since we tinkered our costumes XD
then it was off to see the princesses! in line, two little girls were obsessed with my sheep, one of them dressed as Rapunzel, the other one speaking little English and dressed as Piglet XD so adorable!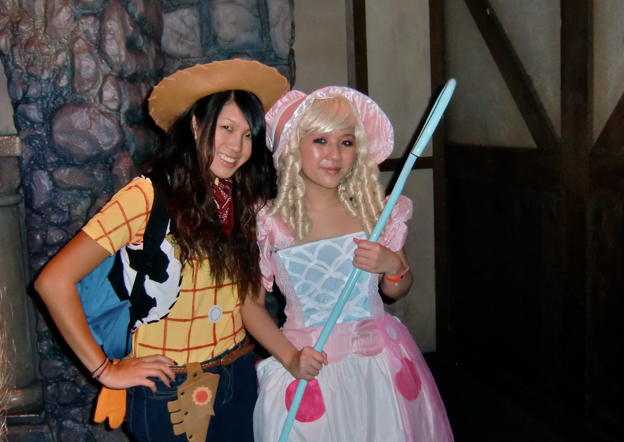 then we met Tia, Cindy, and Snow, all very sweet girls.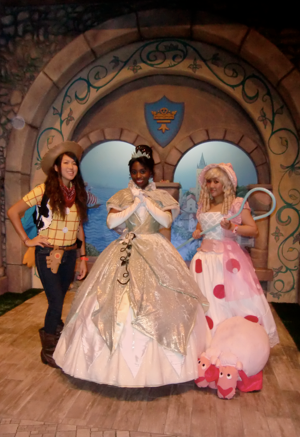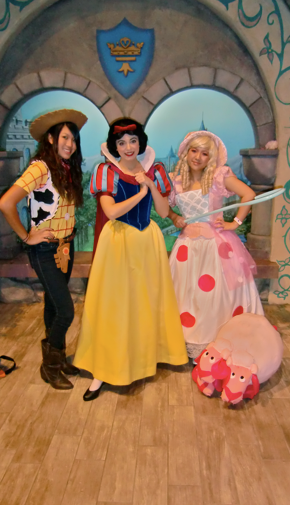 GAHH. we got so few candy. though i loooove me chocolate, the lines were just too long and i wanted to go on rides and talk to characters. XD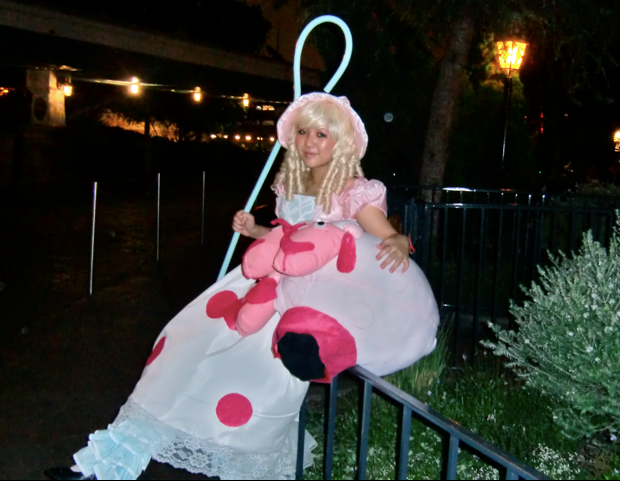 MY ARMS ARE ON FIRE TODAY, from carrying sheep around for seven hours >_>
extras:
FIRST OF ALL I'D LIKE TO THANK THE CAST MEMBERS OF THAT NIGHT AGAIN [although they won't be reading it XD] not just the face/fur charries, yanno, the people who talk to you in line. these guys at the Mattahorn were really sweet about holding my sheep and crook for me when i went on the ride, and when we went on again, they said WE MISSED YOU BO PEEP. ;w; i was so touched!<3 and they rode the Mattahorn themselves and waved to us XDD.
there was also this man and woman [named Amber. i remember that LOL] who worked at the Toy Story meet 'n greet place who were really nice and let us stand off to the side and all =3 GOSH they were awesome. i just can't even...I LOVE YOU CAST MEMBERSSSS<3 those assaulted guys at Pixie Hollow were adorable too. XD
also, RIDES. we went on a lot. i didn't really mention them because there were only like three noteworthy experiences.
1. Thunder Mountain. BECAUSE. I SAW. FRIENDLY COSPLAYERS. FROM ANIME EXPO. Marissa, Roxie, and DARLING I NEED TO KNOW YOUR NAME BUT YOUR COSPLAY ACCOUNT IS MUSICALPENCIL >_> .
[
Anime expo 2010- 26 by ~naruto0987 on deviantART
in this picture, the ballgown green Tiana is Marissa, Roxie is Lotte, and MusicalPencil is Grimhilde. XD]
it was so nice seeing them again!<3 we rode big Thunder Mountain together which was honestly hilarious because it was-- Tiana and Lotte holding down their buns the whole time, Woody and Bo holding down their hats the whole time, and Grimhilde laughing and letting her cloak fly in the wind XD LOL. we got a lot of hugging time due to my spontanious MOAR HUGS warcries, and i almost smacked Roxie in the face with my crook >_> SORRY!!!
2. Indiana Jones. honestly, the walk through line scares me. LOL. it's so creepy and realistic. but Thia was more scared so i had to be brave. i lead her down the hall and sang to her like the Phantom leading Christine to his underground super secret layer XDD except i also sang Christine's part LOL XD. when we got there i asked the guy if they could hold my sheep for me, and Thia added it was because we didn't want to lose them again via the poem and he was liek YOU WERE WAITING ALL NIGHT TO USE THAT WEREN'T YOU XD LOL!!!
during the ride, THIA'S BACKPACK ALMOST SLID OFF THE FLOOR AND ONTO THE GROUND X_X THAT WAS THE SCARIEST PART GAH.
3. FINDING NEMO...VOYAGE..THING! that was our first time on it because there was no line and usually it's waaaay too long X_X. SOME PARTS SCARED ME. or surprised me. which is kinda like SCARED ME in my terms. i have to admit i like ours better than Florida's because it's actually underwater though, like in a submarine vs. a fake shell XDDD, sorry Florida! and there's kinda more stories and more scenes and stuff. it was long. when we got on, this little boy was liek "FINALLY!! D<" and we were like >_> LOL THAT'S A GOOD SIGN COUGH.
after everything, our parents picked us up, and Thia rested her head on my lap and fell asleep, very much like the dA picture HAHA:
http://browse.deviantart.com/?qh=&section=...sunday#/d2wih5d
cept she wasn't uh, looking up at my face longingly >_>
we went home and crashed. well, actually, i uploaded my pics and Thia crashed and then woke up to wash her face brush her teeth and stuff and then we went to sleep under the glow-in-the-dark stars on my ceiling.
THE END. i had SUCH an amazing time<3 Thia was liek WHY DIDN'T I GO LAST YEAR and we are soo going again next year<3 ;w; it was wonderful.
i hope everyone who went had a great time too!!!!!