Preface:
Alright, enough with the disclaimers, warnings, and other miscellaneous opening remarks. On with the show!
August 2010 Disneyland Report: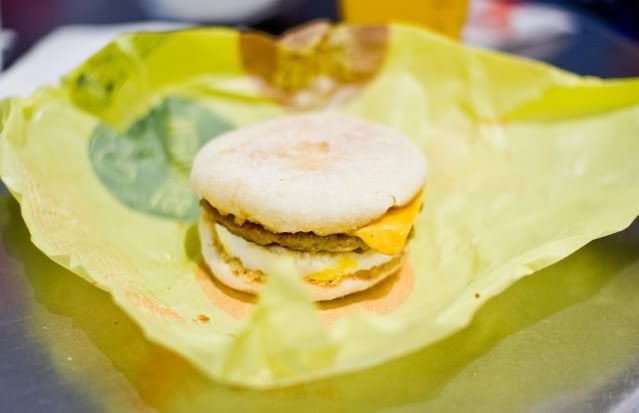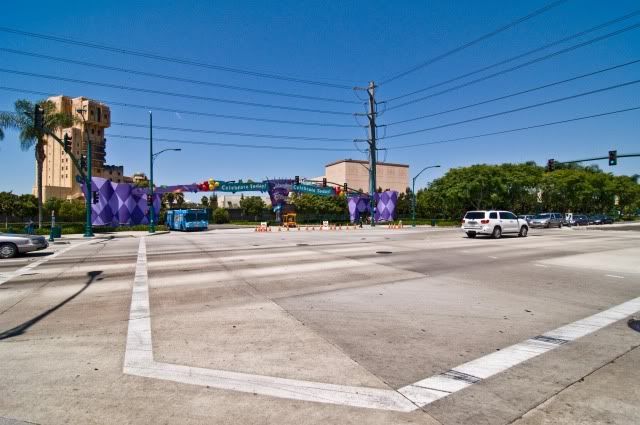 As far as Disney trips go, at this point, this one was easily off to the worst start. However, we decided to try to put all of that behind us and head to the parks with positive attitudes. Admittedly, this was easier for me than it was for Sarah, as she was still visibly grief-stricken.
Eddie Sotto's take on the current state of the parks - Page 79 - WDWMAGIC.COM Forums). I guess to each his own on the Castle topic; many Disneyland devotees claim to love its quaintness. I can understand that. However, after growing up frequenting the park with a grandiose Castle, seeing Sleeping Beauty Castle was an underwhelming let-down. Whenever I photographed it on the trip, I attempted to choose angles and lenses that made it appear larger than life to compensate.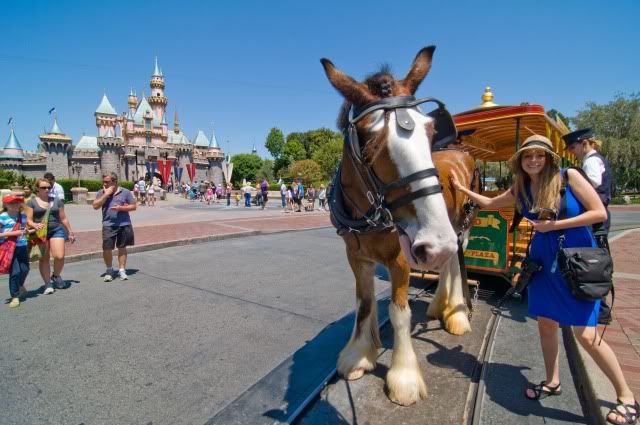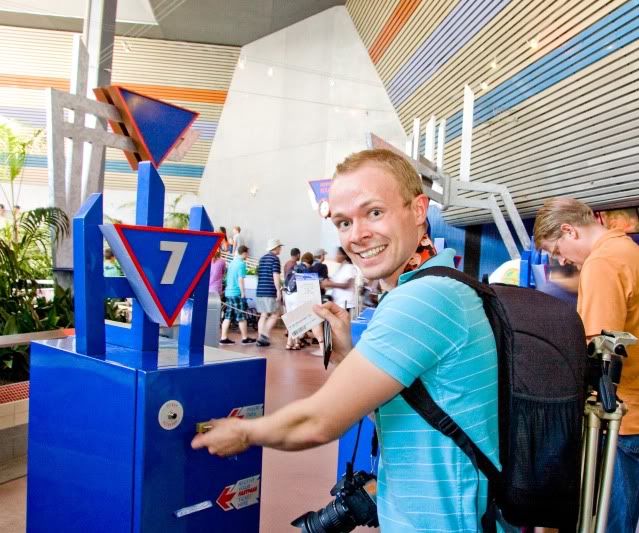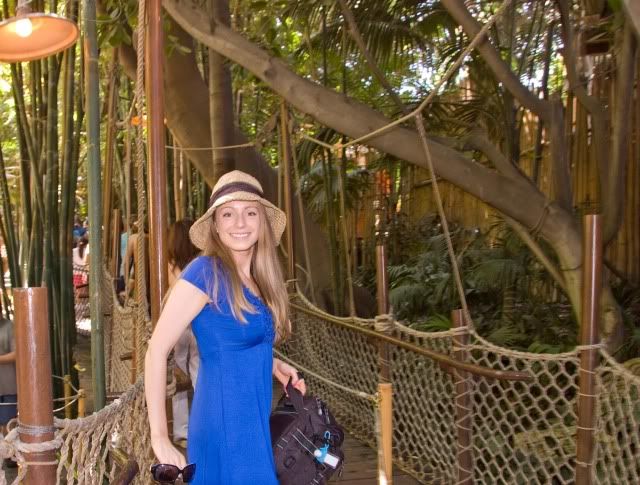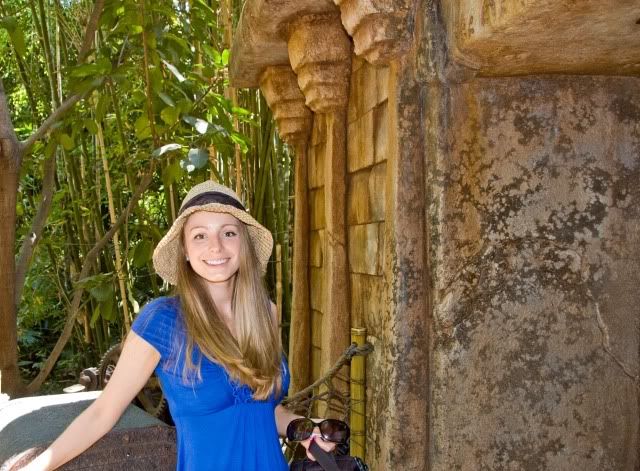 I assure you!
I cannot put the experience of this attraction into words. Unfortunately, I can't put it into photos, either, as I didn't take pictures the first time we rode (which is my general rule for any first time experience of an attraction), and even images I took on subsequent ride-throughs were less-than-stellar. The attraction did an amazing job of storytelling, utilizing multiple technologies (and not just for the sake of using them, either), and also using other ride vehicles (there is nothing quite like seeing another ride vehicle pass over the bridge with lava under it!) to create a fully immersive experience. I have read a lot of people write that Walt Disney World should get this attraction because it already has Dinosaur. Now I realize these people have never actually experienced Indiana Jones Adventure, as that statement is laughable. Comparing the two is like comparing Space Mountain to Big Thunder Mountain, as both are coasters. Actually, that comparison isn't quite apt, as those two attractions are fairly comparable quality-wise. Nothing against Dinosaur, but it pales in comparison to Indiana Jones Adventure. While we both loved it, I still wouldn't want to see it at WDW; it's nice to have attractions unique to certain parks. While I know we'll visit Disneyland less than WDW, it gives us incentive to return and something to look forward to when we do return.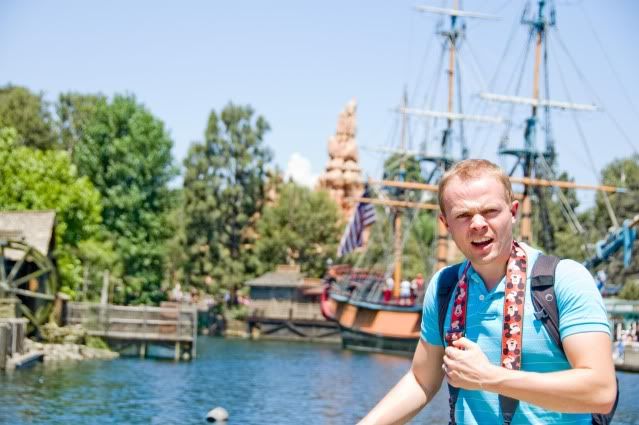 I had tried to avoid reading anything about the attraction experiences or viewing any pictures of Disneyland prior to the trip. I wanted to experience everything for the first time in person and have that initial excitement then. Despite the occasional pictures from my friends on Flickr, I think I did a pretty good job with this. I do think that more research would have prepared us better, but that's the trade-off we made. There are always future trips for which I can fully research the parks, and get a really good idea of all the nuances to experience.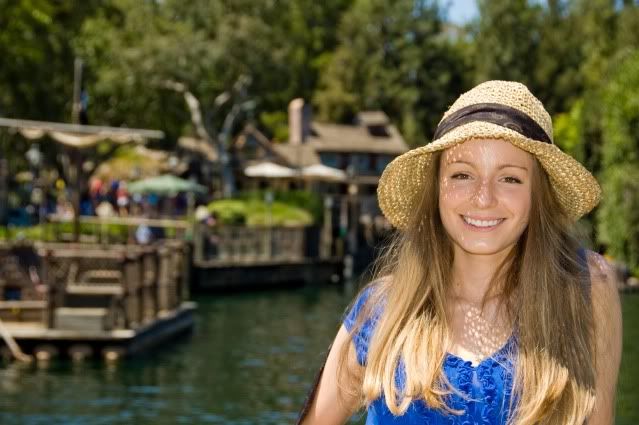 Haunted Mansion's exterior was one of those things that wasn't a surprise. I knew, more or less, what it looked like thanks to seeing a few pictures of it on Flickr. Despite that, seeing it in person was a wholly different experience. It was really a gorgeous facade, and one that fit well in the area. I guess the great thing about the Haunted Mansion is that mansions exist all over the place. There were mansions in Colonial Williamsburg, there are mansions in the American West; heck, there could even be a mansion in the future or tropics! My one qualm with the Haunted Mansion is that its always so exquisitely appointed and well kept on the exterior. In my experience in watching such scientific ghost documentaries such as
Ghostbusters
and
Casper
, ghosts are slobs and destroy most anything with which they come in contact. To that end, I think Disney really missed the mark with the theming of these Haunted Mansions.
Welcome to the Haunted Mansion! by Tom Bricker (WDWFigment), on Flickr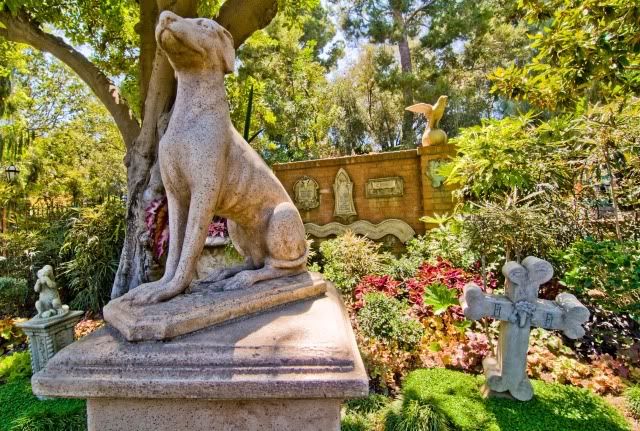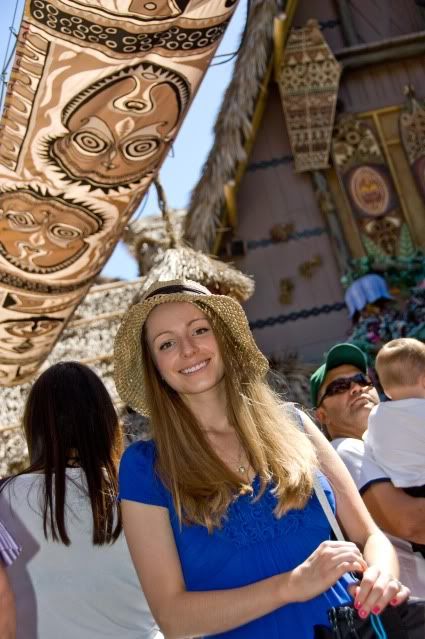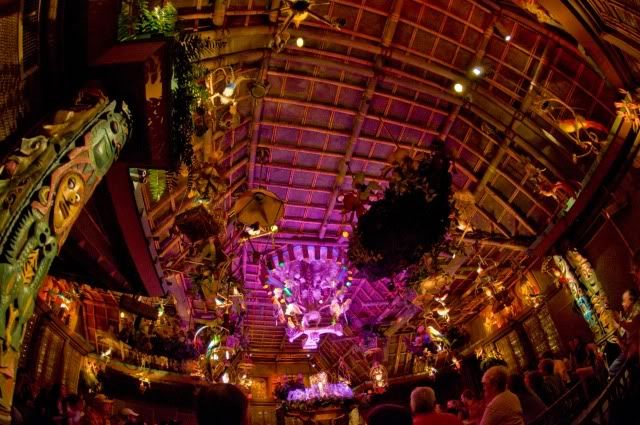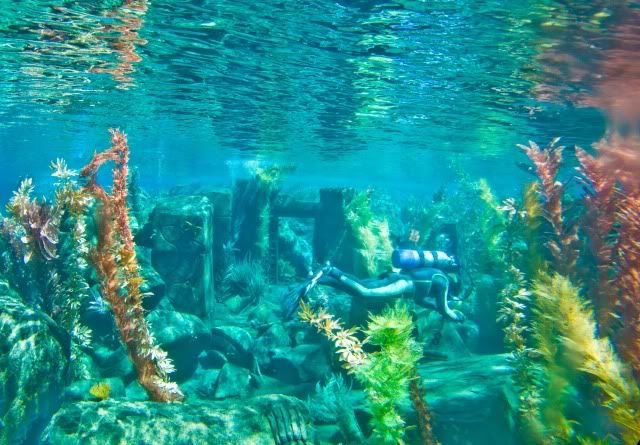 Following this, we headed to it's a small world. The best I could tell, it's a small world was a land unto itself. I know it was categorized as being in Fantasyland, but much like the Nemo subs, it just didn't quite fit into the borders of Fantasyland. A lot of Disneyland seemed to be structured like this; a bit awkwardly and not quite radiating from the central hub. I suppose this is the result of cramming so much substance into such a small area. At times it was pretty clear the park was hemorrhaging at the seams. While this could be aesthetically jarring and annoying for traffic-flow purposes, it was great to see so much to do around every corner. Quite the contrast from Walt Disney World, where the layout is much more open, and many locations sit dormant.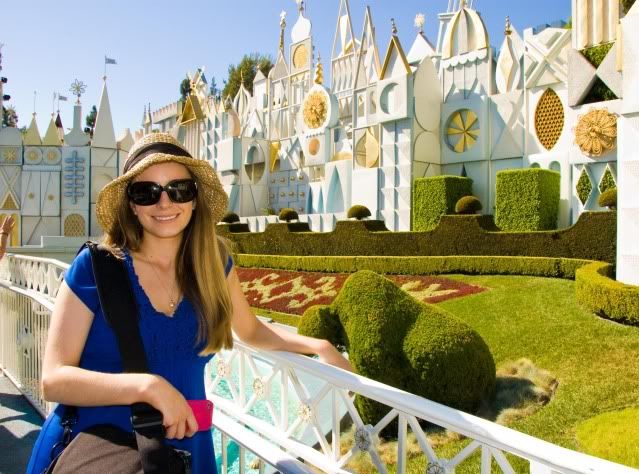 The aforementioned hemorrhaging was not an issue back by it's a small world, where the attraction had much more 'space' than its WDW counterpart. Enough space to have a beautiful outdoor area filled with topiaries and gorgeous facade. This all easily trumped WDW's building; I can only imagine how gorgeous it is when lit up during the Christmas season.
Due to the great Battle of Blair Forge, thankfully fought without muskets (by most, at least), pretty much everyone in the world knows about the Disney characters being added to the attraction. While I like it's a small world, I hardly had a horse in the race on this issue when the 'debate' first raged. That being said, once I finally saw these characters, I was convinced. They are absolutely, positively, a good addition.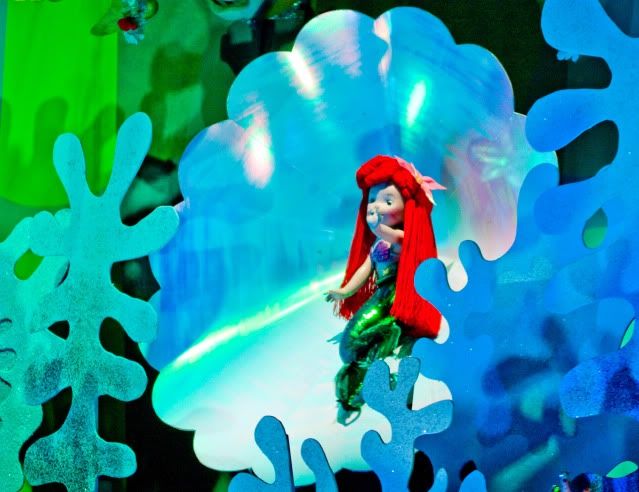 within
an attraction. The dolls that Blair created don't stand alone as anything significant. The entire attraction does. Moreover, given the very nature of attractions (fluid) versus single paintings (non-fluid), the analogy to the Mona Lisa is faulty.
Apart from the Disney characters and facade of the building, I thought the rest of the attraction was also superior to WDW's version. I can't really put my finger on why I think this, but it just seemed better. Sarah and I were both very impressed, and I believe, along with Indy, this became the attraction that we experienced the most while there.
We followed a TouringPlan from the Unofficial Guide to Disneyland pretty closely, but the one area I think the good book plays a little conservatively is FastPasses. We always seem to be able to accrue double the amount for which the book provides. This day was no different. We had in our possession FastPasses for Indy, Space Mountain, and Big Thunder Mountain. The Indy and Space ones were ripe for using, so we headed over to Indy for our second voyage.
In my discussion of Indy's awesome queue, I don't think I fully emphasized just how long the queue is. Seriously, I think the show building is somewhere in Long Beach. I mean, I'm sure it's necessary given the epic-ness of the attraction and the lines it probably generates in busier seasons. I can't imagine waiting in that long of a line, though. I tried to capture some images this time, although didn't put too much effort into it, as I still wanted to savor the experience. I might as well have drunkenly spun around in the dark and tried to throw a dart at a board 50 feet away. I am convinced that photography on that attraction is next to impossible. Just when you're lined up for a shot, the vehicle darts another direction, your camera slamming up against your jaw. Despite the photography fail, the attraction still is a perfect ten.
Up next was Mr. Toad's Wild Ride, a childhood favorite of Sarah's. Even though I am a couple years older than Sarah, I didn't remember this attraction from Walt Disney World. I think it's likely another case of my mom thinking it sucked, and us thus never doing it. After our ride aboard it, I am thankful that she spared me from having to experience it as a child.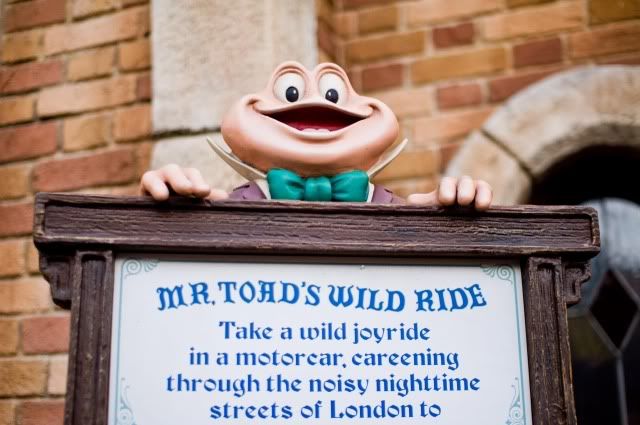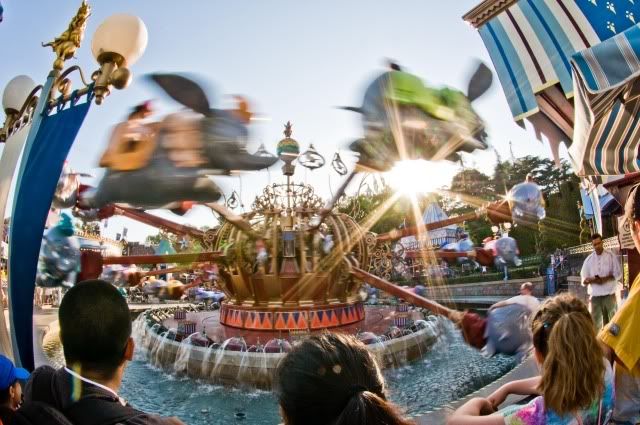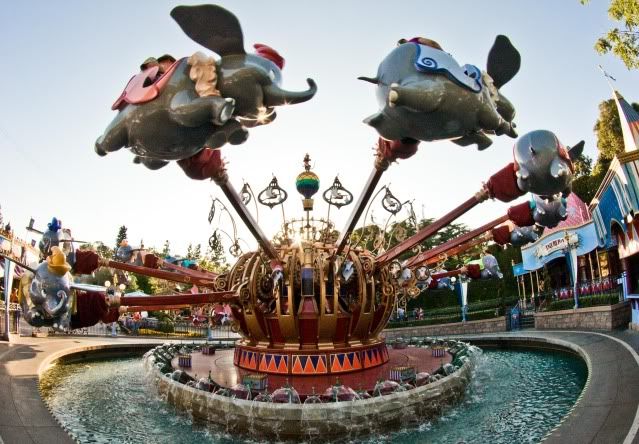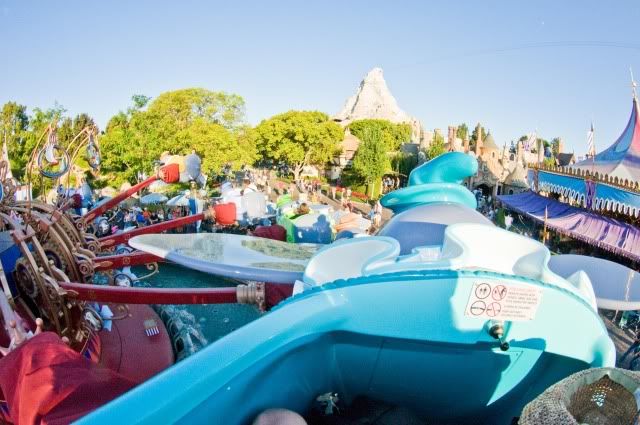 I am actually pretty glad we opted to ride it. I got some pretty good photos (and plenty of ideas for the future), and we had a great view of the park. Among the spinner rides like this, I still prefer WDW's Astro Orbiter (especially at night) with it's even more elevated view, but Dumbo wasn't too shabby. I can definitely see the allure for kids who want to pilot their favorite flying elephant.
Although we wanted to keep playing, our stomaches protested. We obliged them, heading over to the Hungry Bear to eat. It was really cool seeing a restaurant themed to everyone's favorite irreverent bears, the Country Bears, and the views from the restaurant were wonderful. Disneyland's Rivers of America is so cool. I could have sat there for hours, just soaking in the park. Sarah, however, could not, as we had an uninvited dinner guest. A big, presumably killer (for the sake of drama of the story), spider. Frankly, I'm not quite sure why she was so scared, as the spider was aways from us, but scared she was, nonetheless. I was really quite amused. Not of her fear or the spider itself, but this dude roughly our age at a table near us, who was absolutely enthralled with the spider. On multiple occasions, he went over with his camera to take pictures of it, and was constantly checking it out (although I'm one to talk, since I also took pictures of it, and was actively watching him to see his reactions to the spider). Finally, after much discussion with his significant other, he went over to the spider with a jar, closing the spider in the jar. We subsequently overheard him saying to his spouse that he was going to take it home. That really cracked me up for some reason.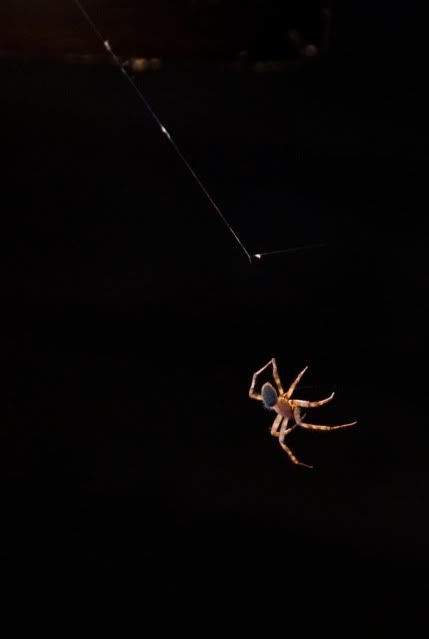 The dinner show over, we headed over to Big Thunder Mountain to use our FastPasses. I can't say I noticed any huge differences between WDW's Big Thunder and Disneyland's. There were little touches throughout the ride, and we both thought those who pretty cool, but nothing huge. Overall, I think I liked it roughly the same as I like WDW's. I do wish we would've gone just a tad later, as Big Thunder is always most awesome at night. Still, it was pretty stellar at dusk, and is one of my favorite Disney attractions.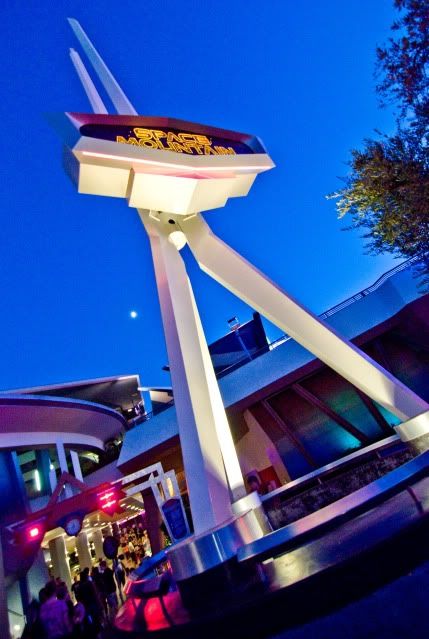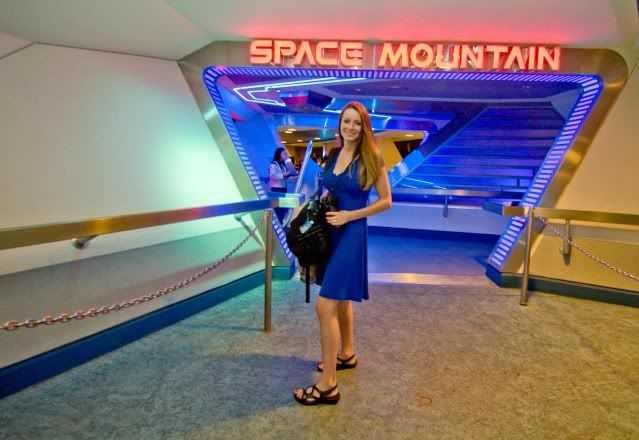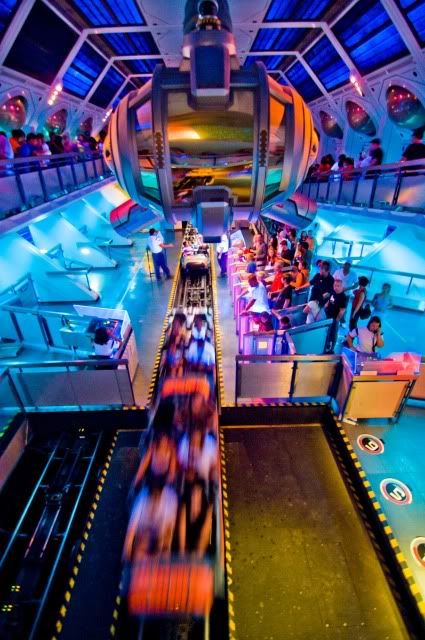 In any case, Disneyland's Space Mountain did not disappoint. The 'blast off' sequence was awesome, the boarding area (and area above the boarding area) was really well themed, and having music in the attraction was pretty cool (I am hopeful that WDW executes the music equally well). Definitely a top-notch attraction, and I can absolutely understand why so many prefer it to WDW's incarnation. I really wish we could've seen the Ghost Galaxy version, but there's always the future for that.
Space Mountain Starport by Tom Bricker (WDWFigment), on Flickr
Magical, the Summer Nightastic! fireworks show was set to start in roughly forty minutes, so most attractions were time-prohibitive after factoring in the wait and the attraction duration. It's a small world was walk on, so we boarded that. It was, once again, awesome, and it was cool spotting little details missed on the previous voyage.
When we exited the attraction, we had roughly 15 minutes until the fireworks started. We arrived on Main Street, and it was as if 5,000 additional people had entered the park just for the fireworks! The park was fairly busy throughout the day, but this was insane! There was absolutely nowhere to stand! Then, I saw it. It was a location that few others wanted because part of the show would be blocked by the Partners statue, but for me, it was perfect. Sarah was indifferent to the location, so I set up. I was faced with a dilemma: my normal choice for fireworks, recently, has been the ultra wide angle. With perimeter bursts in the Magic Kingdom's Summer Nightastic! Show, it was the logical choice. However, my decision not to research the park so as to not spoil the surprise meant that I didn't know whether Magical had perimeter bursts. The ultra-wide also de-emphasized Partners, so I decided not to use it. I was thus left with a choice: Sarah's 18-200mm or my Sigma 30mm. The 18-200, when combined with the ND filter, would produce somewhat soft images, yet it would allow me to zoom around once I figured out the best way to frame the fireworks. Conversely, the Sigma 30mm would be sharper, and it would allow me to just frame the shot ahead of time and pay attention to the show rather than fiddling with the lens and missing portions. The risk with this would be that I'd seriously misjudge the burst location, and would miss most of the fireworks (in the frame of the image). Photography always comes second to the experience for me, so I went with the Sigma. Plus, I'm a pretty big risk taker.
Disneyland's Summer Nightastic Fireworks - "Magical" (78 second exposure) by Tom Bricker (WDWFigment), on Flickr
I switched from my ultra-wide to the Sigma 30mm and almost immediately, the show started. My decision to go with the Sigma 30mm was definitely the right call. Partners, the Castle, and the fireworks filled the frame (a 25mm lens probably would've been ideal, but I've got no complaints). The show was so awesome, I barely paid any attention to the camera. I enjoy Wishes!, but Magical is what a Magic Kingdom fireworks show should be. It had wonderful music, great spectacle with Dumbo and Tinkerbell flying around the Castle, and real charm. The scariest part is that I've since heard plenty of reports calling Magical pedestrian as compared to Remember, Dreams Come True. I imagine if I saw that, Wishes! would become the Mr. Toad's Wild Ride of Disney fireworks shows to me.
Disneyland "Magical" Fireworks - 189 Second Exposure by Tom Bricker (WDWFigment), on Flickr
After the show, we began heading towards Fantasyland and I began reviewing the images I took during the show. In my haste to get the lens changed before the show, I forgot to do something that, in my mind, ruined the shots. I immediately told Sarah we'd have to see the show again (something I wanted to do anyway), to try it again. We never did end up being able to see it again, but I decided to post one of the images on Flickr, anyway, hoping no one would catch my mistake. It's been one of my most popular images to date, so I guess I was overly critical. I figure if no one can spot the issue, I'm not going to point it out to draw attention to it!
Keeping up the trend of awesome things, we decided to board the Nemo subs again. Apparently, everyone leaving the fireworks area had this same idea, as the reported wait time was substantially lower than our actual wait. At least this time we didn't slow-cook in the queue. Even at night, though, the queue was boring. I was half-hoping for some killer lighting effects on the umbrellas scattered throughout the queue, but unfortunately, there was none. The queue remained as uninteresting as conceivably possible. I think the only thing that potentially could make it more lame would be random cut-outs of Urkel. The ride, contrasted with that, was once again amazing. I noticed a lot of additional details the second go-round.
The post-fireworks crowd was still pretty high, so we decided we'd hit some less popular attractions. The Storybook Land Canal boats seemed to fit that bill, so we decided to give it a whirl. I was fully expecting this to be lame, but much to my surprise, it was really quite cool! Perhaps it's my life long dream to be a giant terrorizing a small village while battling a giant mole, but something about it really appealed to me.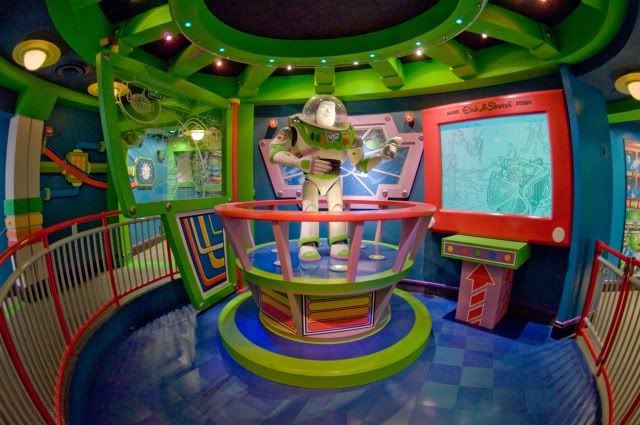 It was still around twenty minutes until closing at this time, but since we only had two nights to capture photographs of the entire park, we decided to start taking pictures, beginning in Tomorrowland. I was about as rusty as Tow-mater. I just sort of wandered around Tomorrowland, taking pictures of 'stuff', then cursing the LCD screen when I saw the results. The poor results only made the rust worse, and threw off my game even more. Most of these lame shots were taken in Tomorrowland, which might explain my dislike for the aesthetics of Disneyland's Tomorrowland as compared to WDW's.
The Star Trader by Tom Bricker (WDWFigment), on Flickr
Disneyland's Tomorrowland by Tom Bricker (WDWFigment), on Flickr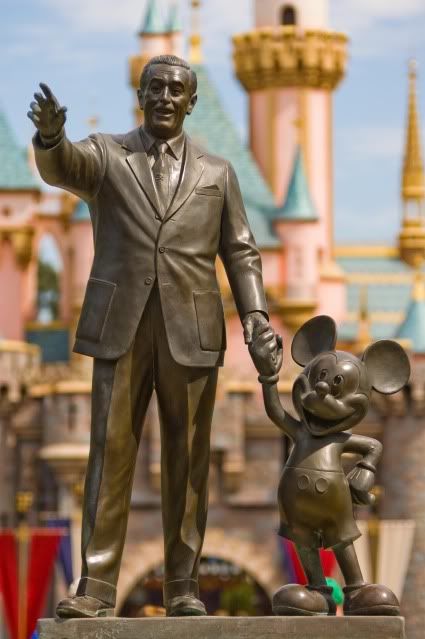 The Domineering Castle? by Tom Bricker (WDWFigment), on Flickr
Owlie the Owl by Tom Bricker (WDWFigment), on Flickr