Wow, haven't done one of these in a long time! But, since my Mom and I had such a great time, I couldn't pass up sharing our experience.
We'd planned to get to the resort by 5pm, but traffic got the best of us. Like the fabulous pig likes to say,
"You have to be going to a pretty awful place if getting there is half the fun."
Getting there was NO fun with red-colored traffic maps, so we knew we were going to a pretty awesome place! The reactions from other drivers while on the freeway were priceless. I mean, c'mon, they looked over and saw THIS!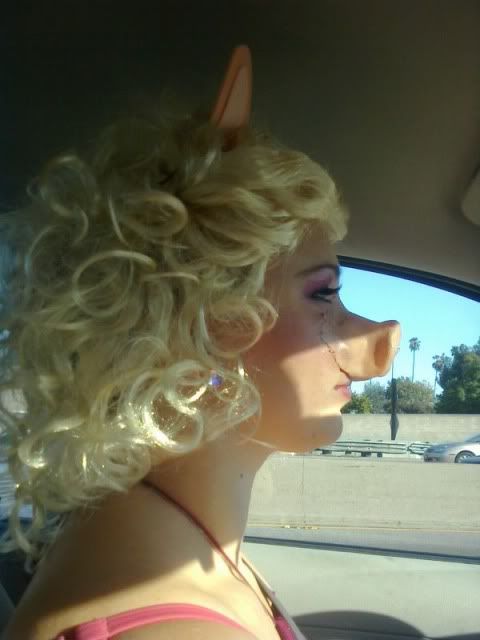 We got into the park right at 6 and it was such a great festive environment.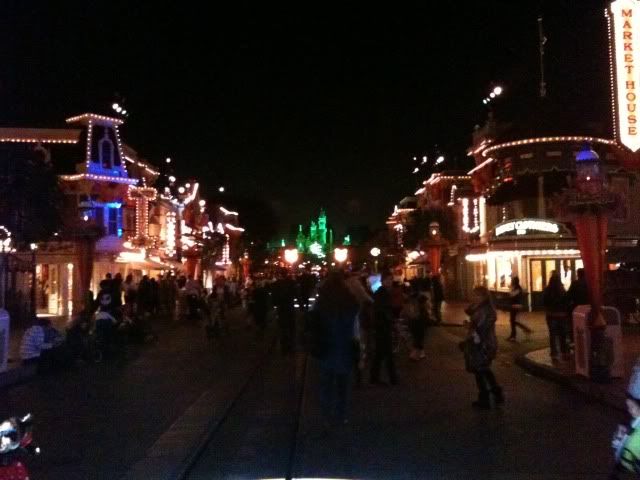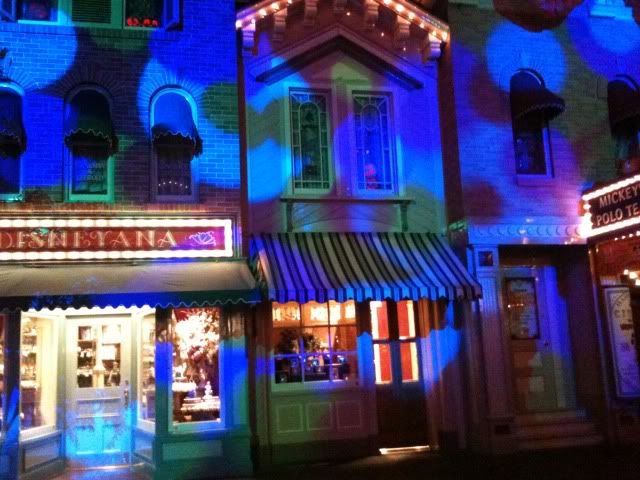 The cutest little Minnie playing in the street projections on Main Street.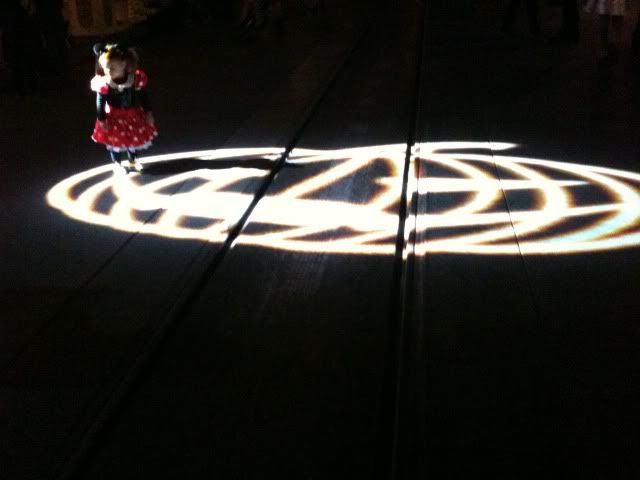 The neat Ghost Mickey lanterns that were all over the park.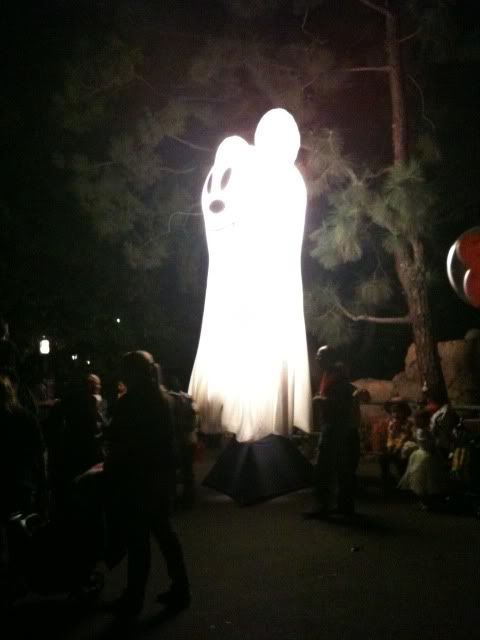 All of the costumes were too cool - my favorite being a couple dressed as a Ghostbuster and (sexy) Stay Puft Marshmallow Man. Also saw a girl dressed as Duffy and I asked her how her trip from Tokyo was, and she said it was just fine.
) Ph, and saw a FANTASTIC Jack Skellington in Santa garb from HMH's graveyard scene. CMs were saying he was the first Santa Jack they'd seen. I wish I would have gotten pictures.
But Miss Piggy and Kermit did get a picture with Maverick!
I'd asked Bert if he'd practiced his "Step in Time" routine, and after a little talking with his group, he and the Mad Hatter got their dance on.
It was really amusing how often our costumes were commented on. I'd hear kids squeal "Miss Piggy!! Kermit!!", and people would come up and ask to take pictures with/of me. I even had a line at one point! I must have posed for at least 40 pictures throughout the night - people couldn't get enough of moi! My Mom was dressed as Kermit so we made a great pair, and her costume was nice and comfortable so that was a big plus to her.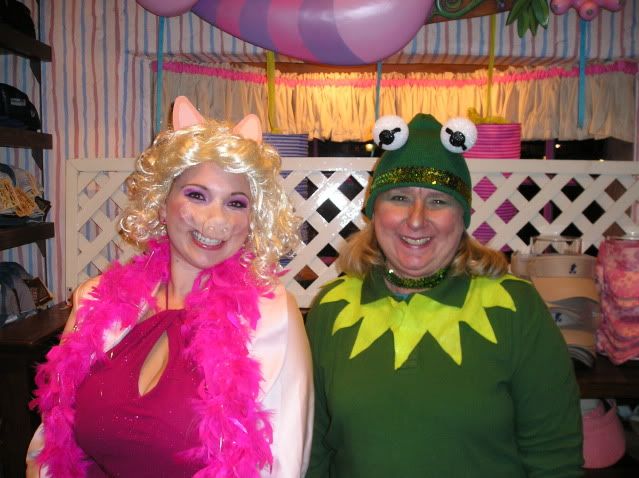 Why Kermie, you've flattened out!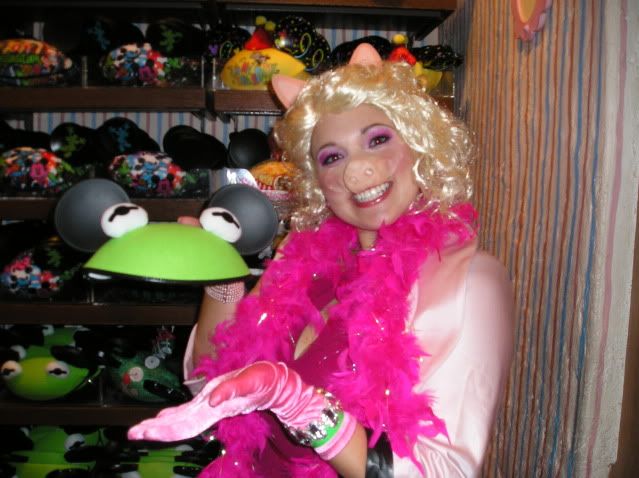 A pig has to eat! (And Kermit wanted me to prove that I could eat with my nose. :lol: )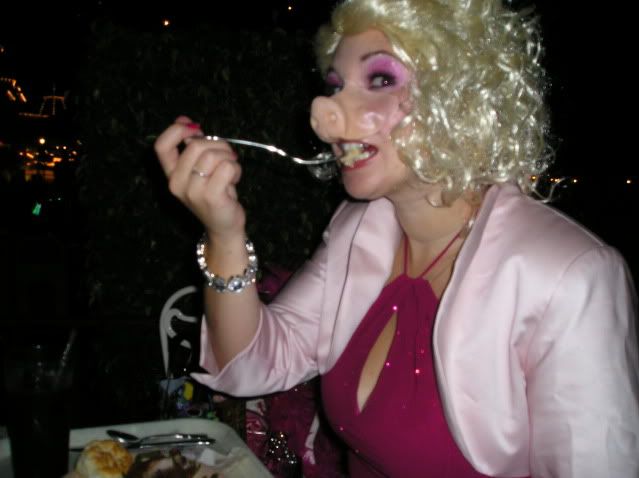 But I had to remind moiself that you should
"Never eat more than you can lift."
So I had to resist the candy trough.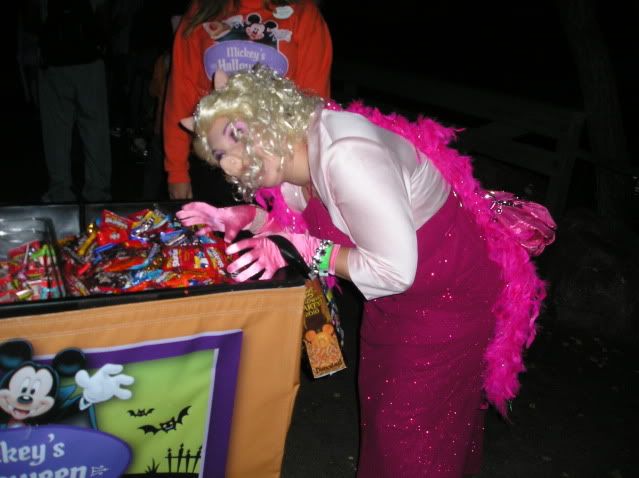 On the Treat Trail behind Big Thunder, there was a lead handing out candy who asked "if anyone can tell me Disneyland's opening date, I'll fill your bag". Brilliant moi knew the answer, and the guy fulfilled his promise! That was fun. But then I had a Disney geek fail when we went back to the trail, went up to the lead, and I asked if he had any more trivia for me. He said "when the Tiki Room first opened, a cover charge was in place. What was the charge?" I had no idea. I answered "a dole whip?" knowing that wasn't right but I HAD to say something. He said the charge was $0.15, and that that is his hardest question. Interesting!
Moi could not resist the pink lighting and fog of the trail - it was the perfect location for a photo shoot engulfed in my signature shade!
Kermie said the fog felt good on his slime, I mean, mucus.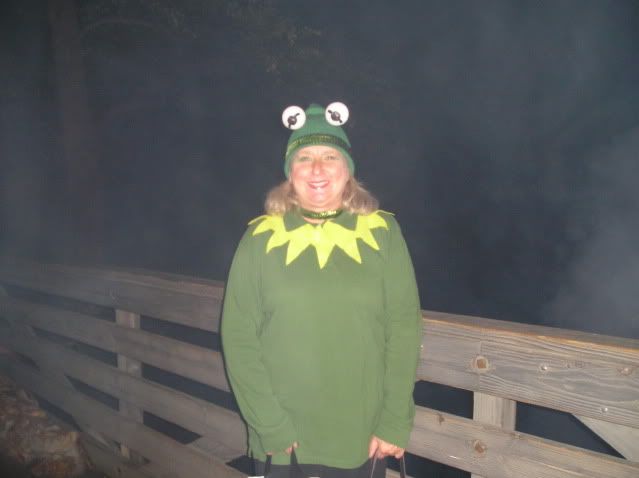 We went and got a nice spot for the fireworks. Someone behind us said she wanted to be moi, since she works at Muppets, but never got around to her costume. Well, too much of moi would have been...a WONDERFUL thing!
Waiting for the fireworks...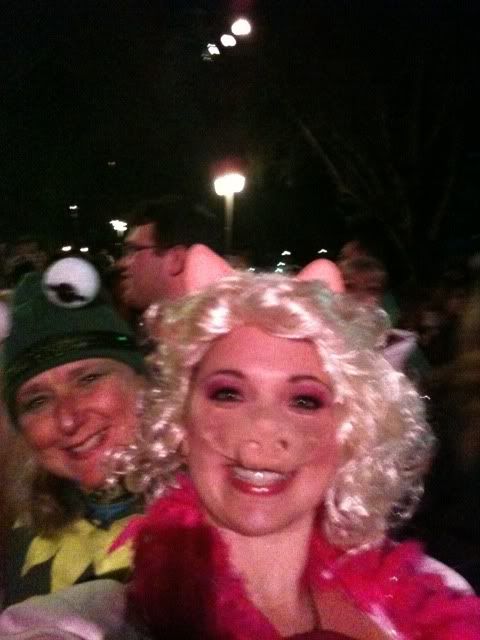 Kermie watching the pyrotechnics.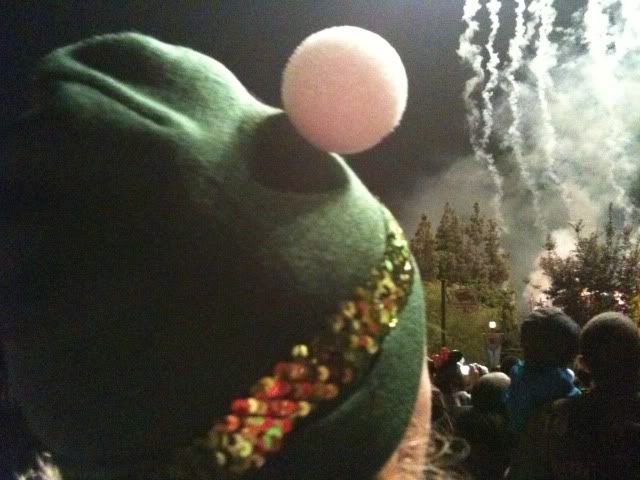 One last picture together...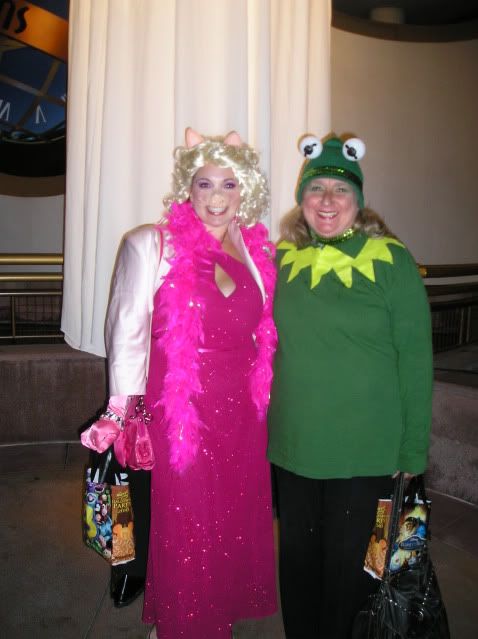 When Kermie and I got home from our trip, we put our bags of candy on the scale. We'd accumulated over
12 pounds
of treats! As Moi says,
"There is the satisfaction of providing your public with a vision of true beautology, true sytlisity, - how can I put it? – true glamorositude."
And provide my public we did!
Happy Halloween, darlings!
And now to snap out of Miss Piggy "all about me" attitude, here's a little commentary...
Even though we didn't go on any rides, we loved every minute and definitely want to go back next year. I wanted to ride Ghost Galaxy, but my costume wouldn't allow for it. Bummer, too, since the line was only 5 minutes long the whole night. Hell, all of the rides that were open (Ghost Galaxy, Nemo Subs, all of Fantasyland including Teacups and Dumbo, Big Thunder, Indy, Haunted Mansion, POTC, and I'm pretty sure Winnie the Pooh was open too) were walk-ons since everyone was busy in line for the Treat Trails, character meet 'n greets and the dance parties!
Only two small complaints...1)The meet 'n greet characters didn't seem to manage their lines well. We waited in line for Mickey and Minnie for about 20 minutes and had only moved up about 1/3 (if that!) of the queue, so we ducked out. And then the villains meet area shut down after fireworks, turning people away with the enlightening explanation of "there's a situation", and that they were closed for the rest of the night. People were pretty bummed and I heard folks hastily say "well, off to City Hall!" since the CMs had told the guests to come back after fireworks since they had to close during the show. I wonder how many complaints City Hall had to deal with over that.
2) Main Street Photo Supply Co. shut down right at 11pm, when the party ended. Traditionally, aren't the Main Street shops open for additional time past park closing for purchases and whatnot? We'd gotten a bunch of Photo Pass pics taken, and my Mom was really put off by the fact that we were turned away at 11:02. We would have hustled over to get there in time had we known, but, it didn't work out. Online purchasing of picture for us! Oh, and they're doing a special where it is $10 for a Photo Pass print. Yay, discounts!
Most common costumes - pirates, Tim Burton Mad Hatters, Snow White, dalmatians with Cruella, and Nightmare before Christmas characters.
Oh, and a little note...it may be different for non-weekday parties...when we first got into the park we went to Tomorrowland and were totally overwhelmed with the Treat Trail lines at Innoventions and the Motorboat Cruise Dock. The Motorboat line wound all the way down to Nemo! It seemed like everyone went the same direction we did and got right into line. We wandered around first, and found that after that first half hour or 45 minutes of the evening, everyone found their stride. After that, there were really no lines to get to into the Treat Trails.