A Monorail Man Review: New Disney Potato Chips
A couple of weeks ago, Disneyland introduced new Disney Parks branded bags of Potato Chips, replacing the Lay's chips previously available. The relationship that Lays had with Disneyland goes all the way back to the year the park opened, 1955 with the Frito Kid. Plus, who can forget Casa de Fritos? As late as 2007, Disneyland announced a multi-year partnership with Frito Lay. Is that relationship over? It would seem so with these new Disney branded potato chips.
A quick UPC search of the 044885411049 tells me that the 44885 prefix comes from a brand called Crispy Snack. Specifically, they make a snack called Jimmy Chips – these new Disney chips look the same and have some of the same quality as Jimmy Chips. It's clear these are the nearly the same product.
This review will be broken up into three parts:
- Flavor and Quality of New Chips
- Advantages and Disadvantages of Disney Branded Potato Chips
- Would Walt approve?
IMPORTANT!
This review was done outside of the parks to ensure that the full flavor of the chips could be experienced, and no possible sense distractions (such as smells) would affect the review. This may bias the chips for being experienced outside Disney Parks. Also, the full chip experience may be different between Disneyland and Walt Disney World due to shipping times, environment, etc.
Flavor and Quality of Disney Potato Chips
First, let's start with some photos. Here's the bag and the average serving of 1oz of Disney Potato Chips: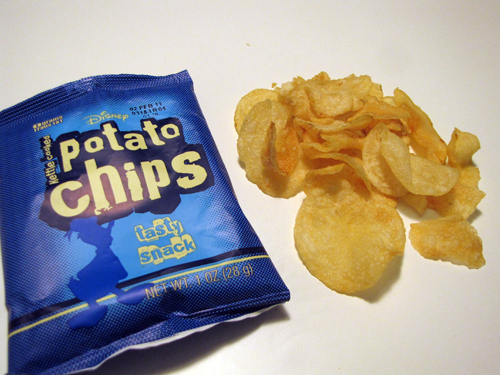 They have a nice golden hue to them, and appear visually thicker than the previous Lay's offerings.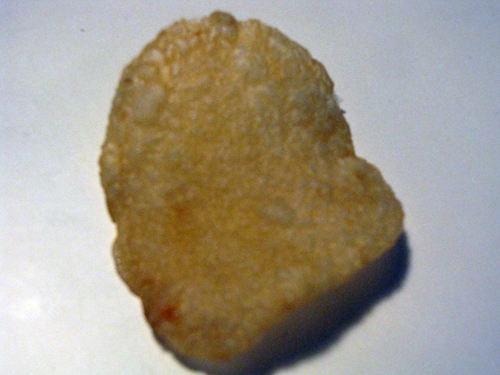 Here's a close-up of a single full chip. Notice the golden edges and slight bubbly appearance.
When I bit into my first chip, I got a real crunch, much better than Lay's. The bag claims that these we're "Kettle cooked" and I could almost agree. They are a little thin compared to other brands of Kettle chips I have had.
As for the flavor, it's solid. Again, I found the overall flavor to be better than Lay's. However, with this better flavor comes a price. The chips are quite greasier than Lay's. Be sure to grab a couple of extra napkins.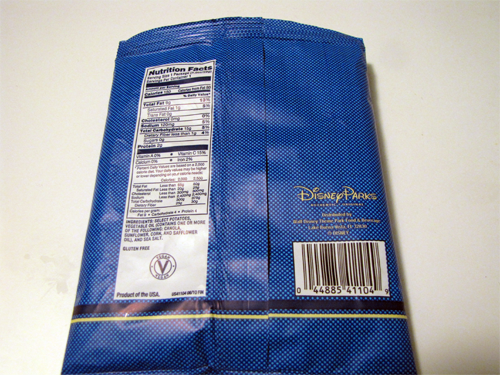 Back of package, with nutritional facts.
As for the nutrition, the new Disney Potato Chips are slightly healthier than the previous Lay's potato chips. Here's a full breakdown of Disney vs. Lay's (based off information from the Lay's website):
Code:
Nutrition Element:	Disney	Lay's
Calories		150	150
Calories from Fat	80	90
Total Fat		9g	10g
Saturated Fat		1g	1g
Sodium			120mg	150mg
Carbohydrate		15g	15g
Dietary Fiber		< 1g	1g
Protein			2g	2g
Vitamin C		15%	10%
Iron			2%	2%
Vitamin E		Unknown	6%
Thiamin (B1)		Unknown	2%
Niacin (B3)		Unknown	6%
Vitamin B6		Unknown	4%
Phosphorus		Unknown	4%
Magnesium		Unknown	4%
Zinc			Unknown	2%
Disney's packaging failed to mention any of the other fortified vitamins and minerals. However, the calories from fat, sodium, and total fat surprised me that the Disney chips are lower. The Disney chips taste better and are slightly healthier for the same amount. You'll also notice that the chips are Gluten Free, and Vegan – just like Lay's.
Taste/Quality: 4/5 – Would have been a full 5/5 if given the other nutritional facts that Lay's offers.

Advantages and Disadvantages of Disney Branded Potato Chips
Let's take a closer look at the advantages and disadvantages of Disney Potato Chips:
Advantages:
Package is a clear souvenir. The Disney Parks label tells me that these chips are "Authentic and Original". They use this same branding on their merchandise. Clearly this indicates the bag is a souvenir.
Disney Parks house brand is cheaper for Disney. Just like Market Pantry with Target, having house-branded chips allows Disney to save some money by using their own brand.
Disadvantages:
Guests don't know quality of Disney brand chips. I didn't trust the idea of Disney chips until I was given a bag with a Corn Dog. I wouldn't have bought these on their own. Could this be affecting overall resort chip sales?
Loss of long time park sponsor. Another long-term park sponsor bites the dust. Coke seems like the only one left.
Advantages and Disadvantages: Split. Can't really rate this one with two in each column.

Would Walt Approve?
Now comes the best part. I tear apart famous quotes from Walt Disney to apply to the specific modern not-really-applicable Disney situation:
"We believed in our idea - a family park where parents and children could have fun- together." –
Approve
- Based on this quote, both Parents and Children could have fun with a bag of Disney Potato Chips together, so this gets a pass.
"I do not like to repeat successes, I like to go on to other things." –
Approve
– Based on this quote, Disney has never tried Potato Chips before, or been successful for them. Clearly this is now "other things".
"It's kind of fun to do the impossible." –
Disapprove
- Clearly creating Disney Potato Chips is a possible thing, and therefore is not fun for Walt.
"…and Daddy had to sit on the park bench eating peanuts and popcorn while the kids rode alone" –
Disapprove
– Clearly Walt was a peanuts and popcorn man. Potato Chips were not an enjoyed snack by Walt according to the extensive knowledge of him through razor-thin quotations.
Would Walt Approve? Undecided.
Summary:

Disney has new chips at their theme parks. Based on UPC code, they may be rebranded Jimmy Chips. They are better than the previous Lay's chips, and are slightly healthier. It's sad we lost the long-term Lay's sponsorship, and it's unknown if Walt would have ever wanted to see Disney branded chips.
Overall score: 4/5