The reviews are now coming in from the first cast previews (in California) and soft openings(in Florida) of Star Tours: The adventures Continue. We'll just get right to the punch and tell you that, the revamp is impressive.
What is striking to one familiar with the original version is the contrast between the two versions. The original Star Tours attraction took place during the time frame after Episode VI, Return of the Jedi when the narrative and dramatic arch had run their course. The newly revamped Star Tours takes place between Episode III: Revenge of the Sith and Episode IV: New Hope. The dramatic time frame seems to really lend itself to a better story. In this case Star Tours, Intergalactic travel is subject to the invasive eye of the Empire and rebels are rampant throughout the galaxy.
The pre-show looks far more like a polished space port. The main room of the queue is very much as it was before with enhanced special effects and technology. R2D2 and C3PO are exactly where you expect them to be and the Starspeeder has been repainted.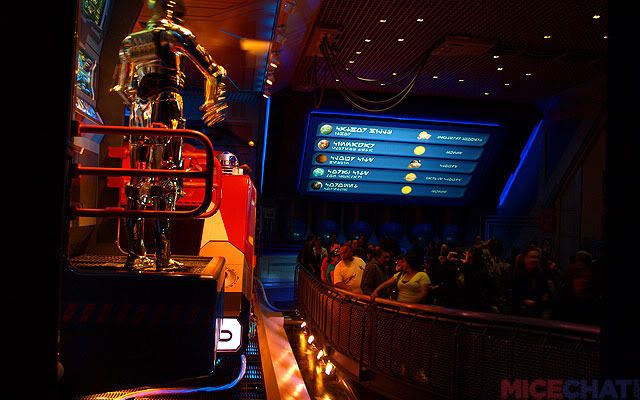 The next room of the queue, which was once themed as a messy maintenance area with a clutter of parts on conveyor belts, has been converted into a much more polished security checkpoint. You'll now find droids checking checking luggage and cargo and you'll be scanned before reaching the top of the ramp that leads to the final waiting area of the ride.
Look carefully in the queue and you'll spot former Captain Rex, who is now tagged "Defective"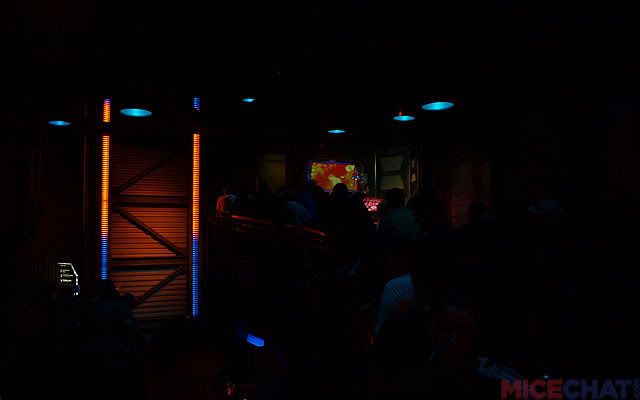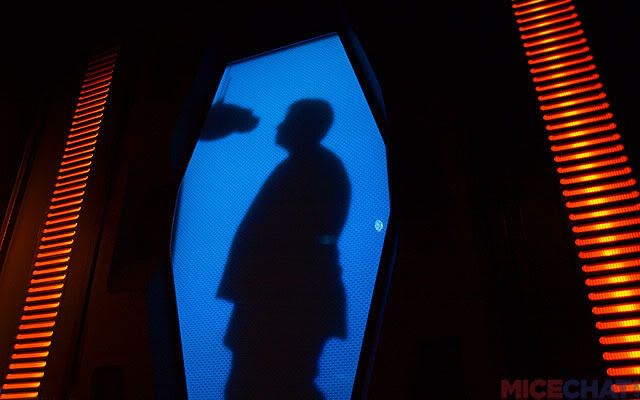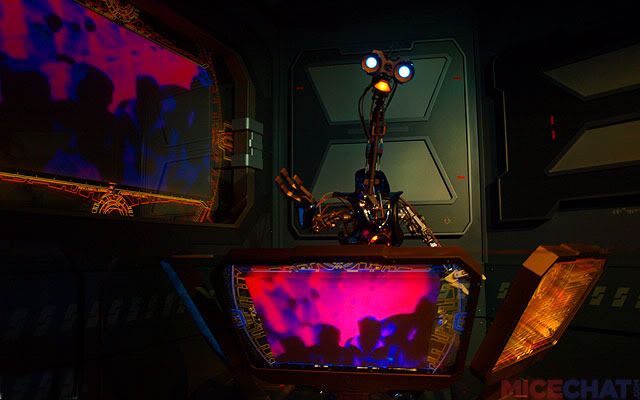 Passengers are scanned as they walk through the queue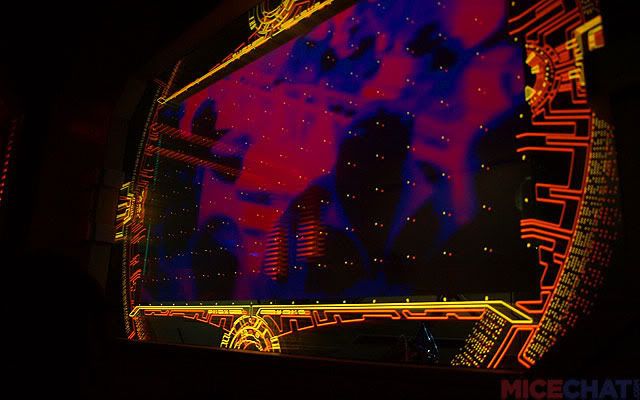 Once you enter the starspeeder, things will look familiar, we didn't notice much change in the cabin. It is once the blast shield screen comes down that you'll really notice a difference. We aren't giving much away by saying that this is a 3D adventure with multiple paths. There are 2 beginnings, 3 middles, and 3 possible endings. The 3D glasses are much nicer than the ones used for Disney's 3D movie attractions and the effect is subtle but effective. Disney also appears to be using a different 3D technology with Star Tours than they do with their other park films. Most of the 3D movies in the parks use polarized lenses, while these new glasses appear to be a form of anaglyph (red and blue lens) but with a metalic finish. But the effect is much better than the old school red/blue 3D used in 1950's horror films.
If you want to know what more about the ride itself read the spoiler protected section below.
Spoiler
Al Lutz did a great job of describing the various combinations your journey may take. We are copying him here with minor corrections and adjustments. These are general spoilers, there is much for you still to discover on your own, even if you do read this spoiler box.
Each journey begins in the boarding queue where a pre-show will explain who your captain is and how C3PO bumbles his way accidentally into the cockpit.
You will then board the starspeeder and your adventure will begin. You'll find yourself setting out of the spaceport with C3PO trying to convince R2D2 to return for the real captain. It is at this point that you will experience one of the different plot twists, or "branches" as the Imagineers call it, which will begin the various storylines.
The 54 different versions of the ride are cycled through automatically, and they can slot in with any of the previous branches of plotline in any cabin. The various plot points and options are as follows;
Part 1: Your Starspeeder begins to depart the spaceport as R2D2 is trying to override the autopilot, but you are suddenly stopped by either Darth Vader or a battalion of Stormtroopers who are looking for a Rebel Spy suspected to be onboard your ship. The video screen in the cabin displays the image of one of your fellow passengers and sets up the base plot that they are a spy.

Part 2: After some fighting with Vader or the Stormtroopers, R2D2 jumps to light speed just in time and you are on your way to either Tatooine, Kashyyyk, or Hoth. You arrive at whichever planet the branching plotline led you to, and the typical mayhem and excitement ensues as you explore the planet. Tatooine leads to the obligatory Boonta Eve pod race, the Kashyyyk plotline involves racing Imperial Scout troopers on speeder bikes through the forest with help from friendly Wookies, and the visit to Hoth quickly devolves into an icy toboggan run down the mountains dodging Empire AT-ATs along the way.

Part 3: The action is brought to an end when R2D2 launches you off each planet and back into space where you suddenly receive a hologram transmission from either Princess Leia, Admiral Ackbar, or Yoda. They give you instructions on how and where to safely deliver the Rebel spy onboard, and with another jump to light speed you are on your way to a second destination.

Part 4: You arrive from the light speed jump at either Coruscant, Naboo, or an asteroid field that leads you to the Death Star. In typical WDI fashion, something goes terribly wrong here and you go through a final ordeal of either outer space dog fighting, dodging wrong way traffic, or fending off alien sea creatures. Each of these options leads to an obligatory happy ending with the spy satisfactorily delivered, and then you gather your belongings and exit to your right and out to the gift shop.

Save and print the above graphic to keep track of what you've seen.
Star Tours: The Adventures Continue is a slick and well thought out attraction which is MUCH more repeatable now than the original version. However, it shouldn't take long for the average passholder to see all of the variations (it took us just 4 rides to see all 2 beginnings, 3 middles, and 3 endings).
Overall, we'd say that this attraction is a knock out hit. Folks who hate simulator attractions (and there are many folks out there who do) won't be impressed, but for the vast majority of park-goers, Star Tours 2 should impress for many years to come.
Have you been lucky enough to ride the new version of Star Tours? We'd really like to know what you think. Add your photos and reviews below.
We are posting these photos here under the impression that any embargoes or restrictions were lifted once Star Tours soft opened in Florida and photos began appearing elsewhere online. It is not our intention to violate any rules or policies of the Disney company. These photos may not be reused or reposted elsewhere and we may pull these photos down if Disney requests that we do so.