Today both the Boardwalk Pizza and Pasta and Paradise Garden Grill restaurants in Disney California Adventure opened to the public. Along with the two new dining options a spacious new outdoor dining area was unveiled as well. The tacky Pizza Ooo Mow Mow and Burger Invasion themes were done away with in favor of a more refined, turn-of-the-century, beach side dining location and it is a huge improvement.
The new wooden archways lined with popcorn lighting invite people into the new area of the park. There is the Italian food of Boardwalk Pizza and Pasta and the Greek food of the Paradise Garden Grill.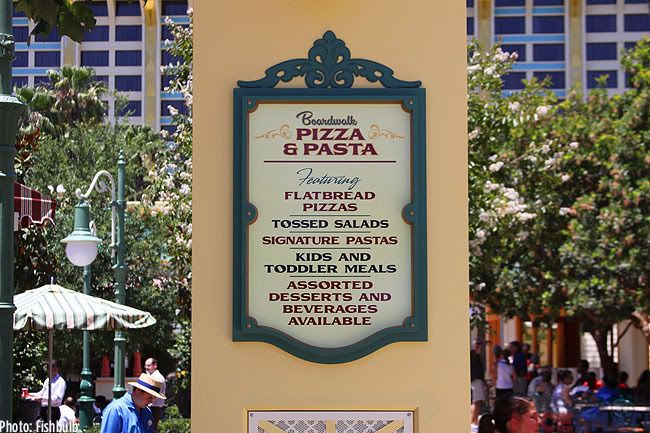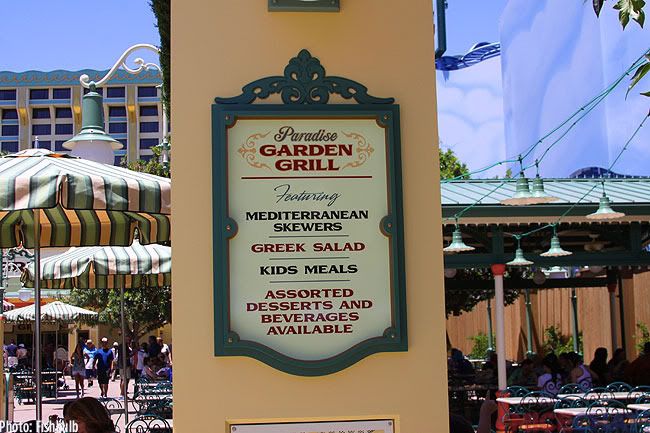 Along the parade route, palm trees line the canopy.
PARADISE GARDEN GRILL:
This is the restaurant we sampled today. This Greek style eatery is pretty tasty and actually recalls the way the Lucky Fortune Cookery operates; Choose your meat, choose your sauce, here's your meal. The skewers are served with rice, a cucumber salad and a piece of pita bread.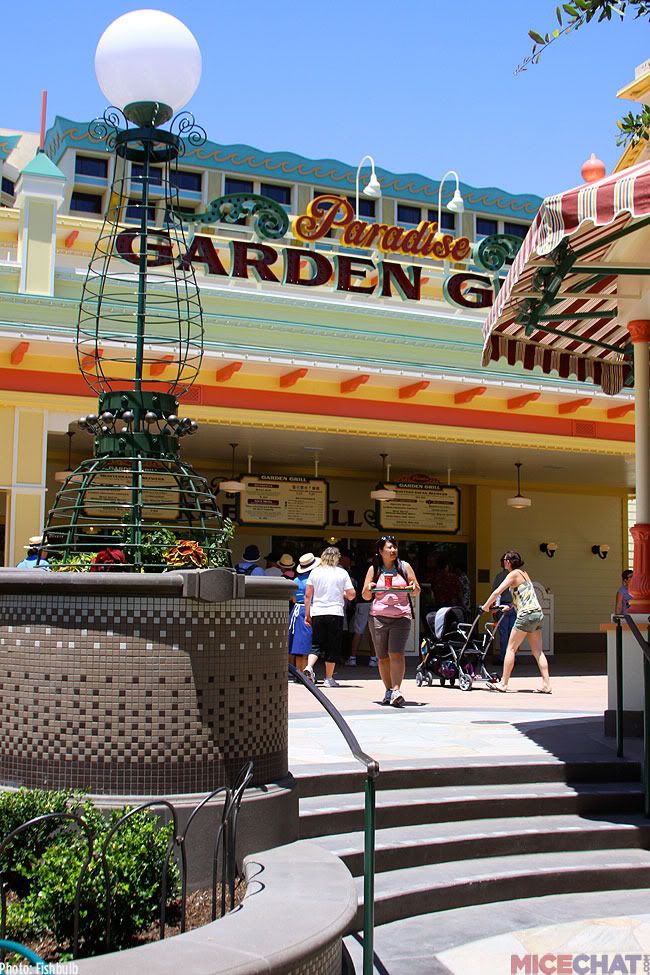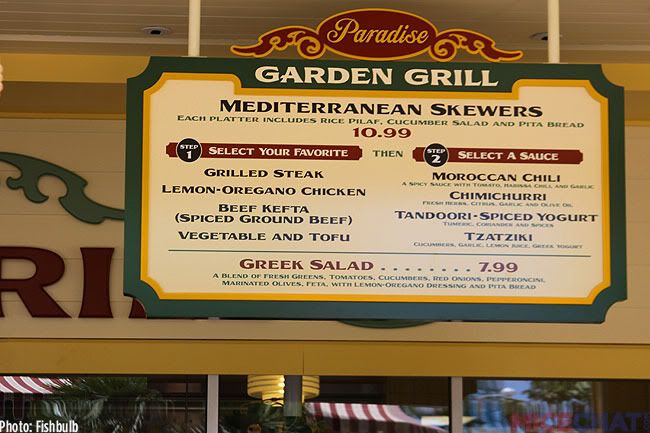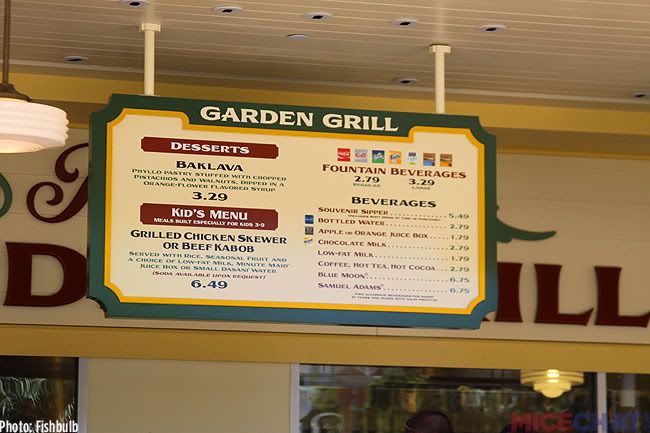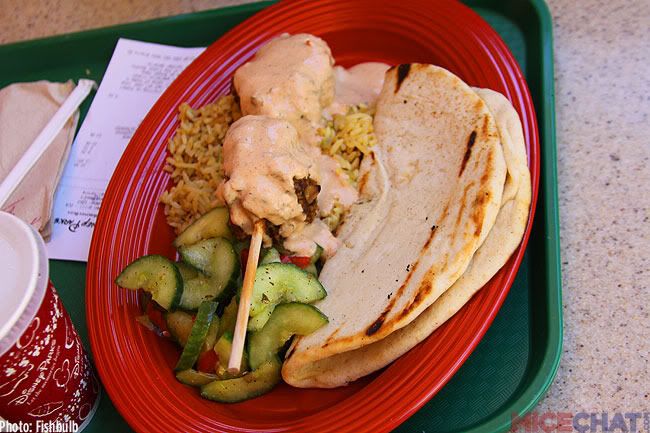 Beef Kefta with Yogurt sauce
Chicken skewer with yogurt sauce
Or, if you are feeling adventurous, you could ask for a few sauces on the side.
The food was surprisingly good. The chicken tasty and the sauces were flavorful. Too, the portions were fairly reasonable considering the $10.99 price inside a Disney Park.
BOARDWALK PIZZA AND PASTA:
This is the most impressive change. Nothing remains of the former Pizza place. Instead there is a clean, elegant, Main Street U.S.A. quality scramble serve restaurant.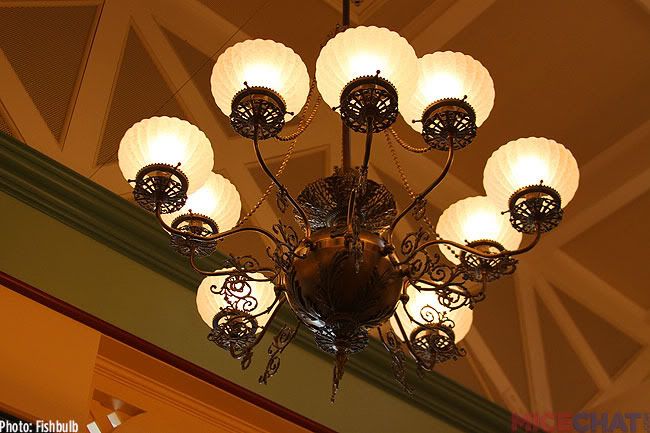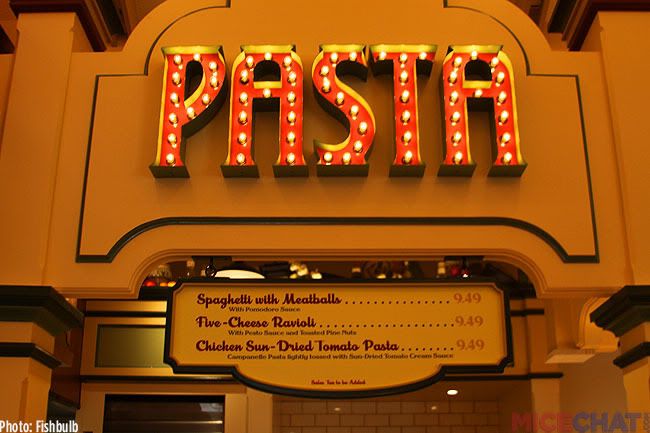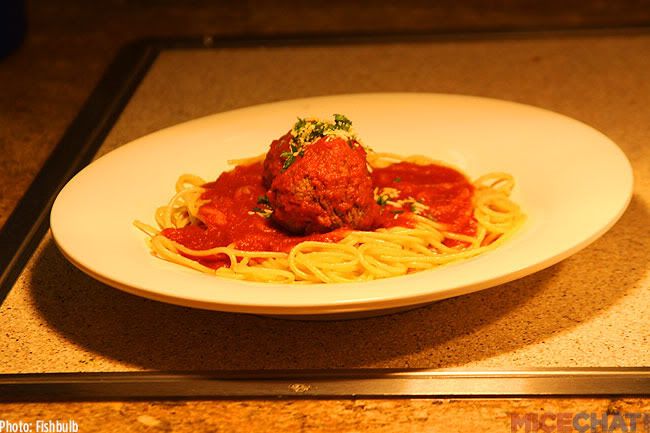 pasta with meatballs
five cheese raviolli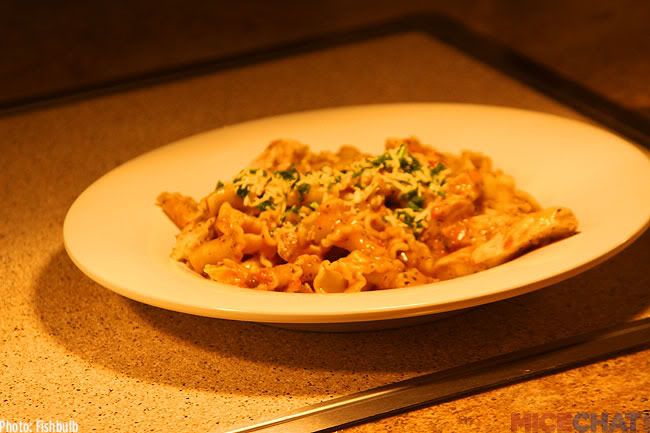 chicken and sun-dried tomato pasta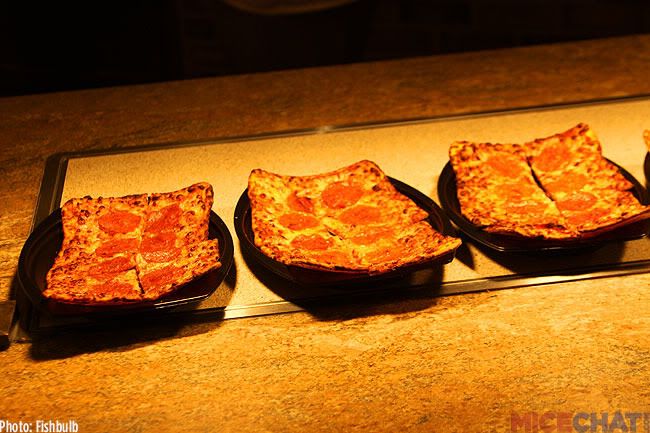 peperoni pizza
Portobello mushroom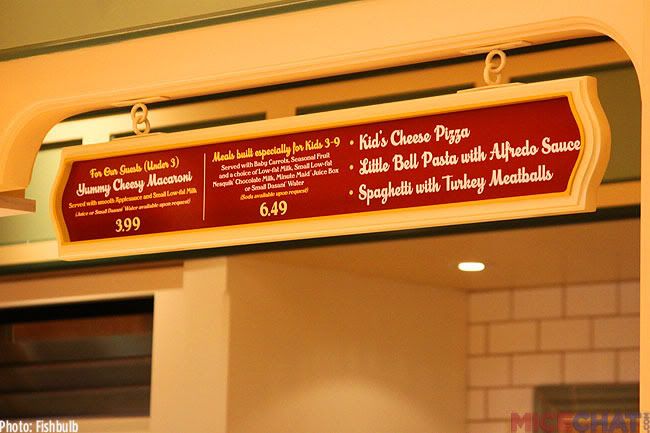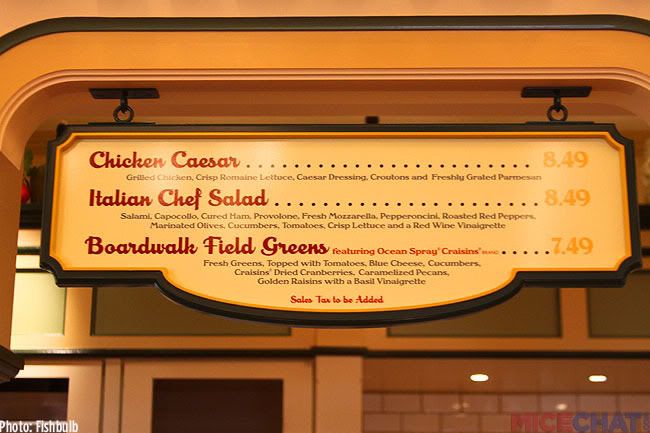 Boardwalk field greens.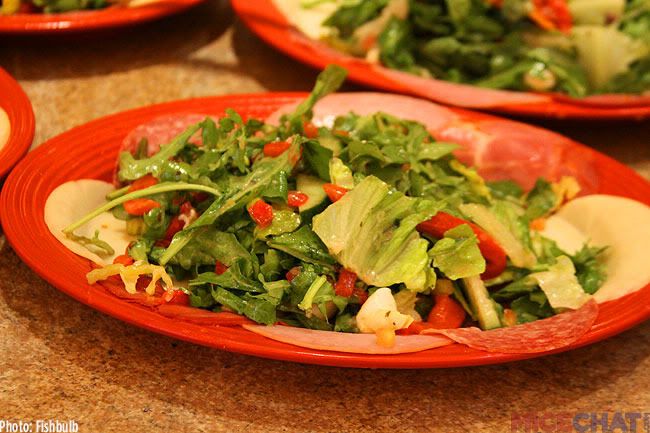 Italian chef salad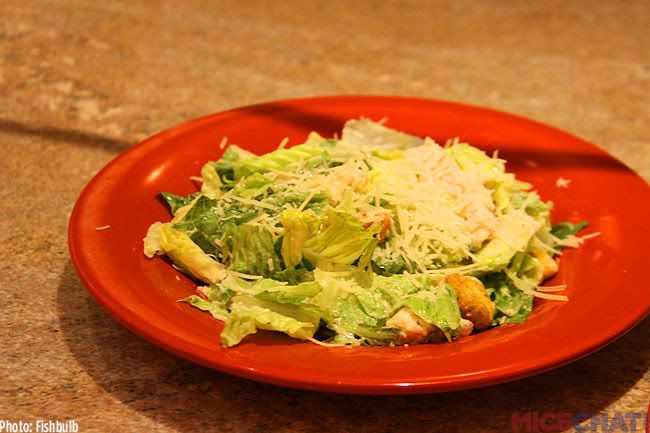 Chicken Ceaser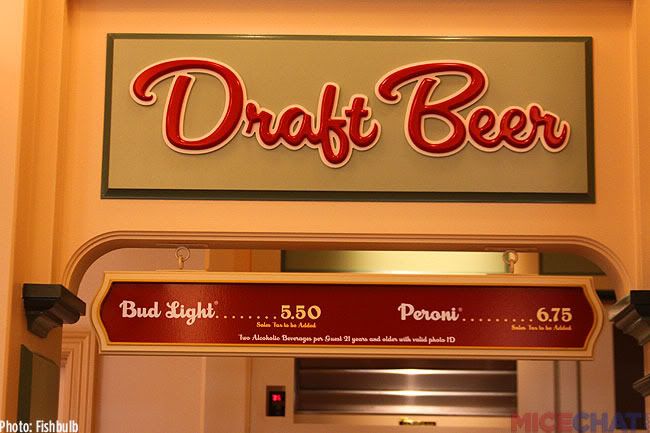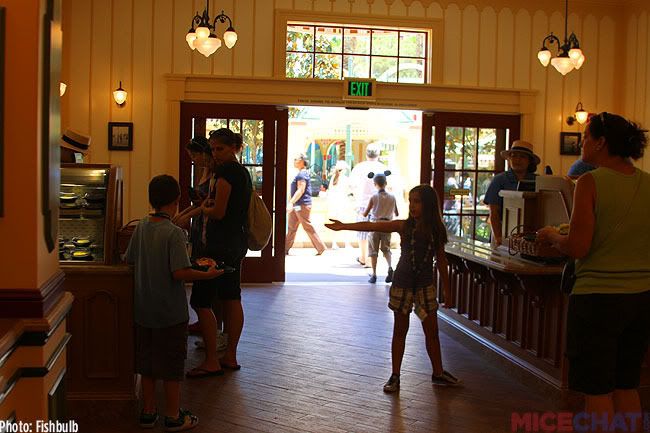 The registers
DINING AREA:
The new dining area is also phenomenal. Really good. The place was busy but it was still very easy to find a comfortable spot with shade.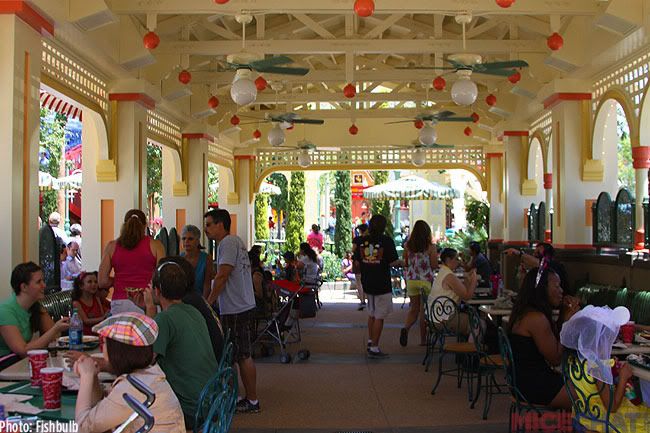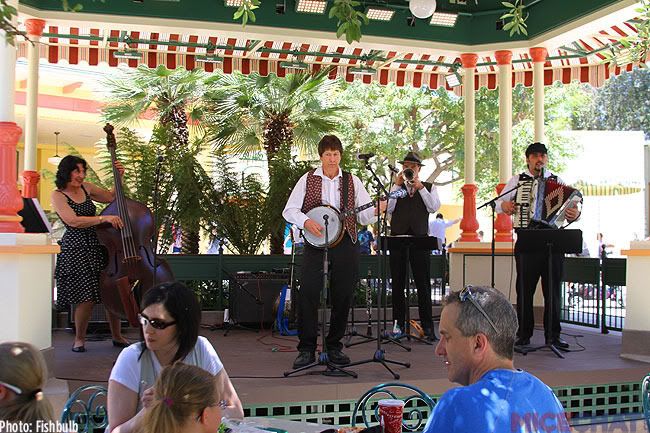 A live band entertains the crowd. NICE TOUCH.
The new trees offer a large shaded area to enjoy food and music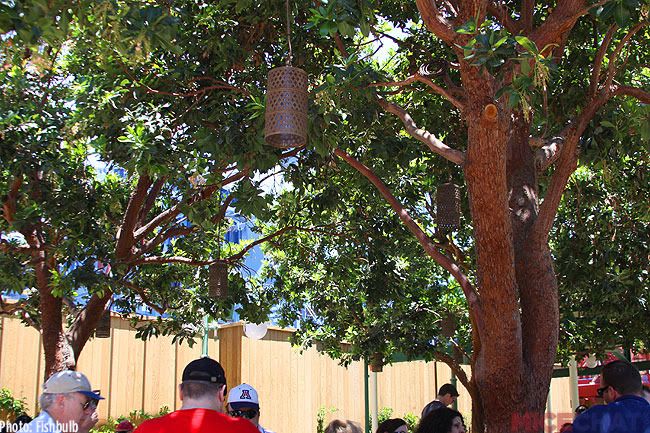 The gazebo, trees and canopy along Goofy's Sky school all but make you forget the thing is back there.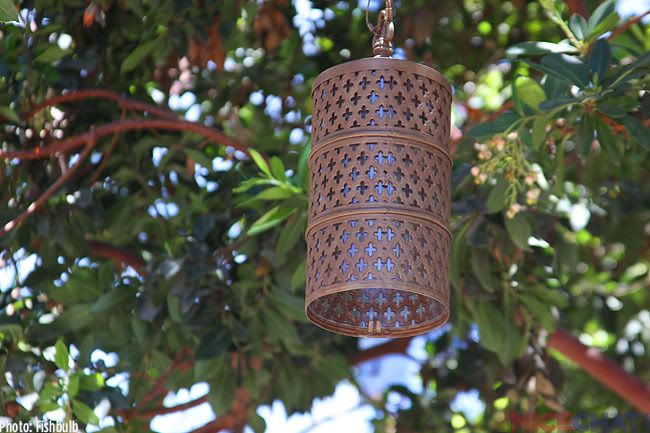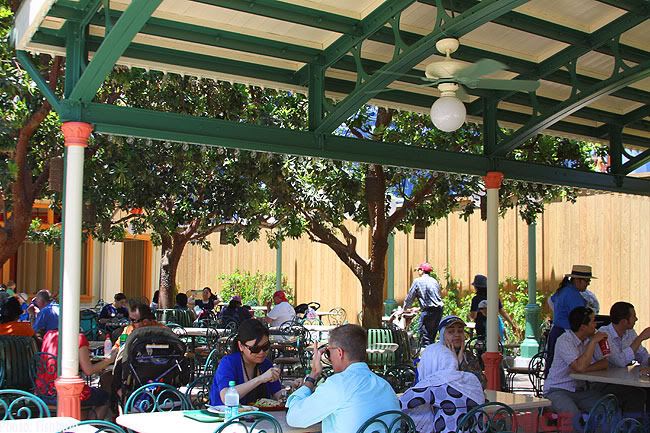 The one sour note:

It's too bad, but there is one small fly in the ointment. If you are still hankerin' for the tacky decor and theme of the previous route 66 you can still visit the bathrooms at the Paradise Garden Restaurants. Maybe this is something that will soon follow, as the project was plagued with delays. We hope so. Because after having nothing but a great dining experience it's jarring to be reminded of how awful the area was.
But, despite the one minor problem with the restrooms, this new dining option is great. Go try it out as soon as you can. There's plenty to eat, lots of room to relax and live music. Good Job.