Recently took a trip to California....so I thought I would jot own a little trip report. Our vacation took us from Phoenix to Los Angeles/Anaheim. We visited a number of places, including Santa Monica Pier, the Magic Castle, and Disneyland.
 
DAY ONE: Santa Monica Pier




We drove out early on Saturday August 20th. Uneventful drive.... except that we stopped off at a place in Quartzsite, AZ with a sign that read, "REALLY GOOD BEEF JERKY". We picked up a bag of "sweet and hot" and it was REALLY GOOD. I think this will become a regular stop for us on future trips.




Stopped off near L.A. to try out Ford's Filling Station. A tiny restaurant in Culver City that is owned and operated by Benjamin Ford, the son of Harrison Ford. The place was okay. VERY pricey (but standard for Culver City). The food was passable... but I probably wouldn't return. Unremarkable... is the best word I can think of to describe it. It was quaint to be in a place filled with Hollywood writers having weekend writing sessions - there were MANY people with laptops discussing their television shows... and movies. But, it was also very "elitist" and I got the feeling that everyone in the place was "shielding" their laptop screens to make sure no industry secrets leaked out to the unsuspecting, casual diner. As someone who works in the industry too (albeit independently), I found their stereotypical behavior amusing.

From there, checked into the Best Western Gateway in Santa Monica. Checked in and hopped on the bus (BLUE #1) which took us down to the pier. My 10 year old boy had never been on a public transit bus before... and he found the adventure singularly exciting. Probably mainly due to the fact that he was "lucky enough" to be STANDING the entire bus ride - holding on for dear life as the gargantuan bus snaked it's way through rush-hour city traffic. "Kinda like a ride..." is how he described it.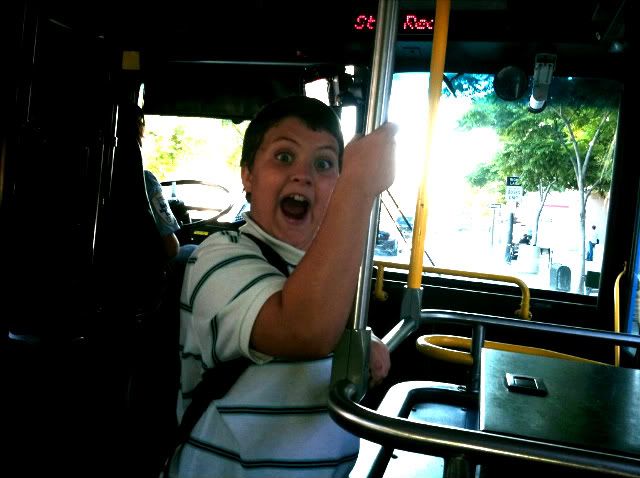 The beach was fun. He played in the water while we rested in the sand from our long drive. In the evening, we did the rides and games of the famous pier and had dinner with my sister (an L.A. resident) at Bubba Gump's.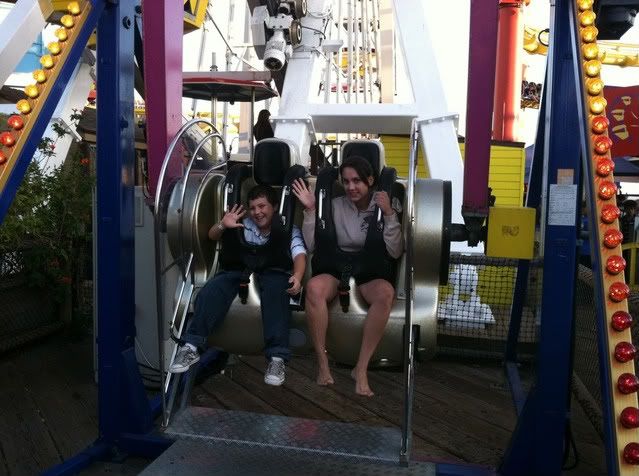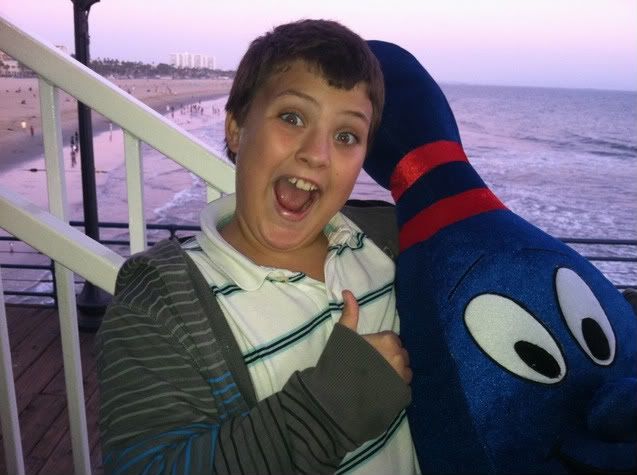 DAY TWO: Magic Castle

The motel stay was good - a decent place. No huge issues.... some local traffic noise... but nothing a loud A/C wall unit couldn't mask. We checked out and headed to the World Famous Magic Castle in Los Angeles. As a big fan of Haunted Houses and old mansions... as well as a dabbler in slight-of-hand...I was thrilled when my sister (the L.A. resident) won a guest pass for six guests in a local raffle. Since the Castle only allows children on Sunday afternoon (and my 10 year old is also a budding magician), we decided to do the brunch.




The club claims to be a "members only" club, but I don't really know how true that is. Anyone can buy a 30 day "trial" membership for about $100... which is good for admission of 2 guests. And, since I don't think there is a limit to how many "trials" you can have... I don't think entry is as exclusive as they would have you believe. However, many of the "regulars"/members ARE practicing magicians, so on top of the scheduled performances inside the mansion, there are also impromptu performers that can amaze you as you order a drink at any of the FOUR (I think) bars on property.

Overall, a mixed experience. I think it would have been much more enjoyable going at night (when formal attire is required) without the presence of children. The "shows" that went on were catered toward kids, and some of the performers were downright horrible. Although, the 15 year old Eli Tanenbaum in the Parlour of Prestidigitation was simply amazing. There was a great "ghost piano" that would play any song you could think of to request (for a tip). I asked for something "scary" and it starting playing the wedding march. Funny. After a moment, it went into a medley of movie themes (Halloween, Exorcist, others), before ending with a haunting rendition of Grim Grinning Ghosts from another famous mansion. Alas, photos are strictly forbidden anywhere in the Castle (except the entry way).




Sadly, the building itself felt a bit run down. Just felt like the place should close down for a while and renovate. It is probably not as noticeable at night... but much of the place was in need of some TLC. Maybe that is part of it's charm... but as a semi-historical place... I think it could use some upkeep. There also wasn't much in the gift shop... which shouldn't bother me... but I guess I was hoping to find something like Disneyland's Magic Shop. And the price of the experience was not low. The brunch (while all-you-can-eat) was $40 a person (before tax and tip), valet parking only, $15 per-person door charge.... so not the cheapest group outing....but not too bad.

Overall, I am glad we went. I would go back, for the atmosphere... but not for the food.




Around 4pm we drove to Anaheim and checked in to the Disneyland Hotel and went to our room on the sixth floor of the Adventureland tower.




After unpacking a few things, our 10 year old decided he HAD to try the monorail pool... so we did. VERY COOL pool/slide. And the height of the watery attraction sends a nice mist onto nearby sunbathers and onlookers who don't necessarily want to get totally wet. We really liked the new addition... though we didn't return to it anytime in the ensuing 5 days of our stay.

Afterward, we visited Trader Sam's. A word of advice: Don't go to Trader Sams with a child at dinner-rush hour. There are only 4 tables in the place that seat more than 2 people and kids can't sit at the bar. We had to wait about 30 minutes for a table to open up. However, once we had a table, the waitress let us know that we could order meals next door from Tangaroa Terrace (since the wait staff is the same) and they would bring the food to our table in the bar. So, we did... and ate dinner at Trader Sam's. It was actually a fun experience after we finally got in. My wife says the BBQ Flatbread Pizza is the best thing she has ever eaten at Disneyland. And the stuff on the walls could keep any Disneyland fan busy for an hour (I still want to go back and study the Indiana Jones stuff more closely). The virgin drinks we ordered were decent too. Overall, a really neat place. Just can't believe how small it is.




After eating, we strolled over to Disneyland and used our free FASTPASSES (current DLH promotion is that you get 2 FPs per guest - good on any ride - even after FP's are sold out) on STAR TOURS. We rode it twice and loved it (in spite of the fact that we got almost the exact same ride both times). Afterward, we hit up a few more rides before calling it a night and getting ready for Day Three.
 
DAY THREE: California Adventure

Got an early start (snagging a few Star Tours FPs before entering DCA) and rode just about everything with nominal wait times.

Time to interject something.

I installed the LINES app on my phone from Touring Plans for this trip. Having used Ridemax and other tools before, I know better than to expect miracles from these things. However, I was sorely disappointed in LINES. The "projected" times were, more or less, always wrong (for the 5 days I was there). The app projected crowds to be a 5 of 10 for the entire week. I think the park was actually quite a bit more crowded than that, which almost certainly threw off their projections. Just about every time the LINES app said a wait time was 10 minutes. It was actually posted as 20. Sometimes 30. Sometimes more. Generally, the rule I applied when looking at LINES was to double what it projected. The only neat part of the app is the USERS ability to upload times (which I tried to do OFTEN when I was in the parks). However, these uploaded times do not REPLACE the projected times inside the app in real time. Instead, you have to click on each individual ride and see if anyone has posted anything lately. On days when there were a number of people updating often, it was helpful (if time consuming) to check all the individual posts for info. On days where there were NOT many people contributing... it was more or less useless (except when checking for show schedules). I don't want to be too hard on the app... since I know how crowds can be impossible to predict. However, that IS essentially the POINT of the program... so there isn't much else I can say about it. It simply didn't serve any significant purpose while we were there.

Back to DCA.




We ate at Ariel's Grotto with the WOC dining package. For 3 people, this came to about $140 with tip. The food was actually quite good, though they had changed some of the meat/cheese choices since the last time we did this package (over a year ago). We ended up taking half of our meals back to the room in to-go boxes... since it was just SO much food (we are not big eaters). We got our WOC tickets, but didn't even end up using them (long story).

We did check out ElecTRONica, however. I have to say... very cool for what it is. Great projections and use of black light. Totally worth checking out if you are there - just to walk through it and see the neat set-up. Flynn's Arcade and the ability to play Space Paranoids ?!?!?! Very neat. We lingered there for about 45 minutes and the 10 year old participated in a video game competition which they projected on the giant wall behind him. It was fun... and now I have a few Flynn's tokens for my memorabilia shelf.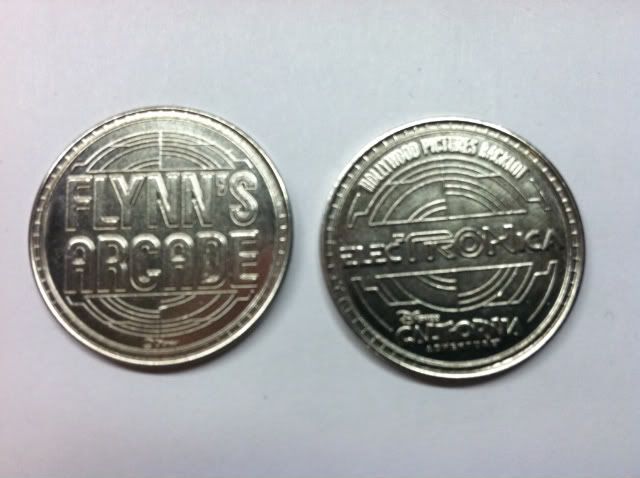 So ended day three.
 
DAY FOUR: Disneyland

We tried to wake up for early entry... but were just too tired. We ended up getting there about 8:45am and getting Star Tours passes.


All in all, a great day of doing all the big rides. The only strangeness came at the end of the day.

After using our Star Tours FPs, we headed out to Small World. The fireworks were ending and we got to see the 2nd half of the show projections on the Small World building. This is something I have never seen, and I must say, I think I prefer seeing the fireworks from Small World. The things they project on to the facade are truly awesome. Next time we watch fireworks, I will do it from there. Anyway, we were at the front of the line to go on Small World, and as soon as they opened it, we did. The ride was going great... until about 3/4 of the way through... we stopped. The boat ahead of us (empty) got stuck as it tried to exit the track (into a backstage area). However, we sat there for about 25 minutes before someone realized. 25 minutes. I can only imagine how many people were backed up behind us. But, at about the 20 minute mark, people started trying to exit the boats. One person took his kid and tried to exit through one of the "exits", only to find the door was locked. Another woman climbed to the boat ahead of us and tried shaking/kicking it loose - to no avail. Eventually, a rather frightened cast member emerged and started to panic. She told us all to stay in the boat and ran off, shouting for help. It was a little awkward... but eventually, with the help of a few other cast members, they were able to get the other boat loose (which had been stuck between the wall and the pressure of the 20 boats behind us pressing up against it) and send us on our way. Kind of cut our night a bit short (after that we didn't have the energy to do what we had planned), but it was interesting. I almost wish that I had got off the boat to seek help. Might have seen something interesting.
But... I was a good guest, instead.


 

DAY FIVE: Disneyland

The next morning, we arrived for the rope-drop. My mom, and 9 other family members joined us at the park for day five and six - the largest family trip I have ever been a part of. It was an interesting thing - getting in the Star Tours fastpass line with a stack of 13 tickets in my hand... and trying to get fastpasses for each before the return time increment could increase.
Being the Disney freak of the family, I spent most of the day running for FPs and helping everyone else make the best of their time. It was worth it though, since many of them had never been to Disneyland before. It was fun to see them having such a good time.




The day ended with us camping out for Fantasmic! around 7:30pm. We got a decent place and ate dinner while we waited for the show. Luckily, everyone remained seated for the show, so we didn't have to STAND and put the little ones on our shoulders for them to see over the crowd. The show was perfect... and the look on the kids faces when that dragon emerged was just grand.

Then we took our fastpasses to Big Thunder Mountain Railroad and got in line, hoping to coordinate the fireworks with the ride. Sometimes you get lucky doing it, sometimes you don't. We got lucky this time... and had fireworks for our whole ride. It was the epitome of Disney Magic.

After, we rode Autopia... which is also great fun at night. Then we took the monorail back to the room and collapsed.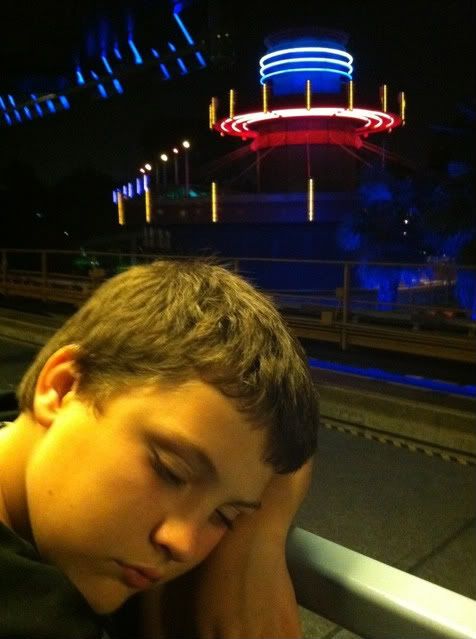 DAY SIX: California Adventure

Did a lot this day, including the Little Mermaid. It's a good kid's ride. But. Nothing that I think I will need to ride again soon.

Did Grizzly with the group 3 times in a row. They loved it. I think that is probably the best ride in DCA... and much under-appreciated. Tried to use the LINES app that day. The only other person in the park that was updating was user name MOUSETALGIA. That was fun to see, since we listen to their podcast, from time to time and we knew they were in town for the Expo.

Also checked out the new restaurants. Both the pizza/pasta place AND the Mediterranean places were excellent. I don't think I will ever eat anywhere else in DCA (except if I am craving a corndog).

That night, we saw World Of Color with the entire group. Not easy... getting a seat with 13 people and a stroller. We got Blue section for the 9pm show and tried to get to the front of the splash zone. As it turns out, we were just far enough back to have bad seats... and ended up giving the little ones piggy back rides so they could see. By little ones... I mean 80 lb 10 year olds. Not pleasant. But. The kids didn't seem to care. They enjoyed the show. I still think the new Pirates section of the show is the greatest segment.

Ended with StarTours FPs...again.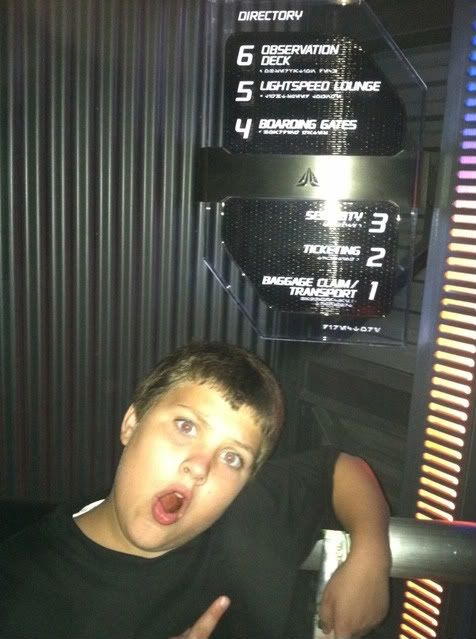 DAY SEVEN: Disneyland

Our last day, we woke up around 6:30am and packed up, loaded the car, checked out of the hotel and headed to Disneyland. We were a bit too exhausted to make the rope-drop... but we were able to ride Star Tours (15 minute wait) AND get a FP for it.

Usually, when we leave Disneyland, we try and make it out of the park by 1 or 2pm so we can beat Riverside rush-hour traffic. However, we also usually have a hard time cramming everything we want to do on our last day into those final few hours. However, this time, the tiki gods smiled upon us... and before departing, we were able to squeeze in Space, Splash, Indy, HM, Pirates, Star Tours (twice) and one of the best Billy Hill shows I have ever seen. The final day was very cool (if fast paced).

In the end, we did every ride a number of times... and got ALMOST every part of the Star Tours (never got the pod race!). Who could ask for more?

Only complaint: Possibly the worst Pirates ride ever on Friday. We were seated on a boat directly in front of a mother and her two children who DID NOT STOP YELLING FOR THE ENTIRE RIDE. It was excruciating. These people were so obnoxious... it was as though they were determined to speak louder than the actual ride itself. It was so annoying, that after the first few minutes (right around the mist-waterfall-projection), I decided to bust out the voice-recorder on my iPhone and record them talking. I hit record and just held the phone around my neck - pointed backward. For the next 11 minutes... they talked and talked and talked. I could not believe it. To make all this worse, there were 2 people in the boat ahead of us taking FLASH PICTURES. AND another person in OUR boat taking flash pictures. I was tempted to turn the flashlight app on my phone on and just shine it in their eyes until they got the point. But.... I couldn't do that AND record the annoying people too! So I abstained. I am proud of myself for resisting the urge to throw their cameras overboard and stuff my Disneyland maps into bothersome mouths. It really did take all my patience to resist.

Okay. One other complaint.
Went to the Magic Shop on Main Street to pick up a new trick/souvenier - which is something we always do on our way out of Disneyland (usually to play with on the trip home). This time I picked up a trick called the "Antigravity Liquid". I won't spoil the trick - sufficed to say... that when I finally opened the package... the item inside had been broken and glued back together.
If it was a Disney item, I would try to return it... but since the Magic Shop is now run by Houdini's... I think I am just out $20. Oh well.

Other than that... a really spectacular last day. We got in the car a bit late... got stuck in Riverside traffic (like always)... and made it home late. But overall it was one of our best Disney trips ever.
 
A few final pics


.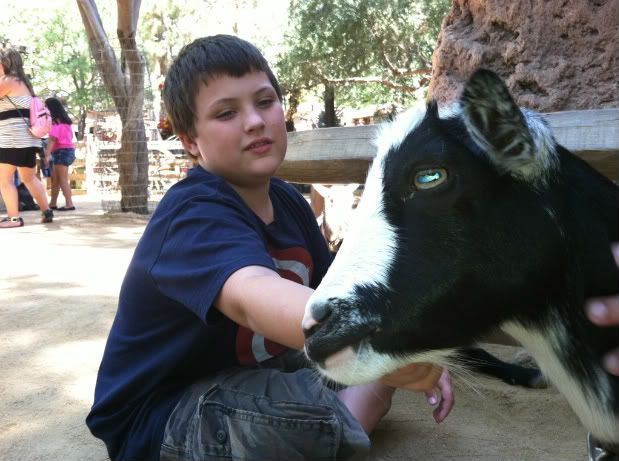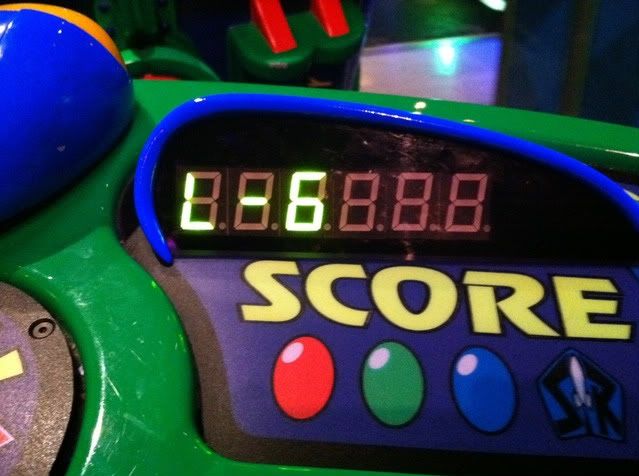 (my 6-year old niece riding Splash Mountain for the first time)