This is my first trip report that I have done. I have read lots of reports, but have never done one myself, so I felt like it was time and hopefully it won't suck. lol. I grew up in Anaheim and my parents got us passports for us kids since the early 90s so I have been to Disneyland a lot in my time. I moved away from California in 2003 and have only been able to go to Disneyland once or two weeks out of each year which is good for me I think. I live in Utah and have a deluxe passport. I will not be able to renew my pass because of financial stuff, so this will be my last Disney trip for a long while which is also another reason for this report. I hope to get back by 2013, but even that might be pushing it. I hope so though because the new California Adventure is going to rock. I don't remember everything, and just going off memory so everything won't be in the report that we did. Anyways, onto the trip report....
We arrived in California on Saturday Oct 1st early in the morning. We hadn't planned to go to Disney that day, but we decided what the heck and we went. We got there around 4pm so we were able to get a few rides in at DCA. We only spent a few hours in the park before we left because I wanted to be there all day the next day. We rode Little Mermaid, Tower of Terror, Soarin' and Monsters Inc.
The next day we arrived at 8am and proceeded to have some fun. All throughout the trip I took advantage of the unnetworked Thunder Railroad and rode that the most times out of all the attractions there. Probably 20 times all with fastpasses. Never waited more than 5 minutes. I would say 80% of the time, the standby line was back near the underpass. I just feel sorry for those that don't understand the fastpass concept and miss out on a lot of other things by standing in line. We got fastpasses for Star Tours and rode Space Mountain. Having never been on Ghost Galaxy before I got to say that was really awesome. We rode that probably 10 times throughout our trip. Really enjoyed that attraction. Got fastpass for Haunted Mansion and rode Splash Mountain. Wait was probably 20 minutes which wasn't bad at all. Line moved pretty good and only a few people had fastpasses for the ride. Line moves quick when you don't have fastpasses clogging up the standby line. Saw fantasmic at 9pm that night which was fantasmic as always. The dragon however did have one hiccup which was the fire. It looked like she spit out the stuff to start the fire, but it never ignited into fire. Guess the spark or whatever failed? Not a big deal, but it is defiantly more impressive when there is fire from the dragons mouth. We left after the show because my daughter was being cranky, but she did enjoy Fantasmic.
Monday we geared up for another long day of fun activities. Got at the park early, got more Star Tours fastpasses and rode Autopia with my daughter. She is a crazy driver, she will just turn the wheel any direction and 'crash' every 3 feet and laugh the whole time. She is so funny and cute while doing it, it's a blast going on the ride with her. We headed over to the Matterhorn and rode that. Later on in the day, the Fanstasyland side wasn't working, so I thought it would be back up later. I didn't see it open back up till Wednesday. That sucked cause I couldn't ride that attraction again for two days. The line was really long due to the one side being open and the line moved slow. That night we went to the party and it was much more crowded that I thought it would be. There was a ton of people in line for treats and meet-and-greets. While most people did that, I walked on a ton of rides. As people got their sugar fix, the lines got a little bit longer for the attractions, so I then got my sugar fix. Watched the fireworks and that was pretty cool. All in all it was a good event to go to, but probably won't do it again. I think that they should sell only a certain amount of tickets so there is less people, cause it was crowded in my book, but that would only be in a perfect world, so no-go there.
Tuesday was a good day with medium waits and was just a nice cruise day. Wednesday was the day I was looking for and I have wanted it to happen for my last several trips but hasn't. Rain, rain, rain! I love the rain! It was awesome to get up and see it raining outside. I knew today would be awesome and indeed it was. Walkon on almost every ride except Star Tours and the great peter pan. Rode both sides of the Matterhorn and it was great having the rain in my face. It was cold, but awesome. Rode splash and I got wet but didn't notice being anymore wet. lol. Grabbed fastpasses to ride Star Tours since that still had a 20-35 min wait throughout the day and rode that a couple times. On this day and I belive Friday when I rode Star Tours I got picked at the Rebel spy which was kind of cool seeing my face up there. I overall like the new Star Tours experience. I got to get everything available except I never went to Kashyyyk or Death Star over Geonosis in any of my rides.Got evenly split with Vader openings and stormtroopers, got Hoth twice and Tatooine the rest, I only saw Yoda once, Ackbar once(thank the maker!) and Leia the rest of the rides, and pretty even for Coruscant and Naboo for the closing planet. I like the idea that it can occur random, so I got different experiences and such so it was pretty cool.
Thursday sucked because I am guessing all the people that didn't want to go in the rain decided to go on Thursday so that made for some pretty crowded walkways and long lines. We still did a good chunk of things at the parks but it was crowded. We saw Fantasmic at 9 and 10:30 showings since I left my daughter with my mom. At the 9 showing, the fire breathing dragon was back, and at 1030, she was gone again. Oh well, at least I got to see it work once. lol. At the 1030 showing, Mickey almost fell down the stairs but saved himself and continued on with the show and did great.
On Friday was a very weird and awesome day for me and my wife. My daughter was still with my mom for the day so it was us two. We went for breakfast to the Plaza Inn character all you can eat buffet experience and that was really cool seeing all the characters out and about. I even got my picture taken with Captain Hook and I was glad to see they have villains there as well. A little pricey but since I had never done it before, it was good and no lines to meet the characters. They come right to your table which rocks and pose for pictures and sign autographs. Now for the weird part, we went over to Critter Country and rode Splash Mountain, when we came out and looked at Pooh, the line was full. Never seen that before. The awesome part was that Splash was a 5 mins wait, when we came out the line was going back near the haunted mansion exit. The reason for this was because HM broke down, and when we were just passing it, they opened it back up so that was a basic walk on. After we got off the HM, the line had refilled. Used BTMRR fastpass for 5 mins wait, waited for Matterhorn for 15-20 mins which isn't bad then headed to DCA. Did Ariel in 10 mins, Goofys in 15 mins, walked over to Tower of Terror got fastpasses and walked on the ride. Got off, then that line had grown to at least 30 mins. Got in line for Aladdin early since we didn't have the child and ended up sitting on the floor in 6th row in the center. That's the closest I have ever gotten for the show and it was awesome. The carpet wasn't working but I read about the mishap before I left so I expected that. After 7pm, DCA started to get really crowded since Disneyland closed for the party, so we hopped in line for Toy Story Mania for 40 mins and that was fun. After we got off the line was wrapping outside the normal queue and had a posted wait of 65 mins. Yikes. The park was getting real crowded so I used our fastpasses for Tower of Terror which was probably 15 mins wait in that line, 60+ for standby and that was our last ride at the resort.
I hope I got everything that I wanted to cover in this report. I had a real awesome time at the Disney resort as I always do. I love going there and I am so sad it has all come to an end and don't know the next time I will visit. The carsland rock work looked just stunning, the pictures on the internet don't do it justice. Just seeing it in person is awesome. The new DCA entrance is really cool as well. I do like it more than the old entrance and it lights up really well at night. Ariels undersea adventure is a great ride and rode that about 6 times. The attention to detail is amazing. They did a great job with the ride. To everyone who was dissing that you could see the ceiling and such, I mean really? I am looking at the characters on the floor, not at the roof. Geez. It was well done and I thank them for giving us this attraction. That's my trip report, and hope you enjoyed it. Thanks for reading. Now here are some pictures of various points in my trip.
Full line Pooh. Never seen this before. LOL!
In line for Roger Rabbit.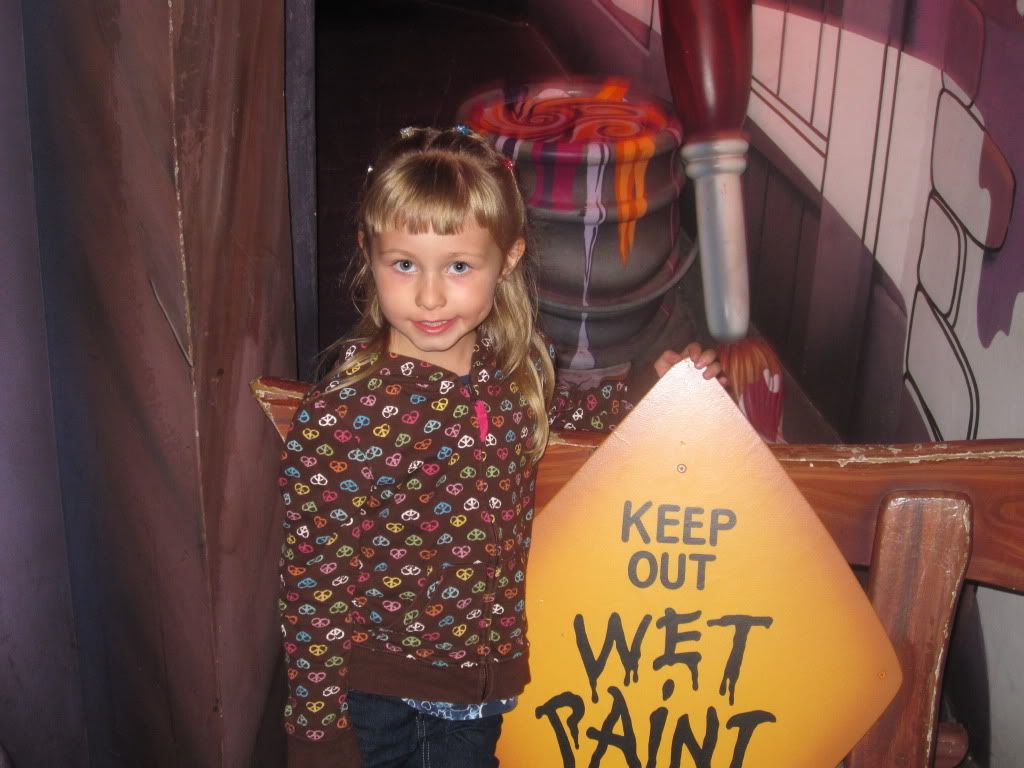 On top of the treehouse. Great view.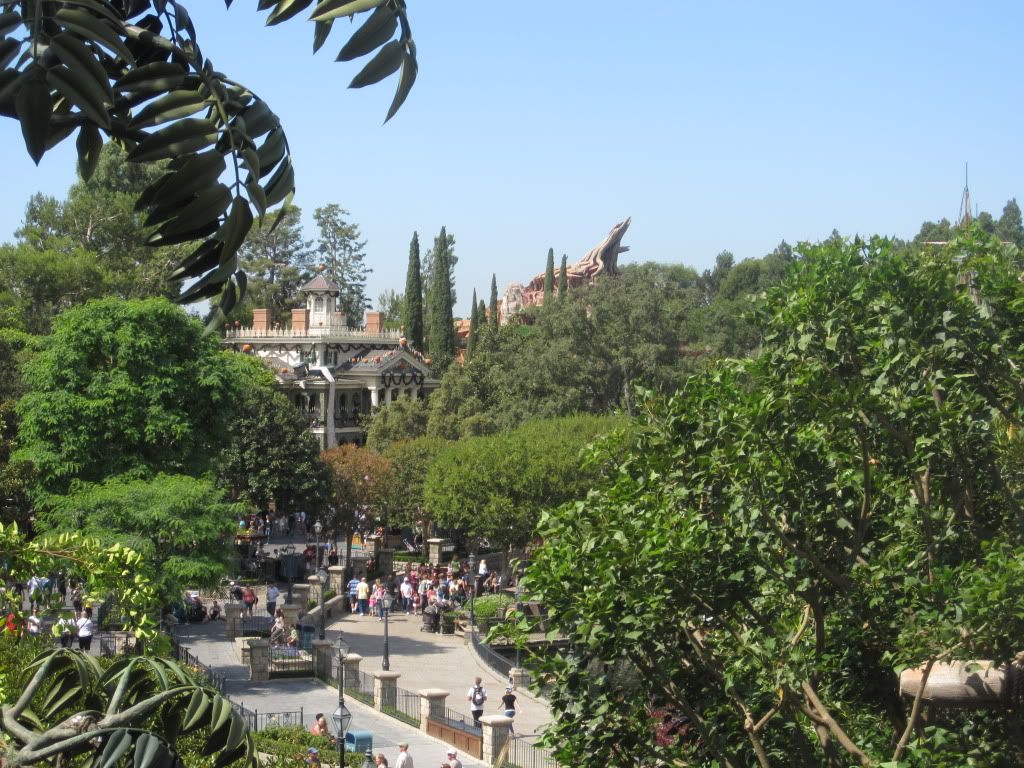 My wife took this. I am in the car with my daughter.
My daughter after she got soaked on splash mountain by sitting in the front row.
My daughter was scared even though she has been on the ride multiple times before.
There we go. No longer scared.