This is a real event that happened to me on Thursday at around 6:50 PM at the Carnation Cafe. I will show the receipt at the end just to prove that this is real.
- - - - -
(I was eating dinner at the Carnation Cafe, and I was dining alone. I didn't own a credit card yet because I was only 16 years old, and both my parents and I agreed to wait until I was a bit older until I got one, so I always paid in cash. It would also be the first time I would eat at a sit-down restaurant on my own, so I was a little bit nervous. By the time I was about to eat, I only had exactly $20 left in my wallet, and the meal I was paying for nearly took my entire $20, including tax, leaving me with only 95 cents once I did calculations on my phone.)
(Waitress comes up to me while I'm eating.)
Waitress:
"Are you finding everything alright, sir?"
Me:
"Yes, the food's very good, thank you for asking."
(As she is walking away, I suddenly realized that I may not have enough money to tip her.)
Me:
"Excuse me ma'am, I have a question."
Waitress:
"Yes?"
Me:
"Am I supposed to tip you, because I don't think I have enough money left. You see, I only have $20 and the meal I paid for will leave me with only 95 cents."
Waitress:
(Gives me a warm smile) "Oh don't worry about it, the tip is already included with the bill!"
Me:
"Really? I don't have to give you any physical tips or anything like that? Because I really thought I had to give you one."
Waitress:
"Don't worry about it! Like I said, tips are already included with the bill. If you have any other questions, feel free to ask me! Please do enjoy your meal!"
(She walks away with a smile on her face. A couple sitting in the table right next to me paid attention to the whole conversation."
Husband:
"Hey, uh…excuse me sir…"
(I turn in their direction. He is leaning towards me with a few $1 bills in his hand."
Husband:
"Here, take this. My wife and I overheard your conversation with your waitress. She was really nice and friendly, and we felt a little sorry when we also heard that you wanted to tip her but didn't have the money. Please, do take this."
Me:
(Stretches out arm and holds the money. Using my thumb, I leaf through it and find out they were giving me $10 to tip my waitress. I was dumbfounded.) "Why, that's really kind of you sir, but I couldn't. I wouldn't!"
Husband:
(He shakes his head in a friendly sort of way, and pushes the money towards me.) "No, really, I do insist that you tip your waitress. (He gives me a reassuring nod.)
Me:
"T-thank you…thank you so much. How can I ever repay you?"
Husband:
"You don't need to pay me back. Honest. You both really needed it."
(I finish my meal and when my waitress comes over to my table to get the bill)
Me:
"Here, take this tip. I really do want you to take it! It came through the kindness of others."
Waitress:
(She turns to all three of us. I think she saw the conversation.) "Thank you. I'll go get your bill and hope all of you have a wonderful night!" (She gave us a little wave as she left.)
(She go gets the bill and I pay for the meal, getting my last 95 cents as calculated.)
Me:
(To husband) "Please, I know it's not much, but take this 95 cents."
Husband:
(Waves me off) "No no, I can't. Keep the change. You'll never know when you'll need those coins."
(I tried again to give my change to him, but the same reaction.)
Me:
"Well, I know this isn't much as well, but please have my thanks, and have a great night!"
(I wave to them as I leave the restaurant and they wave back. I still have that receipt to this day to remind me of the kindness a couple brought to me in a tight spot.)
- - - - -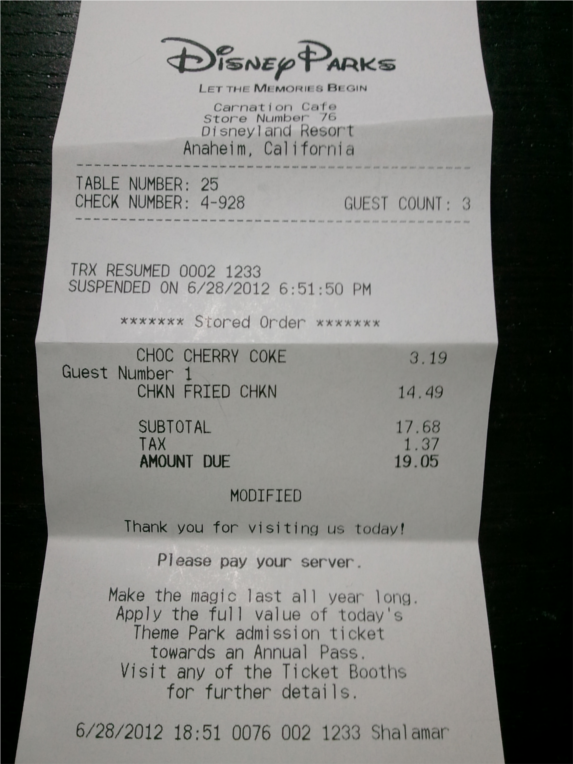 I believe the 'Guest Count is 3 because the waitress included the Husband and Wife since they pitched in to help with the tip.
Man, I have to give trip reports more often, because I know with every trip report comes a fresh, new, and/or exciting event that happened in the park!