Disneyland had a great World of Color special event for annual passholders the weekend of June 29th. You had to register for it ahead of time in person, and Theresa and I weren't able to make it to Disneyland in time to register. Luckily though, our friends Steph and Farman were about to, and they invited us and Jacob to come along with them.
Theresa, Jacob and I left our respective work places a little early, and got to the park around 2:30pm.
Steph and Farman got off work and parked by 7:45. They walked to the ticket booths and we joined them right around 8:00pm. The line moved quickly and by 8:15, we were at the front. The line did get a bit longer behind us, so I'm guessing the people who showed up later were waiting 20-30 minutes to get their vouchers and wristbands. Once we got to the window, the cast member took the voucher, checked everyone's photo ID and annual passport. She printed a ticket for each person to redeem for the special mouse ears, plus put a green wristband on everyone's wrist.
Once we had that, we were free to enter the park and hang out until close to showtime. What better way to celebrate being off work than a nice big ice cream cone.
Steph and Farman hadn't been on Radiator Springs Racers, so we walked into Cars Land. Once we got there though, the line was longer than we wanted to wait. We split up, and they did Soarin while I stayed behind and took photos of all the neon. As I was over near Radiator Springs Racers, there was a big crowd of people, a few girls screamed "Justin Bieber!", and you could see someone was running off stage. I didn't really see much, but people were talking afterwards how they had seen Justin Bieber. Who really knows though.
I met back up with with the rest of the gang and we decided to head towards Mickey's Fun Wheel to line up for our ears, like the voucher said. As we were passing the Wine Country Trattoria, Cast Members were just starting to put up the ropes for another queue section for this special preview. From the time stamp on my photos, this was right around 10:40, and we just happened to be in the right place at the right time and ended up ~50 people back from the front. Just a few minutes later, the line stretched out quite a bit.
They wheeled out carts with lots of blinking hats and set them off to the side. They reminded us of the Seven Dwarfs Mine Carts from the Electrical Parade with all the sparkling jewels.
People in front of us.
People behind us.
At 11:15, they dropped the rope, took people's paper vouchers, checked their wristbands, then gave them their hats.
From there, guests were allowed to immediately walk to the World of Color viewing area. We entered what I think was the normal entrance for the Blue Fastpass. In this case though, there were no lines or barriers keeping people out of other sections. Being near the very front of the line, we were able to make our way over to a rail that was two levels up (so we could see the hats) and in the center.
The area really started filling in and it was cool seeing everyone wearing the same style hats. The viewing area got crowded, but it wasn't packed. We've seen much worse during other regular World of Color showings.
At 11:40, a special announcement came on, welcoming us to the special World of Color viewing.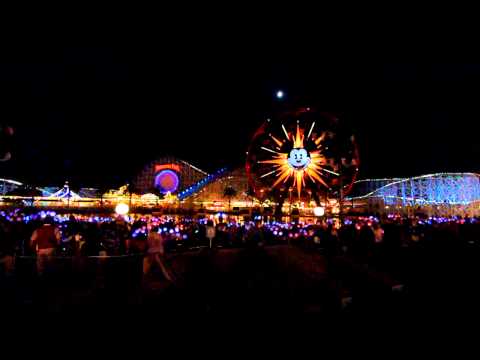 The show started right on time at 11:45.
The rest of the videos are still encoding, and I'll upload them tomorrow morning after I get some sleep. In short though, the entire show was amazing! Seeing all the hats sync up with the show was amazing. Hearing the crowd's reactions to all the hats lighting up was great! It was awesome looking around during the show and just seeing smiles from ear to ear on all the faces. I know my face was stuck in a permanent smile the entire time.
So what's the verdict? Our entire group loved it! Thank you Disney for this awesome experience! We also loved how they turned the fountains back on after the show was over, and didn't rush us out of the viewing area. We walked down to the lowest level and got a few photos in front of the water.
All the cast members were great and they seemed to be enjoying it as much as the guests. As others have stated, they're constantly running back and forth during the show giving out new pairs of ears to anyone that ha
s ears that aren't in sync with everyone else.

As we walked out, they had everyone go through Grizzly Peak and Condor Flats. People weren't allowed to go by Cars Land.
We all headed out to the Mickey and Friends parking structure, and because the lines for the trams were so long, we walked through Downtown Disney to get back.

Hope this might help anyone who goes on June 30th. Videos coming soon!