I know that there are a ton-o-World of Color videos out there. There are even a bunch of the Glow with the Show passholder event that just happened. However, I didn't really like that most of these were only with 1 angle and the audio is typically muffled. Disney released a :30 snippet that was awesome, but also not very long.
So last night my Wife and I hit the park with a Canon 7D, Tokina wide 12-24 lens, GoPro Hero 2 and H4N in hopes of capturing the event. Since everyone watching was given free interactive ears, it was a sight to behold once the show started!
I placed the GoPro near the middle of the bridge in its widest mode. This allowed us to get most of the crowd and fountains, but since it was so far back the hats look like little specs. The 7D was placed in the middle of the crowd with ears all around. This is also where we placed the audio recorder set to wide angle, stereo mode.
In the end I am fairly pleased with the result. I wish I had more camera angles to select from. A few more tighter on the ears, some tighter on the water screens. But I think it worked fairly well. We edited it all together and placed it on YouTube here: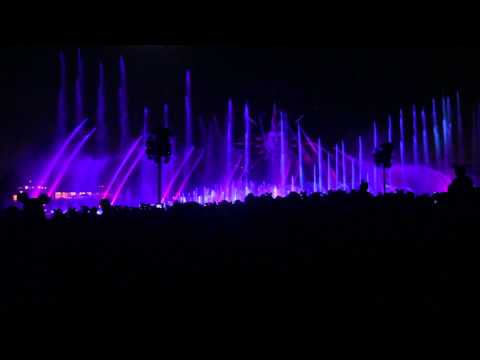 There was some wind noise that bothers me, and I may go back with some thicker wind screens to try and re-capture the audio and cut that out. Minor gripes aside I think it worked well and I hope it is a good way to remember this amazing event! If you watch the video, I suggest doing so with headphones as the H4N did a pretty great job of capturing what it is like to stand there.