Hello everyone. So, as I have already posted in my other thread, here is my ideas for DLR expansion. I have using the last couple of days developing some suggestion. That is why everyting is still very abstract and shallow. You can give your ideas. The are all very welcome. Also, criticism are very welcome too. Feel free to express if you not think it is a good idea. Let's begin.

Well, to begin, I have never been to DLR. I live in Brazil. A trip to DLR would cost much more than a trip to WDW. But, since I have being searching and reading about Disney Parks, I got in love with DLR. The park does look so beautiful and magic. The details are just gorgeous. I am planning my trip to DLR with my family for 2014 or 2015. I know it far, but I am patient
. Since I got in love with Disney parks, I have been making a daily reading about all Disney parks and attractions. Everyday I learn a new thing about the parks. When I decided to make a plan for DLR, I decided to keep DLR best features, which are:
-Being compact and at walking distance to everywhere. In WDW, a transportation mean is necessary.
-Being cohesive and having an extra magic, compared to other Disney Parks.
Also, I looked up the best features of others Disney Parks and give a version of this features to DLR.
Some notes before you read my post:
1-I got the size and fits at Google aerial view site. I just used the fits that the site shown.
2-The areas of the lands are not exact and precise. They are close to the real, having the possibility of being smaller or larger.
3-Here in Brazil we use the meter system, as you use the foot, miles and acres. When asked for the fits of the landing, Google gave me the lenghts in meters. Than, I had to calculate the areas in square meters and transforme them areas to acres. I also approached the nearest whole number.
4- When I calculated the areas necessary for hotel buildings, I used the fact that, in Grand Californian Expansion, Disney used 2,5 acres to build more 200 rooms and 50 vacation villas. Considering that hotels need extra public areas, a mid size hotel with 400-500 rooms would cover an average area of 7-8 acres. In fact, Disney Paradise Pier Hotel has 489 rooms and covers an area of 5 acres, including paking lot.
So, I made a lot of search in web and found that this areas are owned by Disney:
I don't know if Disney owns more land in Anaheim, but I wanted to use the space that I was sure that Disney owns.
What I realized is that Disney uses so much space for parking. Ok, I know that parking space is necessary. But, when the space is kinda limited, using only "one level ground" parking is not a smart decision.
Also, DLR most important area is the main "rectangle" where the hotels and the two parks are located. I would NOT recommend Disney use area in the "rectangle" destined to parking. The "rectangle" should be somewhere used only for parks, hotels and entertainment. You might be asking know: "So, where is the parking gonna be?"
I would like to see DLR parking similar to that we find at Disneyland Paris. Where parking is a big isolated area enough to cover all the resort needs. At Disneyland Paris, the parking is also a "one level ground" structure, since they don't handle with space limitations. Here is what I am talking about:
At Disneyland Tokyo, the entire Parking Structure is surrouding the entertainment. As you can see in the next picture, the "center" of the resort only features entertainment, while the "edges" host the parking.
At DLR, we have a parking structure called "Mickey and Friends" that features an average of 10000 parking spaces in 6 levels and covers a ground area of 13 acres. As you can see here:
Disney owns a land with near 30 acres close to the resort "rectangle". Now, this land is the pumbaa parking lot and the remaing area is rent to another uses. As you can see here:
As shown in picture, this area surface is enought to build 2 structures similar to Mickey and Friends Parking Estructures. Also, If Disney build this 2 new structures with 8 or 9 levels, there would be 40-50% more parking space, which means a close to 30,000 parking spaces.
This is How Pumbaa Parking Lot would like after:
The remaining areas in the rectangle would be:
1- Simba Parking Lot:
Paradise Pier hotel is also hosted at Simba Parking Lot
My suggestion for Simba Parking Lot:
1- Use the space to build a 400-450 room victorian style hotel. That would match new Paradise Pier at DCA. But, I would like to see the victorian themed hotel in a more "fairy tale" and "girly" style. Grand Floridian, Disneyland Hotel Tokyo and Disneyland Hotel Hong Kong are victorian style, but they are very formal and not very colorful. My suggestion to new "fairy tale" style hotel would be a hotel similar to Disneyland Hotel Paris, which is victorian, but very magic, girly and castle style:
The outside would be painted in Pink, but a darker pink than that used at the Disneyland Hotel Paris. I would like to see a pink similar to that used in the Sleeping Beauty Castle. The roofs would not be red. I would paint them in a very light pale beige , an ivory. Let's suppose this hotel would need 7 acres of area.
The rooms would be similar to Disneyland Hotel Paris rooms or with Fairy Taile Suite at Disneyland Hotel: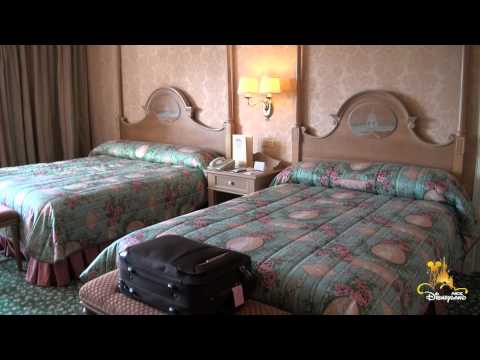 I really like the finishing of fairy tale suite, but I would like to see the rooms with more pink, flowers and feminine style.
2- The remaining area. I really like the Marvel idea. But, I consider a Marvel Theme Park to be too much. A land at DCA would not be enough to explore the entire Marvel World. My idea is that they would use the remaining area at Simba Parking Lot to be used as a Marvel area. This area would be "smaller than a park and larger than a land". I would define this area as a "Marvel Mini Theme Park", since the "mini park" would cover an area of near to 24 acres(twice the size of Cars Land). The Marvel mini park also would have an "ThorCastle" in a themed land called "Asgard". The castle would have golden details and would have 120-150 ft height. An example:
This how The Simba Parking Lot would look like after:
As you saw, I use the parking space at Northern Paradise Pier Hotel to give more space for the new hotel.
To be continued...