Just got back from our latest trip and thought I'd share some memories while they are still fresh.
Before we start though, a quick back story: My family and I live in Calgary Canada, My wife works for an airline that affords us with cheap travel options and makes it easier to go some places, Anaheim being one of them.
From July 2010 to July 2011 we had an annual pass and were able to go 5 separate times. (I started a trip report detailing my year long as an out of country annual pass holder, but I never finished it, so I will try to aim a bit lower and just do one trip at a time.) Since then we renewed the passes in April of 2012 and this will count as our second trip with these new passes. Because we go so often and are sadly not rich, we must travel on the cheap, so our hotel and food options are pretty basic and this trip was no exception.
Also a word of... caution? These pictures are not meant to be spectacular, but more of showcase of our typical family trip. Many other people can and will take much better pictures of Disneyland, but these are memories of our trip. Perhaps you can relate or maybe it reminds you of one of your family trips. In any case, please enjoy!
Our trip begins like many others, very early in the day. Due to full flights we had to first fly to Edmonton and then connect to LAX. For those who don't know Canadian geography, it's like taking a small step backwards before stepping forward. Defiantly not our first choice, nor is flying into LAX, but those are the challenges with traveling.
Once the silly car rental was sorted out we were on our way. I say silly because we had a less then stellar experience with MIDWAY car rental. Note of advice: you get what you pay for, which incidentally is a nice segway to our hotel.
For this trip we booked four nights at the Days Inn maingate. This "hotel" gave us three important things:
1. A bed to sleep in that was safe and situated in the DISNEY bubble.
2. A free continental Breakfast.
3. A pool with a spa.
1 and 2 are self explanatory, but 3 was important as our kids, like most kids, love to swim but also get cold easily, so the spa is nice. Plus it
is
perfect for soaking weary feet after a long day at the parks.

The ever popular self portrait.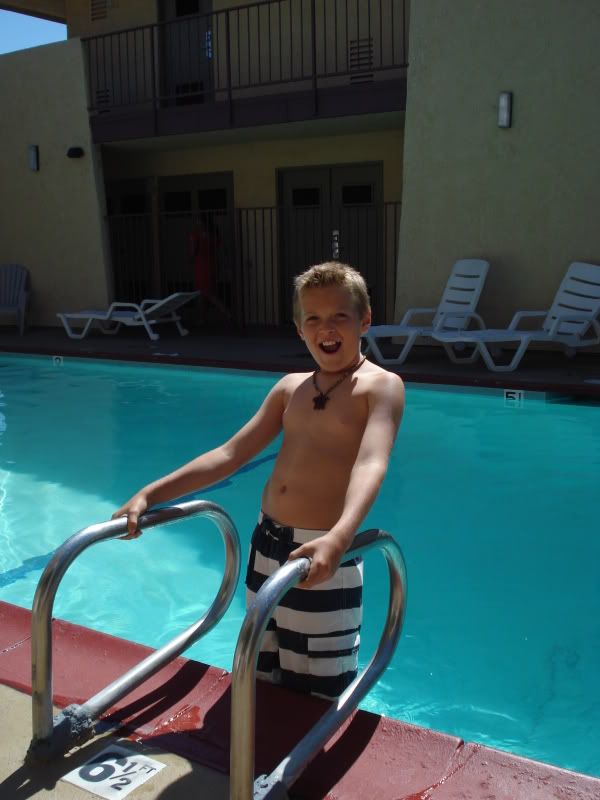 Yay! Pool time.
After a quick dip it was time to set out to the park. Because The Days Inn maingate is situated close to the Toy Story parking lot we thought we would quickly "Buzz" in and jump on a Bus.
We have used this lot before, but I don't like it as much as the Mickey and Friends lot. Perhaps it's because of the non-Disney city buses, or that the drop off point is not in Downtown Disney, but it just feels like something is lacking on the ride in.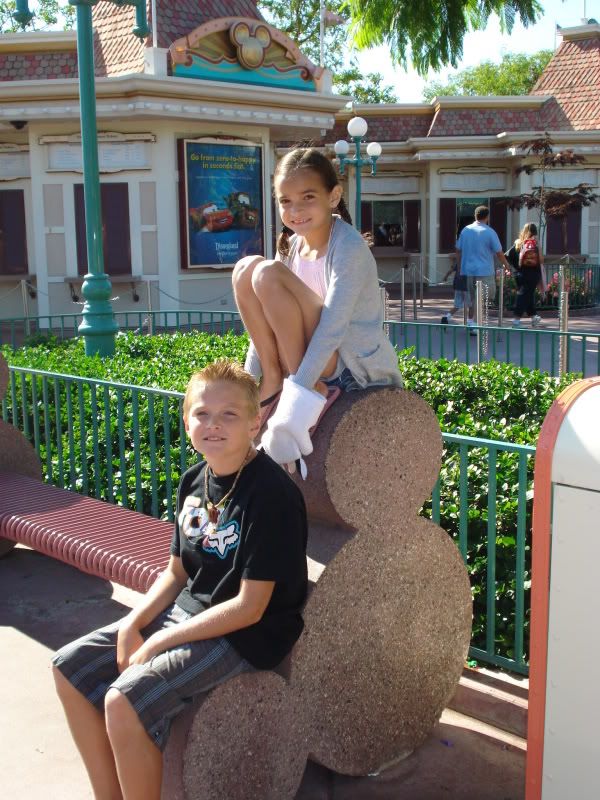 Steps into the Esplanade? Better take a picture!
Once in we decided to hit up DCA to see if anything had changed; apparently they had some kind of small re-model?
I keed, I keed... Disney has done a very good job in advertising, So good infact that even in my city there are billboards advertising a theme park 2000 miles away, Disney has a far reach indeed.
Jokes aside, there is only one word that I can use to describe Buena Vista Street: AMAZING!
It is nothing short of amazing and the wait was well worth it. I still can't believe what it was, and what it is now...simply beautiful.
I love the new fountain, it makes for a much better picture spot than the hubcap.

We moved along to the other draw:
Now if one word to describe Buena Vista Street was Amazing, one word to describe Cars Land would be LEGIT.
It's was just so authentic to what Radiator Springs looked like in the movies and the feeling of immersion was just so perfect. My one complaint was that it was VERY congested and did not flow very well, especially around RSR. The road leads guests to a dead end creating utter chaos when they all had to turn around their strollers, wheel chairs and electric carts. You ever seen an electric cart make a smooth 3 point turn without taking out a few ankles?? I'm sure that it will subside, but man-o-man, it was a test of patience to navigate.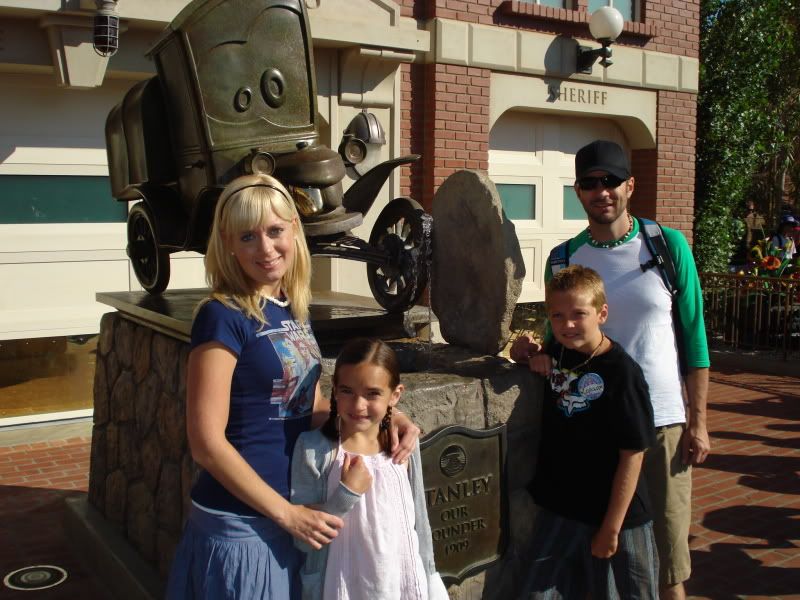 Stan the man!
If you have not seen the short CARS-TOON about How Radiator Springs came to be, check it out before you hit up Cars Land, Its a super cute back-story to how the town was born.
When we got there the line for RSR was around 2 hours so we decided to put that off in favor of trying the shorter wait time of Luigi's Flying tires.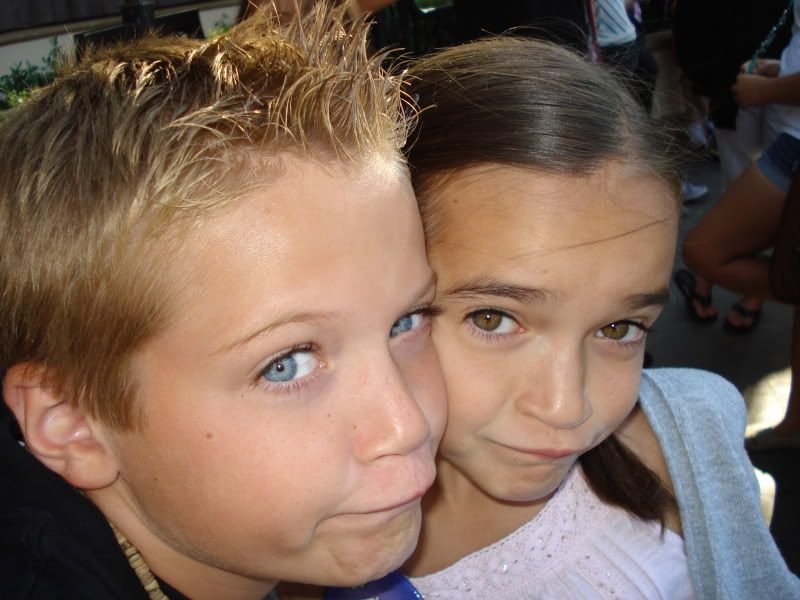 Bored in line? Make duck faces!
Thinking volleyball, not dodge-ball.
We all enjoyed LFT, but thought it was too short to properly get the hang of it. Next time for sure.
After we decided to check out the shops that Cars Land had to offer.
Give me your best "tire on the head as an elaborate hat" pose.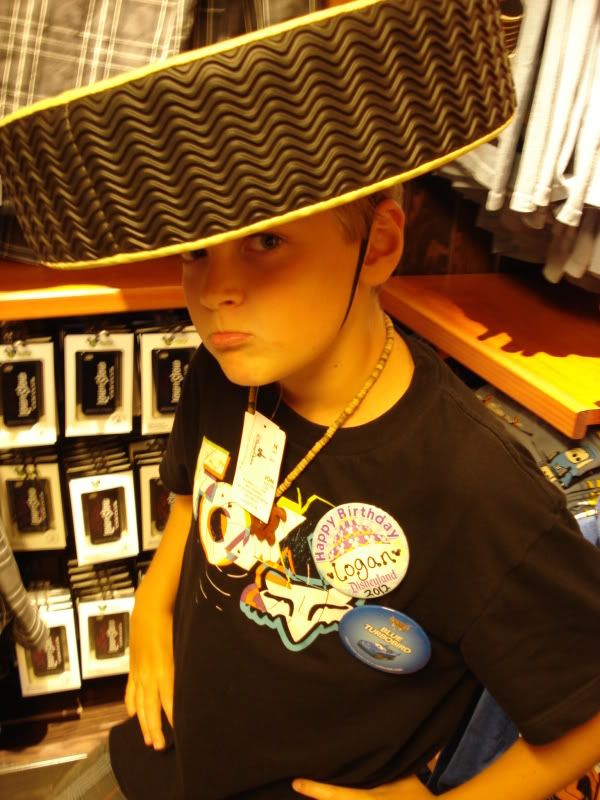 Brilliant!
At that point our long day of travel was rapidly catching up with us and food was on our minds. We headed to our favorite restaurants outside the park: The Cheese Cake Factory.
And no trip is complete without Cheese Cake!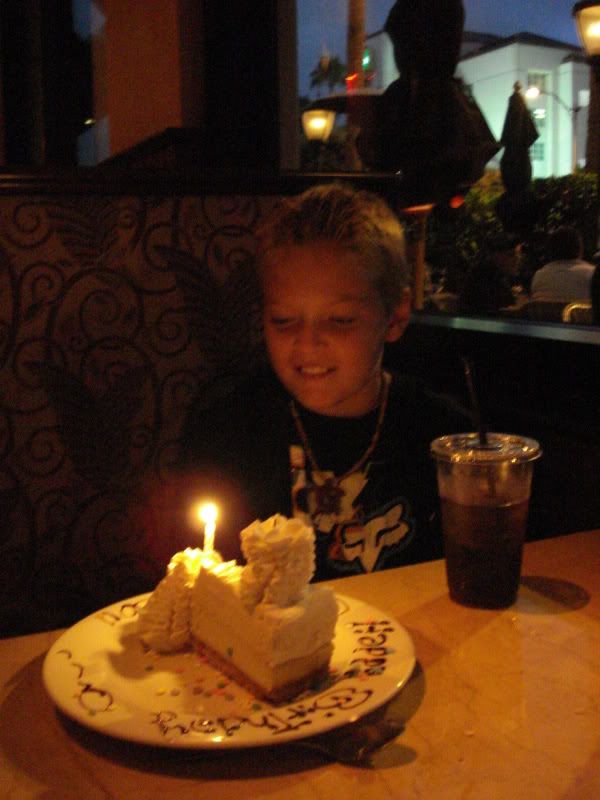 With our belly's properly filled and our legs and feet rightly sore, we headed back to the hotel for some rest. The next day wold bring more Cars Land fun and we needed to get up early to beat the crowds.
Spoiler alert: We didn't beat the crowds. :lol: