Ok, I'm half-serious and half-joking.
Since the ride is now an inter-changable film, why not put an overlay come Christmas time.
Some of you may see where this is going....
They can do it based on the "memorable" Star Wars Holiday Special
Here's the premise:
- We've all been invited by Chewbacca and his family to attend "Life Day" in Kashykk.
- We all board the Starspeeder 1000. It starts off smooth, then of course we run into trouble.
- We have encounter with the Empire (of course)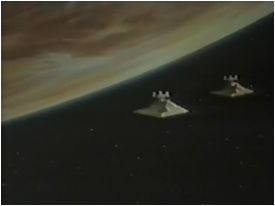 - Cartoon Boba Fett
- and the most wretched enemy of all......Jefferson Starship
- Luke Skywalker (complete with heavy makeup) gets hold of us on commlink, telling us he's glad we've escaped danger
- Finally, we arrive at our destination, joining up with the rest of the gang in celebration of "Life Day"
And there you have it, Star Tours, the Holiday Special
For those of you who don't know what I'm talking about you can view the abridged version here: