th
We're comin' into bear country now folks...
Look at that...so empty, and so peaceful. Tranquil almost.
This picture isn't so bad. If you cut off the bottom half with the rail, added a very sunny background, and showed it to someone who knows very little about Disneyland/any other Disney park with a BTMR in it, you could convince them that you went to Utah or something. Speaking of which, Big Thunder Mountain's line was very short, so naturally, I rode it.
Did I ever tell you I love random junk? Especially period specific stuff that sets up the scene. I do. Like whenever I go to Las vegas, I have to stop by at Buffulo Bill's Casino just to liik at the cheap and fake western stuff strewn about. Why? Because I LOVE THAT TYPE OF JUNK! So much so I actually went into an antuiqe store and bought a mining pan, lantern, and pick. Why? Because I like that kind of junk. You can craft so many stories out it if you put it in certain places with certain pieces of junk. Oh I love ya Disney, taking junk and turning into a story. Why, I could craft up a story about this barrel and stuff, but then again, I would derail the topic...MOVING ON.
I really do love this shot...if I didn't cut off the 'B' in BIG >_<
Oh that's going to bug my OCD for years upon end.
Another nitpick. The rail that goes down to the train's level. That is too steep. Unrealistically steep. Whoever designed that is really buggi...oh forget it.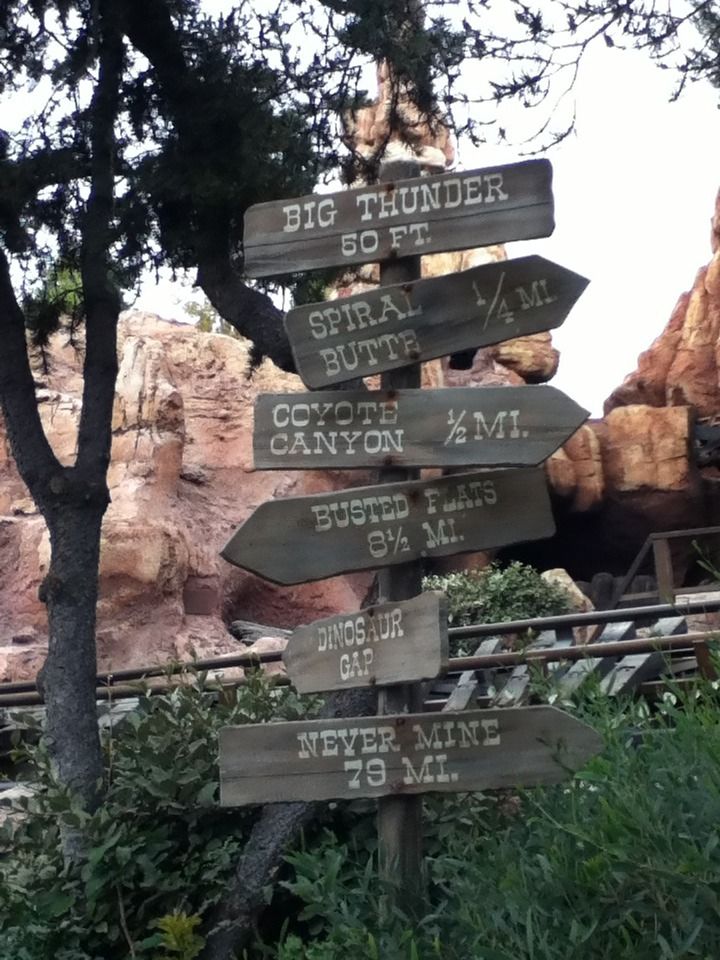 The obligatory shot of the sign. Everyone has taken a picture of it, so why not me as well?
More stuff I could make a story out of.
Rode Big Thunder Mountain in row 15. Some guests in the row in front of me said happy birthday to me. How nice of them. I told them to have a fantastic day. In fact, I forgot to mention, on my way through Big Thunder Trail, several groups of people said Happy Birthday to me. Man, people at Disneyland are just REALLY friendly (Most of the time). I have to pay it forward so many times.
I also chatted with a couple of the cast members there asking them a few questions. You see, a friend's brother is going to work on Big Thunder soon, and I always wanted to meet him. I know him well and he knows me well. Only problem is that we don't know each other's real name. Heck, we don't even know what we both look like. Oh well, maybe some other day.
Stay tuned for Part 2, where I post some more grainy pictures, the Dapper Dans, and what I had for Lunch and Dinner. See you soon!
PS: It
may
come a bit late because I am doing this in between the commercial breaks. In between breaks of what you may ask? The the series premire of Doctor Who on BBC America!
Squee!!!



Now if you'll excuse me, I have a Doctor's appointment, but I do promise you I will try and get as much done in between commercial breaks. Trust me, I'm a Whoovian.