I thought I might make a starter thread for a collaboration of Dapper Day event happenings, since I know some things that happened in the day aren't really big enough to make a whole new thread over..
For me, it was very special. It would be the first Dapper Day event I'd ever attend. Unfortunately, unlike my last thread where I documented my first birthday spent at Disneyland which was very long and very detailed (
http://micechat.com/forums/disneylan...-pictures.html
), I'd have to admit nothing much happened during Dapper Day for me that would separate it from any other day. Does that mean Dapper Day was a Duper Dud for me? No. It was still a fantastic day and I plan on going back. It's just that there wasn't much to talk about (For me at least). It was a basic Disneyland trip for me, except everyone else ans I are wearing fancy suits, vests, ties, and might I say,
stlish moustaches
(Whoever had those big over the top pointy and curly moustaches earn many kudos from me to you.)
Although there are a few highlights. Sadly, I did not take many pictures because of all the people. I could rarely find a spot where I could just stand still to take a nice picture, so I had to keep on trudging on. Sorry :c. Anyways, Dapper Day; Friday, September 7th, 2012 was the day that Engine No. 4, the
Ernest S. Marsh
2-4-0 Baldwin Steam Locomotive finally made a comeback. It came back with a fresh coat of paint and a tender rider seat in the back. I was so used to hearing No. 1, 2, 3, and 5's bells n' whistles that when I first heard No. 4 approaching New Orleans Square Station, I was really surprised by the sound! It was very unique! Especially the whistle. If I could marry sounds, I would marry No. 4's whistle (Well, I would marry Tara Strong's or
A
ndrea Libman's voices first, but that's a joke for those who understand where they work.)
While on the subject of trains, it's nice to know a couple of engineers who work on the railroad. It's fun when you befriend them. It's ruddy fantastic when you have a whole car who has a friend conductor on the railroad. If you were there on Dapper Day and were in the train being pulled by Engine No. 5 seated in the very first car and were at either Main Street Station or New Orleans Square Station, you'd know what I mean. Engineers Joe and Al seem to have
a lot
of friends, with me included on that list. Joe was chatting, hugging, and shaking hands with, what I assumed to be, other friends of his. I don't know, but when you ride in a vehicle with other people who have the same passion as yours, it just feels more special. Also, I talked with a kid who plans on becoming an engineer on the railroad like how I am planning to do so too; through the Disneyland College Program by rising through the ranks.
I also ate something new at Carnation Cafe for dinner on Main Street. My last two visits, I had the same main course; Chicken Fried Chicken. Today, I tried something a little different.
Potato soup and a Chocolate Cherry Coke. The soup was superb. Bit's of chunky potatoes, cheese, bacon, and other stuff you put on a potato were loaded into it. The soup was very lukewarm, and quite refreshing. Nowadays, whenever I order soup from a restaurant, it's either so hot that I have to blow on it/wait for it to cool down, or so cold that it feels like it's been sitting there for quite some time. The soup was made just right. And no, I decided not to sleep in any bear's beds after saying that.
Chocolate Cherry Coke. Strange taste at first but after a few sips, you can't get enough of it. As for me, I can't get enough of those Disneyland cherries. Someone PLEASE tell me who sells those cherries. I want to buy boxes of those cherries so badly because they're so good!
Going away from the regular Chicken Fried Chicken, I decided to try the meatloaf. Boy, was it FANTASTIC. I loved it so much I wanted to order another one, but couldn't because I would be too full. Also, bah humbug to that old elementary school tale of meatloaf being the most disgusting food on the planet. They've never tried Disneyland's Carnation Cafe's meatload.
For dessert, I had something different from what I had last time and an Earl of Grey hot tea with two packets of honey and a lemon.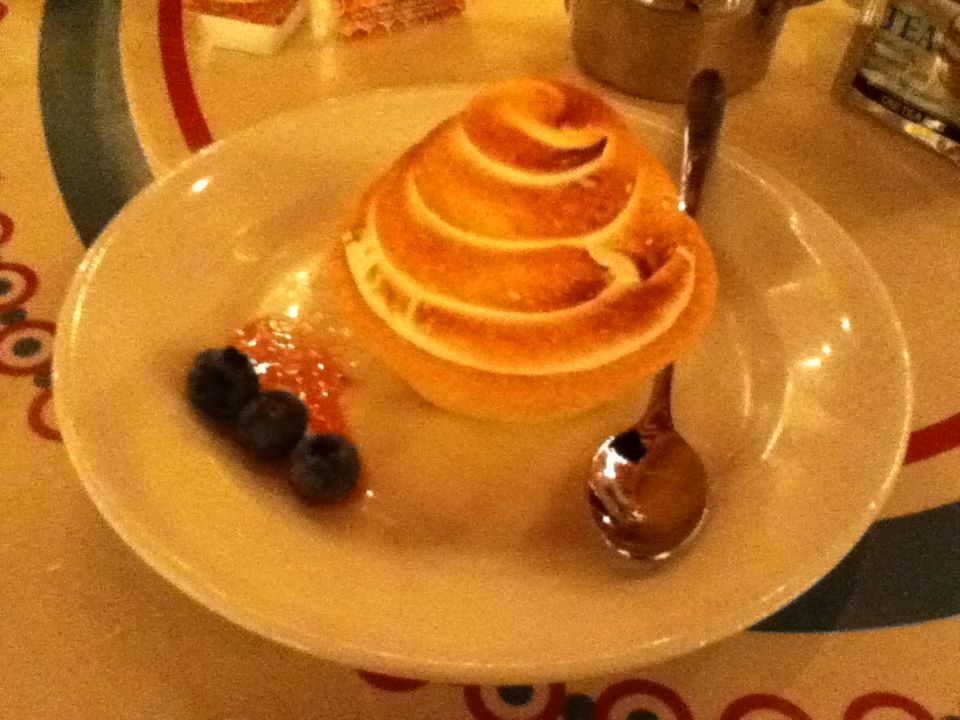 Last time I tried dessert, it was the milkshake and a free birthday ice cream scoop. Today, they didn't have the normal dessert list since it keeps on changing, so they brought out a platter where one would choose a dessert from there. I chose a blueberry lemon...something. I don't quite remember the name and I lost the receipt but it was blueberry and lemon. The best way I could describe it would be a very frothy cream in the middle of a small pie crust. The tea was also good. I normally drink sweetened iced tea, but it was a really nice break having a much more plainer, flatter tea than I'm used to.
Oh, and I also got to meet and thuroughly thank my previous waiter from here: (
http://micechat.com/forums/disneylan...ney-pinch.html
) She made me feel a bit more comfortable in a tight, awkward, and nerve wracking predicament, and I couldn't thank her enough for that.
My Dapper Day was great, but not much really happened. I could go into detail about every suit and dress I saw out there, but trying to remember them all would make my head spin. And if I were to try and pick a favorite, I couldn't They were all so greatly done. Oh well, I hope your Dapper Day was super or even better than mine. Hope to see you at the next event!
PS: If you are going to wear black pants, a black vest, and a white undershirt, please bring a hat and don't let your back face people while waiting at the train stations. You wouldn't believe how many people thought I was a conductor on the railroad because I did look like one from behind. I am always glad to help, but it became a bit grading on me over time.