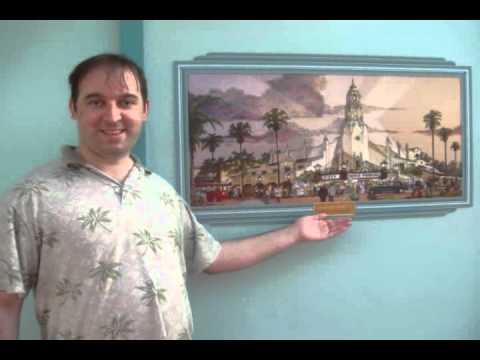 Way back in 2009, I wrote a parody of the Happy Working Song from Enchanted, about the DCA remodel, and posted it in this thread:
http://micechat.com/forums/disneylan...dy-lyrics.html
Well, I finally got around to recording it and making a video for it
.
I recorded the portions in the Blue Sky Cellar (DCA preview center), and outside the old park entrance, in 2009. And then they sat on my computer for three years. Meanwhile, the remodel actually took place, so when I got to visit the real thing, I decided to finally finish the video.
LYRICS
Come help DCA pave the way
With a happy little working song
Online rumor mills are going strong
All you corporate thieves up there at TDA now
Please just stay out of the way now
As we sing along
Trill a cheery tune in the bay
As we build a World of Color show
With the fountains from Bellagio
It's such fun to crow
A happy working song
Redesign the whole darn pier
Make it more Victorian
Put a land for cars right here
Ford, Chrysler or DeLorean
How we all adore letting loose
With a little billion dollar sum
Filling the thematic vaccu-um
It's such fun to hum
A happy working song
Cha-ching!
A happy working song
Oh, although I'm an AP
And I got in for free
My heart is sighing
Still, until the park's first rate
Or they build the third gate
There's still some rides worth trying...
Hey! I'm flying!
Make The Little Mermaid an E-ticket
And that ought to do the trick
(Even though she's from the At-lan-tic)
We adore each new ru-mor
That we interpret
So friends, even though you're corporate
We're a happy working throng!
Singing as we build Buena Vista Street
What a lovely place for a MiceChat meet
So sing along
(Even though some of it just sounds wrong)
While we're finishing our
Happy working song!
(spoken) *sigh*...wasn't this fun?
The image of the DeLorean came up on a Google Image Search for just "DeLorean", but it said it was in the Team Disney Anaheim parking lot, which I thought was a pretty big coincidence.
The line "Even though some of it just sounds wrong" was originally going to be a dig at Goofy's Sky Skool. However, having riddden Sky Skool...I actually like it...a lot...and at least it's not hideous to look at, like it was before.
Then it was going to refer to the clunky name Fiddler, Fifer and Practical Cafe, or the general overuse of "in-jokes" on Buena Vista Street. But that was hard to convey in a five second clip. So I decided to pick on the Newsboys show instead. (They are very talented performers and all, it's the techno beat that "sounds wrong" to me).
The tag at the end was originally recorded for an unproduced review of the Little Mermaid TV series for a defunct collaboration on the That Guy with the Glasses forums.