A little late, but not terribly. My dog ate the original report.
So way back in August my gf started planning a surprise trip to the resort for halloween. All I was told is 'take the last week of Oct off!' No real clue was given, until late sept, when I randomly got a correspondence.
What did it say? I was asked if I would like to visit club 33 on my next visit! OF COURSE I DO!
So I turned to my gf, and mentioned that I just got an email/private message saying that the next time we went to Disneyland, we have been offered an invitation to go to club 33!
She said 'Tell them Oct 30th.'
Me, in my normal (IE....oblivious state) responded with 'We can't go to Disneyland on the 30th, we are going on vacation! (Insert facepalm here.)
So I was told about the surprise trip. Disneyland, Mickey's haunt, the newly added club 33 trip, and another surprise.
Our host was gracious enough to get us free validated parking for the 29th. (Which was AWESOME.) We ventured into Downtown Disney in our costumes. We arrived a little early so we could see some of the new stuff since our last trip in Feb.
Lego store: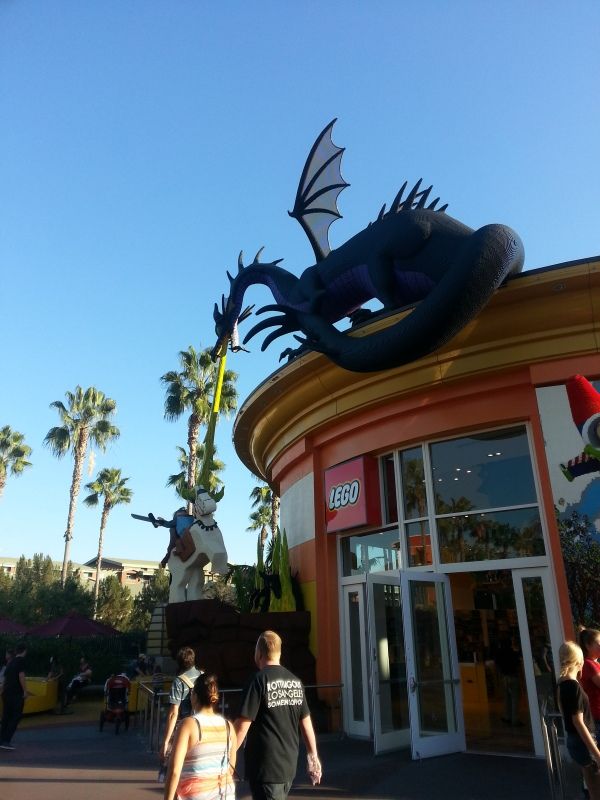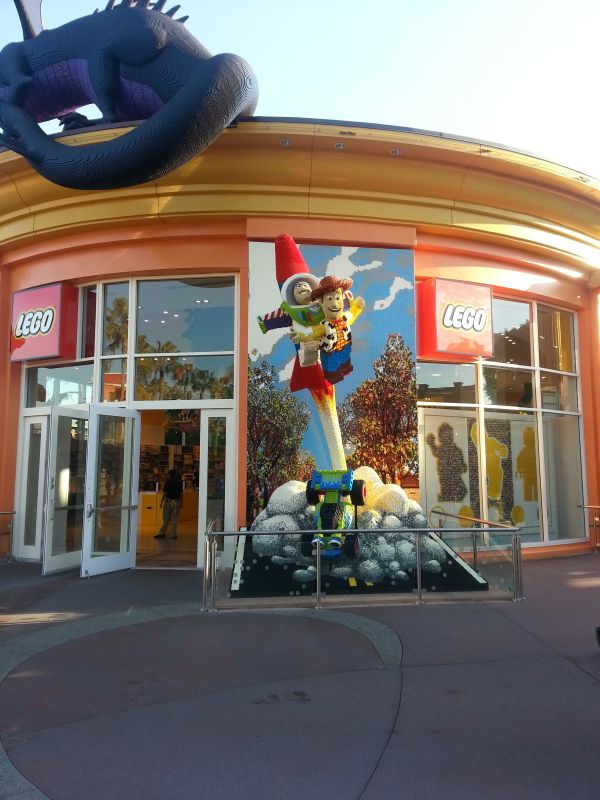 We ventured over to Trader Sam's for a drink. We have both fallen in love with this place. The drinks, the food and the atmosphere really are second to none when it comes to a Tiki Bar.
A delicious drink served in my new favorite tiki mug: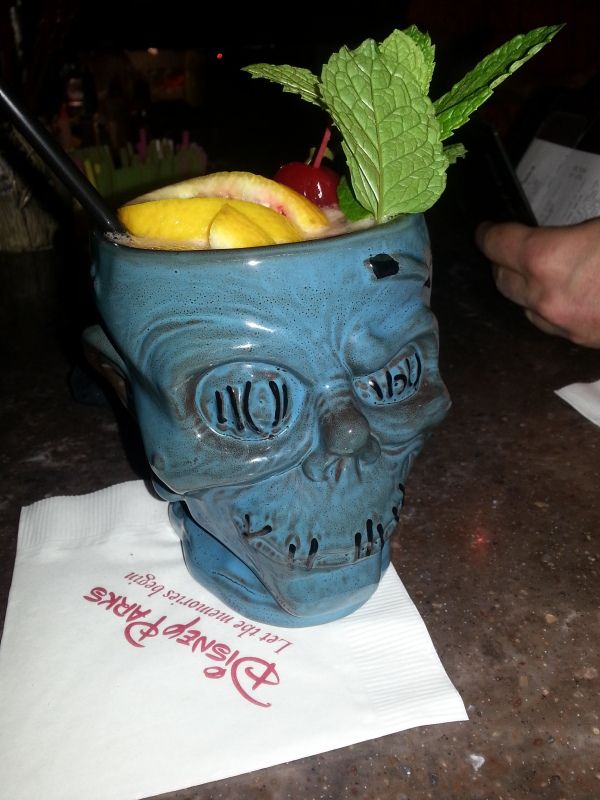 Even Nibbler enjoyed it!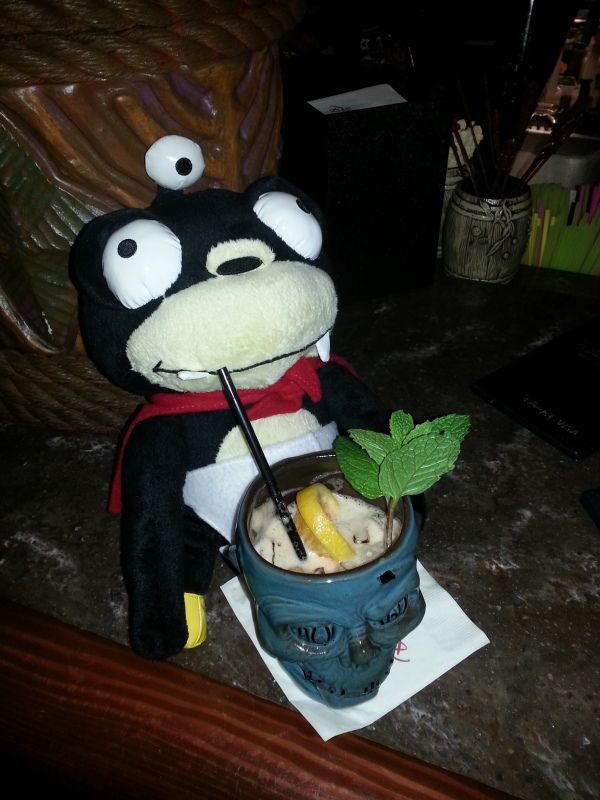 So after a drink and a quick bite, it was off to Disneyland! We got quite a few compliments on our costumes, and I was constantly told that 'I had been found!' Lots of kids were excited that they found Waldo at Disneyland!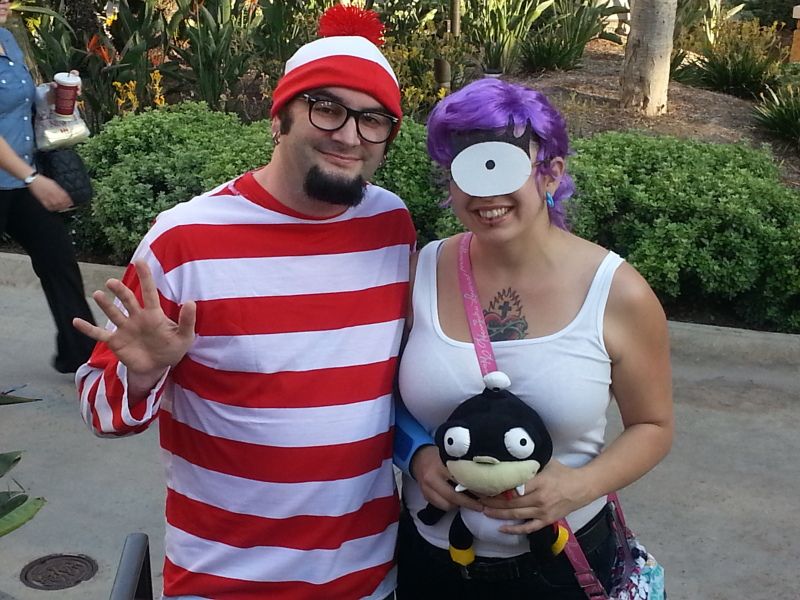 What is this?!?!?! Waldo found Waldo!
Our first ride we headed towards was Ghost Galaxy. Neither of us had been on it before, and we have heard that the lines get rather long. The line was at 60mins when we arrived, but the girl working the line LOVED the Leela costume, and gave us complimentary fastpasses! Score!
Overall I liked Ghost Galaxy. Not terribly frightening, but the 'chase' was pretty cool!
We did not take too many pictures that night. It was quite a bit of fun to run into people in very well done costumes, having kids 'find' waldo, and enjoy the atmosphere.
The candy spot inside the Horseshoe: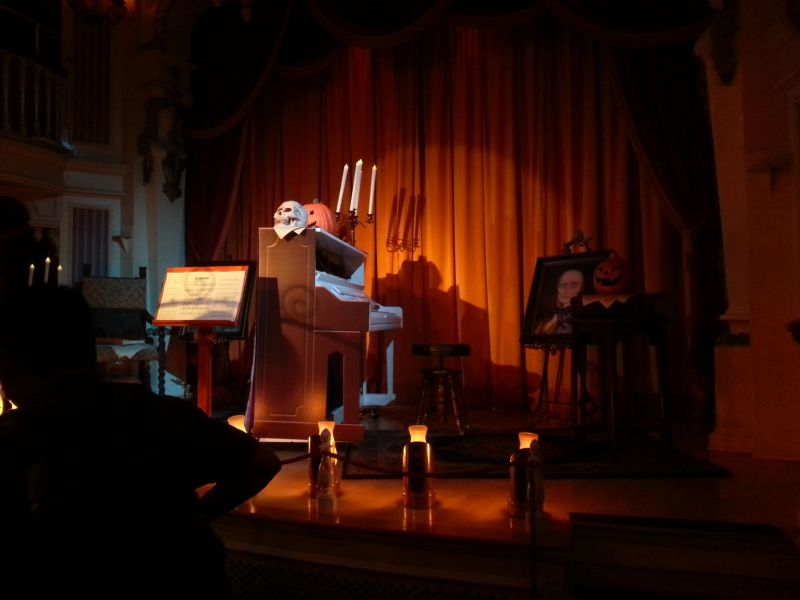 The candy was my only complaint about the trip. Now I understand that it is done for the kids, and I totally get that. But after the first 3 visits, I had exactly 3 pieces of candy in my bag. It was kind of a bummer to see some people getting big handfuls in their bag, and then watch the same person pick out 1 piece and drop it in my bag. (Total haul for the entire evening: 20 pieces. About half were tootsie rolls. Now my gf's bag was almost half full. The difference was crazy!)
We rode the HMH a few times. My gf has never ridden it prior to this trip. She knows that I prefer the original over the HMH, but I will still ride this one. Overall she enjoyed it, but agreed that the original is superior
We managed to get a good viewing area for the fireworks, which were AWESOME. I was surprised there was nothing tied in with the Haunted Mansion, but as it is technically not operating, I can see why it was left out.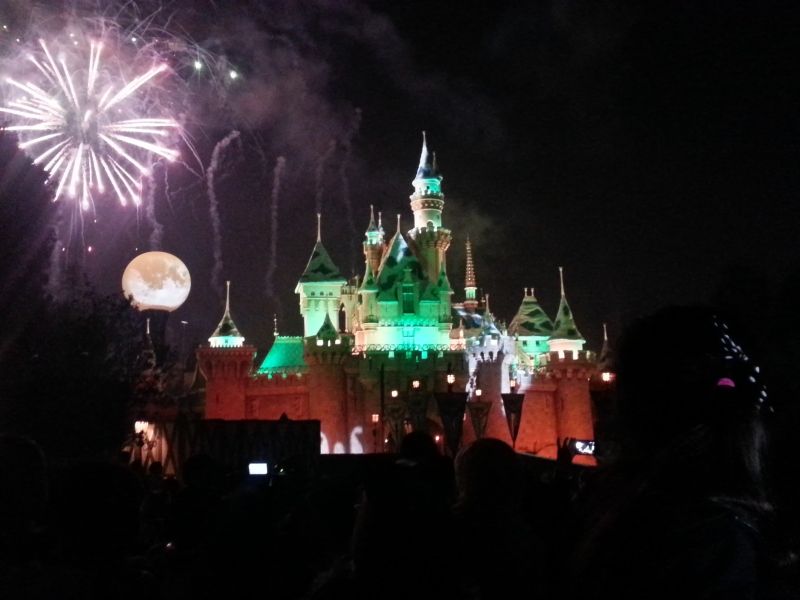 We also were able to catch the parade. (Meh. Nothing spectacular. We were surprised how repetitive the music was, and we were both surprised about the 'I want to be a pirate/princess' line)
One of the last things we rode was the Matterhorn. Our first time with the new seats. OUCH. Not much room (unless you are in the front seat of the sled) and the seats need padding. Bad. I don't think I can ride it much beyond once a trip.
next up.....Day 2, and CLUB 33!
---------- Post added 11-23-2012 at 08:59 PM ----------
So Tues was the day. I had a hard time sleeping the night before (not due to a crappy bed either. It felt like when I was a kid the night before leaving for Disneyland.
We woke up early, and again our host had gotten us free valet parking at the Grand Californian. (I really LOVE this feature.) We met up with our host and a couple of his friends inside the lobby. We headed to Disneyland to enjoy the magic morning entry. Got to ride Space Mountain again, and then headed to Star Tours. Star Tours made me a little Woozy (never had that happen before!), and got a quick ride on Buzz Lightyear. We then had to part ways, so we could go back to the hotel and change.
I had mentioned in a post on micechat somewhere that if I EVER had the chance to go to Club 33, I would dress up. So we did!
In front of the Club:
Me doing my 'aliens' meme impersonation:
I was given the honor of informing the club that we had arrived:
The view when we entered:
Now I have seen plenty of pictures of the entry foyer with the elevator, so I knew what I was going to see visually. But the experience is really quite different. I took a very deep breath when everyone was inside. The feeling was almost overwhelming!
We took a pic in front of the elevator: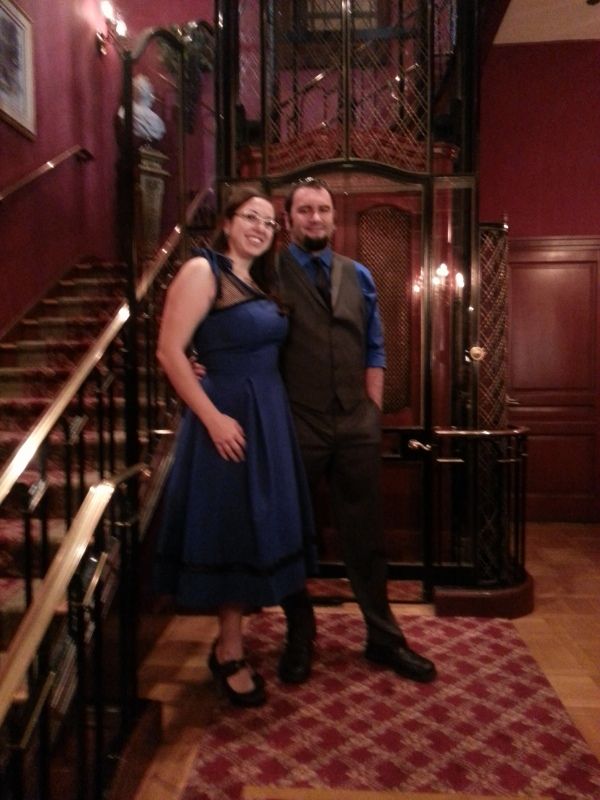 Then one inside:
I was surprised at how small the elevator really was! I thought it would be a little bigger, but three people is about the limit!
The view towards the main dining room. The bar is on the right, and the harpsichord is on the left: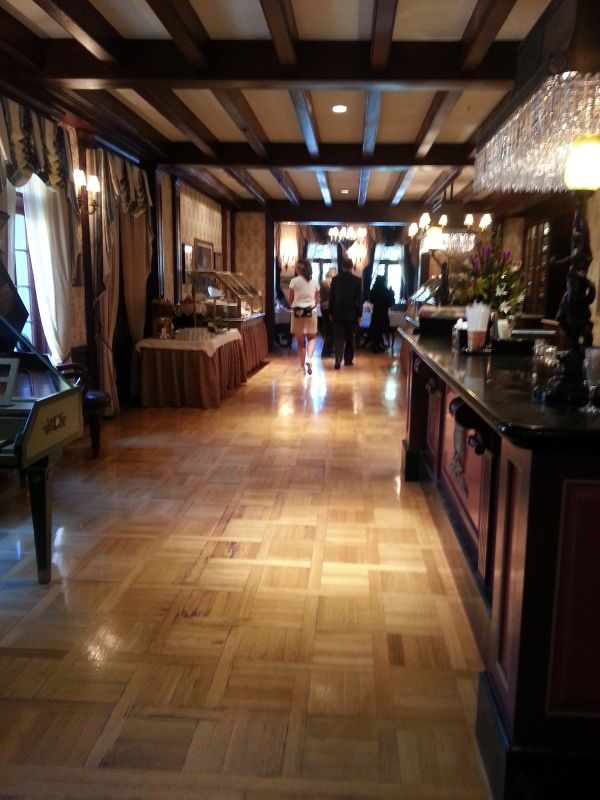 Empty plate shot!:
Menu shot!: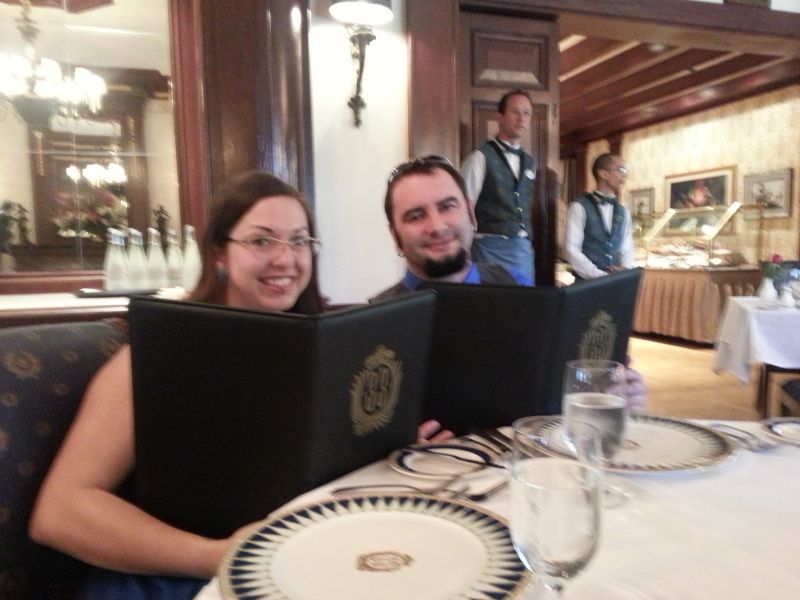 We placed our order, and our host informed us how the buffet works. Time to eat!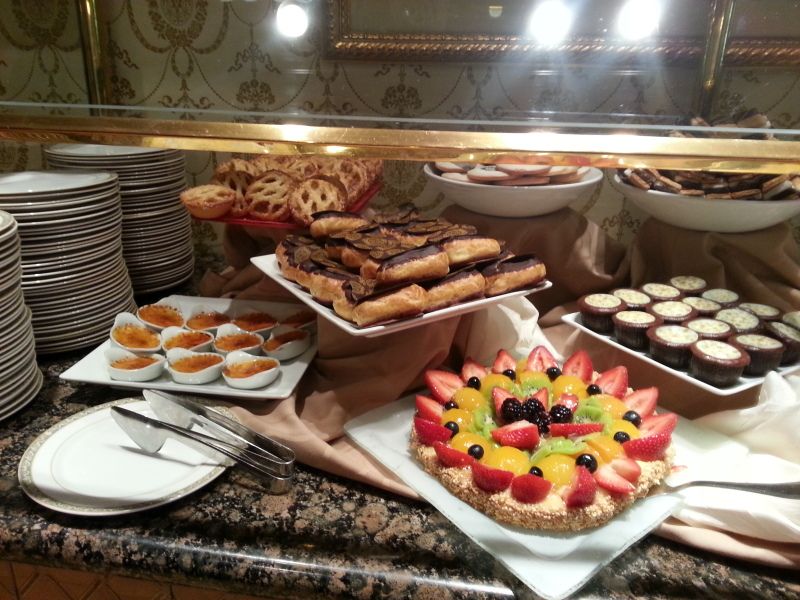 Cookie shot!:
While enjoying our buffet trip (yes, I had dessert before the main course. I do what I want!
) Our host gave some background info on the club, and we all exchanged personal stories about life, trips to Disney, etc....Our host and I also exchanged random facts about Walt and the history of the park. (as Disneyland nerds often do!)
My GF had the Salmon:
She said it was perfect! I am not a seafood fan (hate the smell of it cooking/cooked, but LOVE sushi. Go figure!)
I had the lamb:
I am a pretty decent cook, and one of the things that has happened to me because of this is I often judge meals that I eat out based upon if I could make the same at home. For the 1st time in a LONG time, I had a meal that I know I could not replicate at home. No way. The lamb was perfect. Tender, lots of flavor, and cooked perfectly!
More desserts. Because they were all awesome: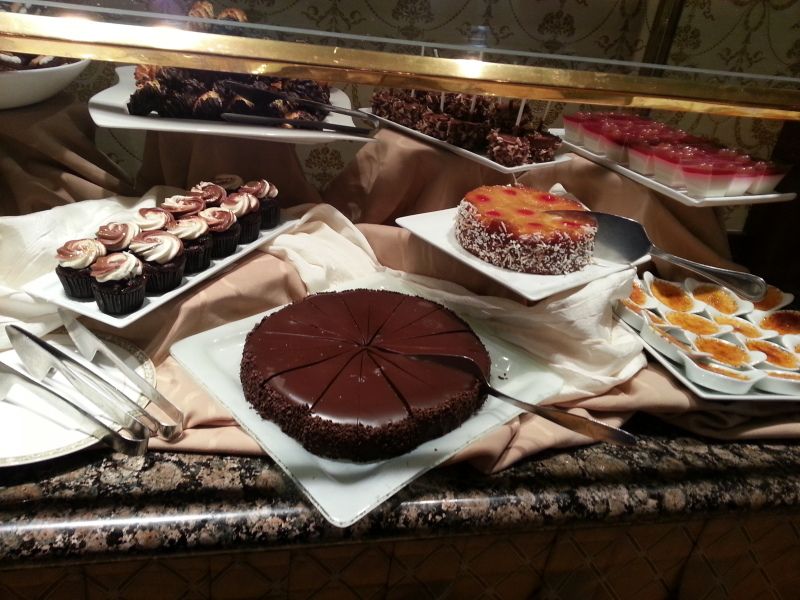 After lunch we meandered around the club, with our host showing us some of the details that are known (such as the vulture and the hidden mics) and the not so known (such as the hidden Gilligan's island)
Trophy room:
Picture of Shirley Temple with Walt:
Random fact: My grandfather used to babysit Shirley Temple. He grew up in Southern Ca before leaving for WW2.
Random club photos: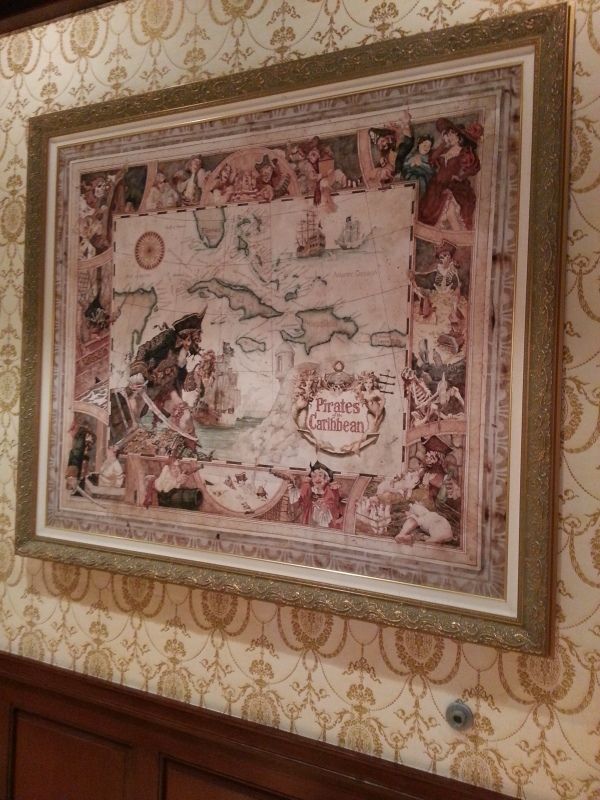 Balcony Shots! It was really really nice to be able to go out on the balcony and see NOS from an entirely new viewpoint. It would be a very nice experience to be able to sit out there on a warm summer night and just people watch.
The infamous Wicker throne!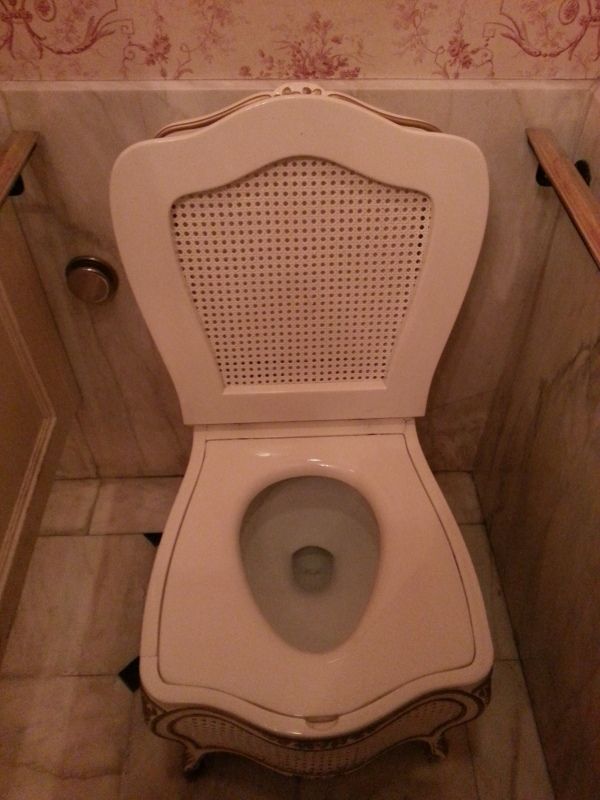 (This has to be one of the most photographed toilets in the country. Right behind Elvis' and just before the men's rooms at the Madonna inn.)
Overall......it blew my expectations away, and they were set HIGH. The food was great, the service was second to none, and the new friends I made was just the icing on a cake. I am still extremely grateful to our host for allowing us the rare opportunity to enjoy the club!
To end the club 33 section:
Coming next:
Dream suite and 1901! (This may not be until tomorrow. I have just moved into a house and days have been long!)
Another shot of me in the lounge area: