Today in DCA they had a special Cars Merchandise Siging at the Off the Page Store.
"2:00-400pm only" You had to have a "Voucher" that was available only with a purchase today of the exclusive merchandise. Available: one Foose Print, Large John LasseTIRE figure, Cars Hood Emblem, or Large Piston Cup replica.
The DCA management failed to inform the cast members the same directions and rules. This resulted in mass confusion and many people who followed the rules and bought merchandise early in the day, getting a low number Voucher, following all instructions getting in line early, waiting 3-4 hours and then being told "Lasseter has left the building"........
Instructions on the Numbered Vouchers.
1. "Special Apppearance Guests will only sign their respective merchandise.... No personal items"

Totally Ignored as BOTH signed many items.

2. "Merchandise for signing must be purchased a Off the Page on Saturday, December 8,2012

This was enforced with your receipt also needed.

3. "This voucher is valid for the oppertunity to have TWO (2) ......

This was NOT enforced as many had 4-6 items signed.

4. "Please refer to the number above to secure your place in line....."

This was Not enforced.
The Off the Page staff had been handing out voucher at random, not in order. So they announced they would go by the time stamp on your receipt.. THEY LIED AGAIN..... And went only on which queue and lineup order.

5. "Guests will be permitted to queue .... beginning at 1:00pm
and will be placed in queue acording to the voucher number..."

This was NOT enforced. They formed two seperate queues with very different instructions depending which queue you were in.
6. "Queuing will not be permitted prior to 1:00pm."
This was Not enforced. They allowed lining up (In two locations???) before 12:30.

7. "Guests with a numbered voucher who arrive after the signing has begun.... will be placed at the end of the ..queue."

Enforced, as they totally ignored the voucher numbers.


My Experience:
I went over to DCA to have lunch at Award Weiners at 12:20pm and saw the queue of about 60 people in front of the bathrooms across from Award Weiners. I saw the sign for the 2:00 - 4:00pm signing. So I went into the store and bought a Cars item and obtained Voucher #108. I got in line about 1:10pm and was about the 50th Guest in that queue. Just before 2:00 Foose and his family arrived and went in side. Lasseter arrive late, about 2:10pm. It was about 2:40 before we saw the Guests from the other line near the Annimation Entrance start to go in. All of the about 80-100 Guests in the other line were inside about 3:20pm. The queue at the entrance to Off the Page waited and waited. The line began to be let in about 3:50pm with assurances that everyone with a voucher should get an autograph... The lead (Red Shirt) when asked if we would get in would say "I can't officaly say yes or no, but with where you are in line I will tell you "YO' wink wink wink....
About 30 minutes later only about 20 people (of 110 still waiting) had been let in. At 4:30 it was announced the Lasseter would be leaving. He spent a little more than the minimum required two hours, including breaks, and had left out the back door. (Dinner Reservations that could not wait???). It took another 20-30 minutes to get to Foose, who man upped and stayed the extra few minutes to meet everyone with a voucher.
Others: Many were furious and only had access to low level cast members that continued to feed them polite ********. Once inside and it was clear that Lasseter only signed for about half the Guests, some people got very loud and rude. shouting that they needed to talk to the person in charge. Several were threatened by Management that they would be removed from the park. They had many cast members at the event but they ALL were clueless or obviously lying.
I decided to go to Guest Relations to let them know what a mess they had, and many people were very unhappy. Many Guests were calling Lasseter names that cannot be used here or in public. I found about 20 of the people the made the same mistake and lined up in front of the Store in the queue taped on the ground and instructed, but not let in in time.
Results:
Two young ladies had driven from San Francisco, bought matching Mater shirts, Flo Jackets, Pixar Mickey Ears and several hundred dollars in exclusive merchandise were offered a replacement single day ticket for a future trip. They were about twenty in front of me in line and were standing in front of Mr Lasseter whe he decided he had enough an snuck out the back... they were shocked... Three or four times a different Guest Relations person came out and kept telling them same offer was all they could do.
The Guy that was next to me that held the large LassiTIRE box and opened several time to make sure he was ready, was also only offered a replacement one day ticket. His girlfriend was an annual passholder, and was offered nothing, was soooo mad she went back again and was offered a RSR Fastpass. When she asked for two more fastpasses for her parents they would only give her more fastpasses if she returned with them and their valid tickets.
One guy had not returned his merchandise because he wanted to show that he had purchased the required items.
Another Guest had returned two John LassiTIREs ($280) that he had paid cash for, but the Store Manager would only issue credit and not cash. He said that he would make Disney return his cash TONIGHT... And was not leaving Guest Relations without his Cash.
On Ebay there is already a listing for THREE signed Foose prints ($129 less any discounts) signed by both for $275 each !!
Finns Deluxe Print Hand Signed by Chip FOOSE John Lasseter Disney Carsland | eBay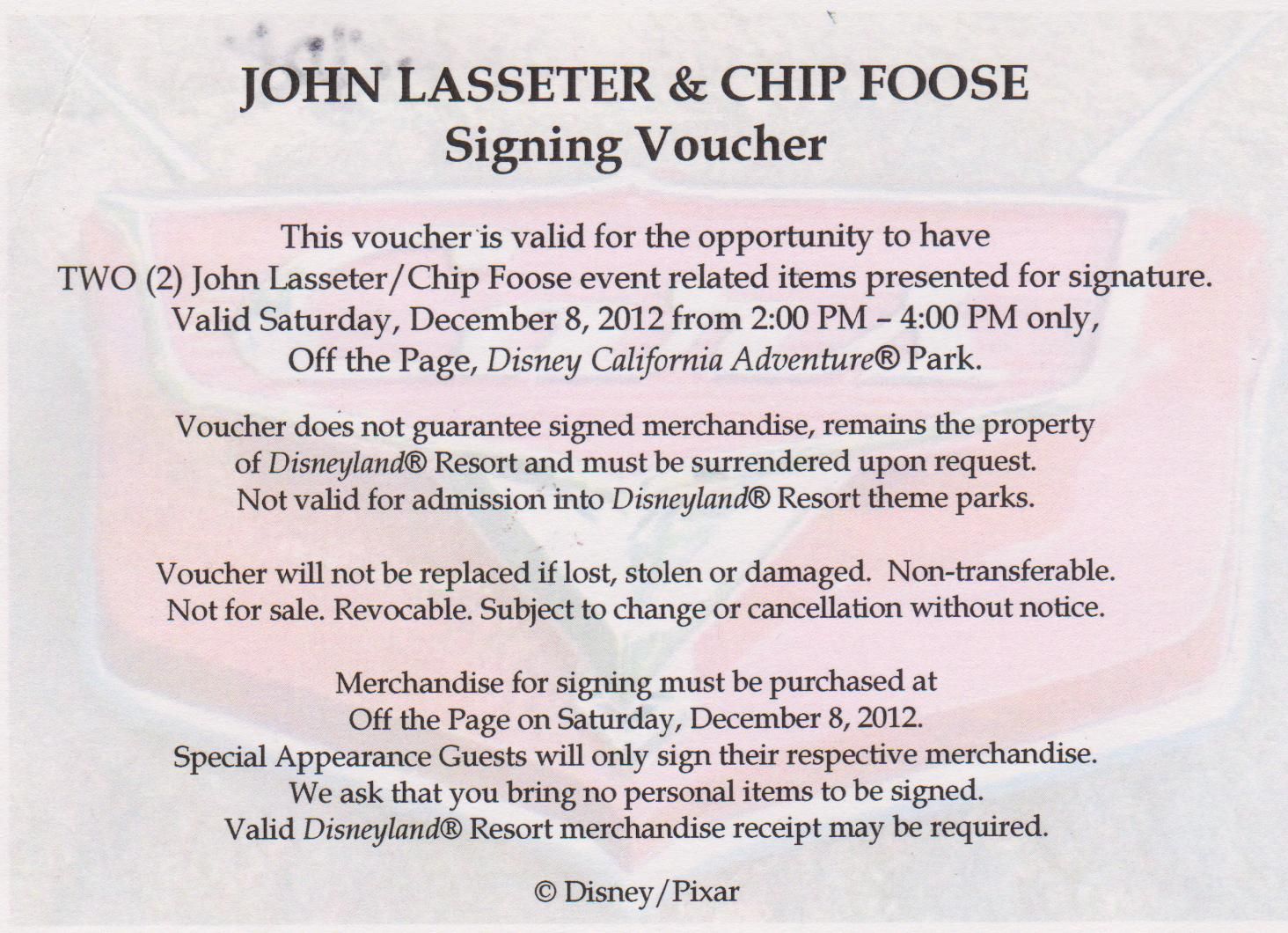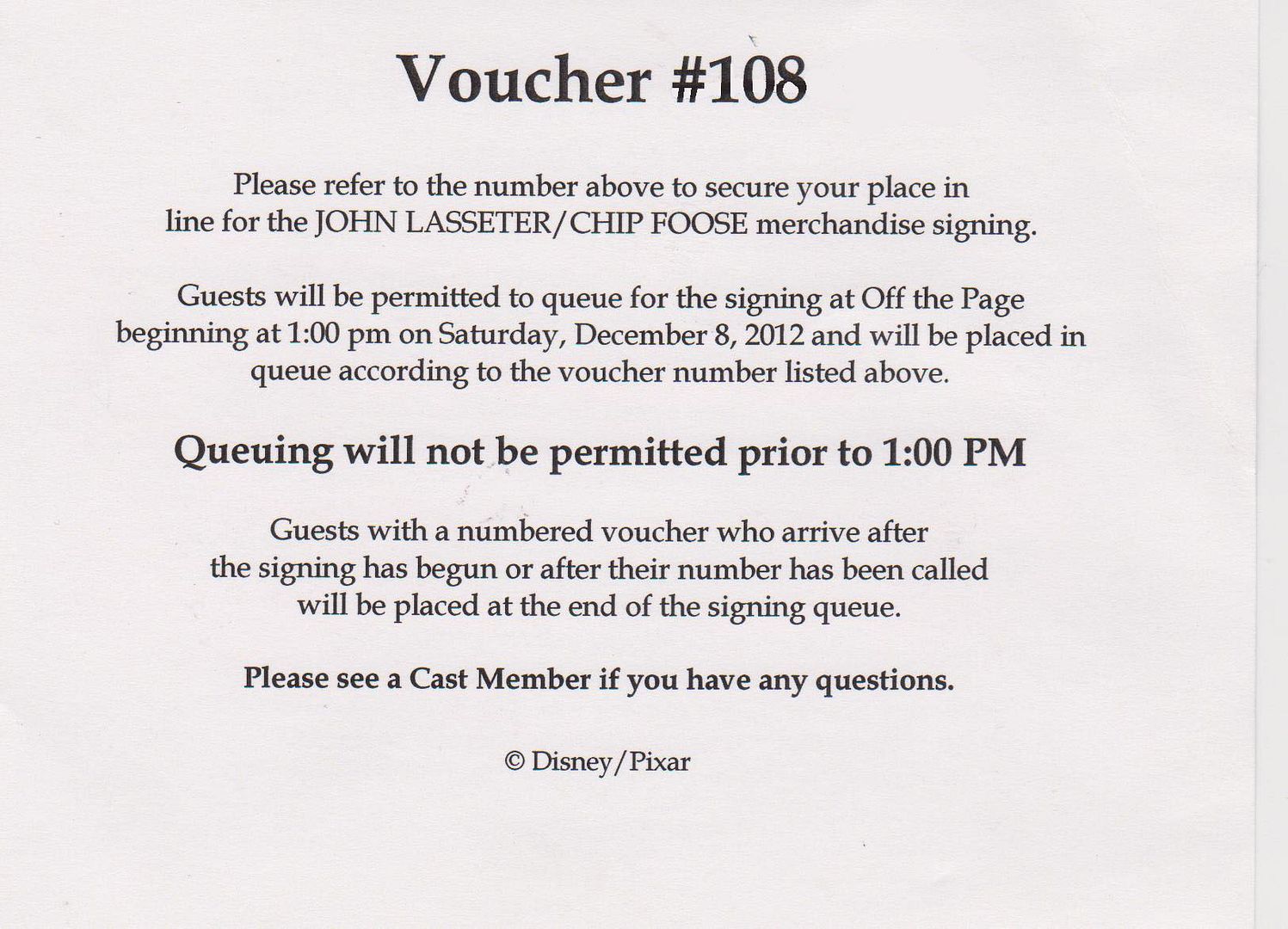 I do not directly blame Mr. John lasseter as he was probably told it would only take two hours or less of his time.
But he should of allowed time in his schedule, or delayed his next appointment an hour. Now he has many Guests who think he is an "Arragont ***".
Mr Chip foose is very experienced at signing and stayed on an extra hour. This alone avoided even more hard feelings as he was very nice saved Disney even more unhappy Guests and thousands of dollars of returned merchandise.