Re: Our Southern California Trip Recap
Day 3, Part 3: Disney California Adventure

At the Pacific Warf area we looked around at the different food options avalible. From your regular burgers and sandwiches to Chinese and Mexican style food. However none of it really sounded all too great at the moment. So we decided to head back in to Cars Land. Once again going thru the Warf enterance. I thought the view of the Cadillac Mountain range was incredible during the day. Its even more amazing at night when its all lite up. Words seriously can't discribe how great this is to see in person. Pictures only do it so much justice.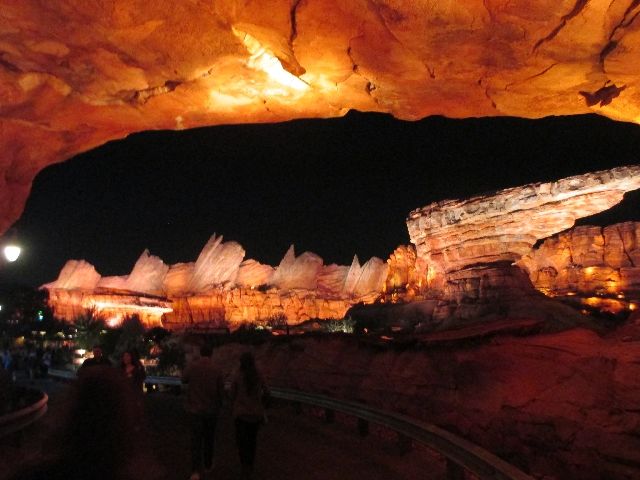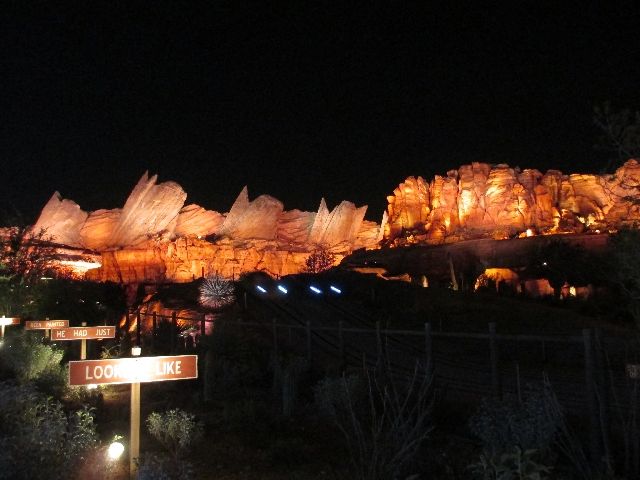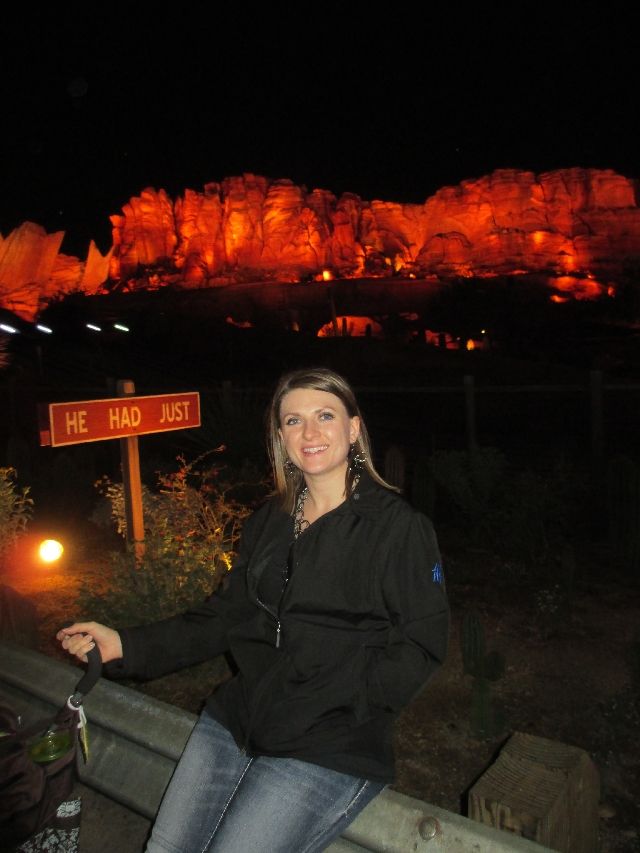 As we approched Downtown Radiator Springs we noticed a large crowd of people in the intersection. What was going on was DJ's Dance n' Drive Street Show. Its a small show that takes place when one of the "import" Cars named DJ rolls into Radiator Springs with his stereo blasting and Neon lights glowing. The Waitresses then come out of Flo's V8 Cafe and they do a little show. As we came to the crowd though the show was just ending and DJ was heading out. We caught part of it again later.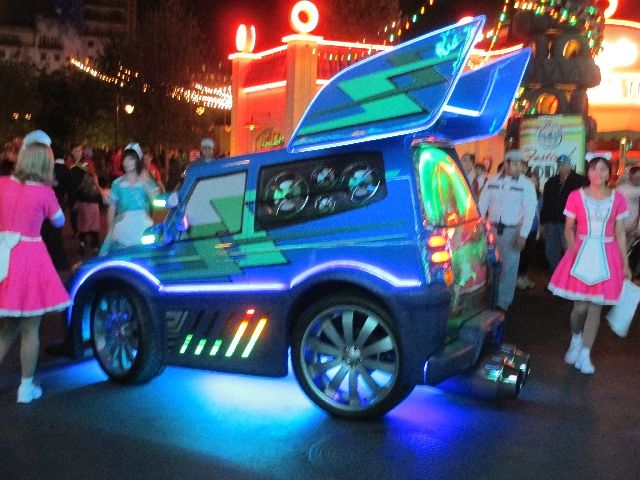 Since we were still hungry we decided to walk in to to Flo's to see what options they had for dinner. Being in Cars land the place was pretty crowded so after Kiera decided on what she wanted she took Daniel and went to find a place to sit. For those unfamiliar with the Movie Flo's is a Dinner style eatery on Route 66. So it has American style Diner type food. One of the reasons for this trip was to visit Cars Land so we might as well eat at Flo's as well. Outside you may notice that Flo's looks different then it does in the First cars movie. Since Radiator Springs is a popular place once again after Lightning McQueen came to town Flo's has since had some additions built on. If you watch Cars 2 you will see that Flo's in the movie reflects how Flo's in Cars Land looks after the additions. However i'm not sure if in the movie Flo's connected into Doc Hudsons Docters office as the Hospital is one of the areas of the restaurant. On the back side is another large eating area with a large window looking out at the Cadillac Mountain Range and you can faintly hear the Racers engines as they go past in the distance.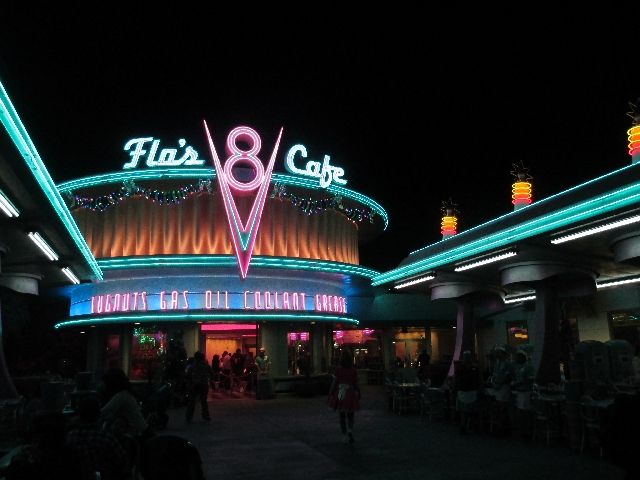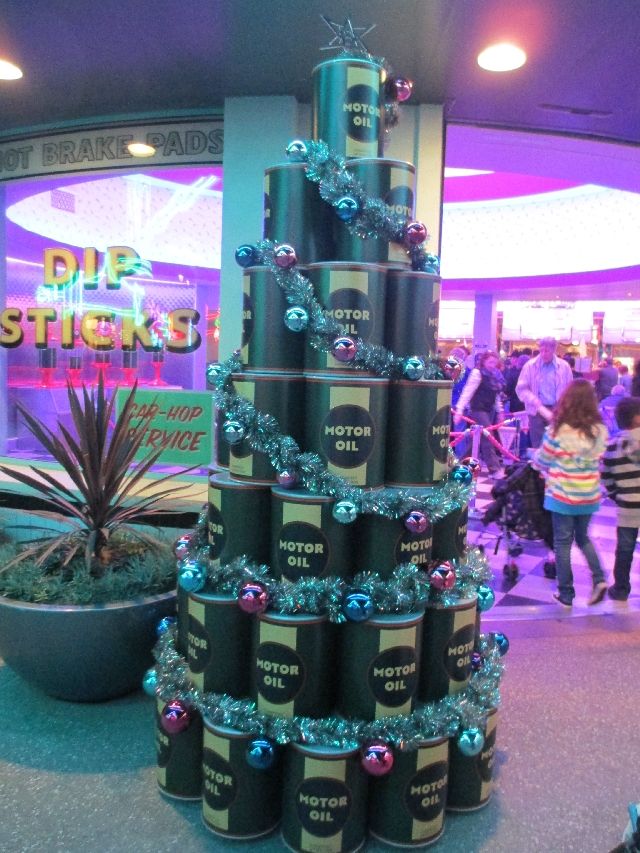 Pricing at Flo's was similar to many other counter service food locations at the resort. I ended up getting the NY Strip Loin with a side of Mashed Potatoes and Pasta Salad. Kiera just got the Kids Menu Turkey Sandwich. With the kids meal they will try to sell you on the "Lightning Mcqueen" box meal that is almost double the cost of a regular kids mean. Although not promoted you can still get normal, cheaper kids meals here. Overall I thought the food was pretty good. It was filling and I wasn't dissapointed with it. We had also got a milk for Daniel that he fell asleep drinking. Although Flo's is Counter Service they still had bus boys coming around cleaning the tables and even taking your food for ya when you were finished.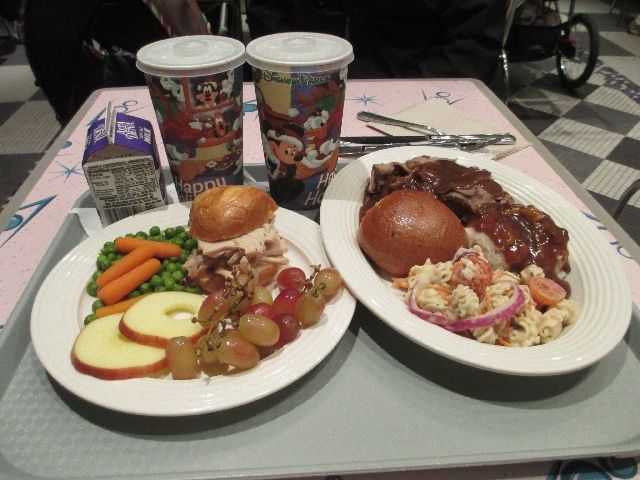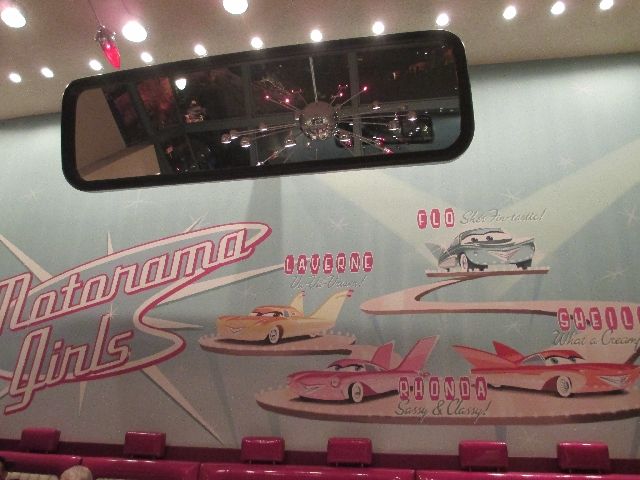 Since Daniel was asleep we decided to look around some of the different shops in Radiator Springs. Luigis Tires isn't a shop in Carsland but it is the entrance to one of the Lands 3 rides that we would go on at a later time. Across from that though is Ramones. When Cars Land was being built I really hoped we would see unique merchandise in each shop much like it is in the Wizarding World of Harry Potter. Unfortunatly it still seemed though that all the shops carried the same items with just a small nitch of specific merchandise. The thing that Romans had that none of the other shops did was the Low N' Slow Car Club merchandise and apparal. This was the stuff that I thought would most appeal to me however I didn't like any of the designs of the stuff. Still it was fun to look around at some of the design features of the shop and the Hood "samples" of Ramones Paint work that were hung around the shop. You can also buy the Luigis Tires hats here.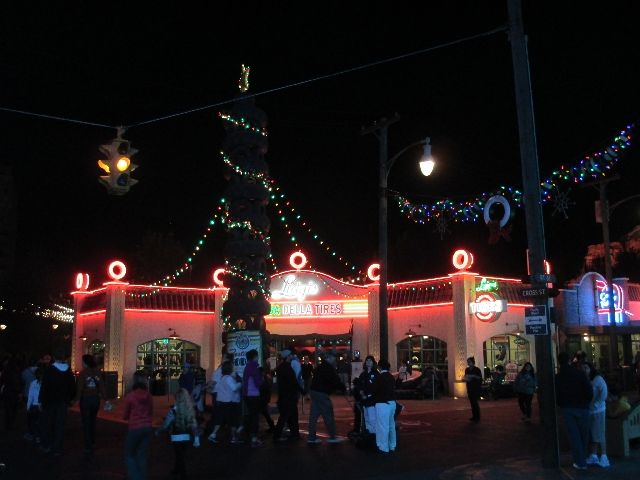 Cars Land looks great during the day but it becomes even more magical and surreal after dark. Theres just such a cool feeling to cruise down the street and be surrounded by the Neon Lights everywhere as the sounds of 50's style music echo thru the streets. It takes you back to a simpler time and age. And if your in the Land when the sun goes down I guess they do a little show as all the Neon in the town turns on although we never got to see it. I do wish they could have made the street as long as they did in the film as it does get cut short once you pass Ramones and Luigis but it understandable given space constraints. In front of the Courthouse there was a Photopass Photographer set up so we went and got some pictures even though Daniel was asleep.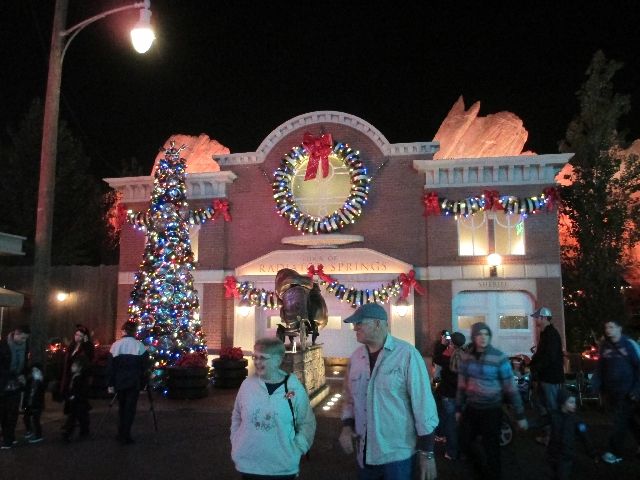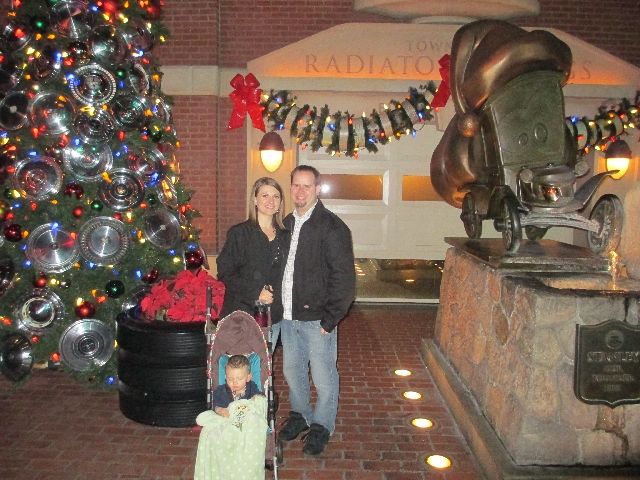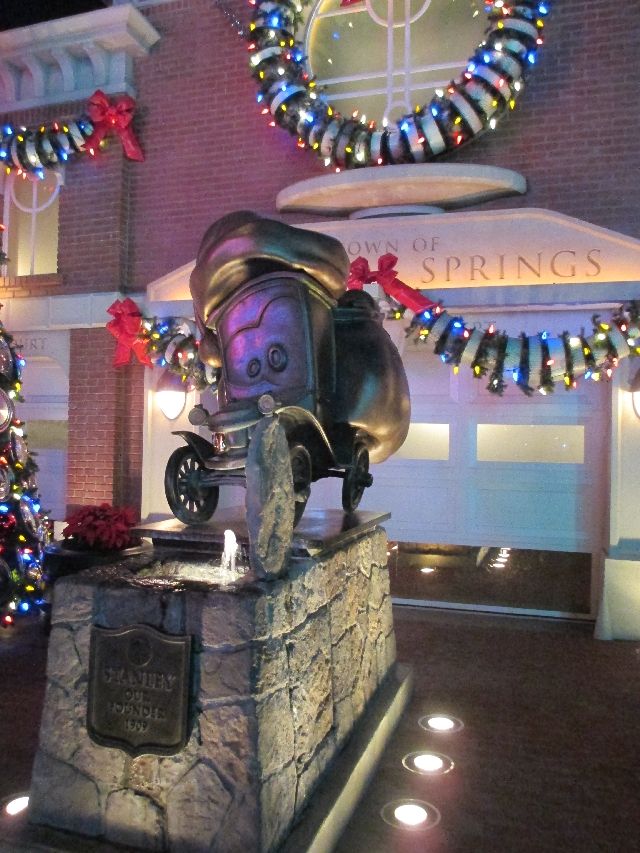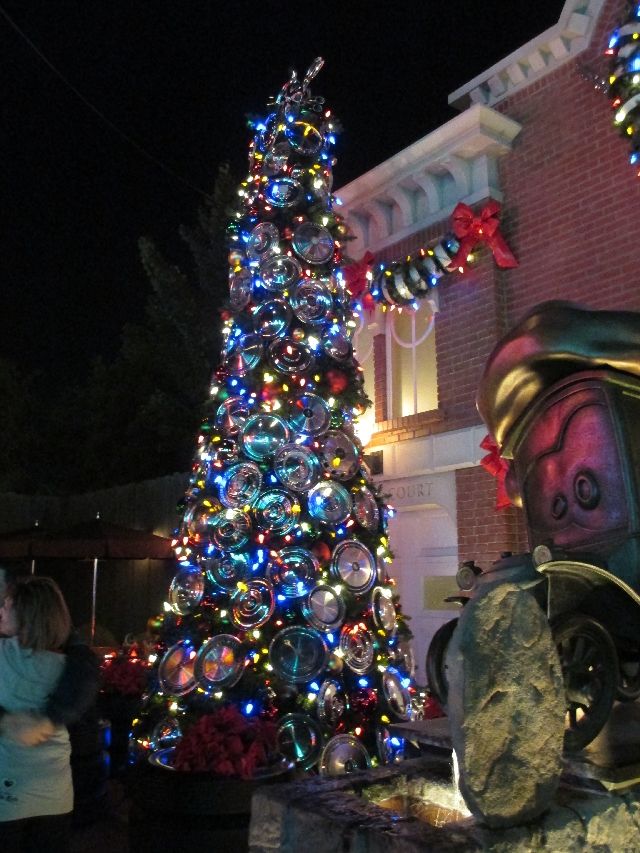 The next shop we stopped by was Radiator Springs Currios. And unfortunatly in my opinion this is the store with the biggest missed oppertunity. Instead of the generic Cars merchandise that you can find everywhere this shop would have been perfect for selling random route 66 inspired odds and ends. And people would have likely ate it up. The walls of the shop are themed with many of these odds and ends however they are just for show. They are not for sale. Instead what the store gives you is your normal run of the meal Disney and Cars merchandise with it also being the pin tradding and purchasing location. This store could have been so much more but now its just a snooze. Although it is the only place you could buy Carsland post cards.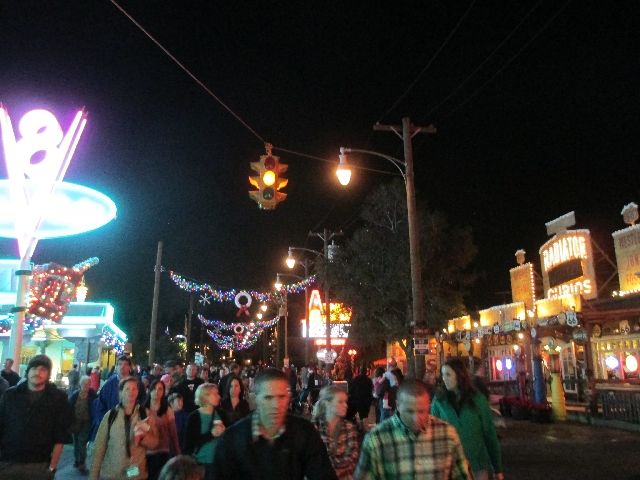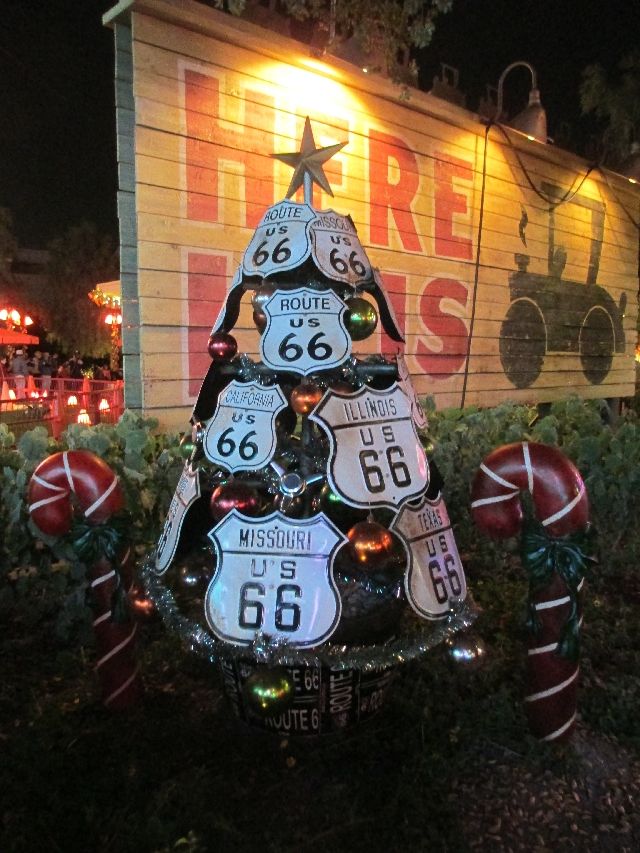 We went back across the street to Flo's again because it also now had a photopass photographer out taking pictures. Daniel was still asleep but oh well we took the photos anyways. As we were taking the pictures though DJ rolled back in to town and started his dance party thing under the traffic light. The waitresses all came out from Flo's and the party started. Its unique and the crowd seemed to like it. I assume that this show only takes place after nightfall to take advantage of all the Neon and LED lights that are on DJ. We never saw it during the day time but then now that I think about it we never saw Red the firetruck after dark so they must trade off.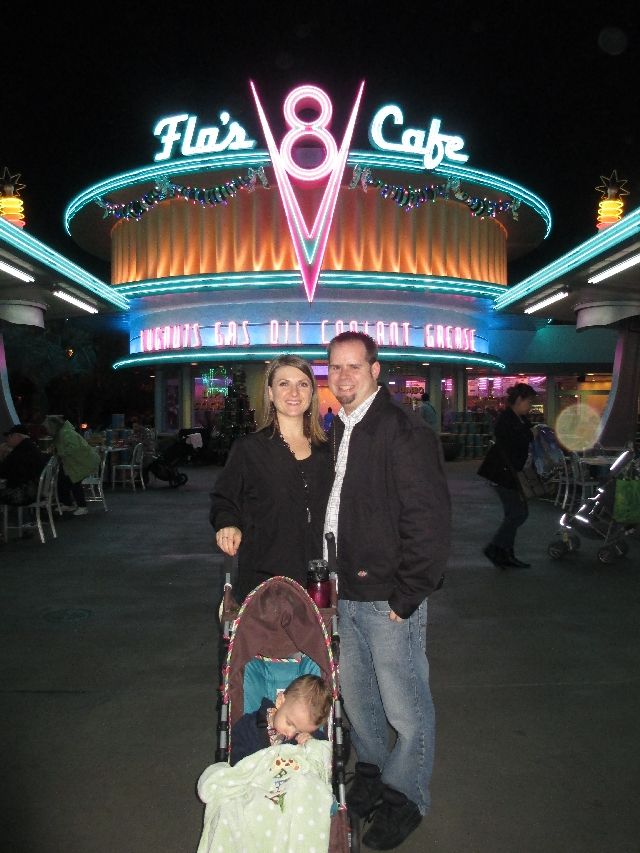 After watching the Dance Party Daniel finally woke up from his nap and we started to make our way to the Cozy Cone Motel. The Cozy Cone serves two purposes. First of all its another food/snack location in Carsland serving all sorts of Cone inspired eats and drinks that are different at each cone. The 2nd function though is that its also where you can meet Lightning McQueen or Mater (but not at the same time) for there Meet and Greets.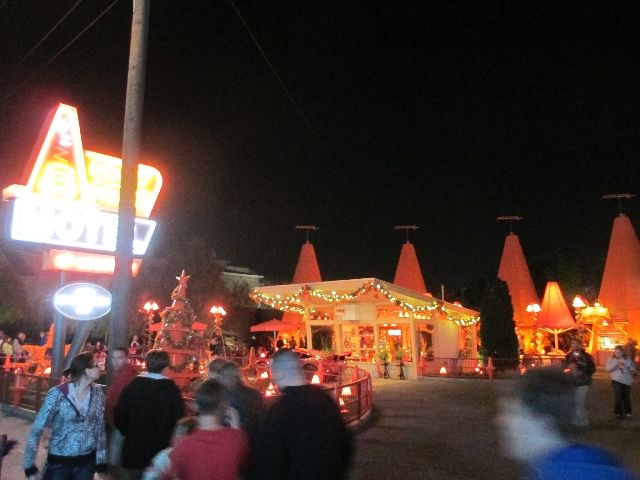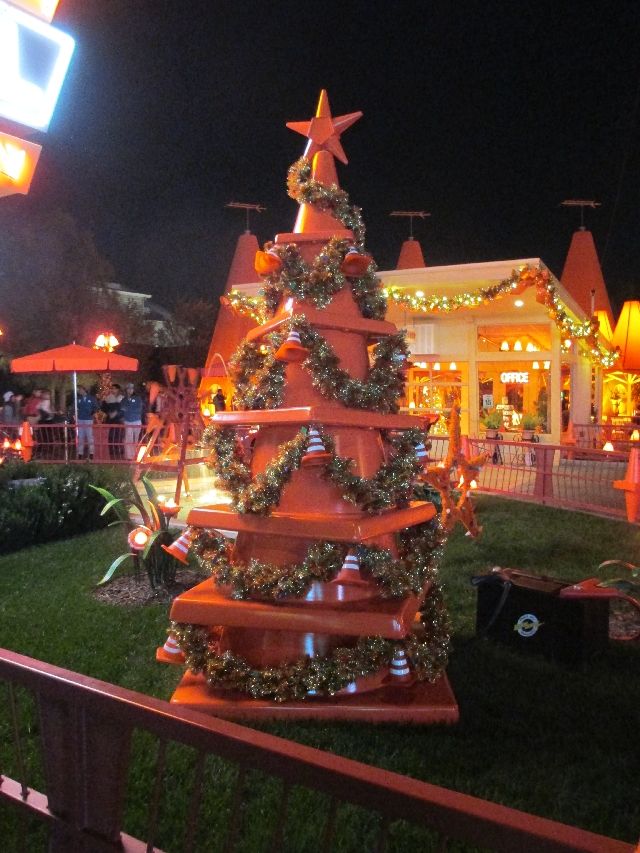 This time of night was one of the shortest waits we saw in the times we spent in Radiator Springs to meet Lightning McQueen so we hopped in line because we had to get a photo with him. The line moved quickly and we got to meet Lightning. Daniel just loved him and the meet and greet experiance here is MUCH better then the one in the Hollywood Studios in Florida. In Florida the characters just sat there with engine sound effects. And that was all. In Cars Land though the vehicles do speak. Although they rotate thru a number of preset phrases they at least attempt to speak to you. There eyes will also move and parts of the body move and shake. Daniel really liked seeing Lightning and it was great to meet him.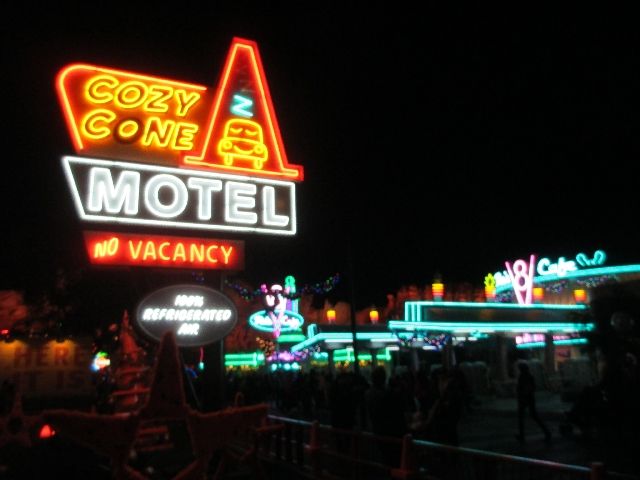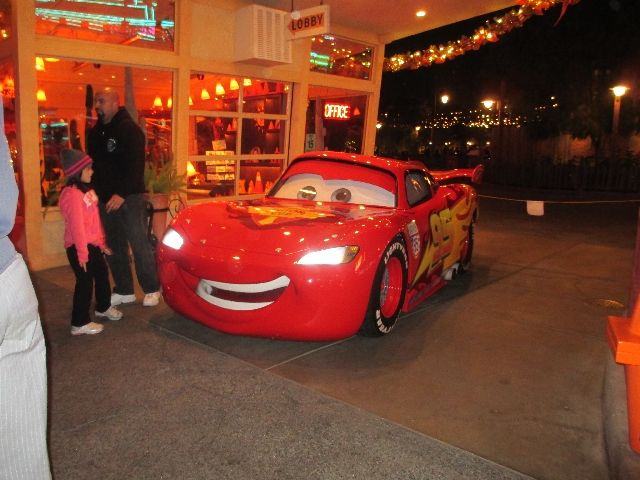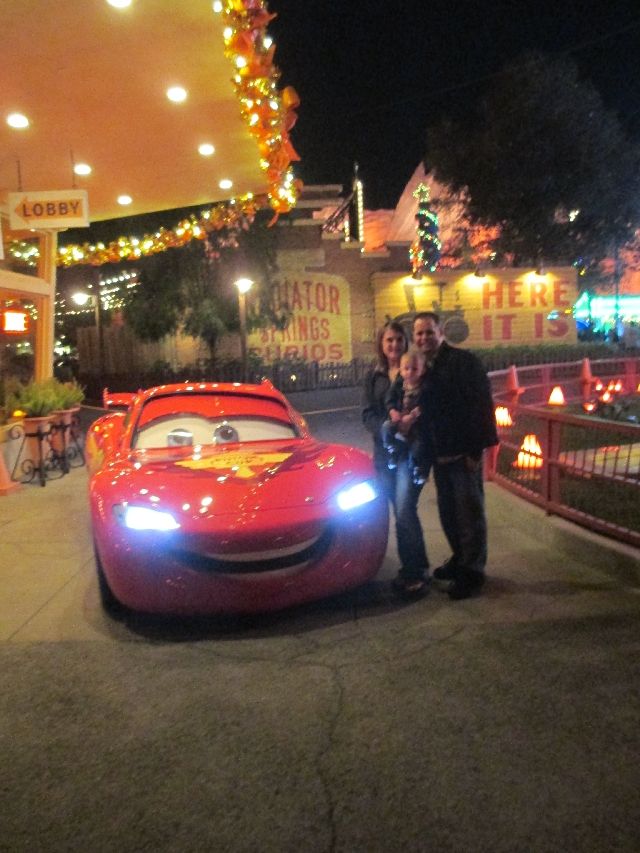 Since we were at the Cozy Cone I decided to get us a treat. In addition to the Cone inspired snacks they also designed a few different specialty drinks. One in particular is called Reds Apple Freeze. Although those of you who have been to the Magic Kingdoms recent Fantasyland Expansion in Florida may also know the drink as Lefous Brew sold at Gastons Pub. This drink has been compared to Butterbeer which is sold at the Wizarding World and is possibly one of the best things i've ever taisted lol. Just like the Frozen Butterbeer, Reds Apple Freeze is a frozen slush drink with a foam topping. Although the drinks may be similar in looks and texture they are very different in taist. Reds Apple Freeze is frozen Apple Juice with a Passion fruit/Mango Marshmellow Foam. So what did we think. Honestly we did not care for the drink at all. Where Butterbeer is an addiction and one of the best drinks ever the Apple Freeze is just not that good. I liked the Frozen Apple Juice. What was really bad though was the Foam. It was just horrible. That first drink I took was only the foam and it wasn't good at all. Kieras thoughts on the drink pretty much echoed mine. Like I said the apple slush itself was alright but unlike the Butterbeer where the foam stays seperated from the slush the foam on Reds Apple Freeze quickly melted and blended with the Slush ruining that as well. Between the 2 of us we never even finished the drink. I'm happy that we gave it a try but its not something I would get again. Ether as Reds Apple Freeze in DCA or as Lefous Brew in the Magic Kingdom.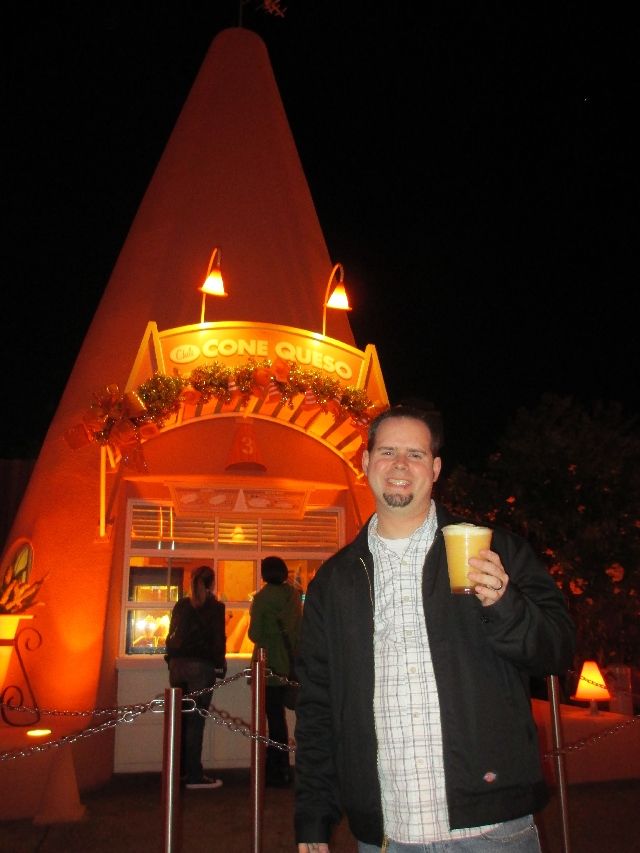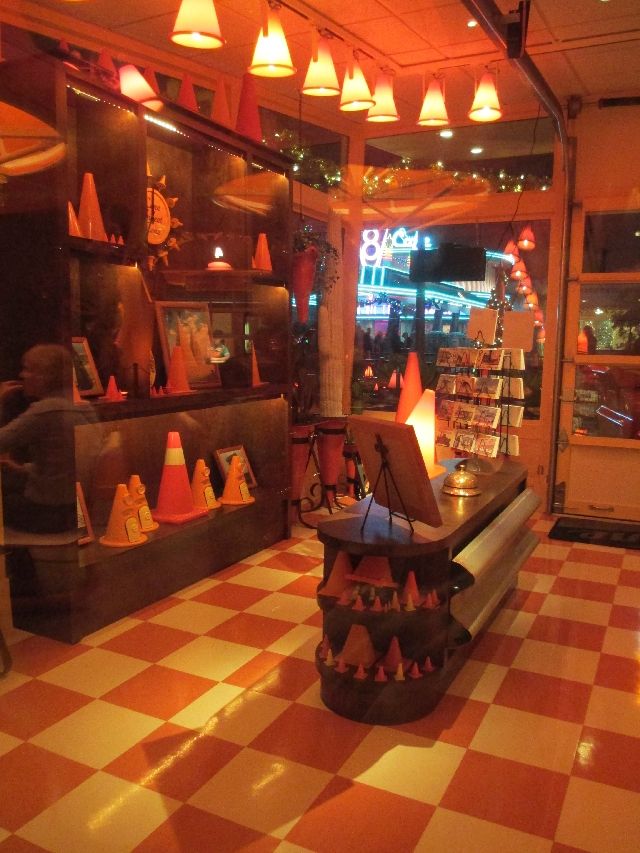 The shop across from the Cozy Cone that we next checked out was Sarges Surplus Hut. But your not gonna find any Surplus here. Instead its a Glorified Toy Store. Thats right all thats sold at Sarges is Toys. Again though the themed decor around the shop it self is great as it really gives the impression of an Army surplus shop. Unfortunatly once again though there is no unique merchandise to be seen anywhere for sale in the shop.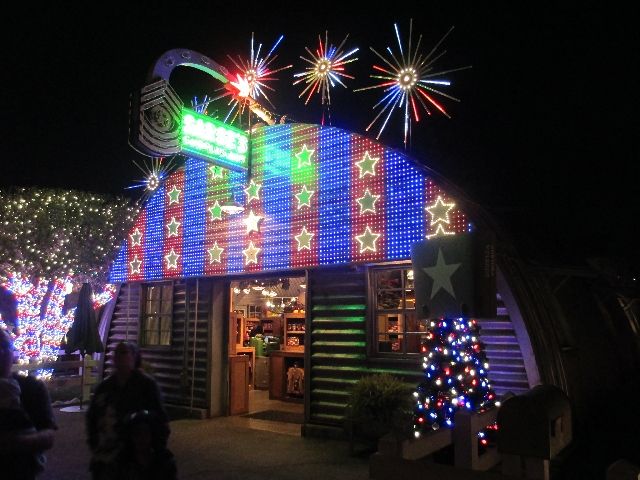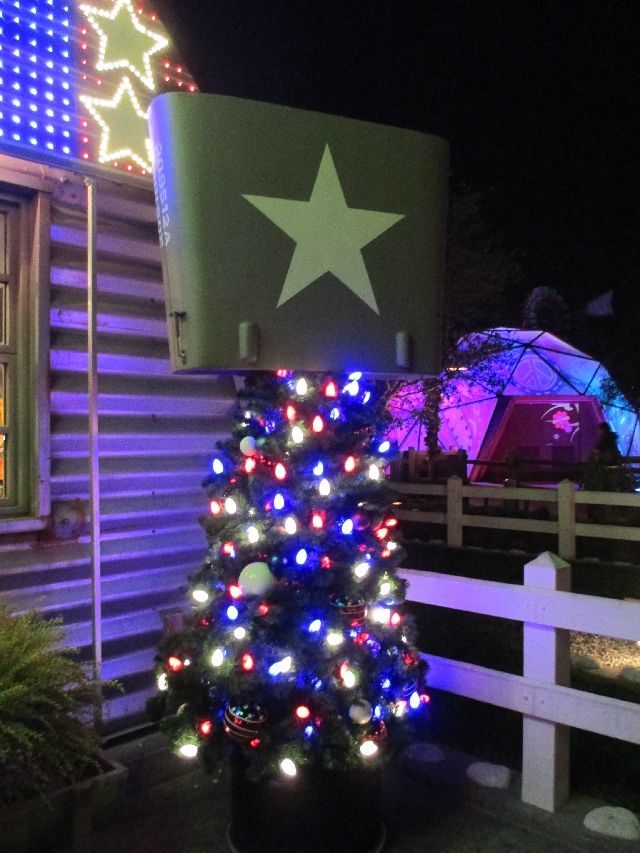 You've probably noticed by now a bit of the Christmas decor all around Radiator Springs. The Christmas decor was very well done in the Land. From the Air Filter Garland, Tire Wreaths, Tool Snowflakes, and Santa Stanly Statue to the unique touches to each individule shope. If you havn't noticed each store or ride has a Christmas tree out in front that reflects the owner. The City Christmas tree is great as well being covered in Hubcaps for the Ornaments. And don't forget the Original music wrote to make many Christmas Classic songs relatible to Cars playing thruout the area. Christmas in Radiator Springs is really cool and i'm glad this was when we got to see it. I would really like to see Pixar make a Carstoon Short film about Christmas in Radiator Springs sometime.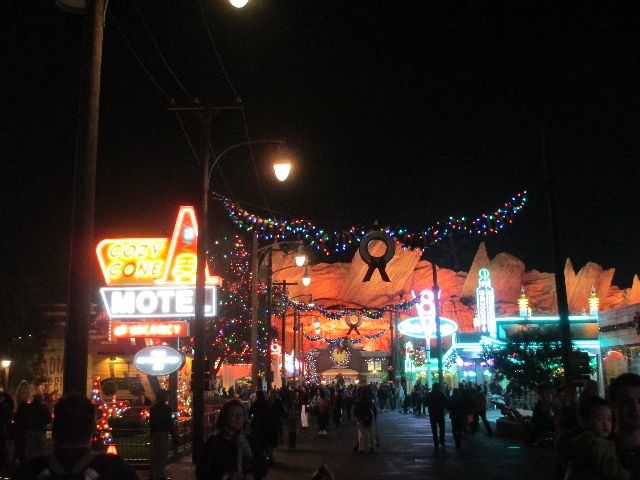 We found another Photopass Photographer taking pictures towards the town and mountain range and it became one of my favorite photos of the trip. This was the only photo we got of us and the town in the background as we never thought to do another one during the day. We also walked over to Maters Petting Zoo in front of his Junk yard and got our photo taken with a baby tractor.
With 15 minutes left until the park officially closes at 8pm and 30 minutes until the start of World of Color I thought now would be a good time to head over to the viewing area so that we could get a good spot for the show. But as we were walking past Maters Junkyard Jamboree we noticed that they posted wait time was only 5 minutes. So we figured what the heck. We have enough time. Maters and Luigis rides both have a 32inch height limit and we knew Daniel could be cutting it close. We pulled him out to see if he was tall enough but he was still about an inch short. So we would have to riderswap on this ride as well.
I couldn't really find any info regarding Riderswap on Mater or Luigis before our trip so I'll let you know how it works real quick. For this ride we got the riderswap card at the enterance to the attraction. Then the first person waits in the normal line and rides. When they are done the 2nd person riding will enter the ride using the riderswap card thru the Alternate Enterance. This enterance is for those guests who need assistance and bypasses the main line. Although this late at night it probably didn't make much of a difference but it would save a lot of time during the day.
I would ride this first so I entered the main line and made my way thru the Junk Yard que which was extremely shortened do to nobody being in line. I wish I could have got a closer look but there are many junk and props scattered thruout the Junkyard that actually tie in to the Mater Tall Tales Carstoons. The story of the ride is that Mater is having a hoedown with Baby Tractors and you've been invited to join in on the dancing. Theres a large Jukebox set up that plays like a dozen different original songs all sung by Mater. Although this sounds like it could be annoying if your not a fan of Mater the songs were actually pretty fun and never got annoying. I only waited 1 rotation before I was sent out to board one of the vehicles.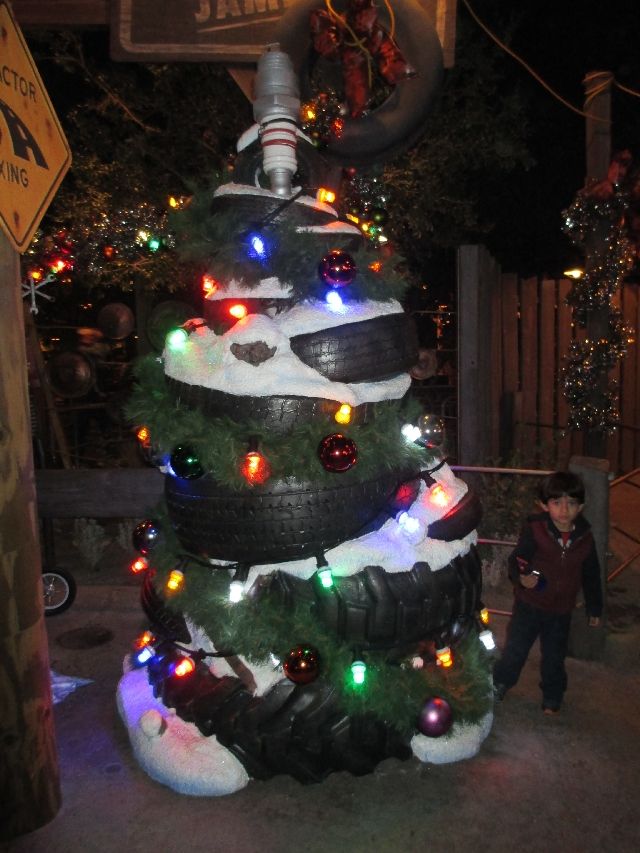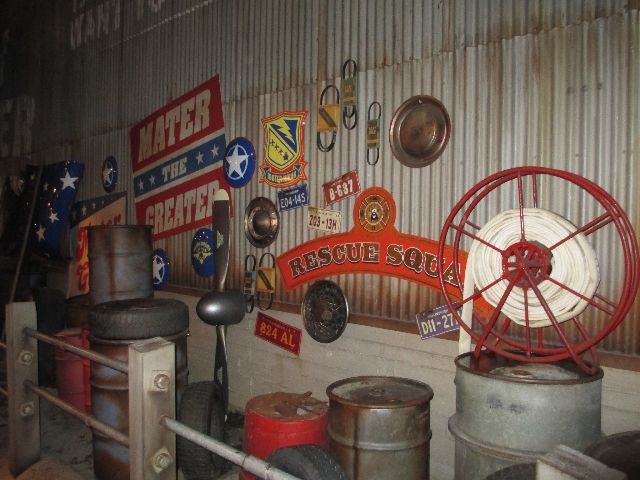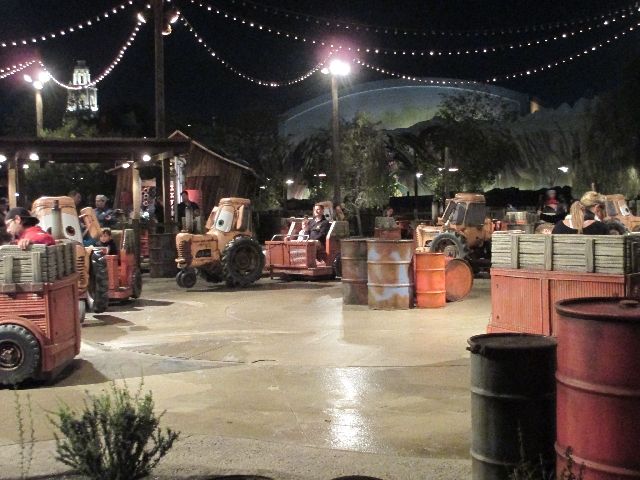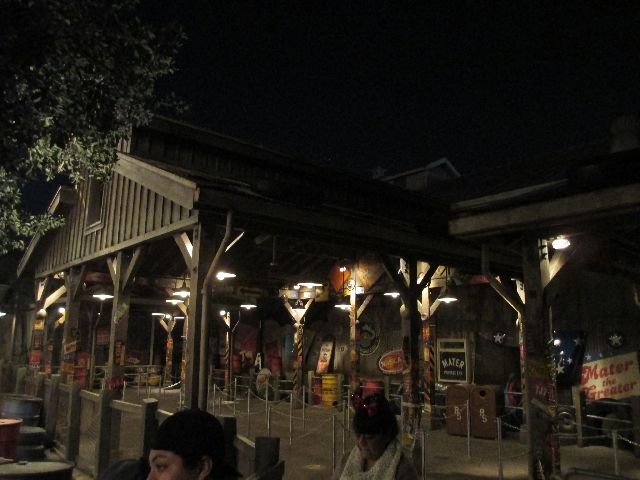 The ride is actually pretty simple. Each baby Tractor is pulling a trailer that you sit in. It then travels amoung 3 turn tables making the trailers whip out as it catches on of the turntables going the opposite direction. Frankly I was surpised at the kick this ride has. When it whips the trailer some of times it thru me pretty strongly to the other side of the trailer. I was laughing the whole time and had a great time on it. I can only imagine it being funner with another person and then you could play "corners" with them lol.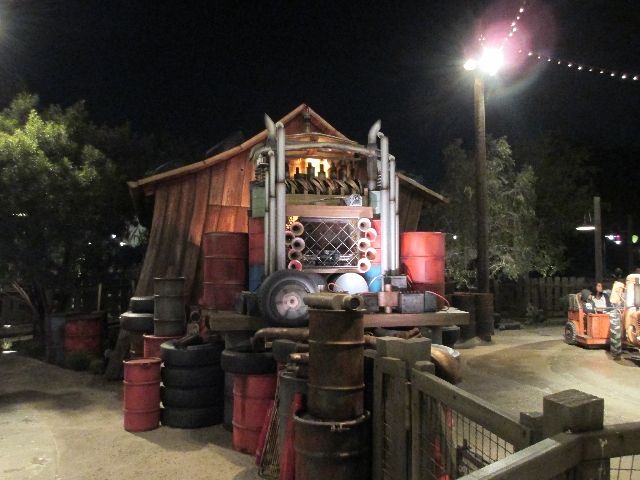 When I got off the ride Kiera then took the Riderswap card and rode the attraction as well. She too waited only 1 rotation and then it was her turn to ride which was kind of fun to watch from the sideline. Daniel also seemed to like watching the tractors go round and round. Overall Maters is a great little ride and fits the area nicely. Its just too bad that if you've followed the DCA construction from the beginning you can see that many of the Cars Land budget cuts came at the cost of Maters Junkyard Jamboree. In the early concept art the ride seemed to be more of an outdoor dark ride as the tractors moved thru different scenes of the junkyard whipping you around corners. There was even suppose to be a full size Mater Animatronic. But those got whittled down to the simple ride we have now. Its still a good ride. It just could have been better.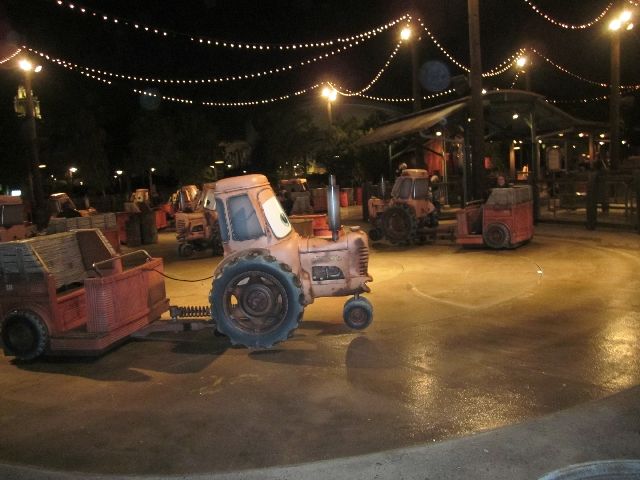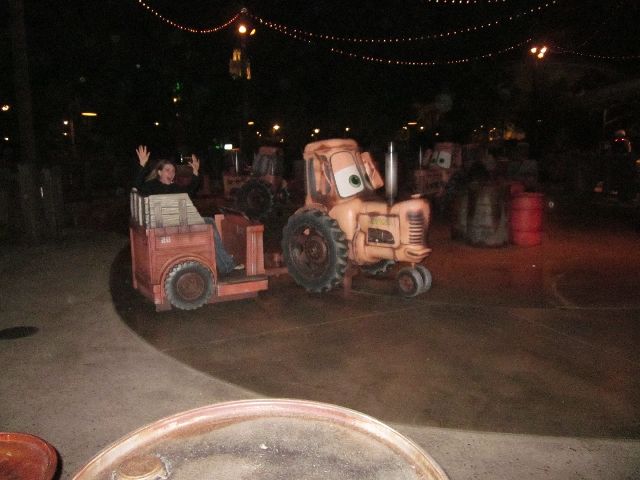 The park was now closed and we were leaving Radiator Springs for the day. So what are my thoughts on the land. Its amazing. Its very well done and the best i've seen from Disney in a long time. The Wizarding World in Orlando set a very high standard that I thought CarsLand would never come close to touching. However Carsland surpassed my expectations in nearly every form. Is it Harry Potter good? I don't think so. But it came alot closer then I thought it would. RSR is a very solid attraction for a park that desperatly needed it. Maters is a very fun and family friendly ride that people of all ages will enjoy and although we didn't ride Luigis today we would get the chance to later on in the week. The food locations were great as Flo's has a very fun atmosphere with good food and great views and the Cozy Cone offers many different unique snacks and drinks you won't find anywhere else in the resort. The themeing and scale are perfect and the rockwork is breathtaking. Honestly the only complaint I have with the land is the shops. They had the chance to make them very unique and sell specialty merchandise yet instead they filled them with the generic Disney and Cars stuff you can find everywhere inside and outside the resort. For such an amazing land I hope John Lassiter can pull the strings needed to brink in some unique merchandise later on.
Although the park had officially closed for the day our night wasn't over yet. We made our way back to Paradise Pier so that we could watch tonights showing of World of Color. We pulled our fastpasses earlier this morning so we had spots in the Blue section. I didn't know how hard this would be to find but they had it very well marked. I also expected there to be a large stroller parking area so we were suprised when we were told to take the stroller into the area with us. The viewing area was very packed but we walked down to about the middle area. The view didn't seem too bad where we were at so we stayed in the walk area and had a curb behind us that we could stand up on. I don't know if we were suppose to be where we were as we were still in the walkway but getting to the show so late nobody else ever came down the walkway.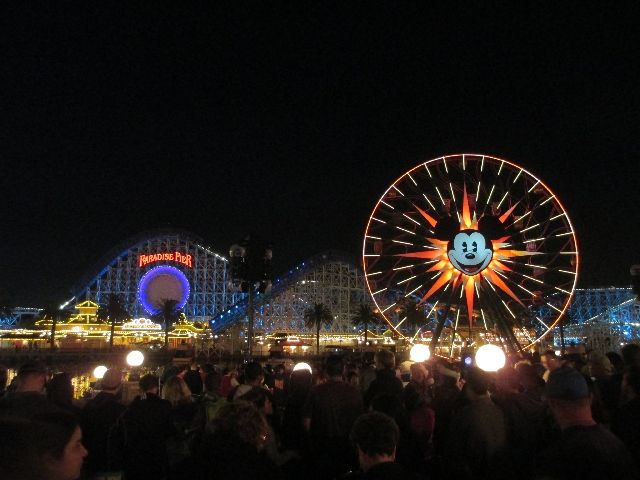 Paradise Pier soon went dark and the Pre show for World of Color started. They have done preshows for a few movie releases but for Christmas time the preshow features the Christmas TV specials Prep and Landing. This was our first experiance of World of Color and our jaws dropped. It was incredible. We were in for quite the show. Just a heads up now though there is gonna be alot of pictures from World of Color. However there won't be alot of words to accompany them as I find it pretty hard to discribe shows lol.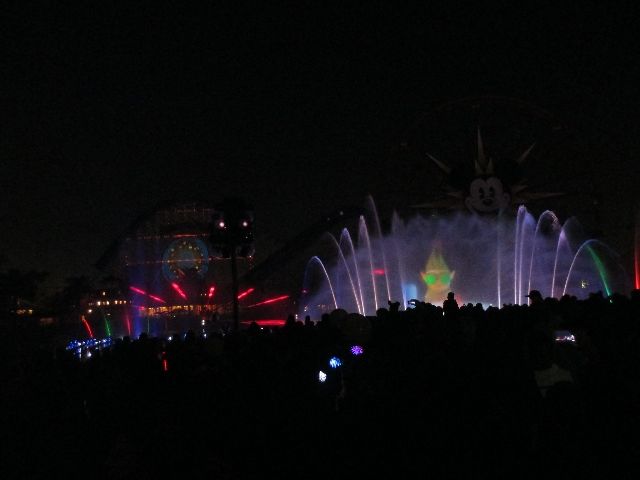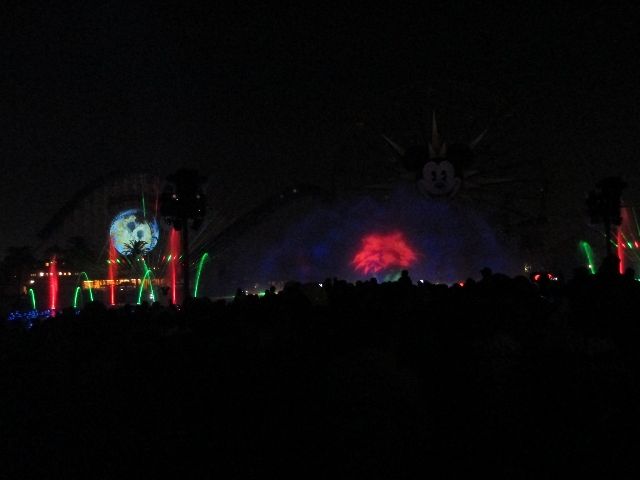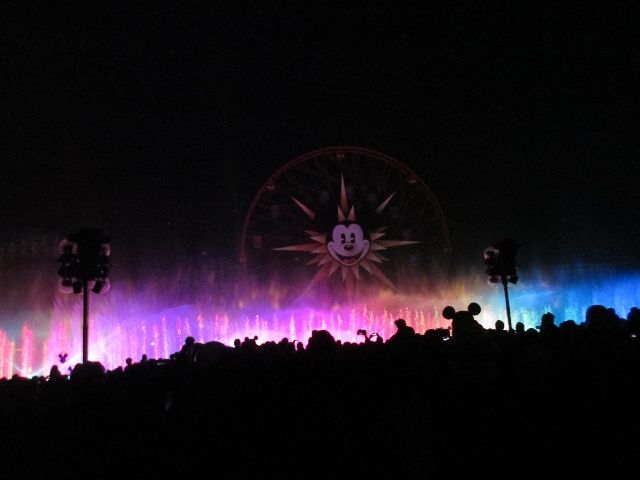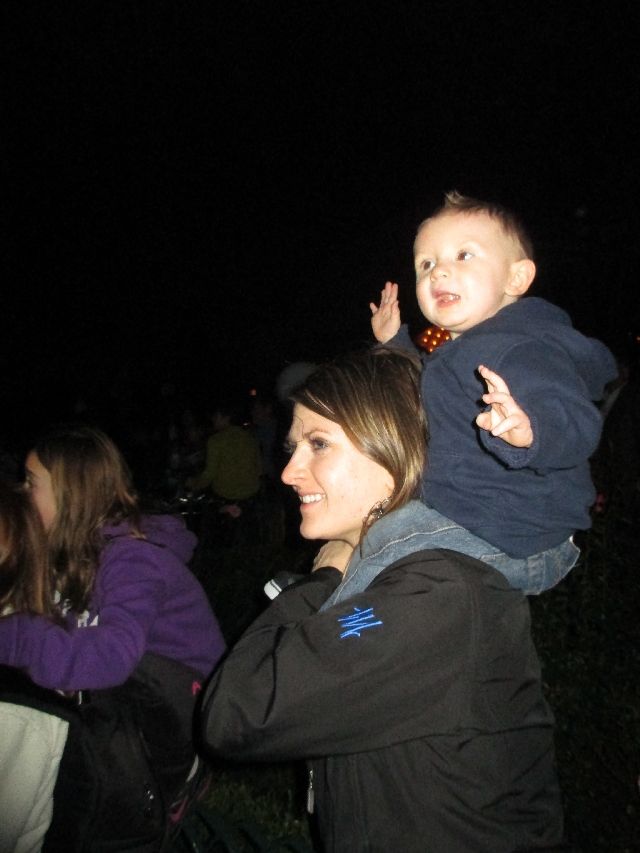 World of Color is a nighttime show designed specifically for California Adventure and as of right now there is no where else that you can the show. Think of the show like the Bellagio fountains in Las Vegas but amplify it by 100. The show features Dancing fountains that can change between multipule different colors. But the fountains aren't all. The show also features Pyro, Laser, and fog effects. The lighting on Mickeys Fun Wheel is also used during the show. The highlight of the show is multipule Mist screens where Video is projected from some of the most classic and memorible moments from Disney and Pixar film history. All of which is syncronized to music.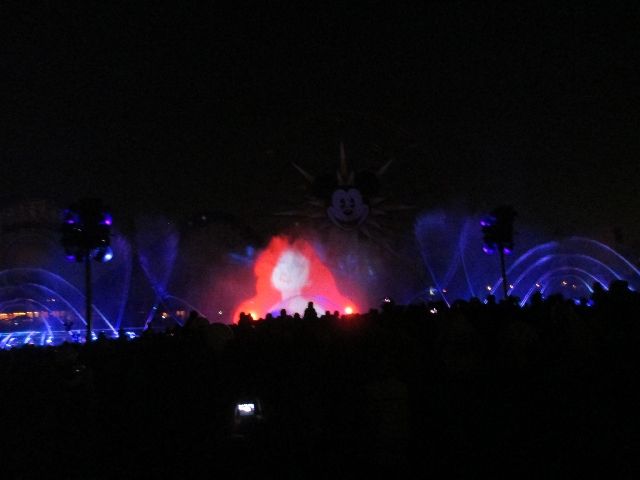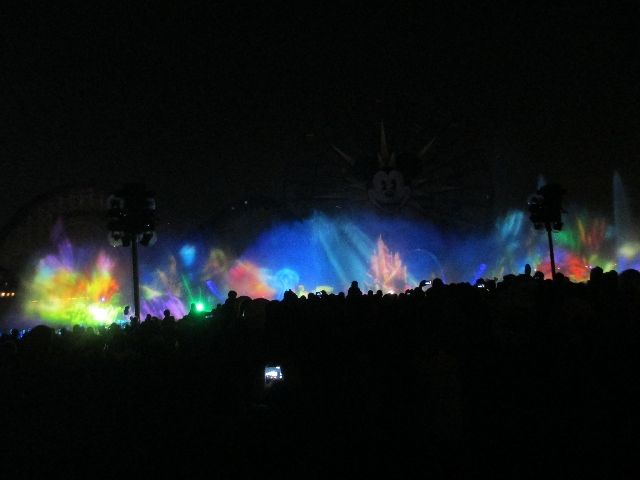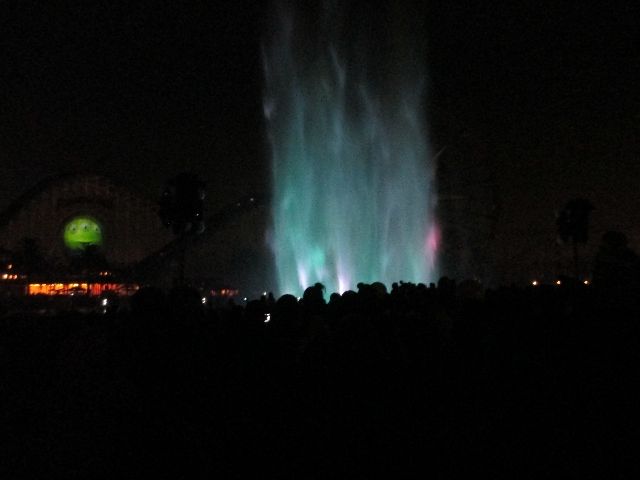 As the show officially started and the fountains came to life in hundreds of different colors the feeling you get is pretty amazing. We were just in Awe. As the show unfolded it was very obvious that Daniel loved the show. This probably made him the most excited he was for anything this entire trip as he would not stop laughing and clapping and bounching up and down on Kieras shoulders. He loved ever part of this show and it was one of those moments where seeing his excitment totally made the trip worth it.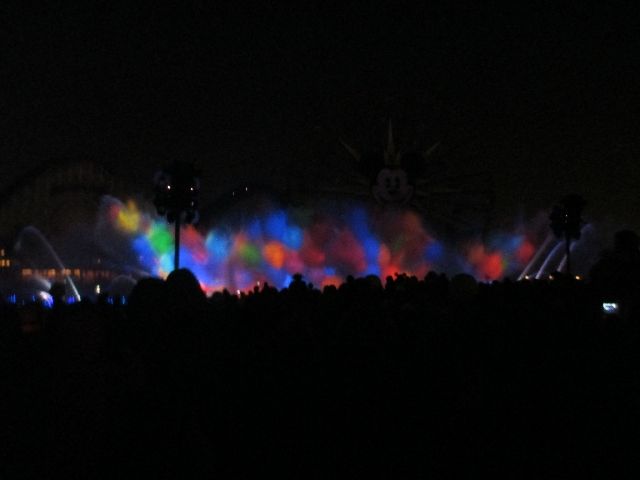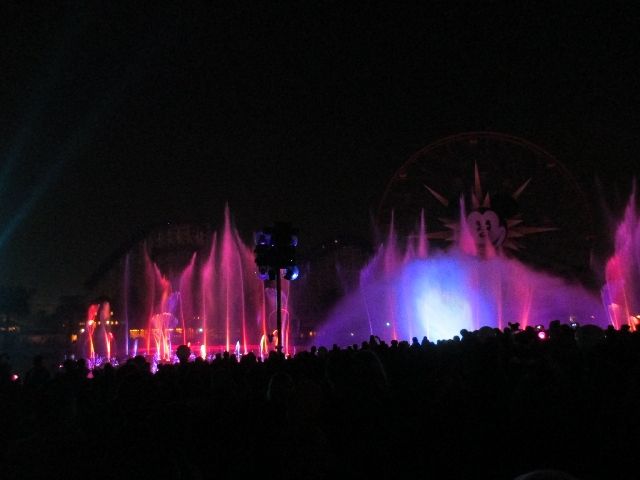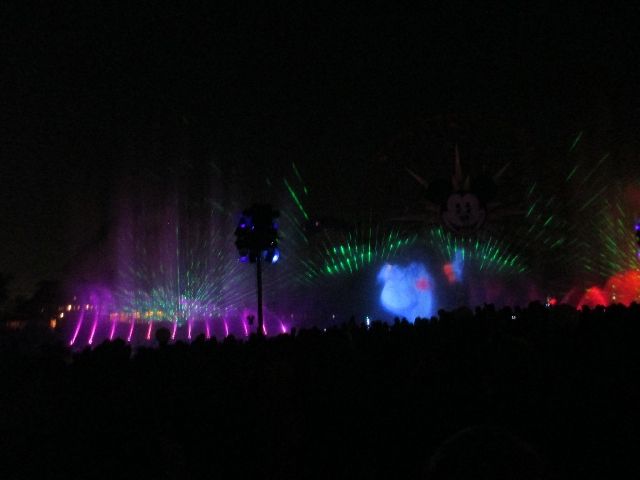 World of Color brings to life scenes from the movies in a way that you've never experianced. Each film segment had the show doing unique things from specific colors to strobe lights to even bubbles in the air. Disneyland also released some Ear hats called Glow with the Show that change color and interact with the show. Although i'm sure the experiance is much better when everyone in the crowd is wearing the hats.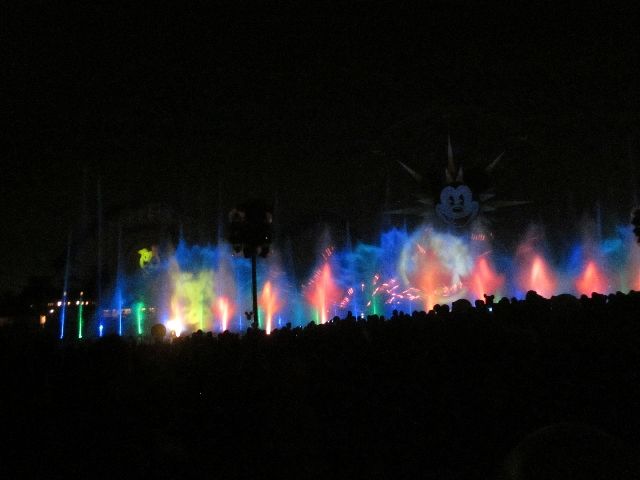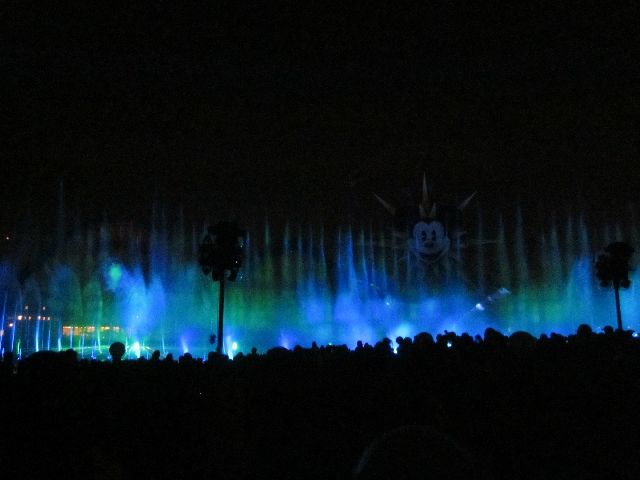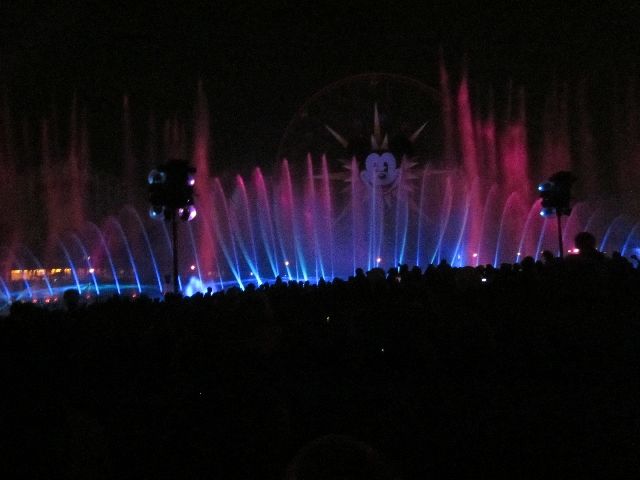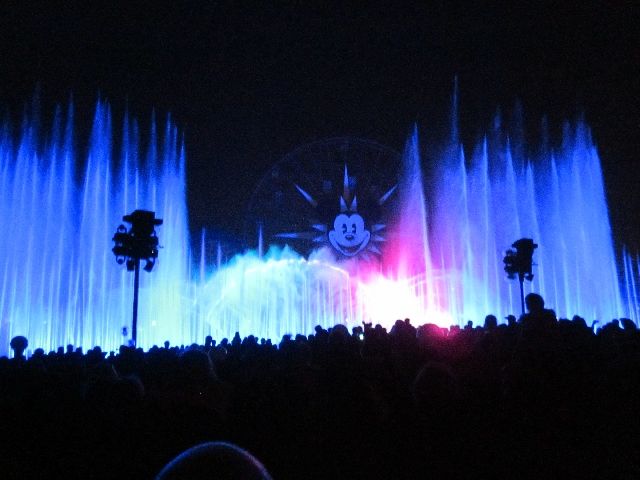 The bad thing about the show though is the viewing area. Its really crammed and its all standing room. Because of this it can make the show hard to view. Yes its our fault that we got to the viewing area late and were stuck towards the back. But when we first got to the area we had a perfect view of the Lagoon. The problem was once the show started parents started putting kids on there shoulders so they could see. Now I don't think thats bad itself as we even had Daniel on our shoulders. The problem I had was many of these kids that were on the shoulders were between 4-5 feet tall. I'm sorry but these kids are way to tall and really ubstructed the view for those behind them. We ended up moving back up the pathway ramp where we eventually found a better view that wasn't so blocked. My point is if you don't want to deal with blocked views make sure you arrive early. No matter what section your in.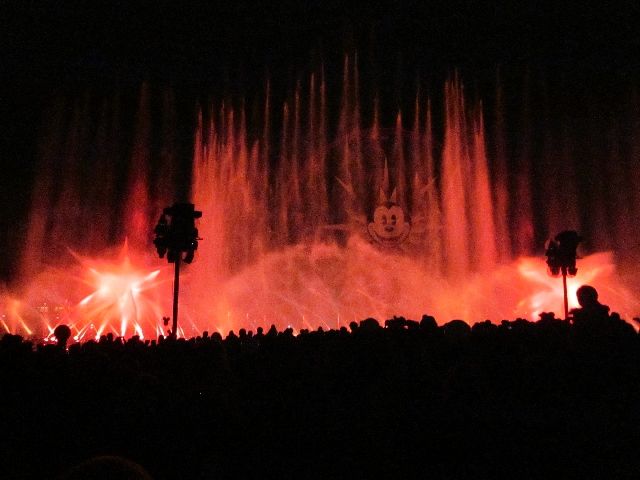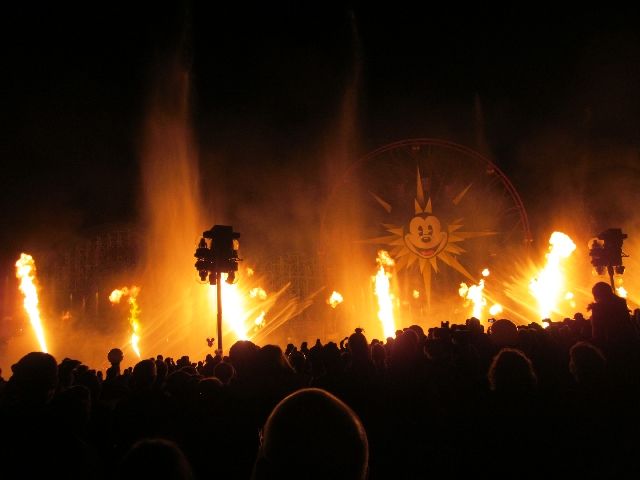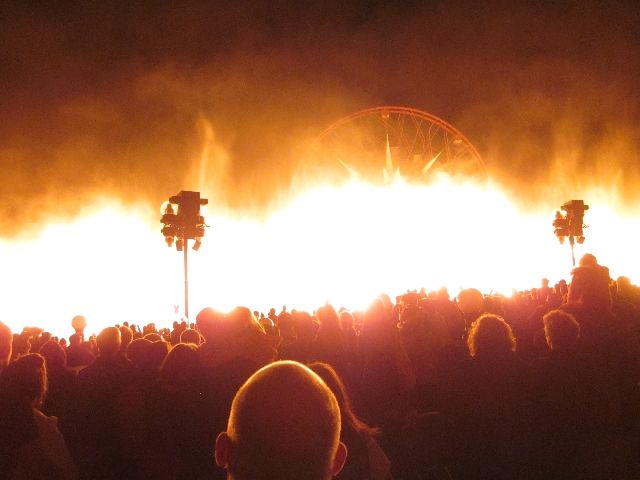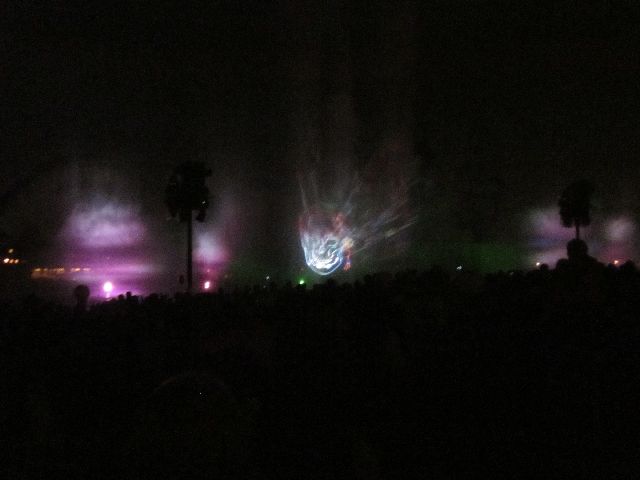 World of Color really unfolds all around you so watch in all directions. There were parts of the show that even took place on the California Screamin Roller Coaster and of course the lights of the Fun Wheel. I really enjoyed the show when the lasers were on and the Fire parts were really cool as well.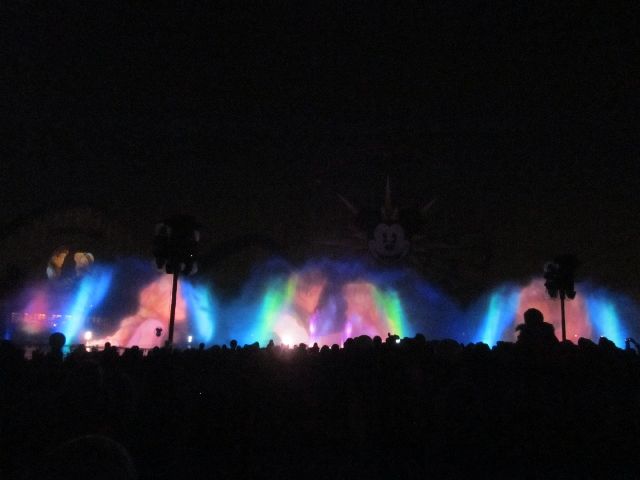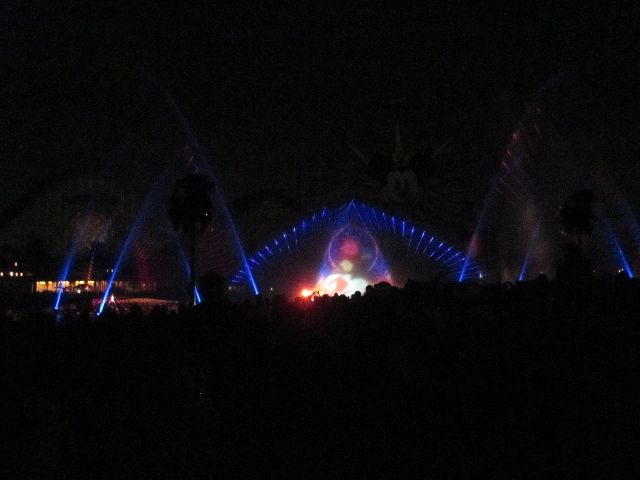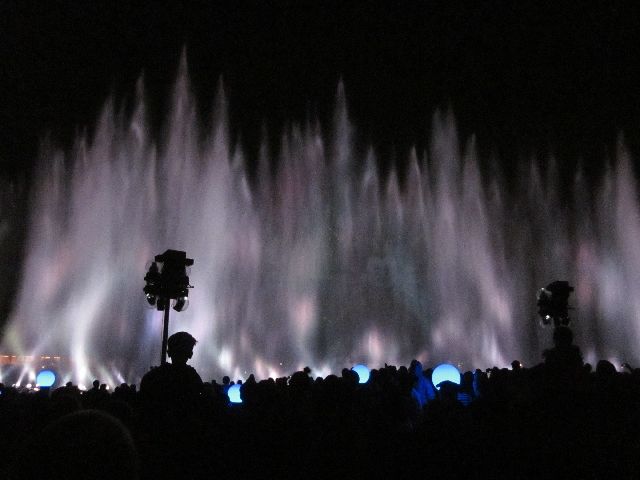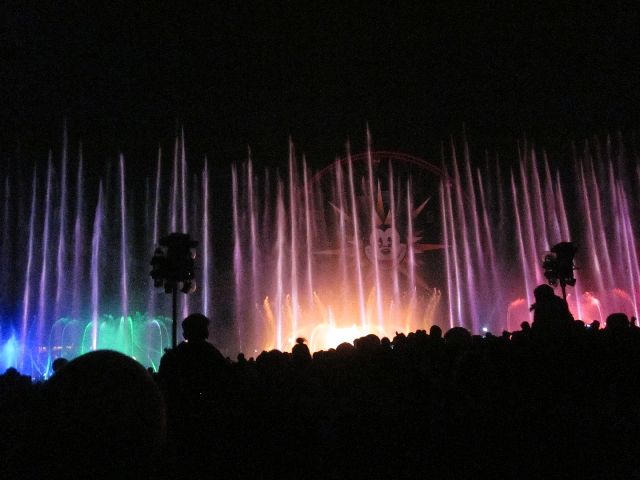 Overall I was very impressed with World of Color and it is no contest the BEST nighttime theme park show that I have ever seen. The show is incredible in a way that I can't explain. When you think of it being a water fountain show it really doesn't sound all that great on paper. But it is something that you have to experiance to understand. Never has a show effected my emotions in the way World of Color did. It is truely special and magical and something to not be missed when going to the Disneyland Resort.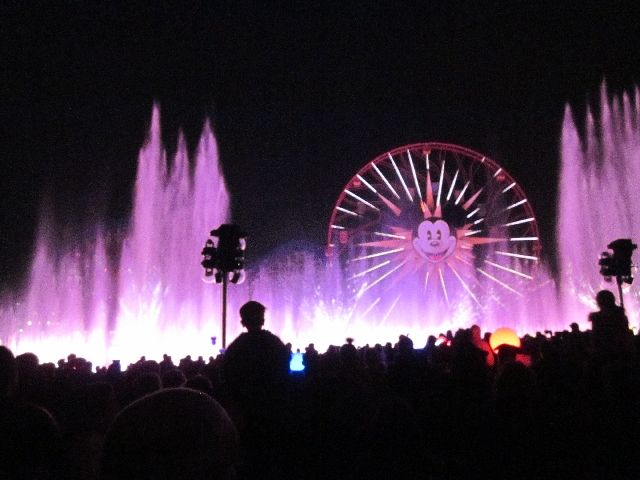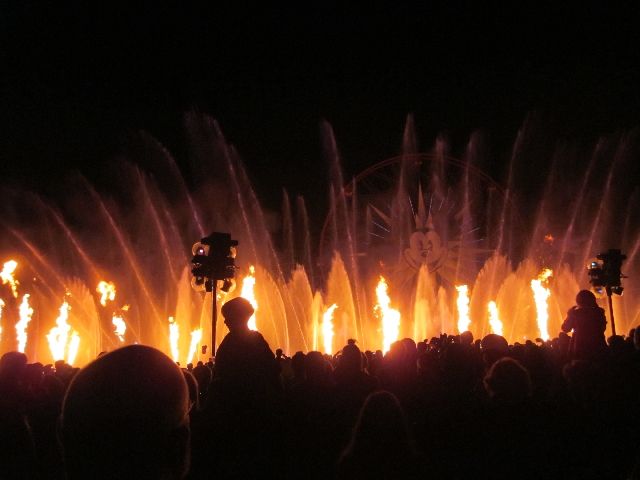 With the show over and the park closed for the night we started to make our way back to the front of the park with the rest of the crowd. As we entered Buena Vista street we saw (and heard) the Disneyland fireworks start. It was actually kind of neat to see the fireworks over Buena Vista street as thats a location you don't typically think to watch the fireworks from.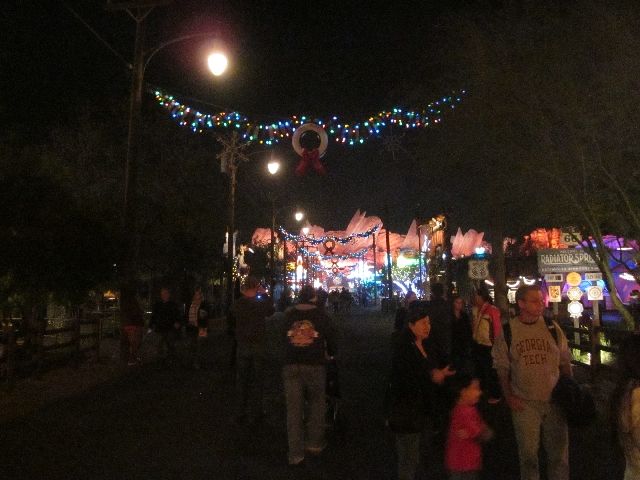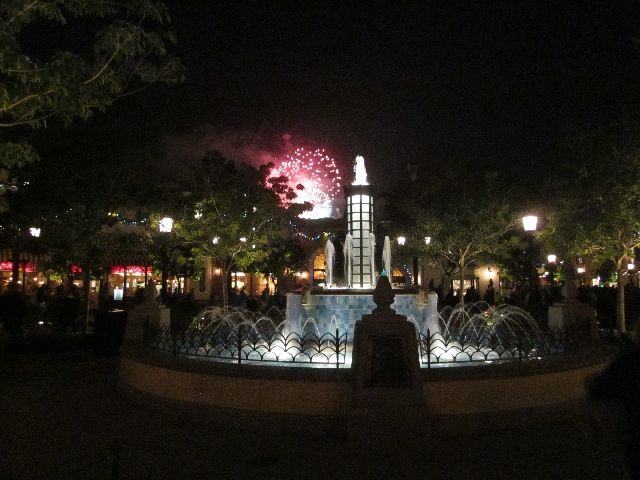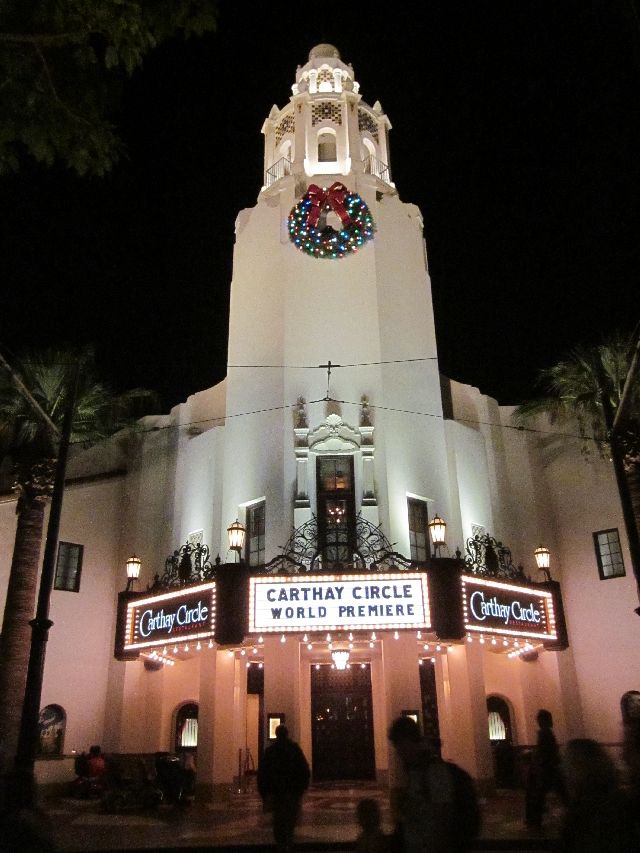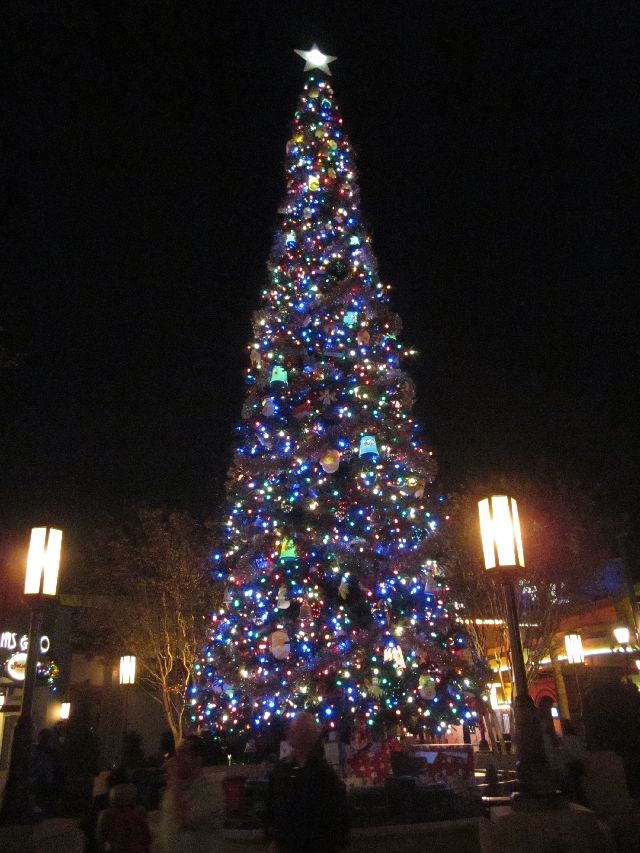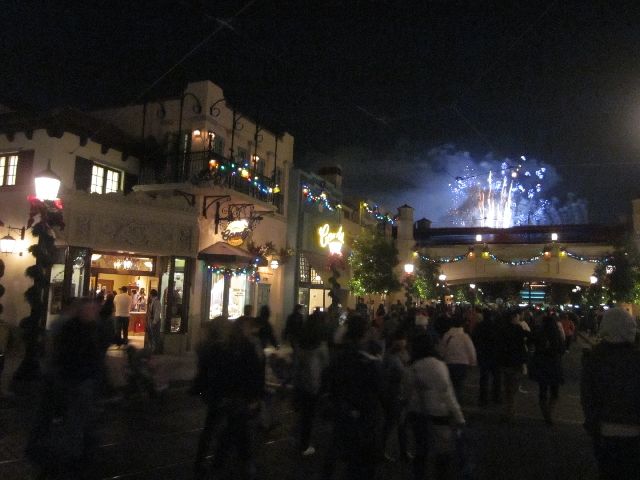 We decided to walk thru the Ellias and Company shop on the way out to see what merchandise the shop had. On each vacation we always purchase a Christmas Ornament and also a post card for each place we visit so we walked thru Ellias and Company to see what options we had. This store is the large entry shop that runs the entire side of Buena Vista Street. The inside is also richly detailed as it is athentically themed to be just like a 1920s Department Store. During the day this is also where you can meet Santa during the holidays. After looking around we exited the shop without purchasing anything and exited the park for the day.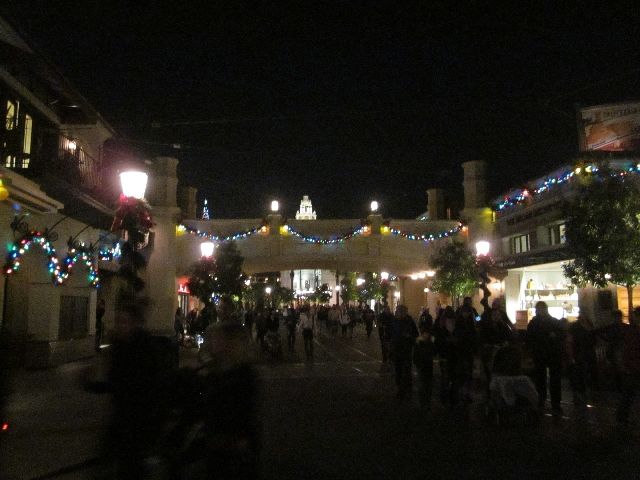 Although our park time was done for the day we still had the nearly mile long walk ahead of us back to our Hotel. We made a quick restroom stop in Downtown Disney and then started the walk back with a suprising amount of people also walking with us. Of course most of them though were going to the Mickey and Friends parking structure as they didn't want to wait for a tram so after passing the structure we were by ourselves the rest of the way to the hotel. When we reached the hotel we found that we made it back in time to stop by the pool. We only had 15 minutes so it wasn't enough time for a quick dip however there was enough time to just sit by the hot tub and soak our feet after a long day of walking in the parks. One thing we loved to do on some of our Orlando trips.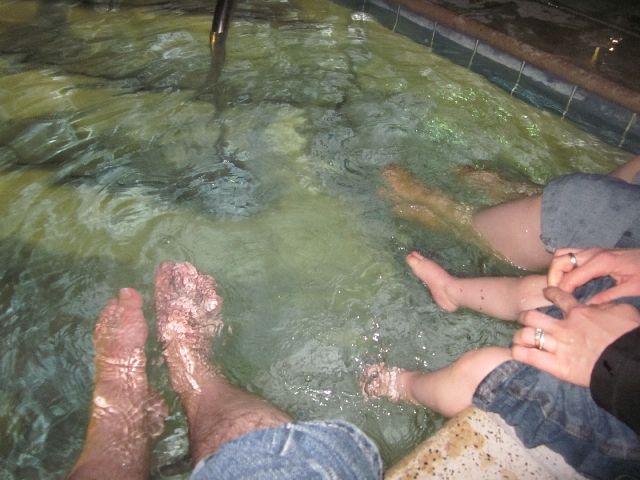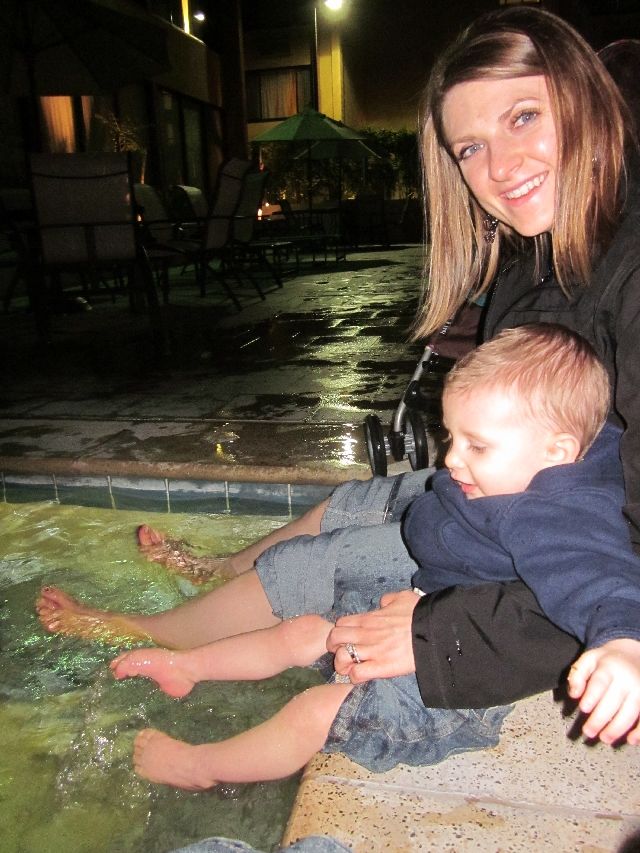 We finally retired to our Hotel room where we promptly started getting Daniel and ourselves ready for bed. We thought this morning came early. Well tomorrow we would try being up and out the door earlier as tomorrow would not only be our full Disneyland day but its also the only day that we would be able to use our Magic Morning allowing us into Disneyland an hour before it opened. We looked forward to what the next day had in store for us.