It's great when Imagineers come up with great concepts for attractions or rides, and they come to fruition. What sucks is when Imagineers come up with great concepts, but for some reason, they never happen. What are some attractions or rides that never happened, but you wish happened? I'll start.
Herbie the Love Bug ride: I mentioned this before in another thread, but I'll mention it again. This ride was based on, you guessed it, The Love Bug. It was supposed to go in Fantasyland. The ride vehicles were planned to perform tricks like tipping over, wheelies and splitting apart, just as it happens in the film. This ride looked like it would have been a blast. I wish they'd reconsider the attraction, and put it somewhere in DCA, if there's any room left.
Concept art: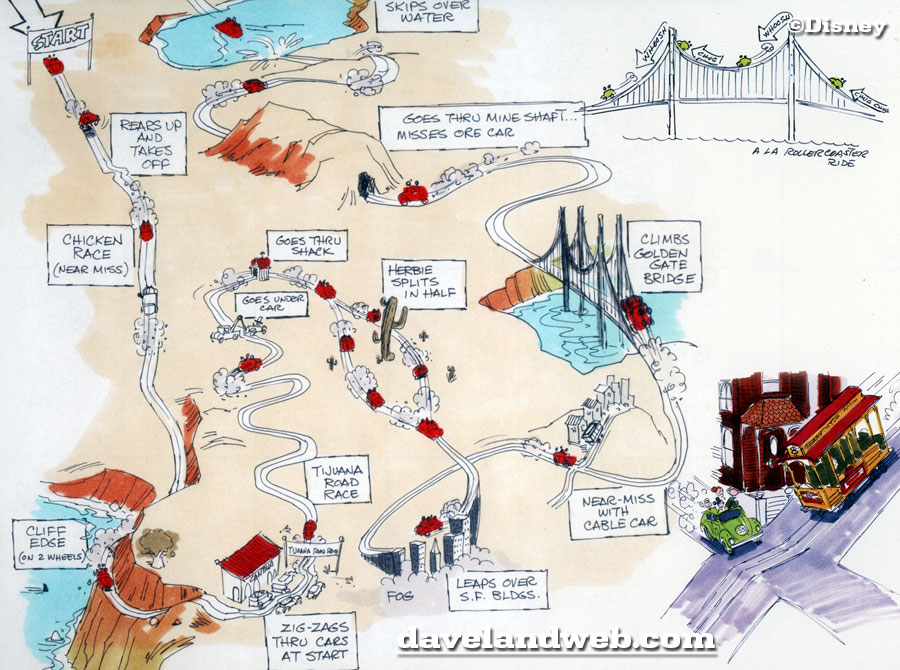 Geyser Mountain: This was a a Tower of Terror-like ride. It was planned to go in Frontierland. Basically, we would have gotten trapped in an old mine shaft, shot up then shot back down. I'm sad this never happened!
I can't seem to find any concept artwork for the attraction.
Indiana Jones and the Lost Expedition (or what Indy was supposed to be): Probably the biggest disappointment of all... Indiana Jones and the Lost Expedition would have had a HUMONGOUS show building, as it would have housed the Indy attraction we have today, a mine cart coaster ride, a piece of the Jungle Cruise, which was going to pass through AND the Disneyland Railroad was going to pass through this giant! Can you say AMAZING?! Two attractions in one, plus two other attractions passing through it. Undoubtedly, this would have been the best attraction in all of the Disney parks around the world, let alone Disneyland Park. Such a shame this didn't happen.
Concept art:
MiceChat covered a really good article on this last year:
The Lost Expeditions of Disneyland's Indiana Jones - Blogs - MiceChat