Hello, again!
My husband and I took a last minute trip to DLR this past weekend so I could make one specific meet-up during the anniversary. We only had one day in the park, Saturday.
We started the morning at DCA since the AP promotion allowed us in one hour before opening. It was great! We had the park to ourselves, including Carsland. Neither of us is really in love with this area of the park (I know, I know), so we took advantage of the lack of crowd to try some rides we hadn't been on before.
First up: Tow Mater's Junkyard Jamboree!
As you can see, we rather enjoyed it! I would definitely do this one again. Also, since I had seen it mentioned on the boards earlier, I took a couple pictures of the floors. You can tell a difference between the side that has been refurbed versus the side still showing wear and tear:
We stopped and took a picture with Lightening McQueen since there was absolutely no wait:
*Note - I have noticed that the quality of pictures Photopass photographers took during this trip with my camera versus their camera seems vastly different. This kind of bothered me.
Next we went on Luigi's Flying Tires, again this was a walk-up. We got our own tires so we could run into each other:
I don't think I'll bother doing that ride again. I'm glad I did it once, though, so now I know!
Next was one of my favorites - California Screamin'!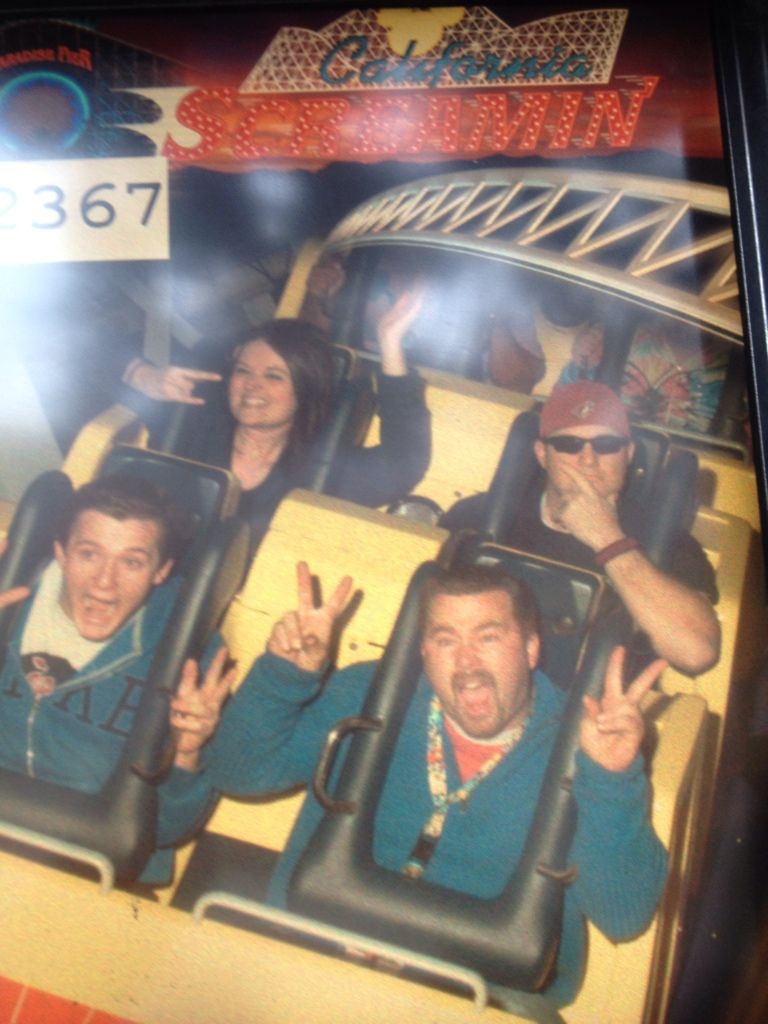 Since my husband is not at ALL a coaster type of guy, he was pretty motion sick after we got off. So I decided we should take it easy with a spin on Ariel's ride.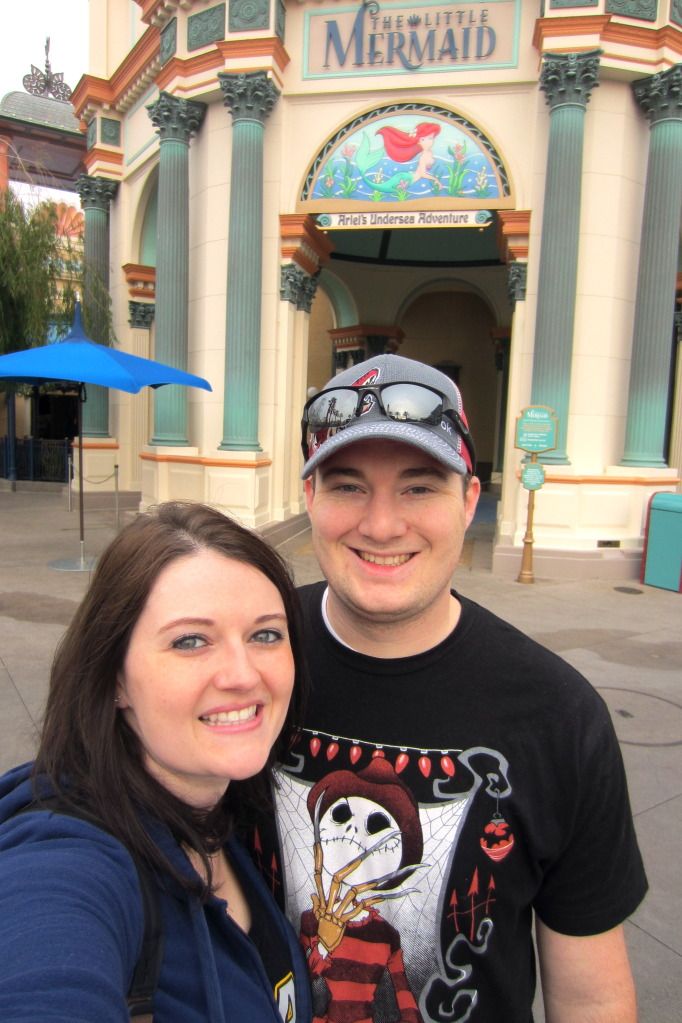 And because I'm such a nerd, I was super excited to get the wait time lanyard thingy... and there was absolutely no wait.
We walked by Grizzly River Rapids and noted the lack of water. I personally love seeing the "backstage" stuff of the parks, my husband thinks it ruins the "magic". So if you're in agreement with my husband, close your eyes for this picture:
Ok, you can open them now! While walking through Buena Vista we stopped for pictures with Mickey and Pluto since there was no one else waiting. We actually interrupted Pluto, as he was searching through the trash for some treats (he must be a lab!)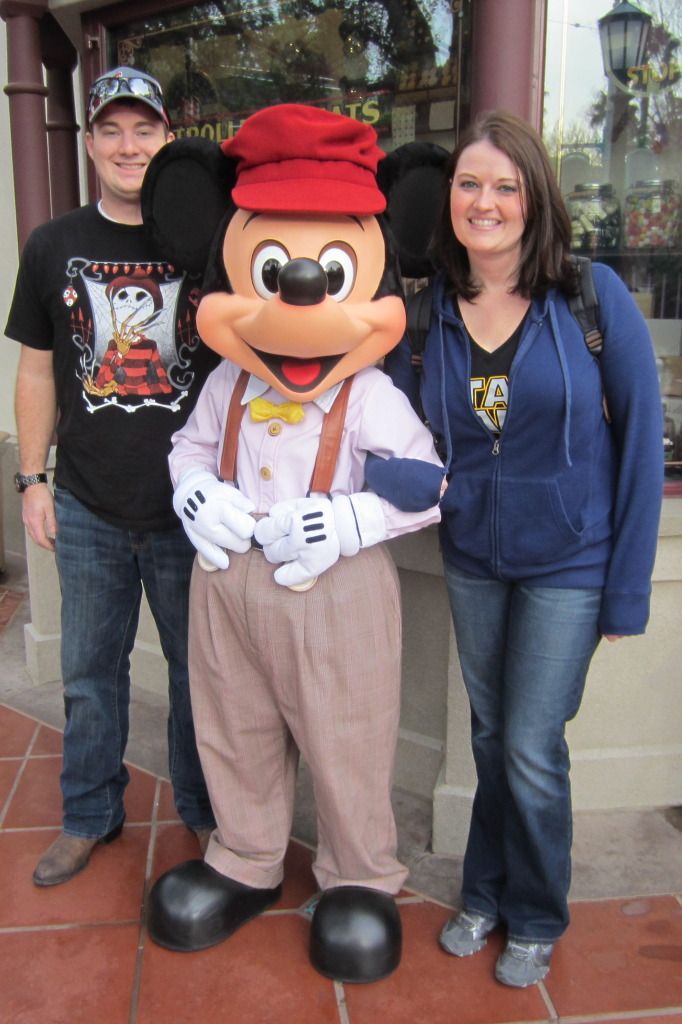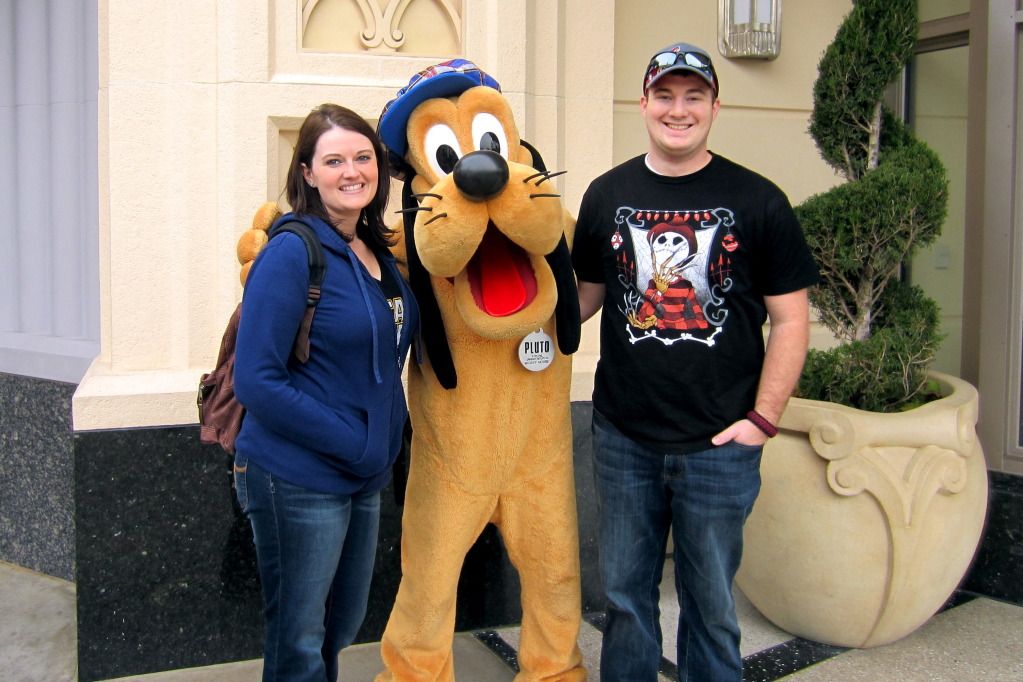 At this point we were only in the park for about an hour, but my shoes were killing me!! So we stopped by Elias and Co. on our way out of DCA (heading into DLR) and I bought these awesome Mickey shoes!
They're actually made by Crocs, so the sole was very comfy. And yes, that's a Mickey on my thumb. See?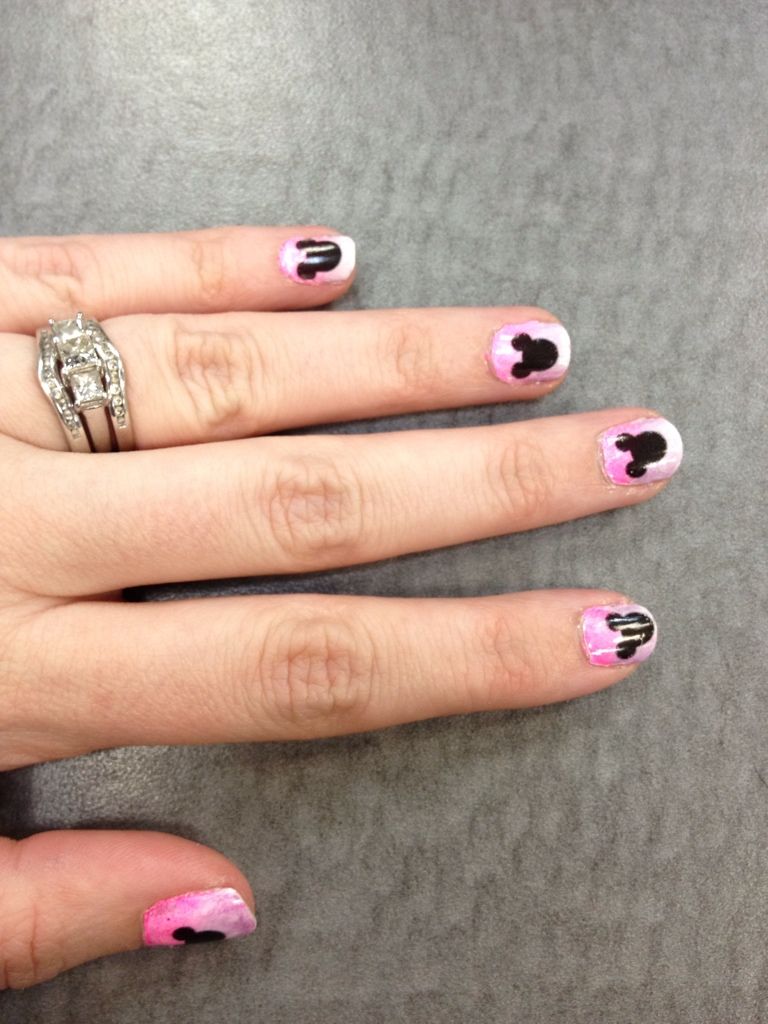 Anyway! After grabbing a breakfast burrito from Tomorrowland Terrace, I took a spin on Star Tours by myself. I just LOVE this ride!! It's a shame my husband can't handle it, as he is just as big a Star Wars fan as I am. I must say, though, that this ride just about reaches my threshold for my motion sickness.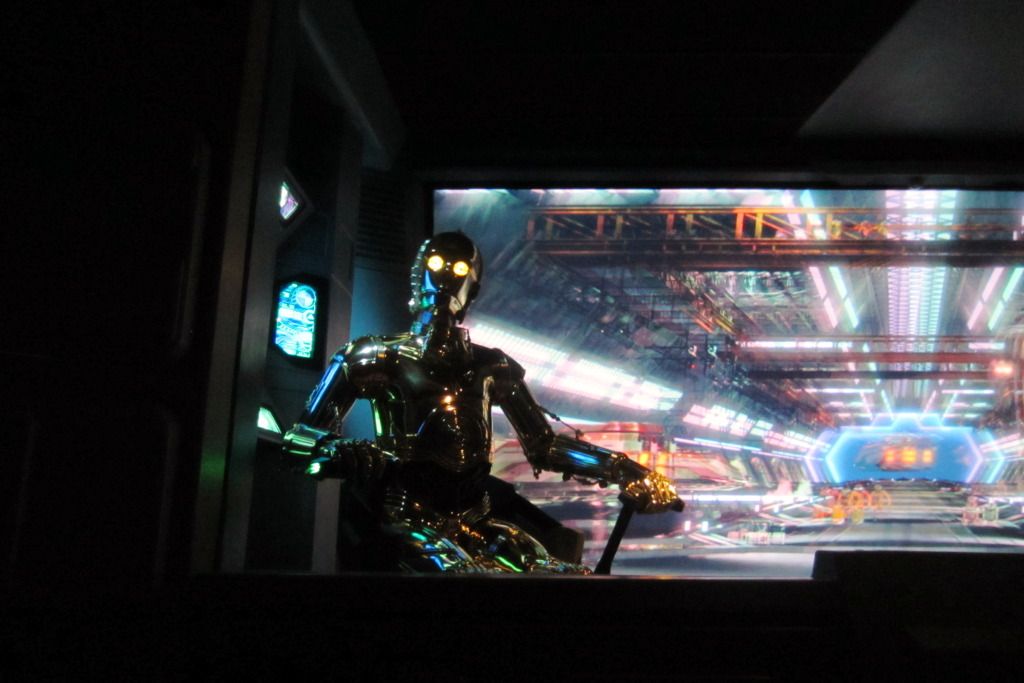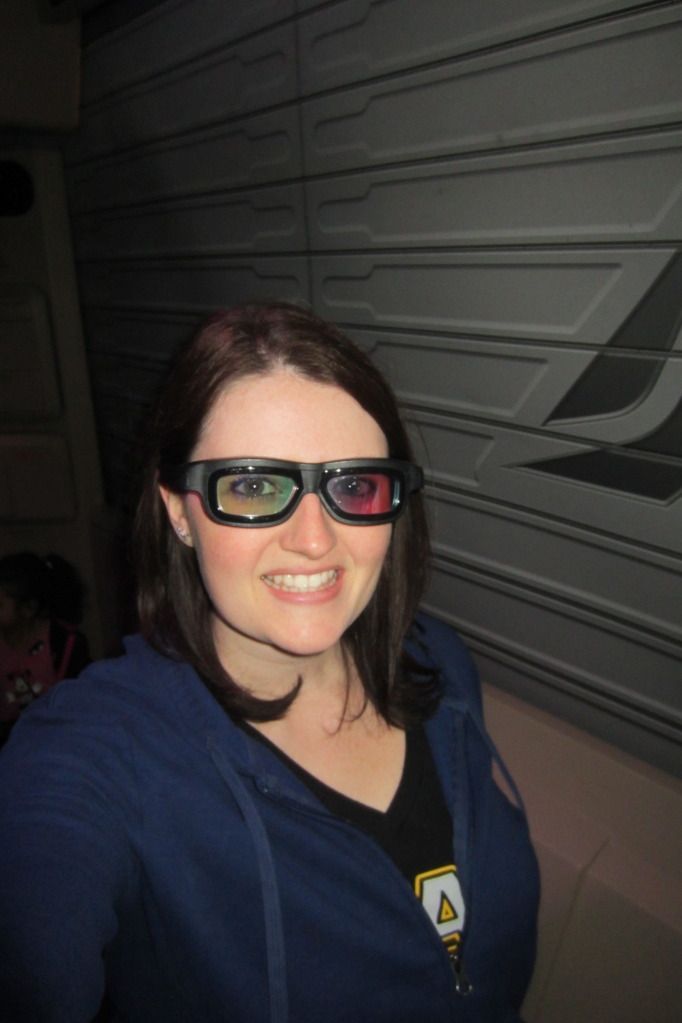 I love that the color of the 3-D glasses showed up! Haha
We rode Finding Nemo since it was a walk-on, and we rarely ride it.
Oh, and yes, he got SO MANY comments on his shirt!! I think every CM we came into contact with had something to say about it! It was a hit!
Loved the decorations in the trees in NOS. Unfortunately the photo doesn't give them justice: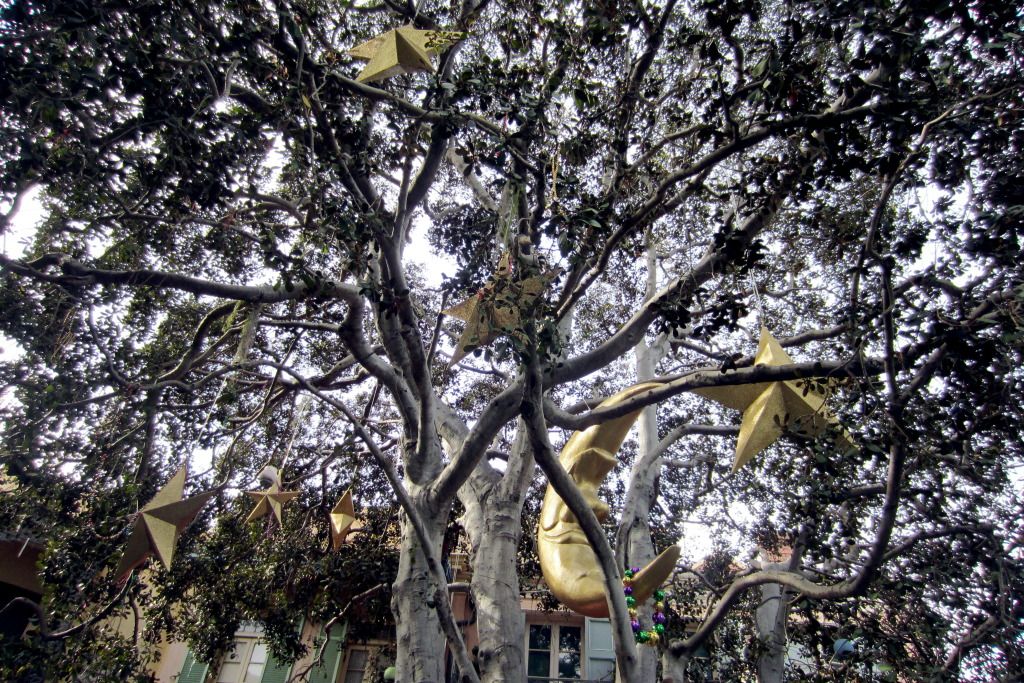 I met Tiana for the first time, and I was especially excited because I think this is the Tiana that fellow Chatter Captain Hook is good friends with! She was adorable, and I love her Bayou accent.
Next up is another one of my favorites, Haunted Mansion. It had been quite a while since we've been able to ride the non-holiday version!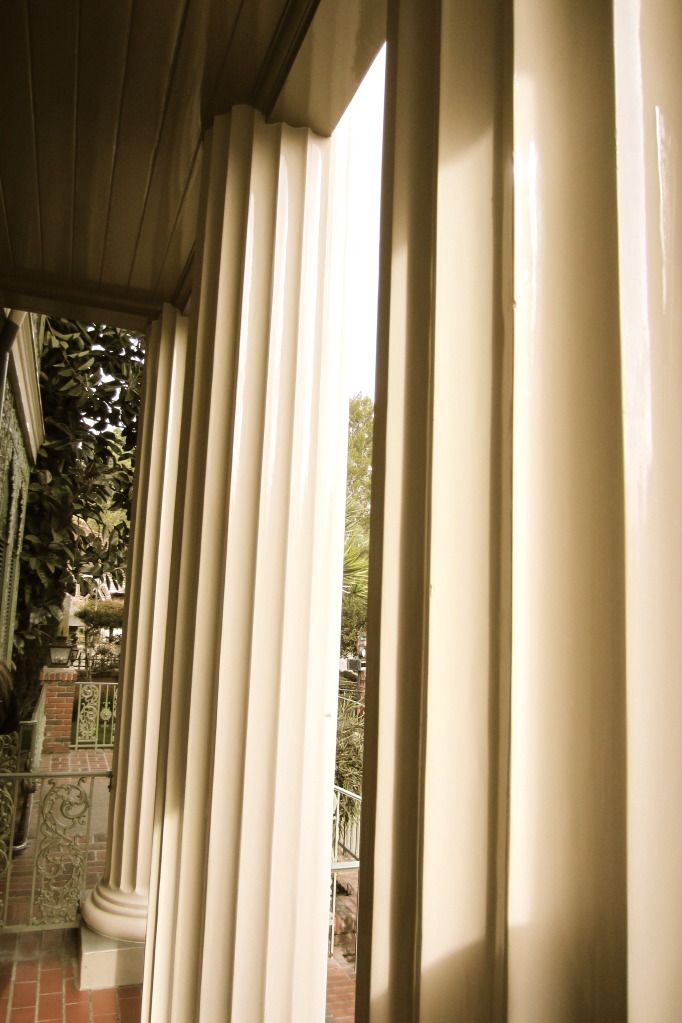 Then we decided to take a spin on the sailing ship Columbia since we'd never been on it (the Mark Twain is docked for refurb).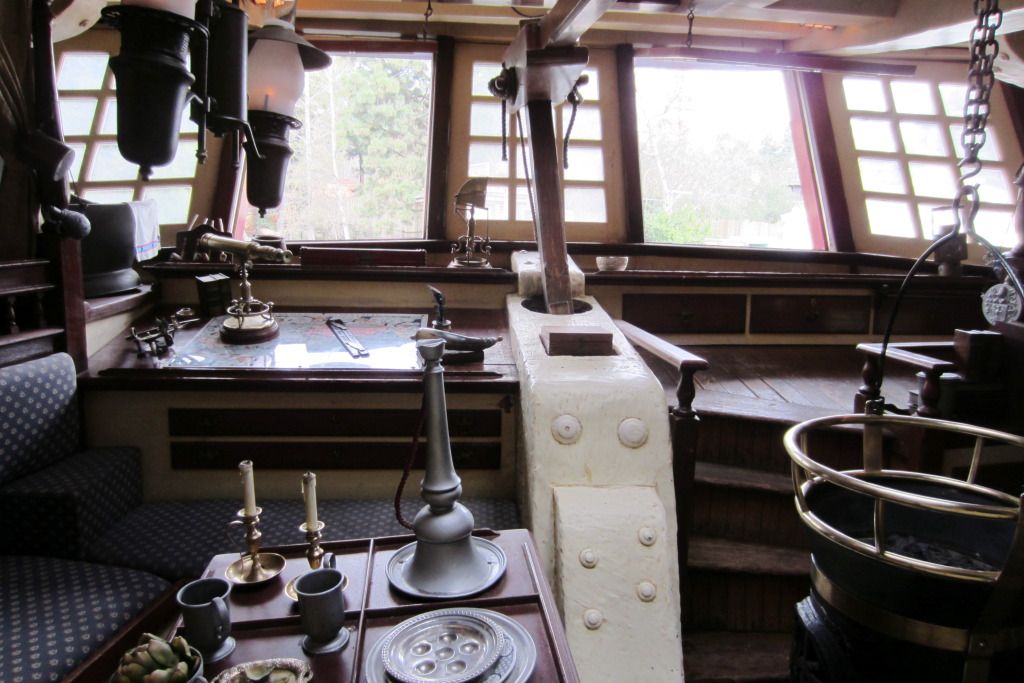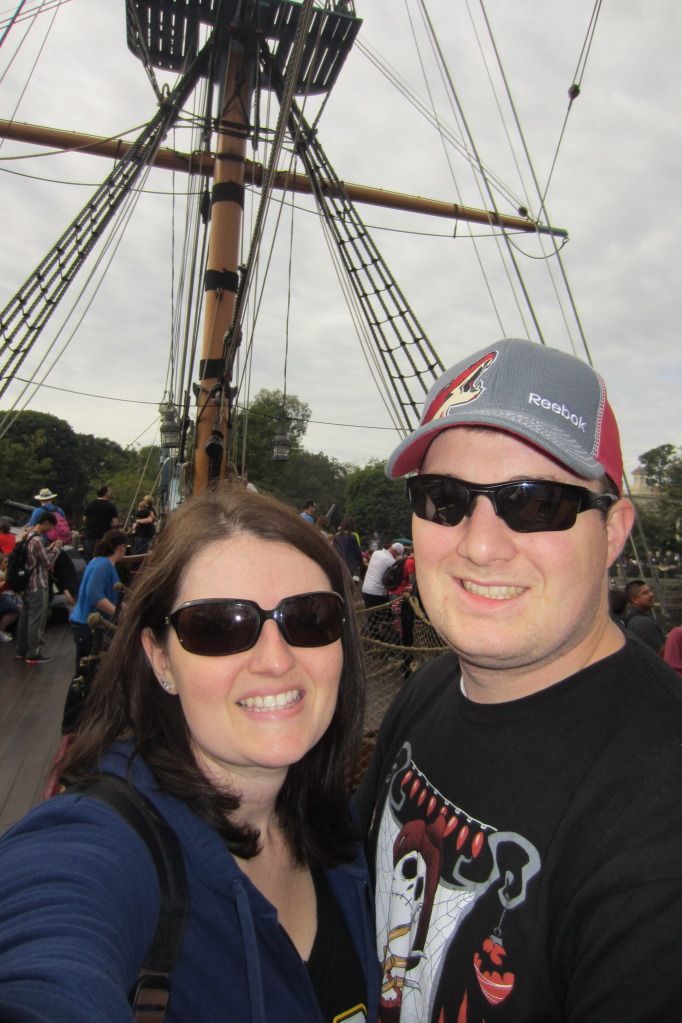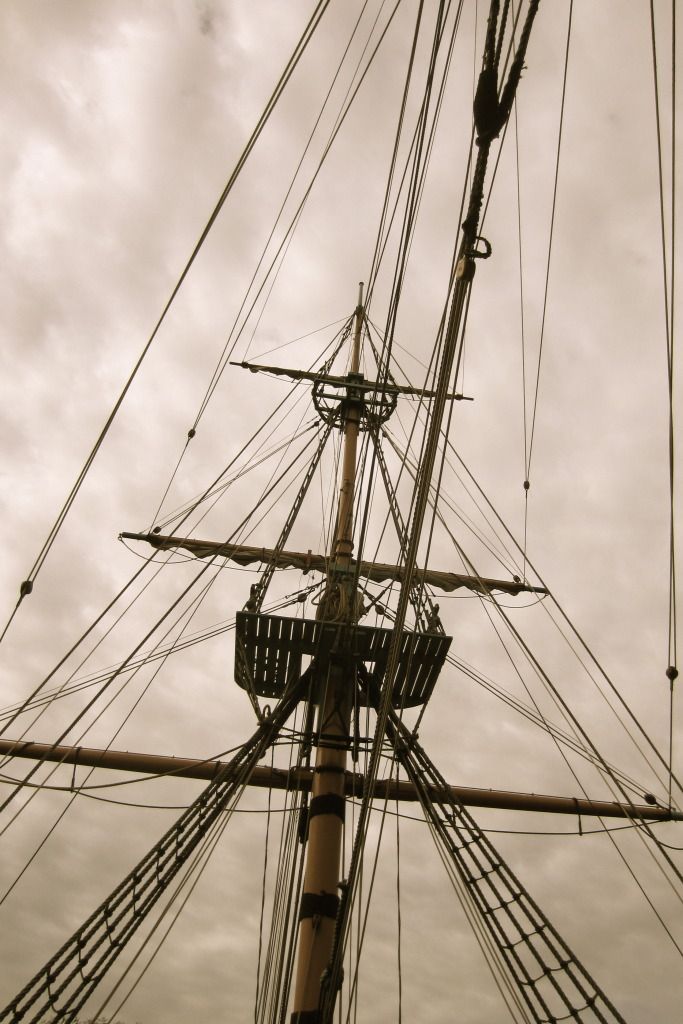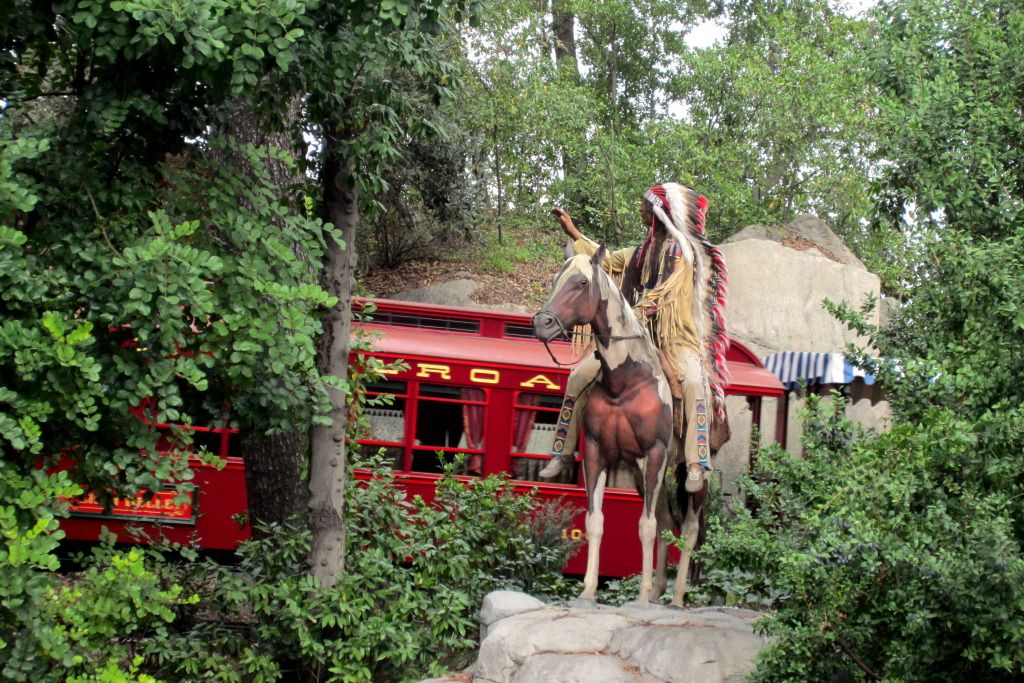 I was super excited to see the Lilly Belle running. We didn't try to ride it, but since the one time we rode it, it's become special to me! The Columbia, like Luigi's Tires, is one of those things that I'm glad I've done once... but it will probably stay "once".
At this point, we were ready for some lunch. We try to get new foods on every trip, and this time I was SET on trying this mac 'n cheese dog from Coke Refreshment Corner.
I think I will be dreaming about this thing for weeks. It was absolutely DELICIOUS, and I would highly recommend it to anyone who cares nothing about nutritional value and doesn't mind artery clogging foods, such as myself. Ugh. SO good!
After this we went back to the hotel and took a very long nap (we had a long, late drive to get into town the night before!), then headed out to Trader Sam's for the meet-up. On the way there, we passed a wedding and I saw Cinderella's carriage for the first time ever!!!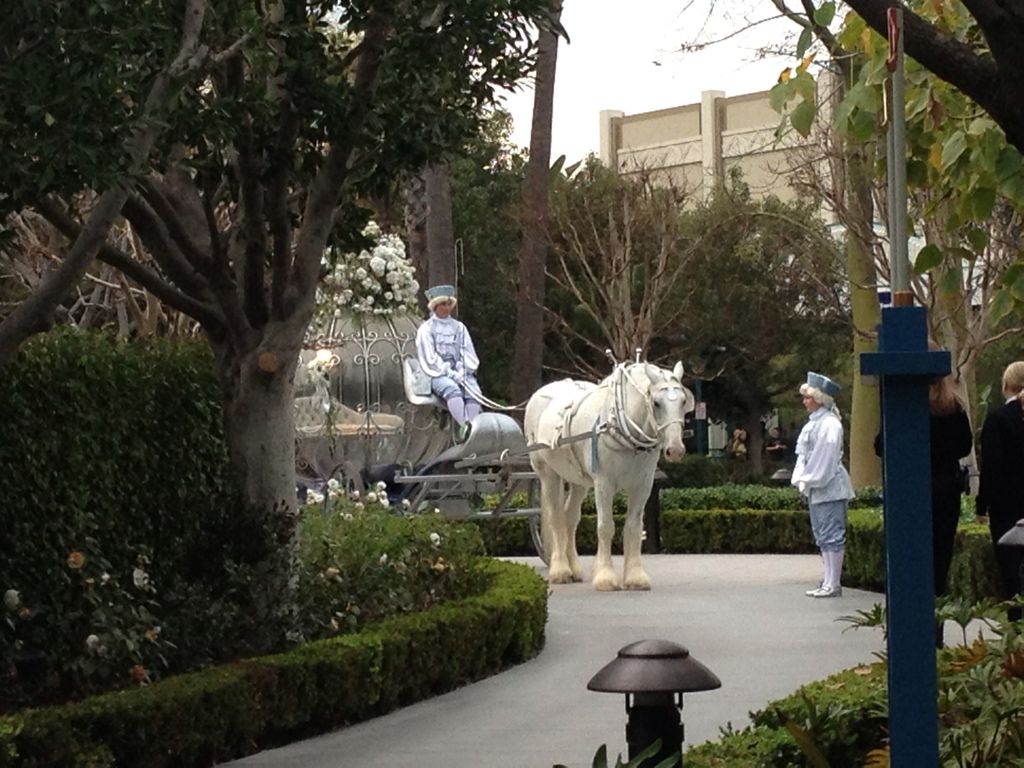 After oohing and awwing and driving my husband crazy and telling him we're divorcing and getting remarried so I could have that dang carriage, I realized that the horse is missing his head feather!! Blasphemy!
But I still really want it.
Anyway, on to Trader Sam's! We sat at the bar for a few minutes to get our drinks and enjoy the show.
I got my usual, a Piranha Pool
Then went out to seek the group of MiceChatters I made the trip to meet. I have never EVER met people from an internet forum in person, so I had no idea what to expect! I found a very welcoming, wonderful group of people that I look forward to meeting up with again. I just hope next year I'll be able to attend more events! Anyway, I will just post our group photo as I assume anyone who participated in it doesn't mind this: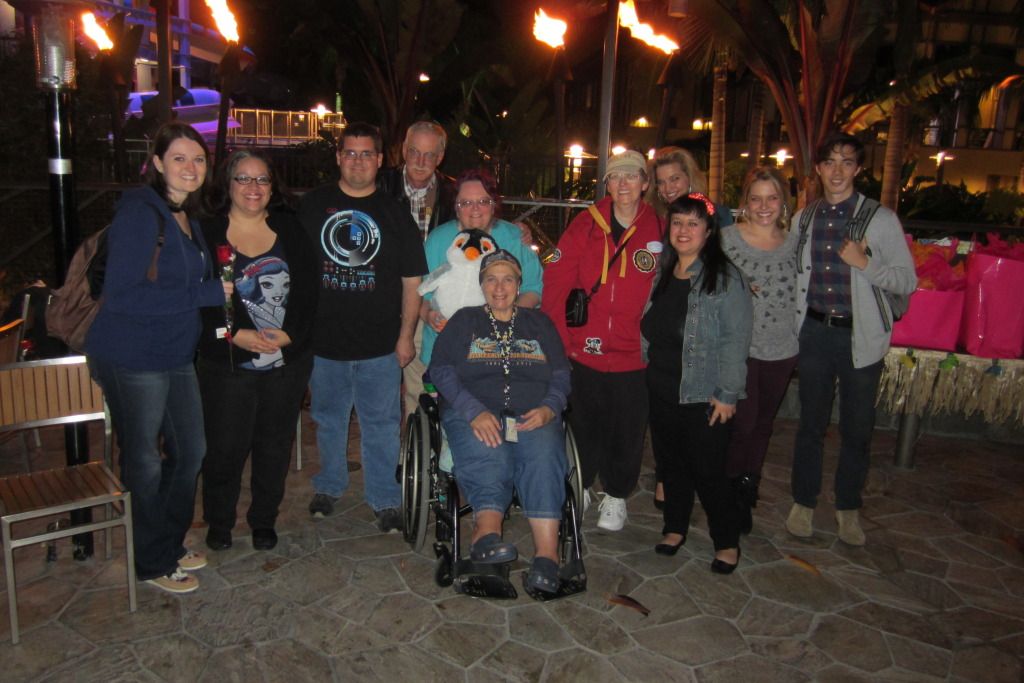 Thank you to my wonderful husband for taking this picture and pretty much forcing this trip so that I could meet my friends!!
This was a very unique trip for us, being short and full of new experiences. We're lucky enough to have another trip planned in less than 3 weeks, so we skipped a lot of our usual E ticket favorites to try things we never have before. Absolutely no regrets!