i'm back! haha, just kidding. i'm sure my absence from the boards wasn't terribly obvious, and of course i returned from my trip in december, things have just been hectic since. but, i do have pictures and details of our lovely trip, and everybody loves christmas at disneyland no matter the time of year, right...right!?
good. let the trip report commence.
i flew into lax on the 13th and utilized the disneyland resort express bus to get me to the hotel. i don't know if anybody has ever used this service or considered it, but i highly recommend it! they pick up in front of every terminal every hour and drop you off right at your hotel, even if it's not a disney affiliated hotel. i arrived before my family (who was driving from up north) so i took a walk through downtown disney and prepared myself for the excitement of the next day. nobody in my entire family, including myself, had been to disneyland during the holidays before, so even just seeing everyone in their christmas hats and the holiday decorations was enough to put a huge smile on my face.
on the 14th, we woke up early and headed into the park. my nephew is terrified of all of the costumed characters, so i was his designated autograph getter, and the morning started with the mad hatter and an obligatory stop at his shop, where i picked myself up a donald hat.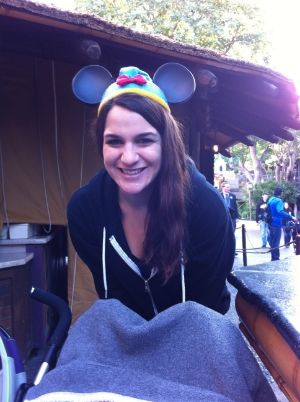 we were a little worried about what the crowds would be like, but we seemingly lucked out because indiana jones was a quick walk up, as was the jungle cruise (where i got a map!), pirates, and hmh. my nephew was a little scared to go on the haunted mansion, so while we waited for my dad and him to get back from tom sawyer's island, an elderly cast member came over to my sister and i and told us the best story of a baby who spent his first night alive in the dream suite. the dad, who brought their toddler son to disneyland for his own birthday (the baby came a bit unexpectedly and they already had tickets) ended up winning a night in the dream suite, and the doctors dismissed the mom and baby to spend the night in the suite with them. how cool, right? we then went over to critter country to ride splash mountain, and the greatest surprise of all happened: pooh bear was there! i have been trying to get a picture with him for
two years
, so i immediately ran into the meet and greet line to get my picture with him and tigger.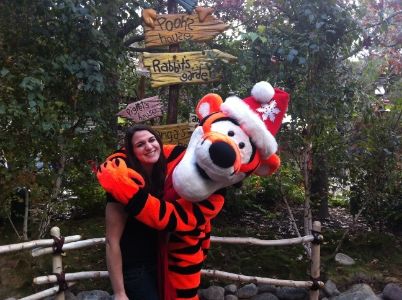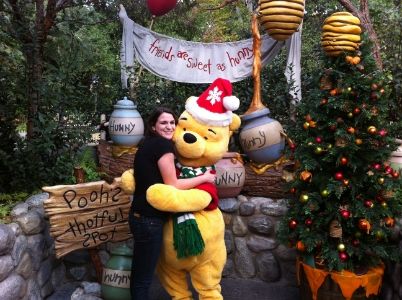 the crowds stayed pretty low given the holiday season throughout the rest of the day, which we dedicated to staying in disneyland. we rode the train (no tender seats available :/ ) to toontown, which was fun since we hadn't been to any of the houses since my sister and i were young kids. my nephew made me take him on gadget's coaster; that thing is killer on the knees! with the lines so short, we actually made our way through everything we wanted to do by five-ish, which was good since we were exhausted. we called it an early night and went to have pizza in downtown disney.
the 15th was my niece's first birthday and she was all set to go in her minnie mouse outfit. we had reservations at ariel's grotto, so we started the day in california adventure. again, the lines weren't bad at all, and we were done with all of the rides in carsland about two hours after the park opened. because it was the little one's birthday, we spent some time in a bug's land and then rode ariel's ride. it was time for lunch before we realized it, and though we had some doubts about whether or not her brithday would feel "birthday" enough, we were quickly proven wrong. ariel's grotto is
great.
we really enjoyed the meal set-up and the princess interactions (belle is my favorite and cinderella called my nephew prince, which he loved) and they even brought a little cake for obligatory smashing. it is a pricey place, but because we knew that going in, it wasn't too much of a shock.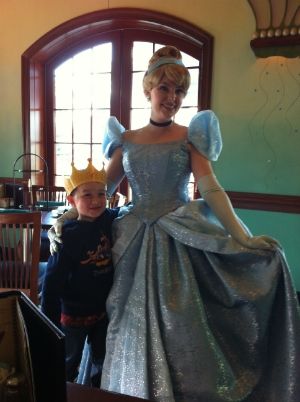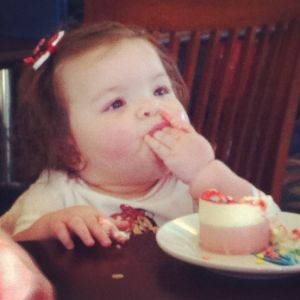 we followed up lunch with the pixar parade and riding everything on the pier (including the "death wheel" as i call it; my sister and i clasped each other in fear the entire time while my mom laughed at us and got pictures of our fear to be her phone background...thanks, ma) next, we passed grizzly river run and saw the line was super short due to the hazy weather making its way in, so my sister, her boyfriend, my nephew, and i rode it three times back-to-back since we had never been on it before. after soarin', we rushed over to disneyland to get a good spot for the fireworks and snow. i think that was maybe my favorite part of the trip; it was truly magical to watch and a perfect ending to the night.
the 16th was a gloomy day, which my sister didn't like, since it was her birthday. surprisingly, the weather did not break down the crowds and we were met with packed crowds in fantasyland. my family went on it's a small world holiday while i watched the sleeping baby and they all loved it, and then we set up camp to see the parade. after an hour of waiting, we were informed the parade was canceled because of the weather, and my sister was convinced her birthday was cursed (26 year olds can be divas
) my mom took it as a sign we all needed naps, so we went back to the hotel to recharge, and emerged again for dinner reservations at ralph brennan's in downtown disney. i mostly ate beignets there, which were incredible, but i'm sure the rest of their menu is good too. the atmosphere is really cool too; i felt like i was at tiana's place. we went shopping for some last minute things and then did a quick pass through carsland and hollywood for pictures, tower of terror, and a trip to belle's library (that i never knew about before micechat!) and the rest of the animation studio.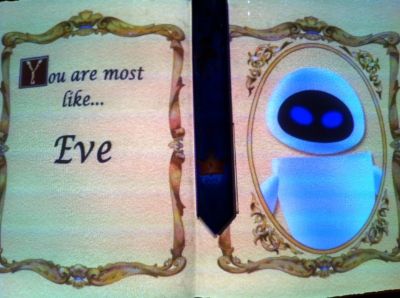 as california adventure began to close, we went to spend our last hour in fantasyland since it was so busy earlier. when we were making our way to the castle, my sister's boyfriend grabbed her hand and brought her over to snow white's fountain to make a birthday wish. my camera died by this point (darn!) but we watched from the drawbridge as she threw in a penny and he dropped to one knee to propose. it was so wonderful! we rode all of the rides in fantasyland (as the crowds were now non-existent) while my sister kept trying to catch her new ring in the light hahah. then, the announcement came that the park was closing, and we walked out, sad but happy (that feeling i'm sure we're all too familiar with). it was bittersweet, as i now live far enough away that trips aren't too easy to plan and i don't know when i'll be back, but it was a great trip. thanks for reading!