Just got back from the land after a quick combo trip. Pretty much a last minute trip. My daughter is graduating this year and had applied at several colleges, a few were down south. She had been accepted to all the schools she applied for, except for her first pick. We toured all the ones up north, time to head south.
Our plan was to check out the other schools and her first choice since they were relatively close to one another, sort of. Two were in L.A, one in Santa Barbara (not so close-and soon off the radar), and her college of choice, because of her preferred major, was in Long Beach.
So we thought we would tour the two in L.A. and hit the one in Long Beach, then spend a day or two at DL. Two days before we were to leave, she heard she was accepted at Long Beach, so our last minute plans changed again last minute.
We spent the better part of Friday on campus, we pretty much walked the whole place. Pretty spread out campus, surprised to see more skating to class than biking. We liked what we saw and what we heard from everyone we talked to, she was definitely sold. A little scary for her mother and I, 400 miles away from our baby girl. Guess we will have to come visit her quite often, pretty sweet that DL is only 20 miles away from the campus. I foresee a lot of combo trips in the future.
New plan for the rest of the weekend, my Son and I hit DL on Saturday while the ladies shop for prom dresses. We switch on Sunday, my Daughter and I hit DL while my Son and Wife hit Legoland.
We left the campus around 3, headed to Anaheim. We checked into the Fairfield Inn. Nice place, walls a bit thin though, we were next to the pool and heard everything going on below. First time staying here, walk to DL was pretty short, a few hotels down from the main cross walk.
We headed to DTD for dinner around 6:15, hit the Uva Bar. DTD was packed, we were going to eat at Catal but the wait was like 90 minutes at 6:30. Food was great as was the service. We checked out a few of the stores, spent a lot of time in the gallery. Since we had been up since 4, we were all spent. We headed back to the room to catch some z's.
Saturday-Feb. 16
Saturday morning my Son and I headed for DL. No free breakfast at the hotel, but McD's is right next door, pretty nice. Grabbed some breakfast and headed out. Ladies were sleeping in, headed to the L.A. fashion district around 10.
We hit security around 7:20. Not too bad at the gates, most were headed for CA. Gates opened around 7:40, quite a few people just shuffling in for MM. They held us for rope drop at the Hub, not sure how they were checking those that had MM, I guess hotel key or at least a 3 day hopper. We decided to get a FP for Star Tours then go to Space.
We got onto Space after about 10 minutes in line. Since IJA was being refurbed on our last trip we wanted to check it out. Off to Adventureland, waited about 15 minutes to get on the ride. Looked like most everything was working, we only went through the central doors the whole weekend though.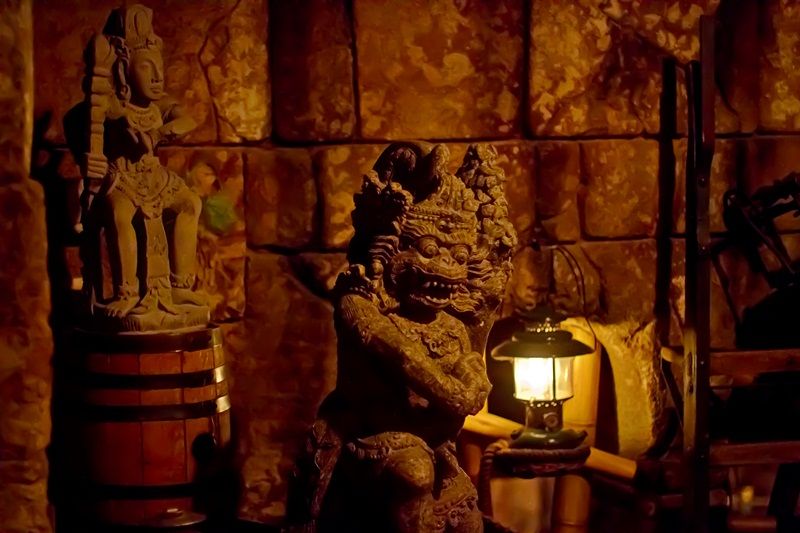 We did Pirates next, basically walked right onto our boat. Noticed the hat guy had a few more hats than last trip.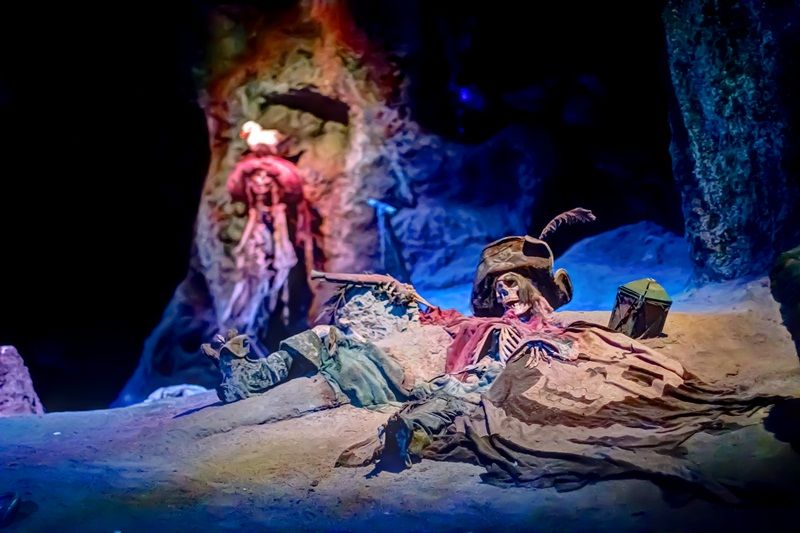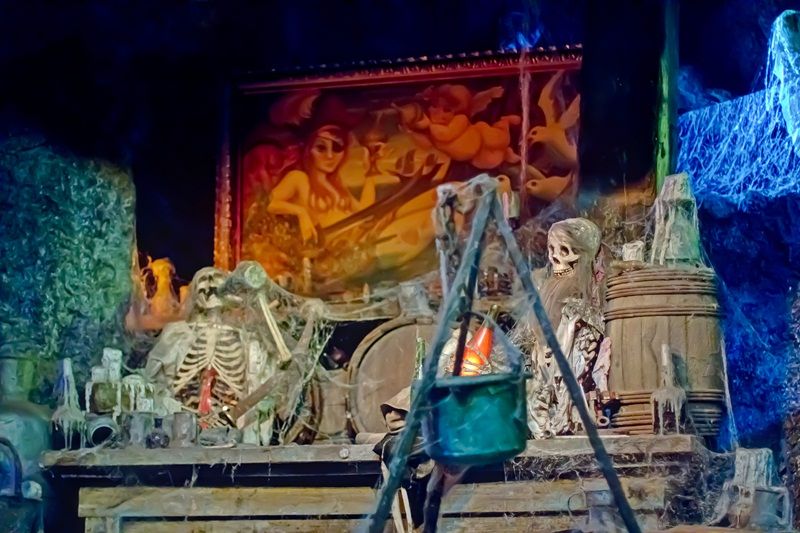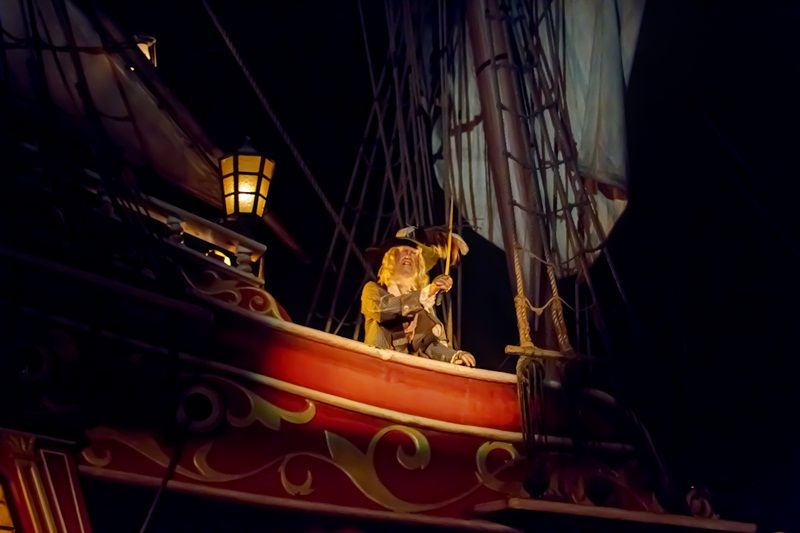 Haunted mansion was next for us, about a ten minute wait. Grabbed some FPs for IJA after we got off around 9:30, return time at 3.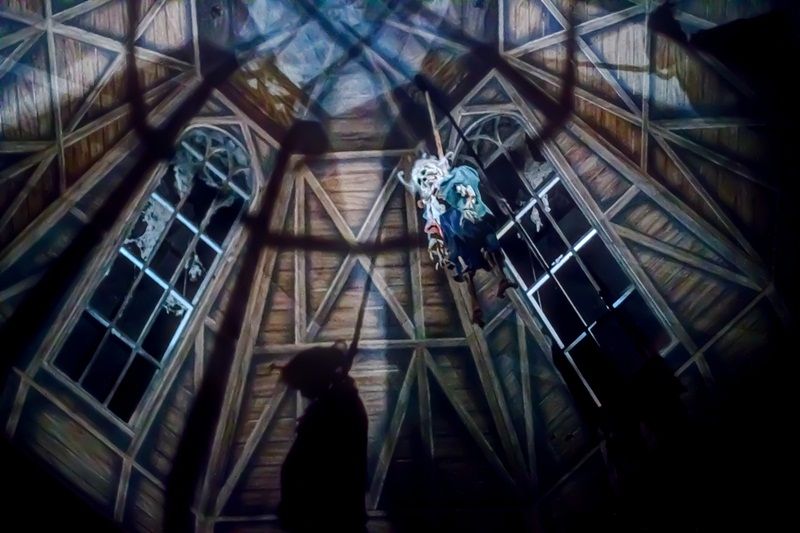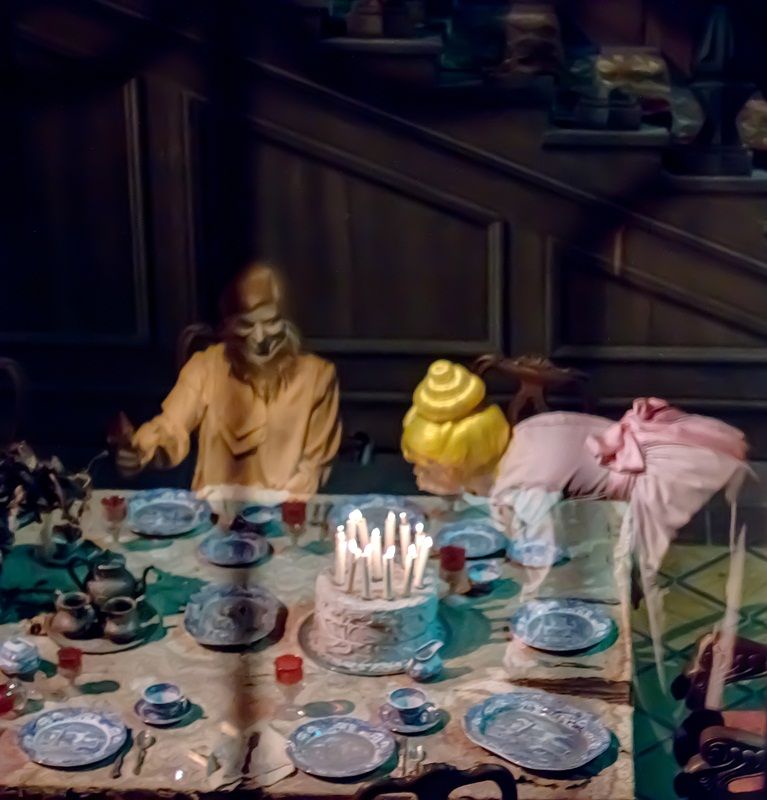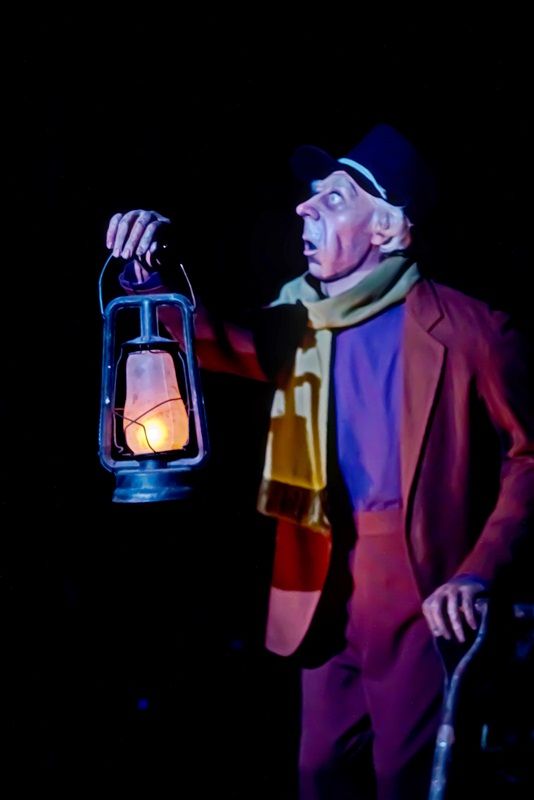 Got a text from my Wife as we headed over to CA, as they were trying on dresses, a car ran into the shop they were in. Fortunately everyone was ok, I guess the driver thought they were in drive and not reverse. They were in the changing area and just heard a huge crash of glass. The shop owner offered to give them a dress for half off for the scare, which was nice of her since she was going to be out of commission for a few days with clean up. Sadly, my Daughter didn't see anything she liked in that store.
So we headed to Carsland to see what the wait was for the SRL for RSR. Wait was over 60 minutes according to the CM's, people lined up all the way to the sign. We opted out and headed over to Paradise Pier.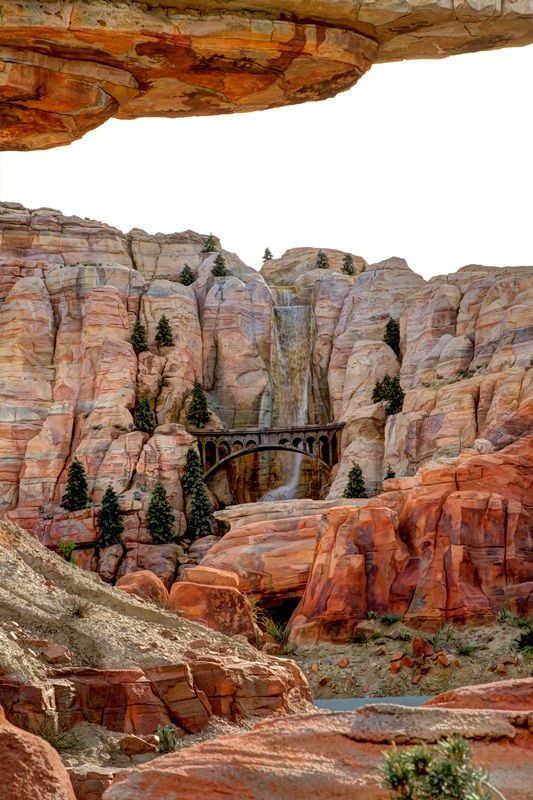 Cool backpacks all over the place.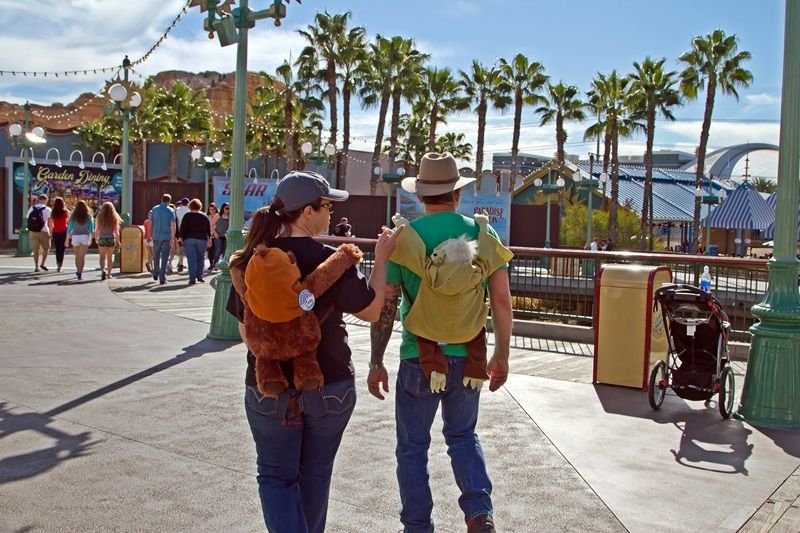 We grabbed a FP for Screamin and got in the standby line, short wait, maybe 10 minutes. My Son is really loving this ride now.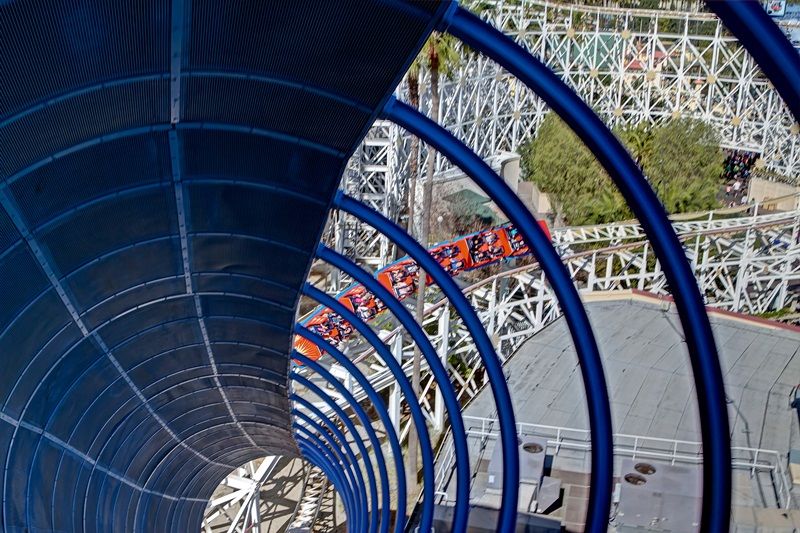 It was getting a bit warm, I think it hit 85 today. It wasn't exactly freezing up north, but we were used to a high of 50 for the last couple of weeks. So we were hot. We ducked into Animation Studio to cool off and because it really is a cool place to check out.
My Son getting a low five.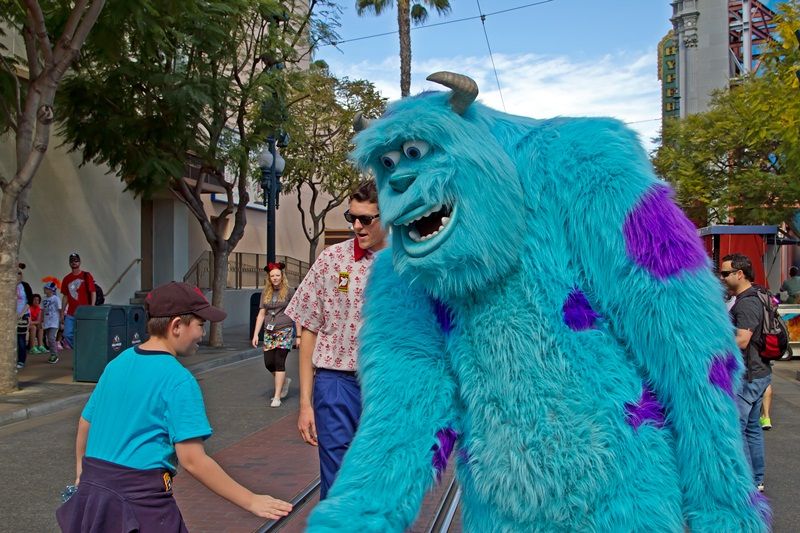 Strolled back to Screamin to use our FPs, waited for the front. Ride broke down as it was our turn to get on. No luck on getting the FPs back, everyone must exit, doh.
My Son was craving some gumbo so we headed back to DL around 1.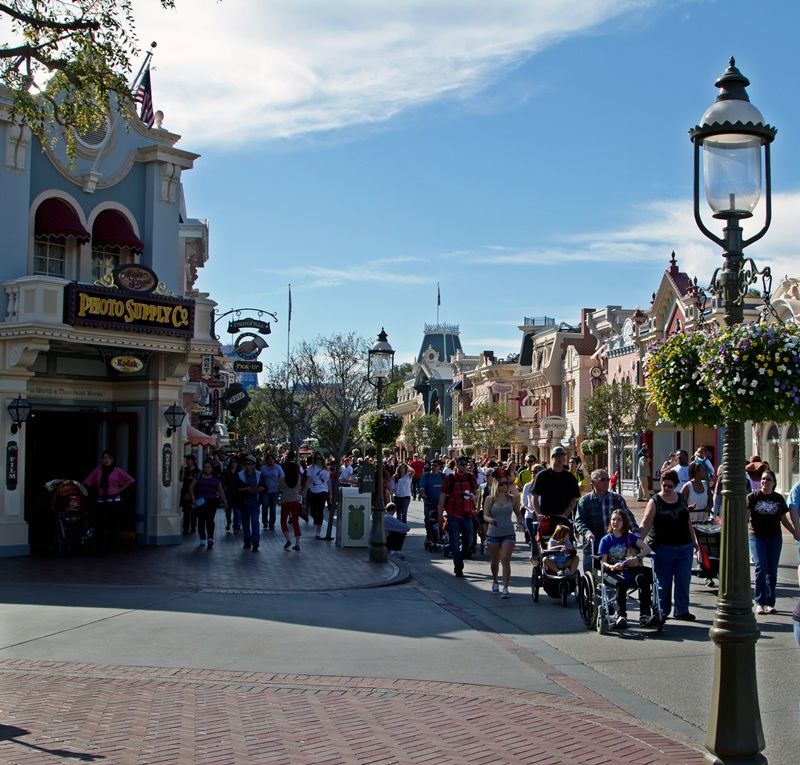 Grabbed some gumbo from the Royal Street Veranda, all 4 of their tables being used. Grabbed some brick behind the stage of the French Market. Nice to have some tunes with our meal. DL was pretty packed at this time.
We got on the train at NOS to take it to Tommorowland. Train stopped for a few minutes along the way, I guess the train in front of us hadn't cleared Toontown yet.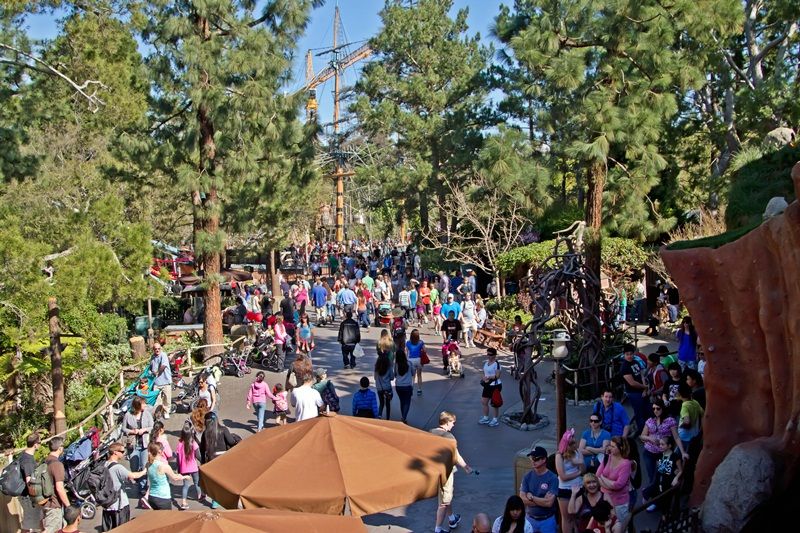 We got off and headed to get some FPs for Space, ooh, return time of 9:30. We bit the bullet and got in the standby line, pretty accurate, 50 minutes to get on the ride.
We did Buzz next, about a 20 minute wait. So as soon as we go on and almost made it to the first turn, the ride stopped. Guns still worked, so I racked up 50,000 points before it got started again, yeah, gonna win this round. Eh, no. Somehow my Son still wiped me out by 90,000 at the end, pretty good for a 12 year old.
We headed to Frontierland. Spent some time at the shooting gallery, it was about a draw there, but he would tell you that he won hands down. We probably spent about 30 minutes in the shop next door just checking out all of the different pins, picked up a few for the Ladies and my Mom.
Decided to take a breather and watch the parade. We grabbed a spot, hoping the shade would make it to us soon. Needed the umbrella near the bench behind us about 4 feet taller. Eventually we got some shade around 20 minutes before the parade.
Chatted with a nice couple from Canada next to us. They had been in the parks since last Friday, 5 days in all. They loved how empty the parks were on the weekdays, but didn't get to see the fireworks. Unfortunately the fireworks were cancelled yesterday (Friday) because of high winds. As we are talking, this very nice CM walks over and recognizes them from last night. I know it is frowned upon to use CM's names, but she deserves recognition. Her name is unusual, spelled exactly like the front of a ship. She chatted with their little girl for about 5 minutes and she heard this was their last night. She had to attend to her duties, but returned a short while later with some pins and stickers for the two kids and let the parents know that she had a spot for them in the VIP section for the fireworks. Way cool.
Another CM chatted with us for a bit and gave us some Celebrating buttons as we told him about the college plans. Another one came by and sang the short but cute birthday song to a little girl on our other side. CM's rock!
Crowd was getting a bit restless and they clapped at everyone walking down MS like they were the start of the parade. Pretty cool, high school band from L.A. started off the festivities.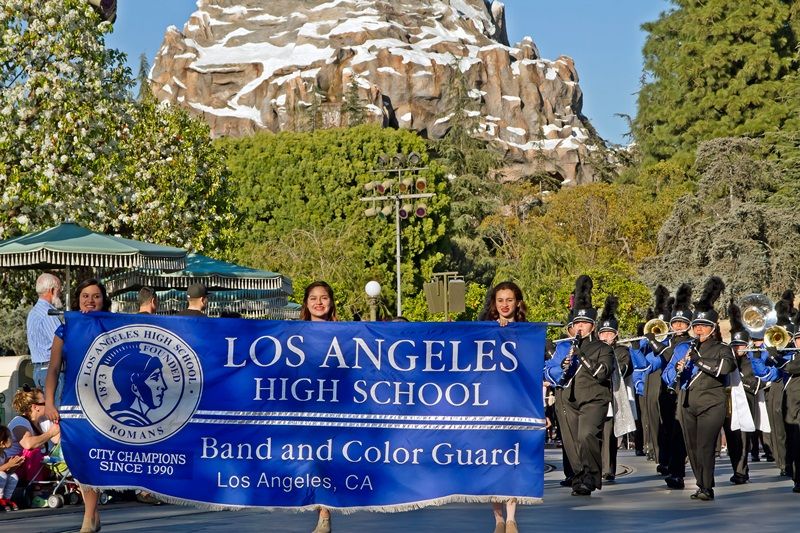 Parade was awesome as usual.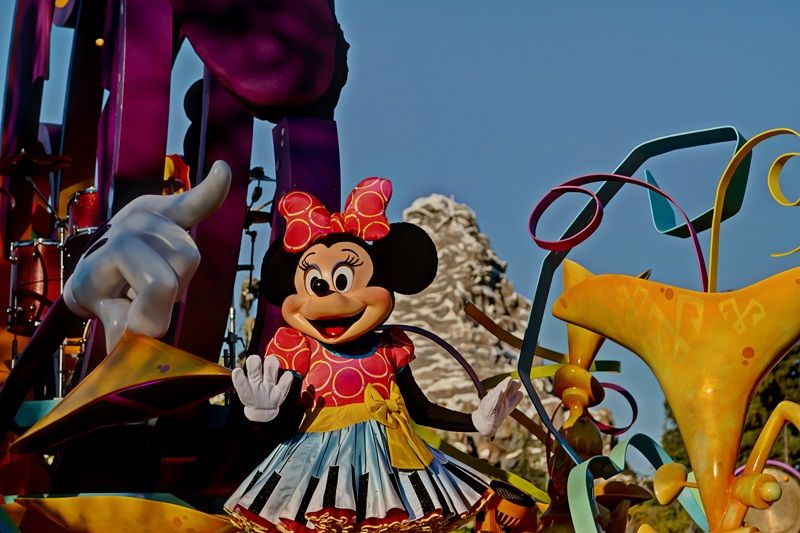 I kind of like how the camera caught the dress in this one and everything else is a bit out of focus.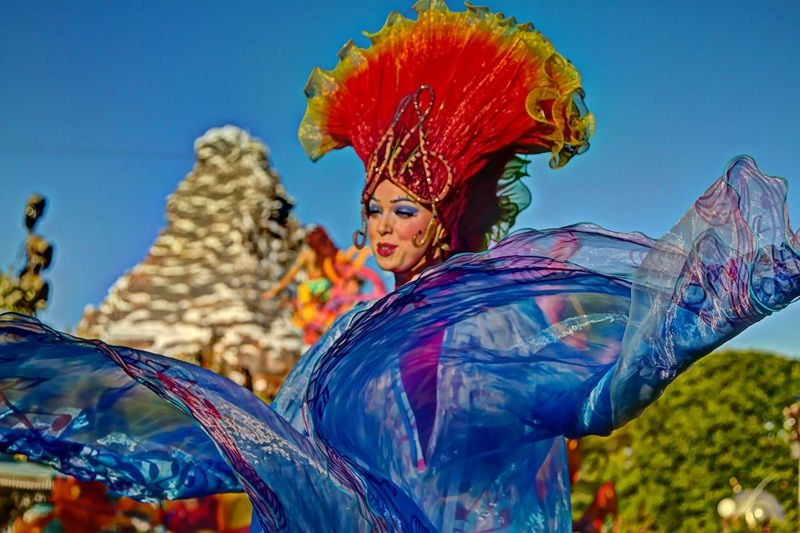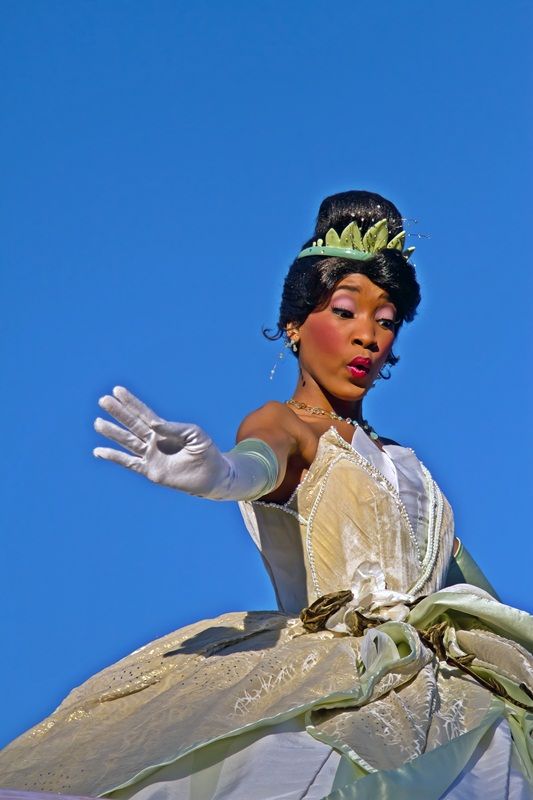 We lingered a bit in some of the shops and got a seat for the Flag Retreat Ceremony. During the ceremony, as the veterans and the various branches of the military were being honored, one of the veterans thanked Ernie for his service in the military and for his service at DL. It was pretty cool since he had just received the Legacy Award, well deserved.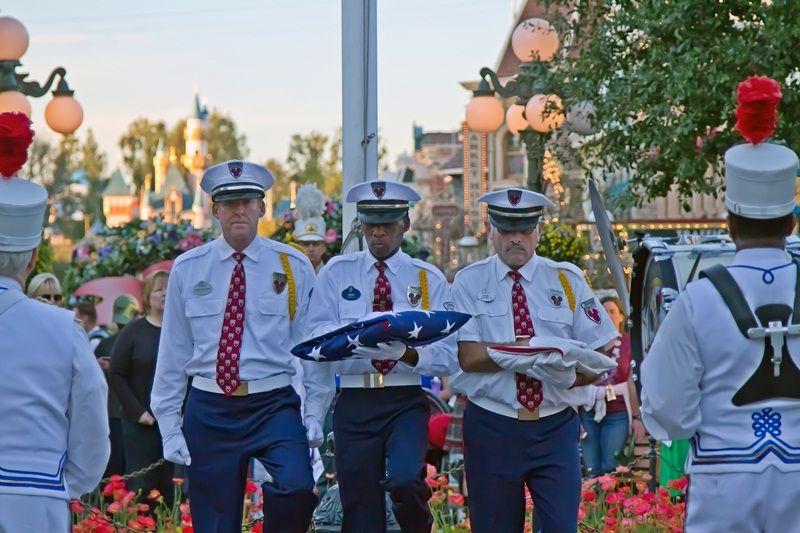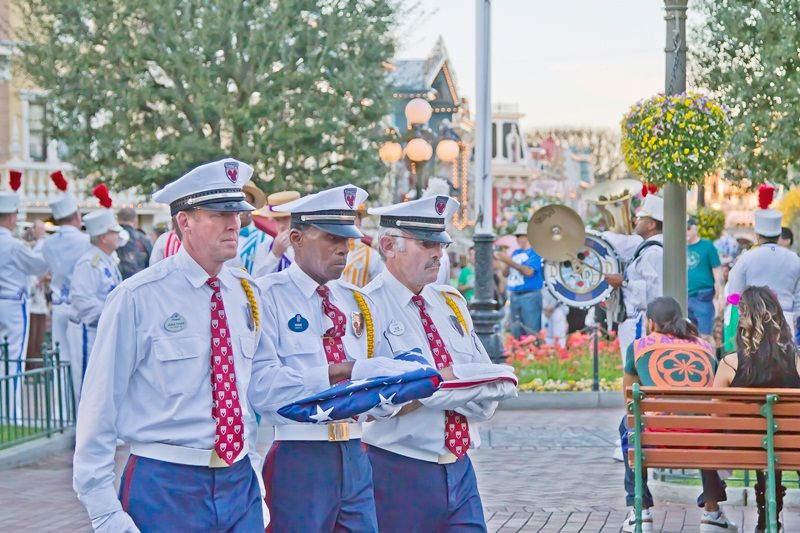 Hit CA real quick to see if we could catch a little of the golden hour, just a little.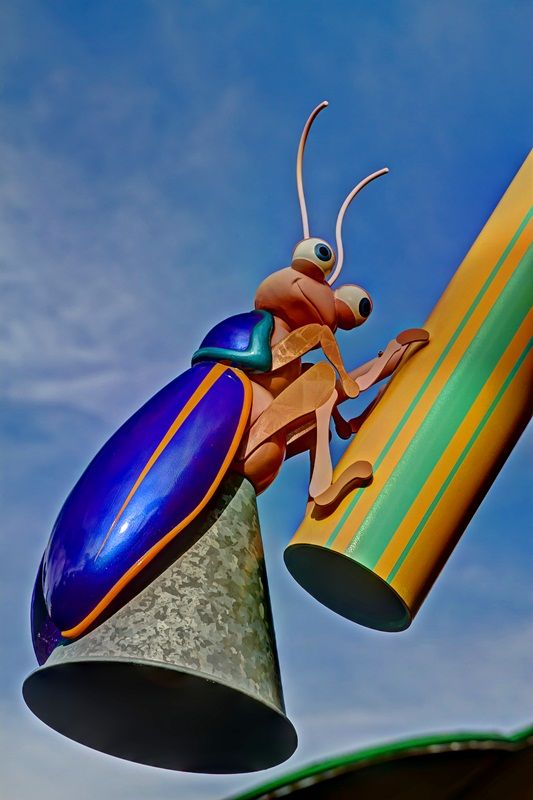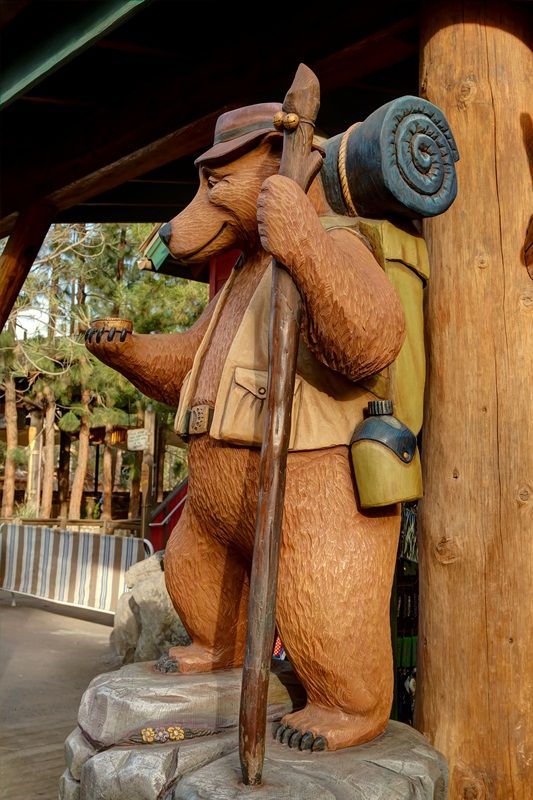 We headed back to the room to meet up with the Ladies. They were pooped from shopping all day and gave us a first-hand account of the crash.
We headed to DTD around 6:30, man was it packed. Wall to wall people. Since this was a last minute trip we didn't make any reservations anywhere, we were paying for it now. Every place we checked had a 90-120 minute wait. Lone exception was the Jazz Kitchen Express, it was only about a 30 minute or so wait in line. We had to stalk a table though, and then grab some chairs once they became available. Food was good, highly recommend their beef po' boy.
After we ate we checked out some more shops. I asked my Son if he wanted to go back into the parks, but he was done at 9. Truth be told, so was I. On our usual trips we take afternoon breaks, missed that today. Gave away our remaining FP set to a young couple as we left, at first they were stunned, then said thank you.
Got back to the room as the fireworks were going off, knew that a few Canadians were having a good time, gave me a smile.
About 11, some kid is screaming bloody murder, hour straight. Could not tell where it was coming from exactly, but loud enough to hear. Several other people shouting to tell them to keep it down, so I never called the front desk. I assume the only reason he stopped was that someone from the hotel finally went to the room after an hour. Very thin walls indeed.