Warning.....Long story ahead! Pictures at the end for those that want to rush.
Where to start......The beginning I guess! Growing up in California I have always had a great love of Disney, from my earliest memories of ticket books and going to Disneyland with my grandparents to asking my lovely bride of 20 years (boy that's a long time) to marry me the day of our first Disneyland visit together. Each trip I try to find something new, exciting, and unique for us to enjoy. This trip would be no different with plans to visit Carsland in DCA and the new Fantasy Land Fantasy Faire in Disneyland, Goofy's Kitchen for dinner, and whatever else we could manage. One thing I had planned was a surprise lunch at The Blue Bayou for my wife as it is where we had our first anniversary dinner, I could only dream of taking her to Club 33, but sometimes dreams do come true.
By a twist of fate and a kindness shown, I found myself with reservations to Club 33 for my lovely bride and I. It was barely possible to contain myself, but for this to be truly special it had to remain a surprise. Not just a surprise, but a grand plan to catch her completely off guard. So began the plan to give my wife a most awesome surprise.
Taking some very good advice I set the stage for the surprise. I made a great production out of telling her we would be dining at Blue Bayou and she was very happy, near tears when I told her. As our vacation progressed I counted down the weeks, days, hours until I would give my wife what I hoped would be the ultimate Disney experience. I questioned if my ruse was working, but had all doubt removed when I received a call the day before we went to Disneyland confirming our reservation. I played it off that there was a problem with our Blue Bayou reservation which brought the wife near tears again. I guess I am a better actor than I thought.
Finally D day! We arrive at the park and take in Tomorrowland and a few other attractions as I nervously eye the time. As time counted down to lunch I ambled us towards New Orleans Square. For this to work we would need to be a bit late for our reservation to go right in. To buy time I had my wife wait across from Blue Bayou as I went to the podium to, as far as the wife knew, try to fix our reservation. When I reached the podium I explained to the CM I need to kill a few minutes as I was surprising my wife with reservations at Club 33. They were most accommodating.
It was go time. I had my wife pose next to the plaque for Blue Bayou, note the not so happy look...
I posed for a picture near the iconic 33 address plate...
Then I put the cards on the table. As my wife approached I told her "You know, they messed up our reservation, I am feeling ornery, and I am giving someone a peace of my mind." I lifted up the door on the Club 33 call box and pressed the button. All the while my wife was streaming out in a high speed, legalese sounding voice...."Whatareyoudoingwearegoingtogetkickedoutw hatareyoudoing......" Then the door opened and the CM asked in a most pleasant voice "May I help you." My wife is now trying to hyperventilate and run away at the same time. "X party of 2" say I, "Right this way." said the CM. And my wife was like....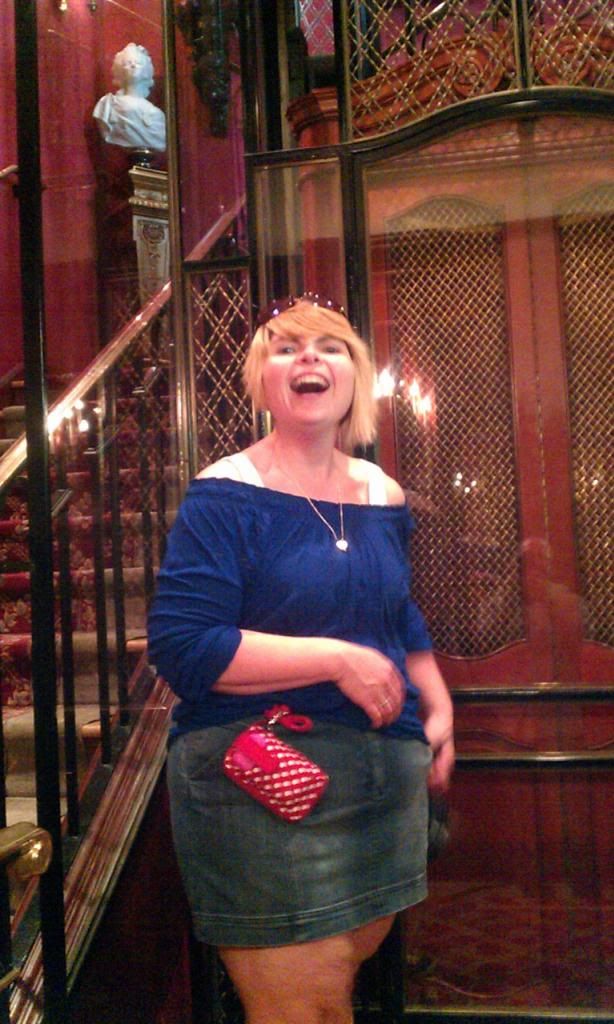 And then we were....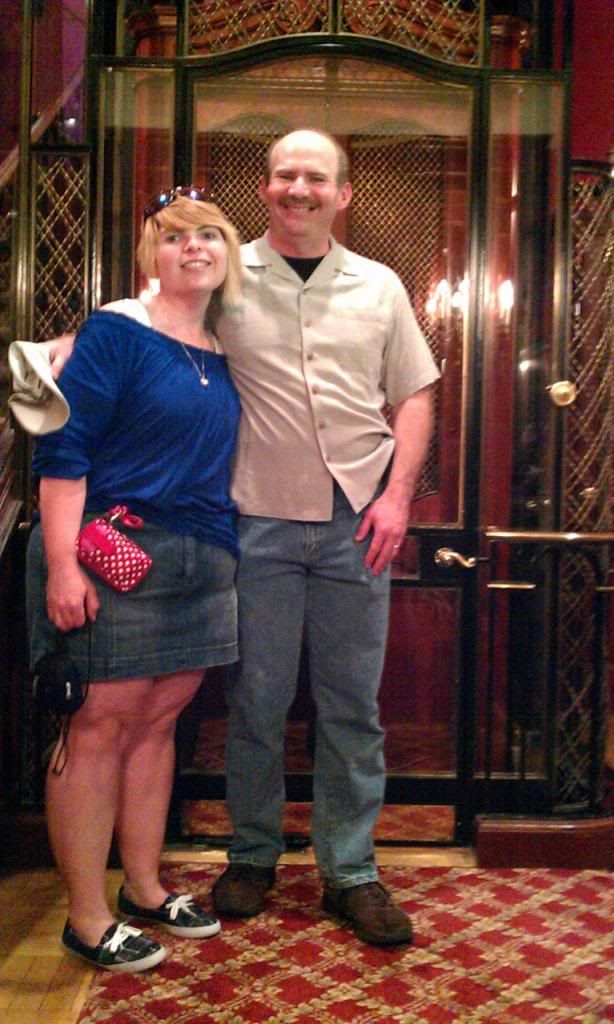 As we stood there our conversation was in a whisper, there we stood in the foyer of Club 33. The CM was amused and laughed a bit as she let us know it was alright to talk. In short order we took the lift up as my wife stammered trying to form something that would resemble coherent speech.
We walked to our table trying to take everything in while not losing sight of the hostess. I knew we would have time later to come back and take everything in. We had a lovely table near the window looking out on Rivers of America....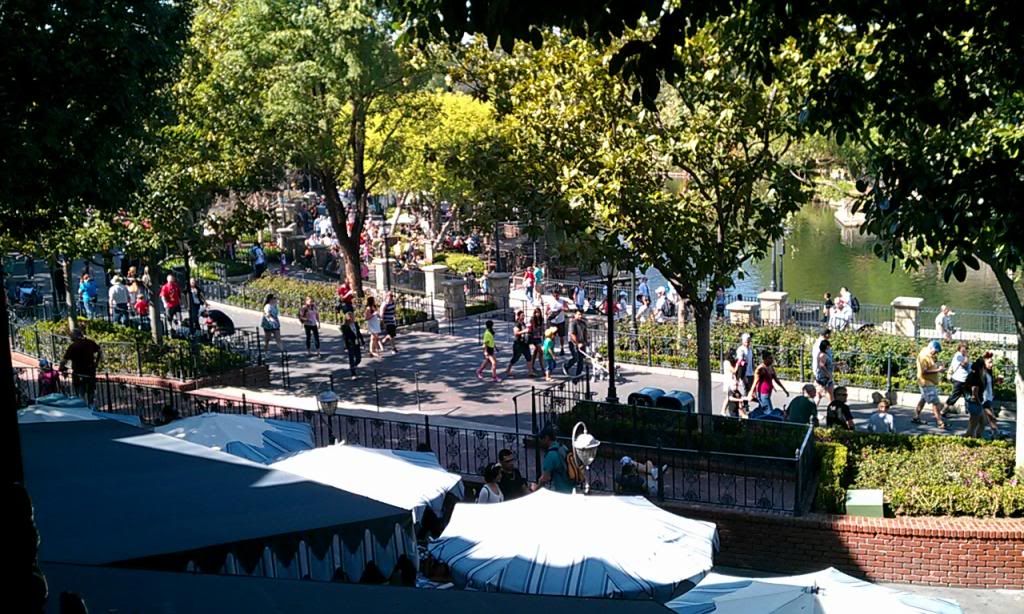 My wife was still in shock...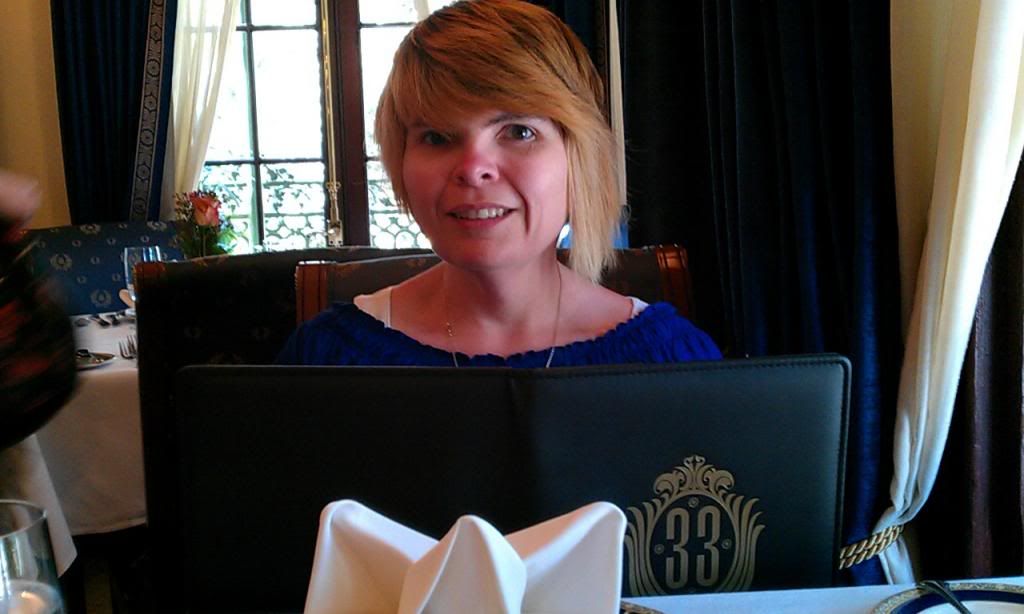 She was choking back the tears, repeating "How, how?" "I can never top this, ever, I'm done, you win." Yeah I thinking she liked the surprise.
We were both taking in as much as we could. From the place settings...
to every bit of the room our eyes could absorb.
I was a bit worried about my wife as she still wasn't speaking coherently. She tried to read the story of Club 33 that was inside of the menu, but could not process the printed words. So I did the only logical thing and ordered her a drink....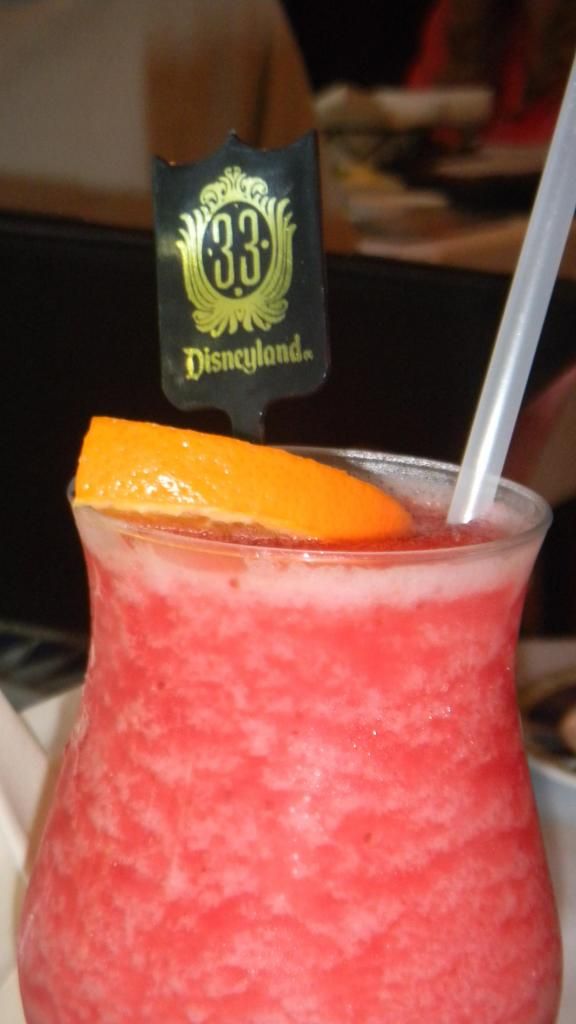 Please note that neither of us drink, but being that this was a most special occasion AND being in the only place in Disneyland to enjoy such a beverage I thought it appropriate. Still in shock, but somewhat more composed she asked that I order something for her.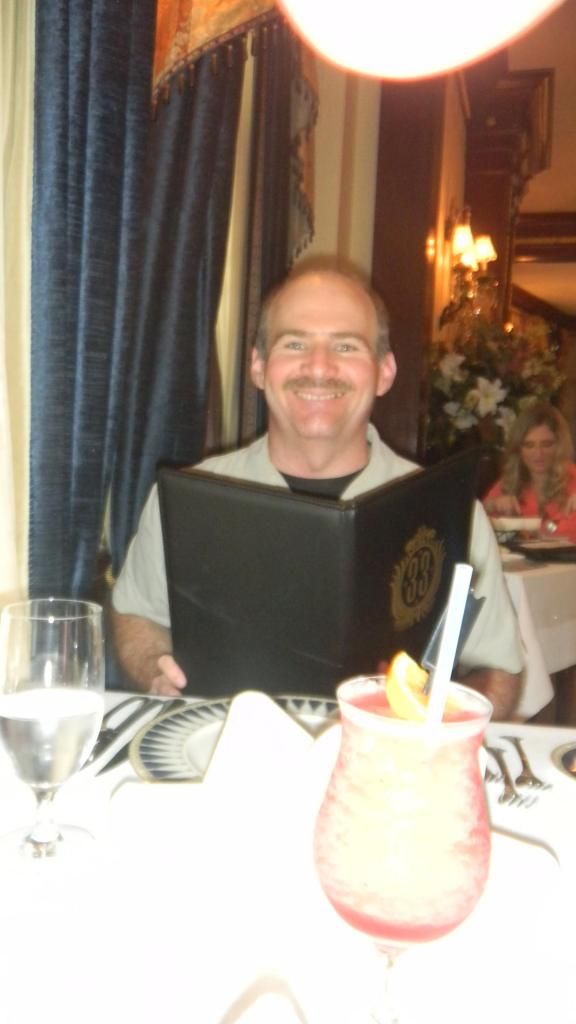 Which I was more than happy to do. Our waitress explained that there was a cold bar to enjoy before our entree arrived. Enjoy we did....
Various cheese, salads, assorted cured meat, crab, shrimp lobster, and spring rolls were in the offing. I had done well eating a light breakfast and I set a leisurely pace for the meal. I have to say that the white bean soup was simply incredible. Served piping hot and simply delicious.
We talked quietly as we took in the surroundings. I have to say even knowing that we would be dining at Club 33 I was still overwhelmed. Yes it is all that! Let me take a moment to say while we took many pictures we tried to be as discreet as possible and no flash was used out of respect for other diners. While I can't be certain I believe the table next to us had a celebrity or two.
Ah what did I order for the wife....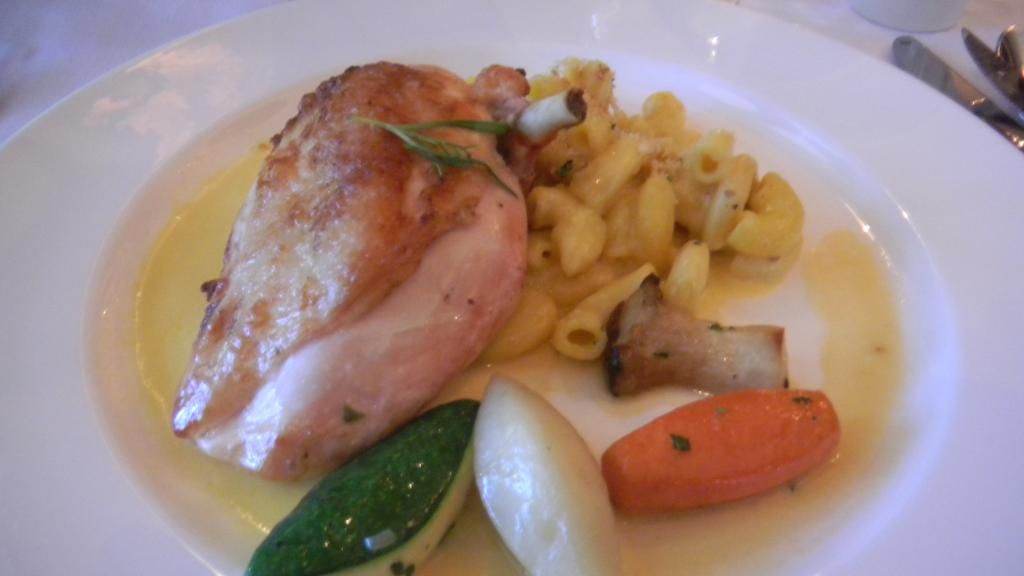 Chicken breast served with black truffle macaroni and cheese. I was bit concerned as my wife took a bit of the mac and cheese. She had an expression I have never seen before. I offered to have it sent back and order her something else. This was promptly dismissed when she nearly pinned my hand to the table with her fork. Yes, she liked it.
I am a carnivore at heart...
The filet could be cut with a spoon and had a lovely pumpkin bur blanc sauce.
We ate at a leisurely pace and took time to walk around a bit on the balcony...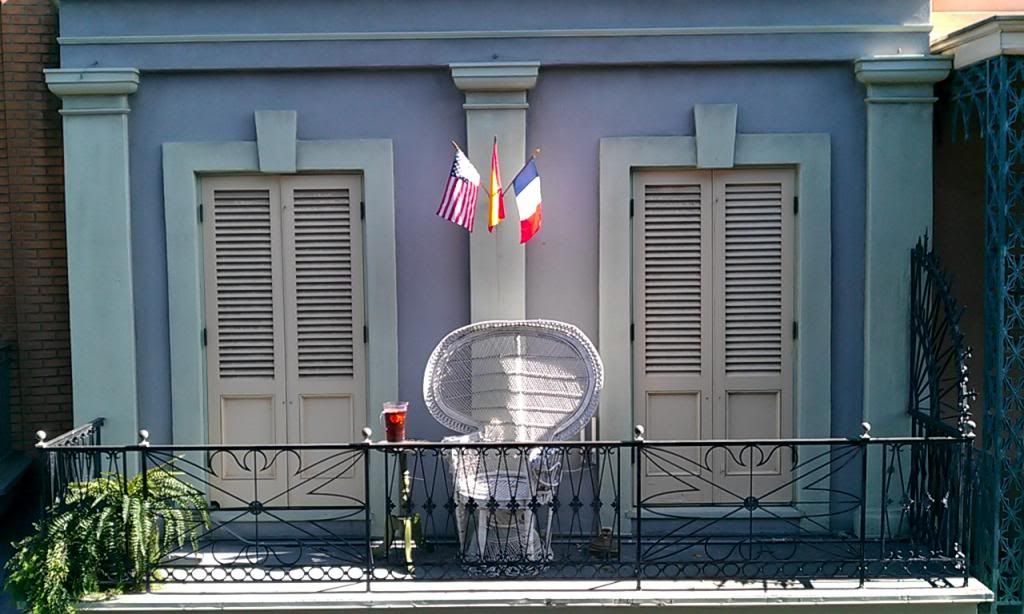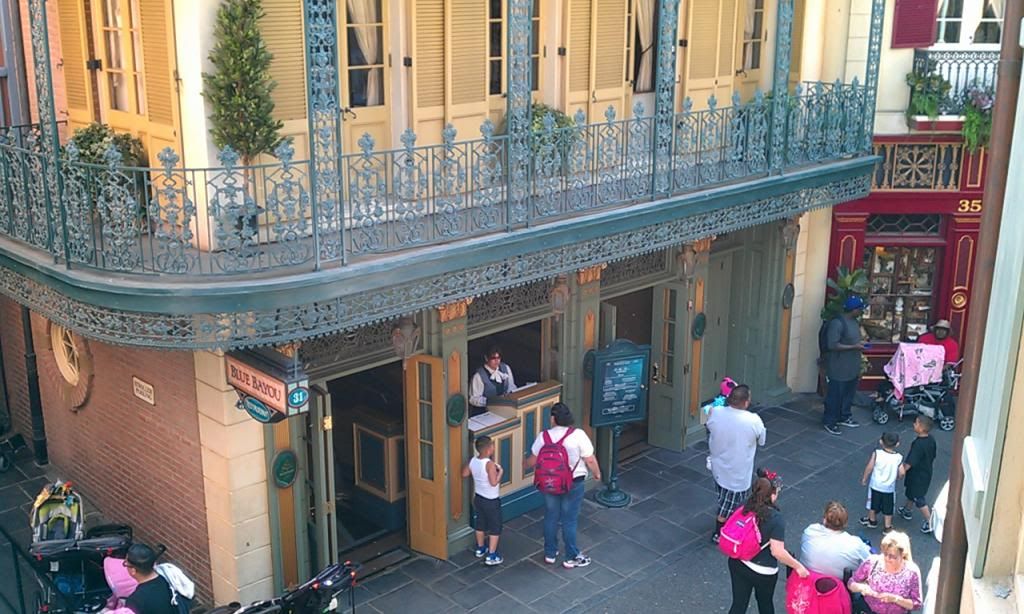 Those below were oblivious to us. It was a lovely retreat above the hustle and bustle of the park.
As the meal wound down we had room for a sweet...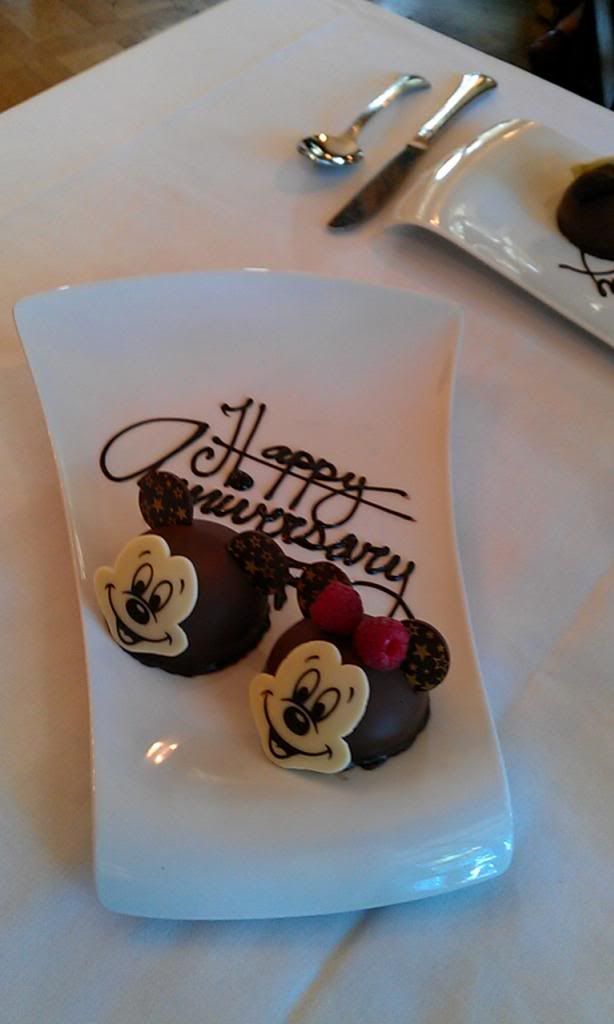 Decadent chocolate.
or two...
A trio of sweet...cheesecake dipped in chocolate, eclair, and something fruity and good.
or three....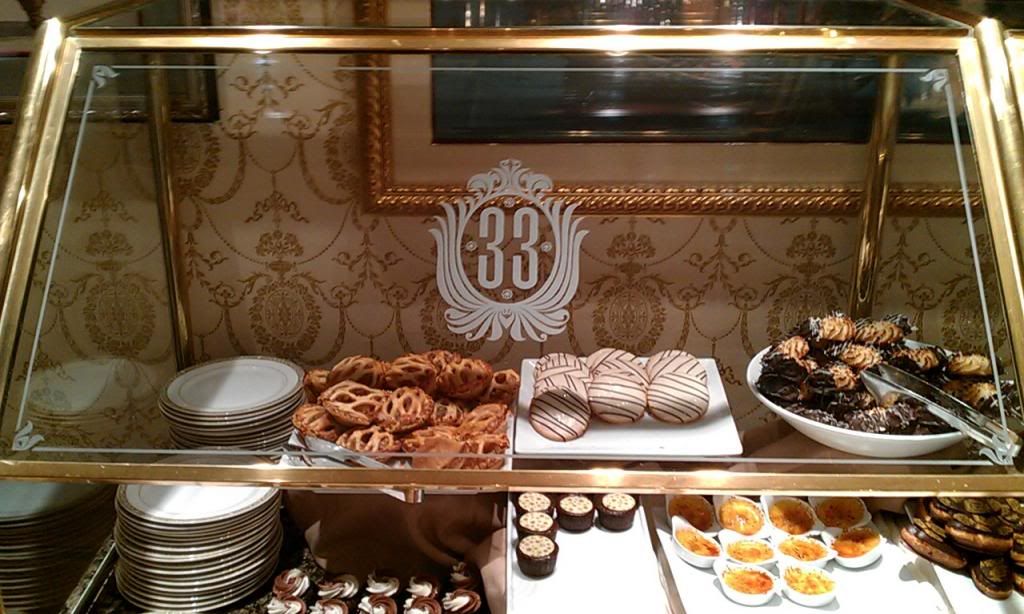 Alas our meal came to an end....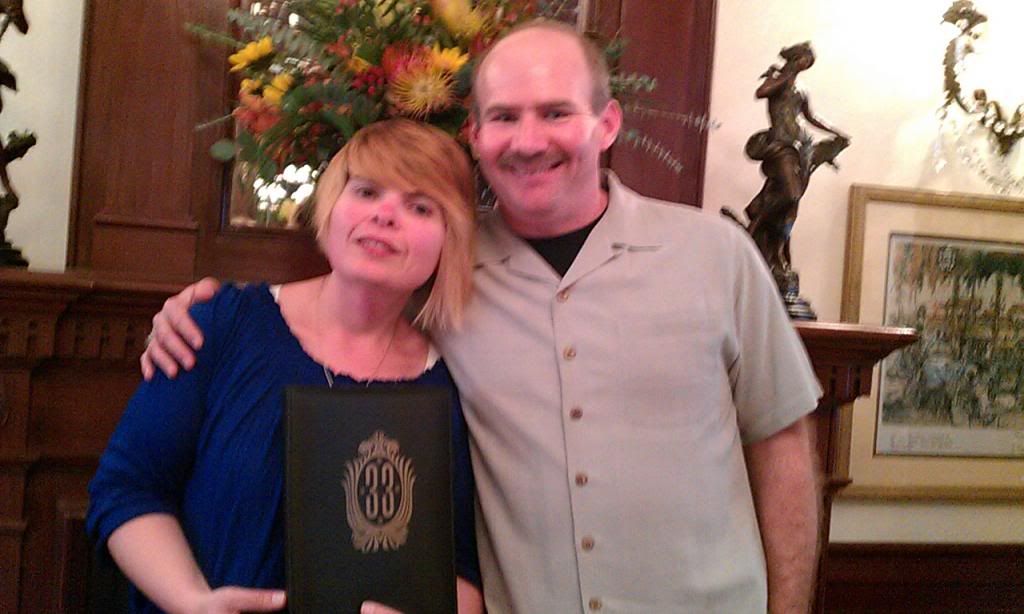 Shhh....I kept the pen.....with permission....and my wife received a copy of the Club 33 history so she could read when she could comprehend it.
But we asked and were granted a bit of time to make our way out...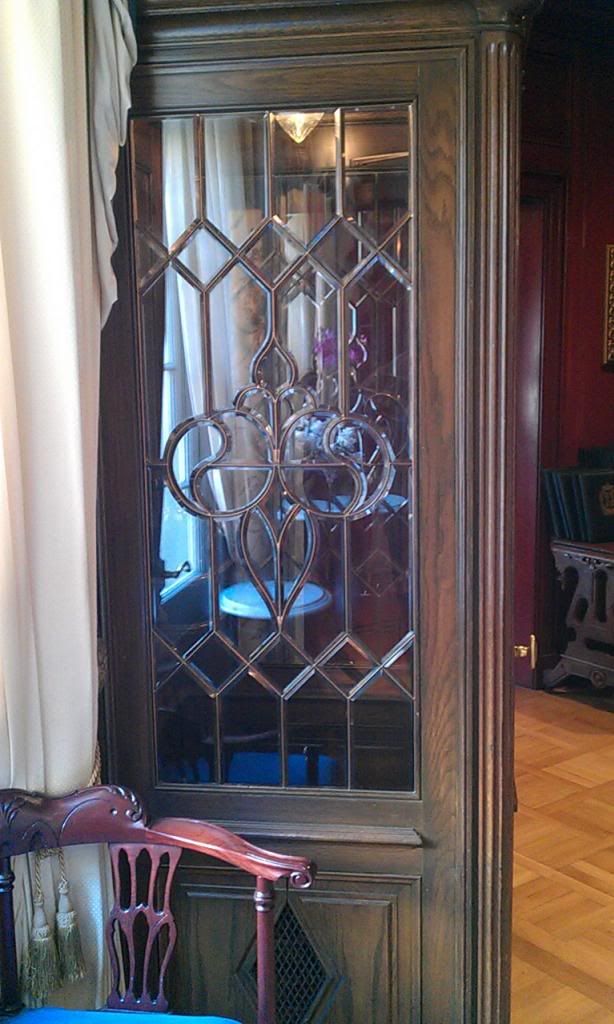 My lovely wife near the bar...
At the harpsicord...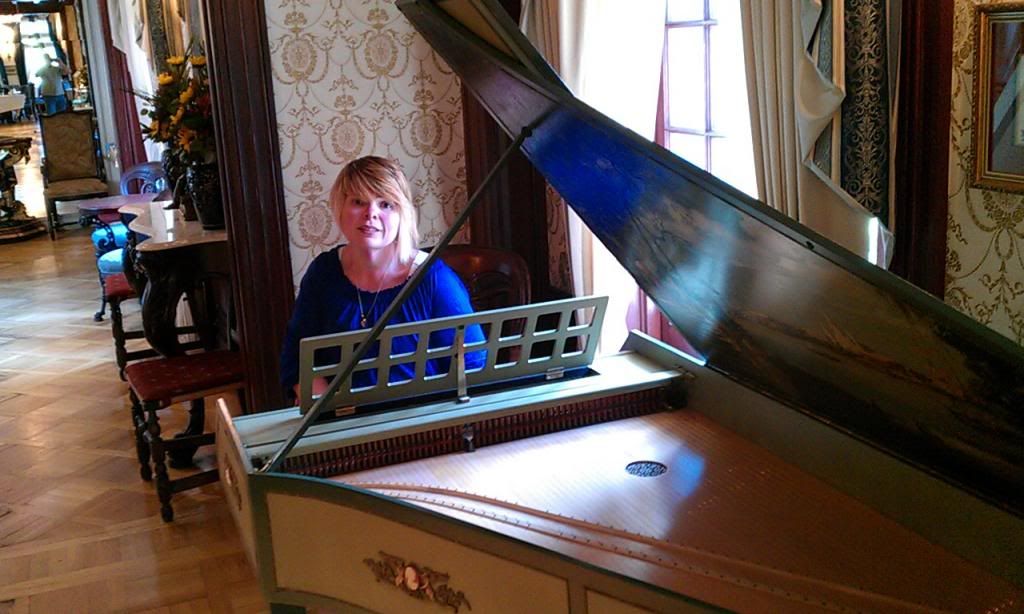 From the trophy room...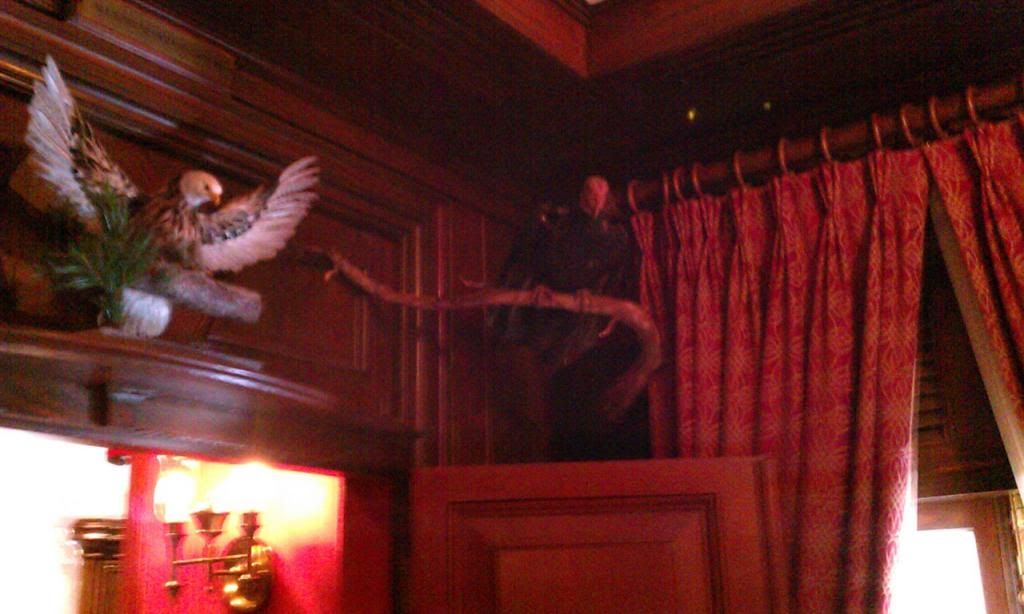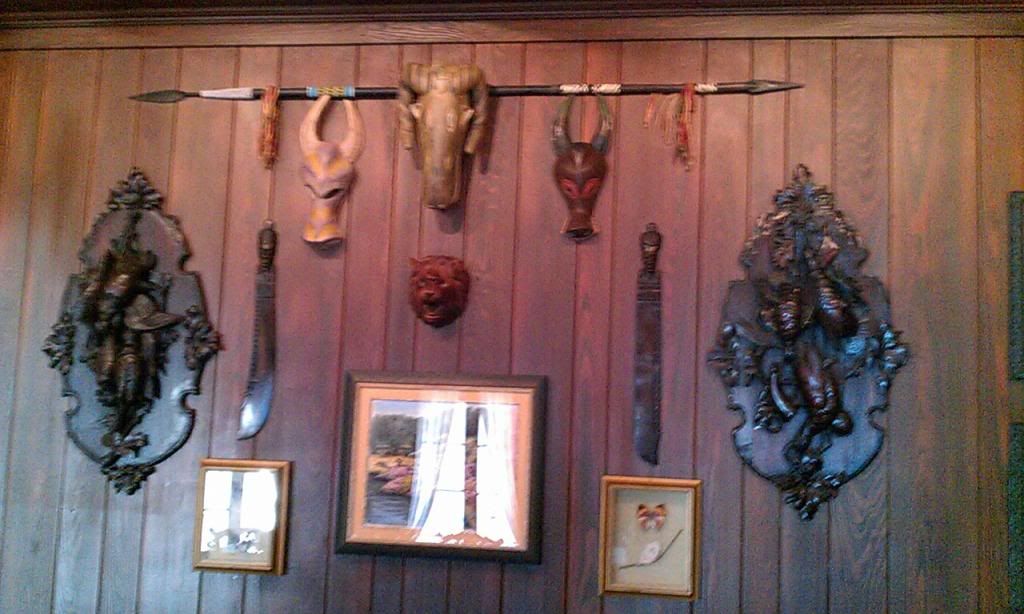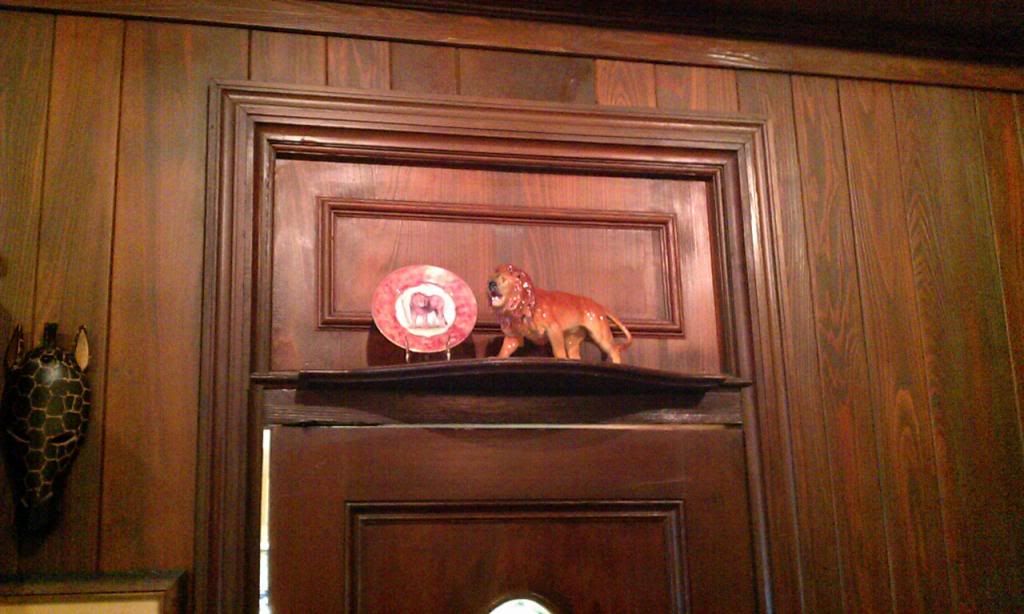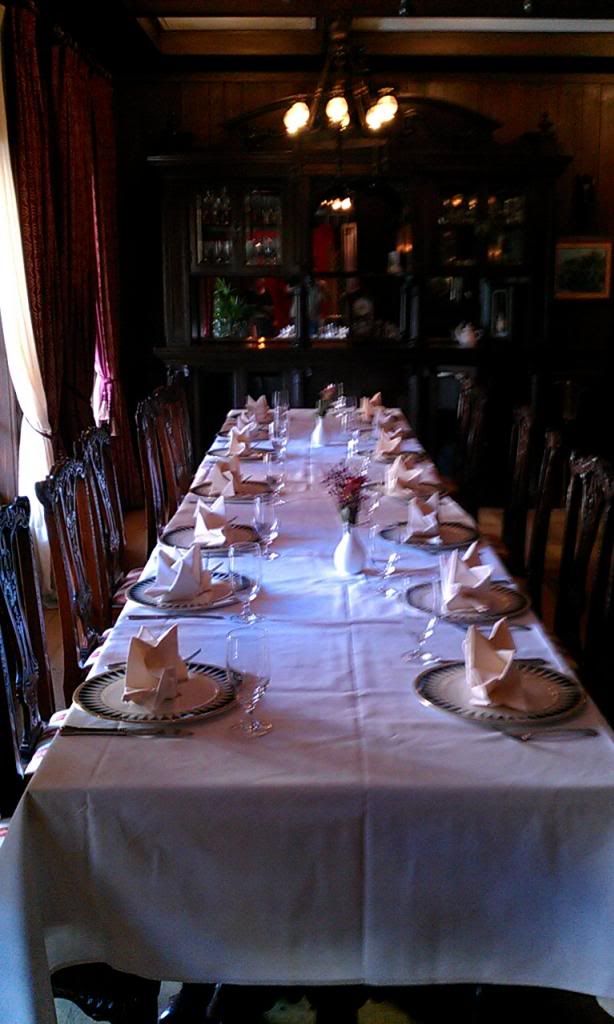 This is a special picture....For me Disney is not just the parks, it is about the man. If you want to know more about this picture PM me. I will say we were able to stump a CM with a bit of Disney trivia related to this.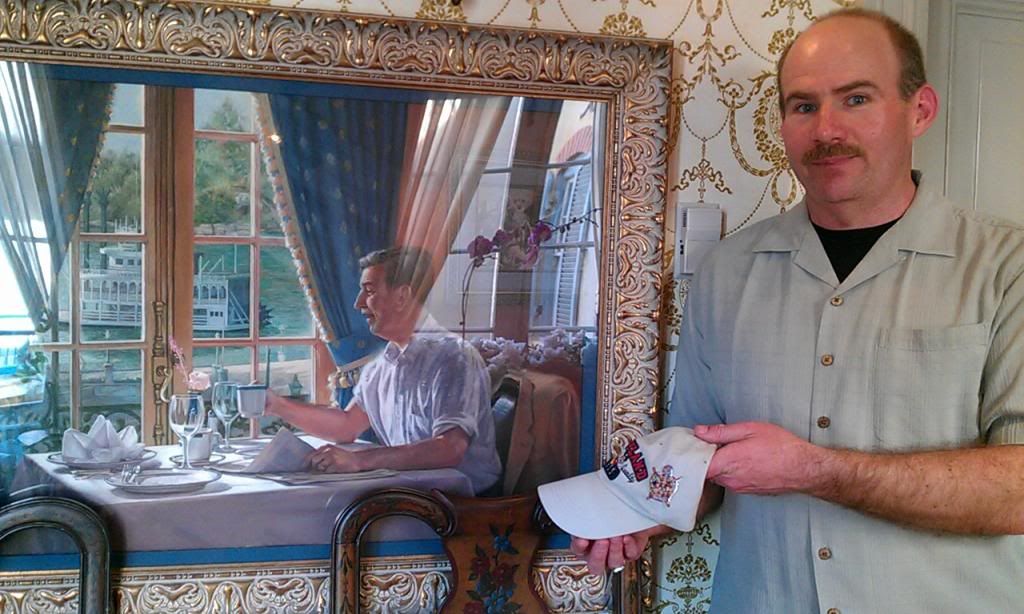 Coming down the stairs...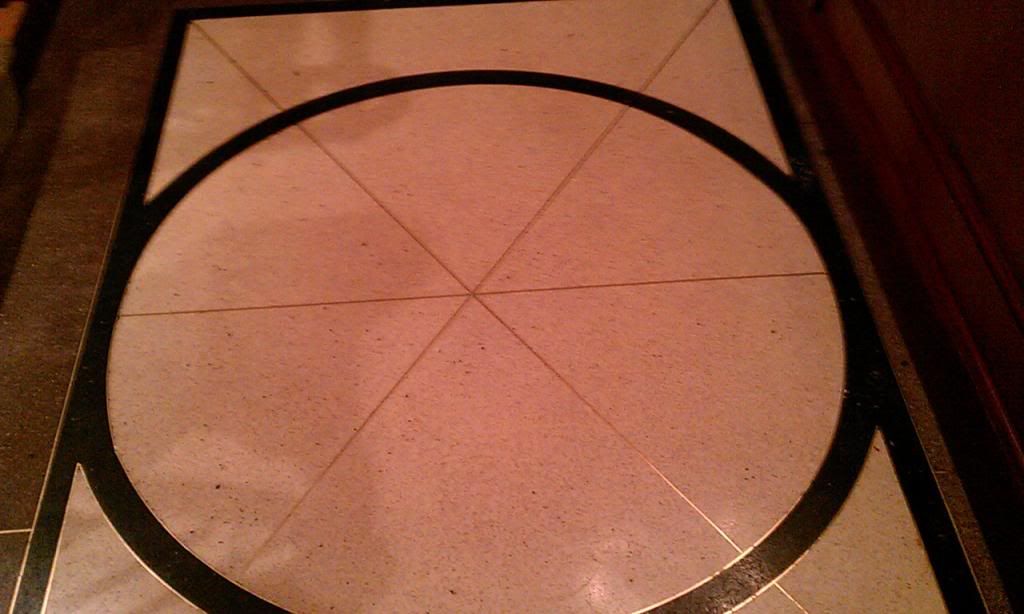 And back to the other side where behind the middle window a dream came true for my wife and I....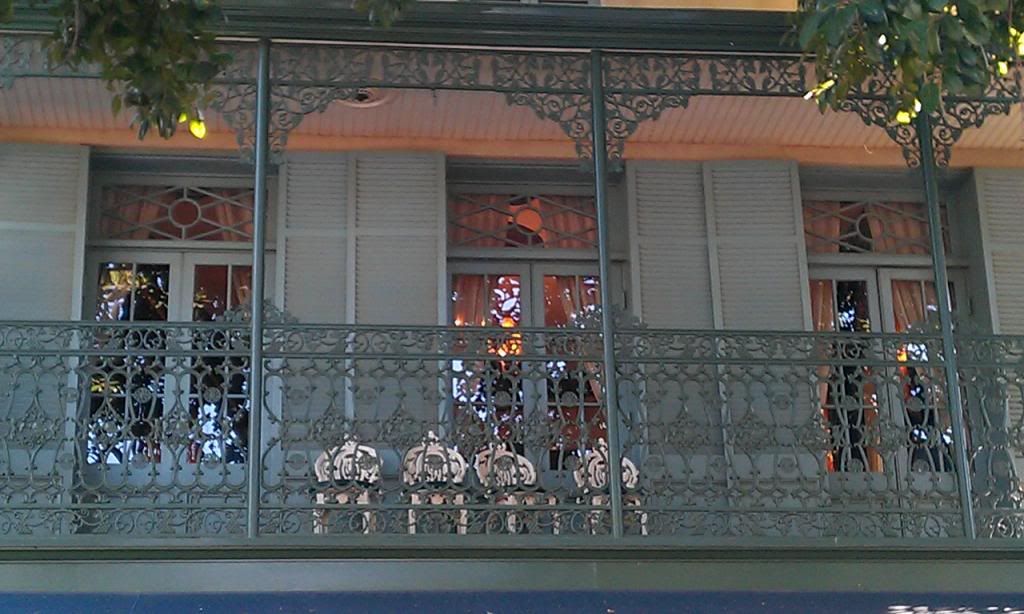 If you made it this far....It was overwhelming and one of the few, true bucket list items I have....had. Please don't ask me how or why I was able to enjoy this incedible experience for I can not say. All I can say is....
Thank you to who made it possible.