My husband and I are lucky enough to have the benefit of getting Buddy Passes from family members who work for Southwest Airlines. So a few days ago we thought, let's see what Easter is like at Disneyland! We called my parents to see if we could drop off the kids for the day (note - our "kids" are two black Labrador retrievers), then signed ourselves up to fly standby to John Wayne.
We took the first nonstop from Phoenix to OC, which got us in at about 10:40. I wish it was earlier in the day, but beggars can't be choosers! We hopped in a cab and went straight to the parks.
EDIT: I meant to add this photo to show the crowd. I was expecting insane crowds at the entrance, but was pleasantly surprised to see we could walk right up!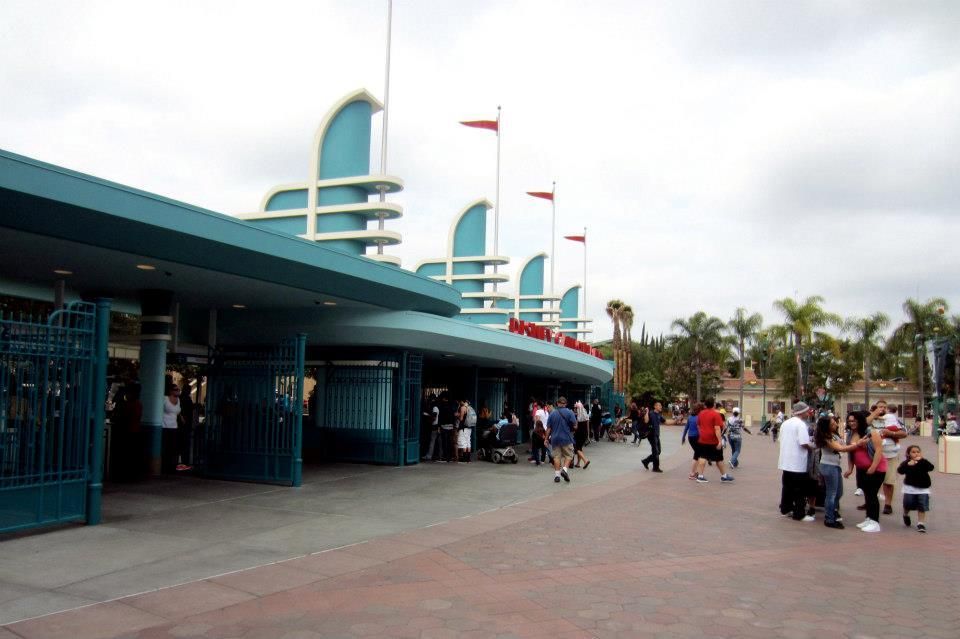 The ONE thing that I really wanted on this trip was a picture with Carl from UP!. So, we went to DCA first. On our way in, I stopped by Oswald's hoping to see the supposed limited-time Easter ears (I saw none... only normal Oswald ears) and to get a copy of the Easter Egg hunt map around DCA. I learned that the hunt ended the prior week (dang it!) so we headed to Redwood Creek Challenge Trail for their egg hunt - and to, of course, meet Carl!
We had fun running around finding Kevin's Easter Eggs: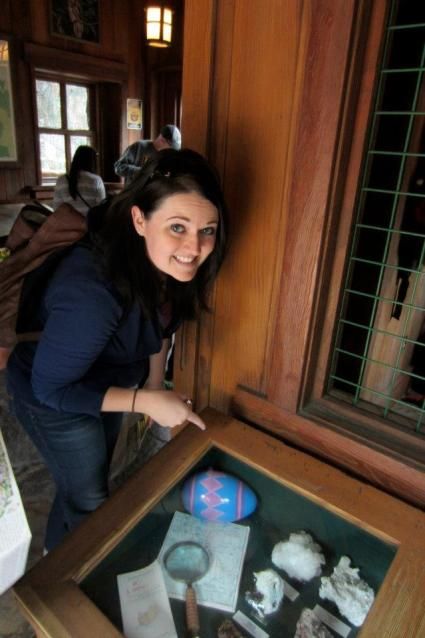 After completing the Easter Egg hunt, we performed our pledge for our Wilderness Badge.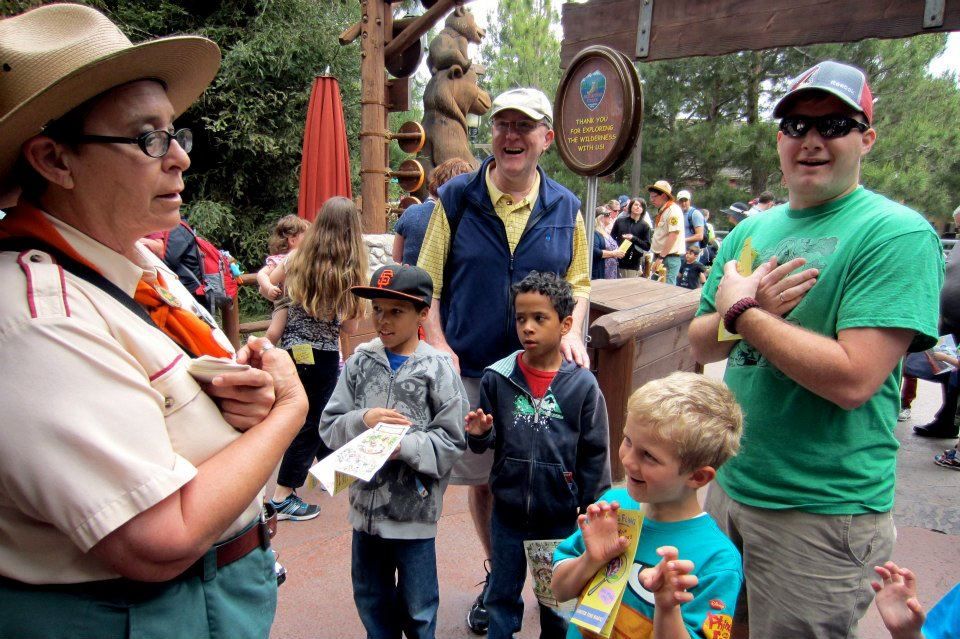 My husband sure is a good sport, isn't he?
I had a laugh at him saying the pledge surrounded by children.
Next we stopped for a picture with Dug.
Then we got in line to wait for the Wilderness Explorer Graduation ceremony thing. I might have fudged the official name.
As we were waiting in line, I experienced something that I hope to never experience again. There was a boy a couple people behind us who was vomiting. His parents just stood there. They asked a passing CM for housekeeping to clean it up. The CM grabbed paper towels and cleaned it. The boy continued to vomit, AND THE PARENTS DID NOT LEAVE THE LINE! I know we've had a discussion on this topic before, but I wanted to scream at them for forcing their obviously sick child to not only remain at the park, but remain in a line, in the sun, when he's not feeling well. How completely selfish. Also, the CMs should have the authority to make parents take a sick child to first aid, not only for the child's sake, but for the sake of everyone around who don't want to be exposed to any contagious material as well as having to watch/hear/smell a child throwing up.
Okay, ending my rant! Sorry!
Back to business, and one of the highlights of my trip.
Toward the end of the show, one of my favorite Disney characters EVER made his appearance: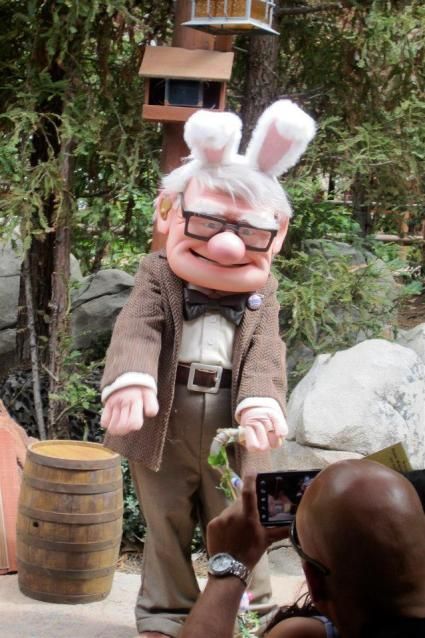 CARL!!!
Immediately following the show, those in attendance could get in line to meet him and Russel. So I practiced my Wilderness Explorer call:
And met Russel and Carl!!!
On our way out, we were handed more badges (wait, we didn't have to do the egg hunt?! Oh well, it was still fun) and an individually wrapper Peep!
I'll upload part two in a bit!!