**
UPDATE
: Actual TR starts Page 3, post #34 - thanks!**
***If you are my friend on Facebook, please do not post anything related to my pregnancy on there. Thank you!!***
First, I'd like to thank the many of you who contributed to my thread (Here:
http://micechat.com/forums/disneylan...ideas-dlr.html
) asking for ideas for announcement photo ideas - I wish I could have attempted all of them! In fact, I was feeling pretty miserable during this trip, especially Friday - the day we were trying to get photos. I wasn't able to do nearly as much as I was hoping for, but we got a few cute shots. We kept it simple with our shirts and the "Baby on Board" sign doing most of the work for us.
So, since we heard and saw the heartbeat yesterday, I'm feeling somewhat more comfortable with the whole thing! I'm trying to wait 4 more weeks (closer to the end of my first trimester) before announcing this on my Facebook page... we'll see if I hold out until then.
I'll start with the baby-related photos, then get into the actual trip report aspects.
First, we had a Photopass Photographer take our picture in front of the castle - I wish we went back later when we didn't have the sun directly in our faces, but oh well!
Then we headed to Fantasyland where I posed in front of Sean's favorite ride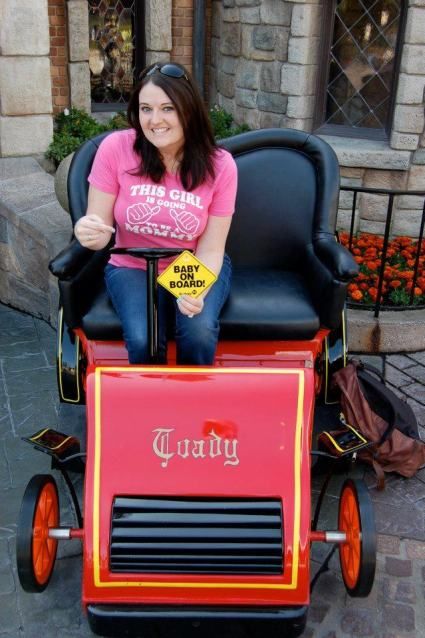 I finally got to ride Jingles! (Check it off!
http://micechat.com/forums/disneylan...d-do-list.html
)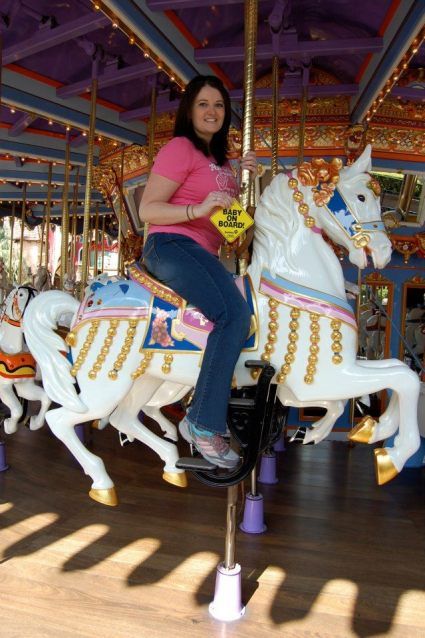 And we took advantage of the other props for more photo ops
The lines for characters on Main Street were pretty long, so we headed over to DCA hoping to luck out with some shorter lines. We ran into Pluto, and took the opportunity to snap a photo with him. He was a willing participant! In fact, when I walked up and asked him to hold the sign, he happily took it. The Photopass CM with him yelled that Pluto cannot hold signs, and that I would have to hold it. Pluto shook his head and held the sign in front of him... the CM was clearly irritated, but YAY PLUTO!! I was amused haha
Next, we came across one of my favorite costumed characters - Sully! The Photopass CM there was so great. It was hilarious because I held the sign up and Sully couldn't see it, but was clearly trying to. So I held it in front of his face and he froze, then kissed us both. It was so stinking adorable!
Here he is kissing the hubs, although it kind of looks like he's about to eat him.
I was so sad to not be able to ride one of my favorites, Tower of Terror. I want this baby to stay in this dimension!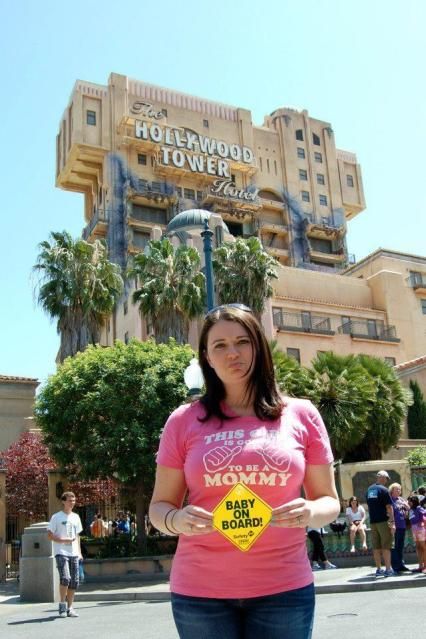 And this is the photo I think I'll start with, since it's the most subtle. I'll be making it my Facebook profile picture and see how many people actually read my shirt.
I'll do my actual TR portion in a bit. Thank you again for those of you who have helped me out so far!!