hello friends! SO i had the wonderful chance of attending the special showing of Mickey and the Magical Map with the Q&A session yesterday evening!
Check-in for the event was between 4:30 and 5:15 and after being checked in, Cast members led us in small groups straight towards the back of the park. It was a quick trip since we weren't fighting with traffic! We arrived to the Newly renovated FantasyLand Theatre, and to our surprise... FREE STUFF! I mean, we got into the parks for free (which was awesome!) and then were offered free popcorn filled buckets, choice of bottle drink and on our way out, a tasty mickey krispie treat and a memento! (also there was a raffle for cool stuff, but alas, that is where my luck ended. So now onwards!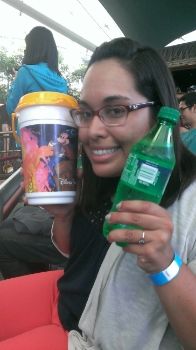 THE SHOW:
The show started fairly quickly, and I was surprised to see that the theatre was a little less than 2/3rd full! Plenty of room for more people that I guess never made it!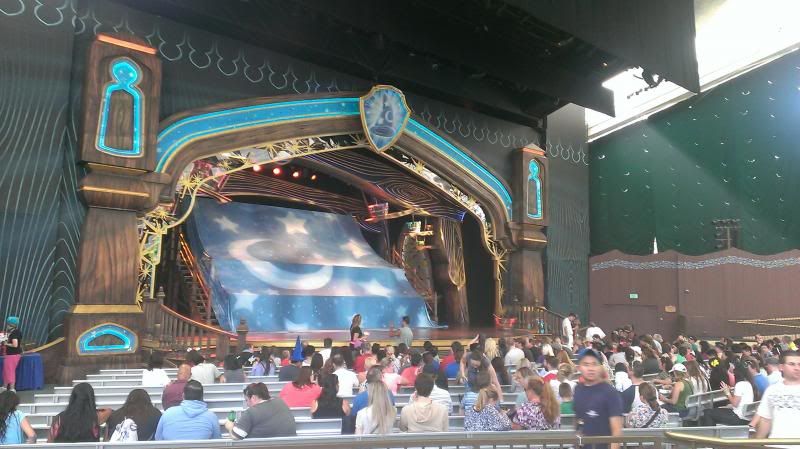 The show was fun and cute. The original music for it however, is pretty weak especially when compared to WOC and Soundsational and did not pump me up for the show, but I was happy to see and my boyfriend enjoyed it! The Stage is pretty neat! but you can clearly see (and hear) the train as it pulls up behind you in the ToonTown Station!
yay for pocahontas and mulan! get it girls!
Tiana really rocked that performance!
NOTES FROM THE Q&A:
-It took about 2 years to create the show. The Dancers are very good at what they do, and practiced 6-7 days a week for 2-3 weeks to get ready for the show.
-The MAP is made of 6 LCD sections. Each section consists of 14x14 inch square LCD panels.
- There is no actual Stitch on stage because "he is represented through images on the map, and it gave the dancers an opportunity to get really creative with the choreography and use of surfboard props." (there still needs to be a stitch, or at least a hawaiian costume change!)
- The stage and show are capable to perform at night, but due to fireworks and fantasmic, there is no need to run the show at night. However, during fall when the sun sets at 5, there is a chance to catch it in the dark!
- Similar to WOC, the MAP's programability would allow to be easily changed, but the creators really were not very keen on that idea. They like the show as it is.
-There are hidden mickeys "One at the end, and quite a bit during 'under the sea'"
- An audience member called out the team on how this show is very similar to ones on a Disney Cruise Line. They just kind of tip-toed around this comment.
MY OVERALL IMPRESSIONS
-It felt too short (at 25 mins) but the bleachers made my butt fall asleep so I dont think a longer show would be nice...
-The Yen Sid animation REALLY bugged me! and some of the animation was not as fluid as I would expect from a company that got its start from... you know... animated cartoons... HOWEVER, I am an artist/art teacher so I am really picky with how animations look. My boyfriend had no issues with the look of the animations.
-How mickey pops in and out of the map was awesome! its a pretty neat effect!
-I enjoyed the representation of the more ethnic disney movies: pocahontas, mulan, lilo & stitch and princess and the frog.
- I am happy that a show is finally back in the space!
-my BF's final thought "It is a live action world of color with dancers instead of super awesome fountains"