For those of you who just can't get enough of the First Anniversary bash, I have my own perspective to share.
For me, it's my first chance to meet my new MiceChat friends.
And for me, a rather emotional homecoming after ten years away from the park I grew up loving, working in, taking great pride in.
So after the picnic area gathering, we leave the cares of the day behind...
And before we got on the train, I got to meet the "Wolfpack"...Wolfy, and the Wolfette, and Mr. Lightyear...smiling even before his Seahawks won...
Later in the day, I posed for a picture, and honest Wolfette, I'm big, but loveable when you get to know me...
Amyway, after the train it was time for breakfast at RiverBelle Terrace. And no, I'm not normally in the habit of taking pictures of my food before I eat it. This time, I saw an idol - and an avatar in the making.
Aaah, nothing like fine dining on a Sunday morning with new friends named "Morrigoon" and "Fishbulb"...
That "Fishbulb" guy gets around...table-hopper...
And it was my distinct pleasure to sit next to a man with great wisdom and stories. A man who simply needs no introduction. Which is good because like many others I couldn't remember screen or real names :beg:
Clearly, one of the highlights of my day was the time I got to spend with Morrigoon - a high-stickin' check-um-into the boards gal if ever I met one...
She's not bad, even for a USC type.
And I've always been a villains fan, 'specially when they are as nice and pretty as this one -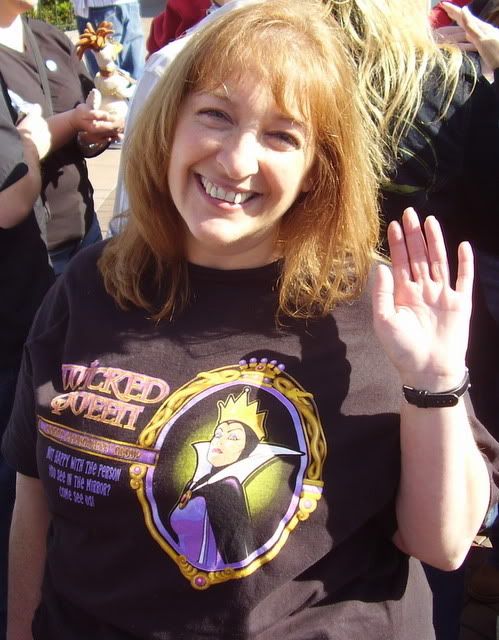 At the noon meet, DustySage was all about handing out pins - and doing whatever it took to be the man of the hour.
And long before the end of the day, before the cake was cut, before the group shot even, Sage and Fishbulb, two of the great visionaries of their time, were just overcome by the moment...
And finally, a giant among men...(posing for a before picture in the weight loss group thread)...takes his place among the giants of his day.
Well, if you haven't already turned to another thread after that one...
It was a great day for me...great to meet so many MCers...great to get back to the park...great to hoist a cool one at the Rainforest with Lightyear when his Seahawks won (Wolfy, the cat-fancier Panther fan, nowhere to be seen). Just sorry that I missed the cake thing and the night-time meets but...I tried.
Thanks again to all who make it possible...