I'm not sure if this was reported on or talked about before, but I noticed this for sure. Remember how the original display items for Five & Dime went missing as time went on from opening? Well just by pure coincidence while walking through the Five & Dime store to avoid crowds, I just decided to look up and I saw them...
Originally lining the top shelves were vintage toys, hats, magazines, and what not. Now is the resting place of the original window display items.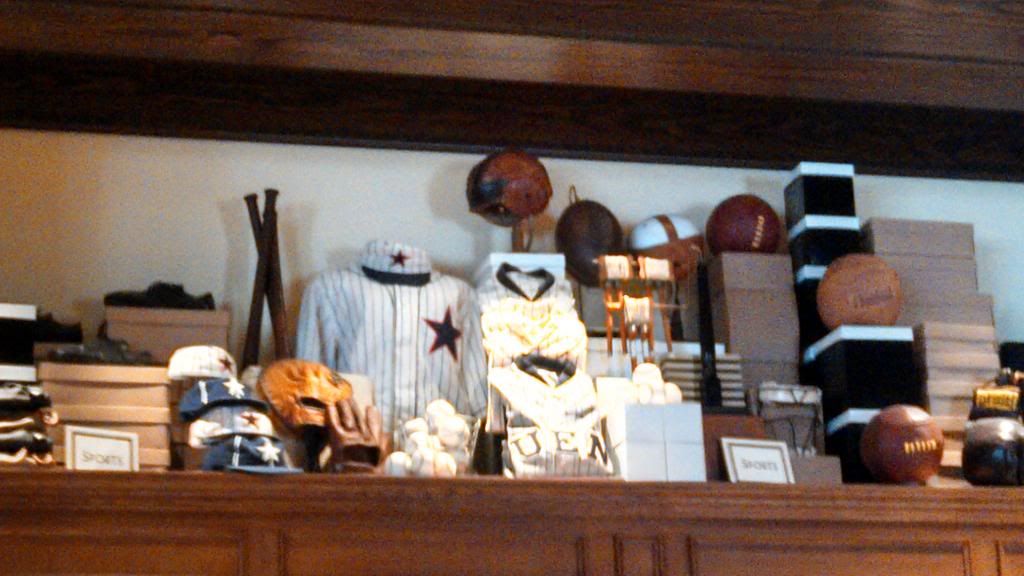 Above the cash registers, where hats used to reside, now lies the '
SPORTS
' equipment, including the Buena Vista caps and jerseys.
When you first enter the Five & Dime from the park entrance, to your left on top of the shelves used to be old vintage toys from the 30's has now been converted to the '
BOOKS
' section. While the other book labels are a bit hard to read, I can certainly see 'Paul Bunyan' and to the left of that book the 'Jungle Book' books. I'm sure the others are located...somewhere.
Okay, so they aren't returned to their original spots and the windows are still cluttered with all that junk. But hey, at least they now reside back in the park for the public to view like they always should.
Oh, and by the way, while passing by the Five & Dime mannequins, I could help but take this picture, since it seemed so fitting...