I had the chance to catch a performance of
Aladdin, A Musical Spectacular
this evening at DCA and as the show played out before me I sat wondering a few things.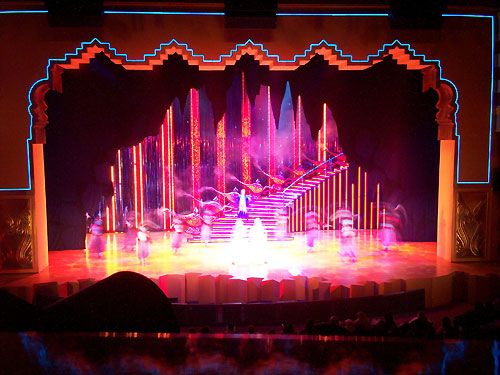 I wondered if I caught the show on a bad night or if Jasmine had contracted the bird flu that killed off her caged bird friend since 1) her voice warbled and cracked and 2) her focal set piece, the bird cage, never appereared. I wondered if the stunt cast was not there tonight to perform the acrobactics of flying carpet. I wondered why the Genie's jokes mostly came off as stale.
I wondered how much longer this spectacular could go on.
The cast, try as they did, simply could not overcome the challenges that faced them. The show started off well enough, but soon the problems started. The Genie's jokes fizzled with humor about "Nick and Jessica and Napoleon Dynomite. Jasmine's Big solo number came and the poor actress tried to cover up what seemed like a cold with overly emotional vocals . Next the flying carpet number came and no flying carpet above the audience which left the audience to be "dazzled" by world land marks dancing around in fog on stage as Aladdin and Jasmine sang offstage. Lastly Jafar's transformation from Evil snake monster to Big Red Genie was more-less pantomimed and insinuated by Aladdin as the big puppet snake sunk back down into it's place sans a red genie. All of these incidents were accented by other set pieces that didn't appear or trap doors that didn't open. This show was never a favorite of mine, but the cast ALWAYS gave it their all. It seems they are still trying but that this show is aging terribly.
What happend tonight? Was the stunt cast off? Was there a shortage of castmembers? Was it an "off" night? Whatever the reason I am hoping that the peole out in TDA are asking the same questions and wondering the same things. One last thing I am wondering: Is that Hamburger lady still putting shows together for Disneyland?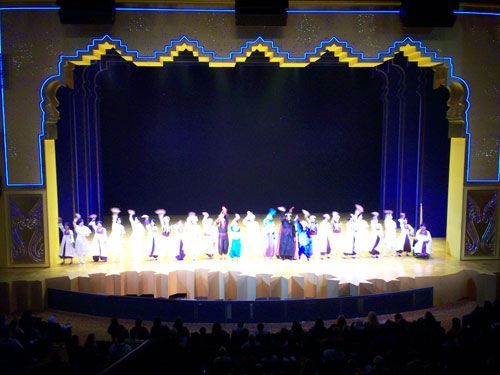 -Fishbulb