If anyone remembers a while back, I posted a thread
regarding this school project
all the way back in August of this year. Only about two months ago did my Advance Drama and Video Editing class begin editing with the returning students going first and the newer students going second with the returning students acting as mentors to the newer students; with me being one of the newer students. Once all the videos were done they were all shown in front of the class in a randomly selected order and then graded by everyone else.
The way these slideshows work is that everyone has to pick a theme for their slideshow projects. It could be anything the person desired. Some chose to focus on family, others chose to focus on vacations and travels, some chose varying themes from winter to video games...well, I chose mine to be Disneyland because, well, I do love Disneyland a whole lot, and I knew that that personal interest would be a major driving force behind my work and would help push me in the direction I wanted it to be, since I would be taking a lot of this from my heart.
Each slideshow had to contain pictures relating to the theme that the person chose. They could either be photos owned by themselves or their family, or could be pictures taken from the internet. Like if a person did their slideshow on their family, they would use family photos in their slideshow. If someone did their slideshow on video game consoles, they would show different video game console pictures they found online. Since I already had an annual pass, I made a conscious decision that I wanted this slideshow to be special in which I would go to the parks and take my own photographs instead of going on the internet and using those unless it was completely necessary. Out of all the shots included in the slideshow, only 8 were taken from online. The 7 Fantasmic shots were taken from the internet due to the difficulty of getting a good seat/good shots during Fantasmic, and the final shot due to the improbability of me getting such a perfect shot like that in the first place. Other than that, all the photos from the day shots to night shots were all taken by me. The day shots were all taken on my Android Phone surprisingly with the night shots being taken on my uncle's Canon Camera.
Every slideshow had to have music that corresponded with the visuals, whether it be a song the family listened to a lot for a family centered slideshow to using a Christmas-y type of song if the slideshow was centered around winter. The person could use any song they liked as long as they didn't switch up songs in the middle of the slideshow. You basically had to stick with one song. I, however, found a way around that. Mash-Up songs were considered one song, and I even asked my teacher, and she said it could be allowed. So I compiled my very own mash-up to include what I wanted to be in the video. In my video and original idea, I would show pictures from each of the themed lands of Disneyland. Each land would have its corresponding area background music playing, so if we were on Main Street, we would head "Put On Your Sunday Clothes" instrumental that is played on the loudspeakers of Main Street. If we were in Adventureland, we would hear "I Got Spurs (That Jingle jangle Jingle)" because it is a song played over the radio in the Indiana Jones Adventure outdoor queue, etc.
I gathered the music and various sound effects that I wanted to use and compiled them all into a 3 minute 15 second audio clip. I tried my best to give each segment an equal amount of time; around 30 seconds each segment. I am rather happy at how the audio turned out, as it gives each land an equal opportunity at the spotlight and still got across what I wanted. If anyone's curious as to how the music looks like in its raw form, here it is for your viewing;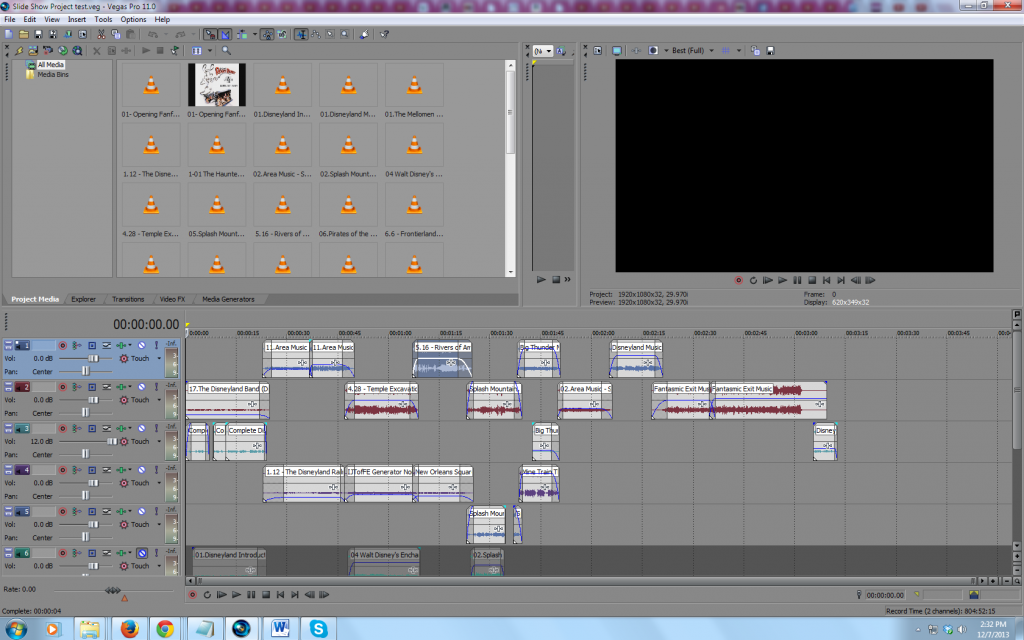 Once everything was all said and done, all the slideshow projects were shown in a matter of 3 to 4 days in a random order with my video showing on Thursday and being the final video of the day before the class bell rung. Everyone seemed to really enjoy it and at the end when the credits faded to black the whole audience erupted into an enormous applause. I hope now that I share this video with you that you may feel the same emotions everyone else did. So Without any further delay, I would like to share with you my Advance Drama Slideshow Project to you...
I would like to dedicate this video everyone in my Drama Class for their help and support during the course of editing this video together.
If you can, I'd like to hear your opinions on how I did. How did you enjoy it, see where my strengths are as well as the areas I need to improve, if you'll come back to see it again, etc. I'd really like to hear them! So thanks for watching!