I just found this at Disney Auctions.
http://disneyshopping.go.com/DSSecti...duct_Id=193717
It is an auction for a facsimile of the "origininal 1958 Disneyland map", framed, with a cloth border to put the different character pins, which you can buy for $25 for 6, and there are 6 different pin sets. The map itself costs 99.95. So the grand total is $250, which is fine.
The problem that I have with this auction is that the map is not from 1958! When you use the zoom feature to get a better look at the map, you can clearly see the Matterhorn and the Monorail which were built in 1959, AND Cascade Peak and Natures Wonderland which didn't open until June 1960!
The map used in this picture is the 3rd "1958" Disneyland map produced for Disneyland in 1960!
Allow me to explain... Disney Legand Sam McKim produced the first Disneyland map in 1958. The easiest way to tell if it is the "first" map is that the Jungle Cruise has green water.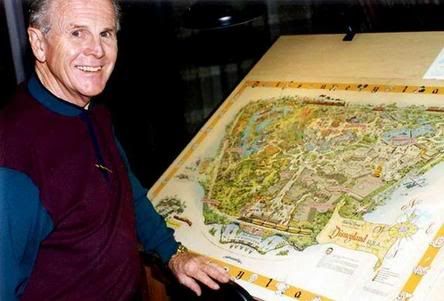 The 2nd "1958" Disneyland map was printed in 1959 and showed the addition of the new Submarine Attraction, and the Monorail, and the third "1958" map was printed in 1960 and showed the addition of Cascade Peak and Natures Wonderland. Both the 1959 map and the 1960 map have blue water in the Jungle Cruise.
The confusion over these maps is because all 3 maps bear the same orange border color, and the same copyright date of 1958.
Hopefully, this is just a mock-up of what they intend to sell, because if this is the real thing, then it is incorrect. It also shows how little the people working in merchandise design know about Disneylands rich history.:botox: