Tonight at dinner my daughter asked me if it was possible to go on all of Disneylands rides in one day. I told her I didn't know but that it would be fun to find out.
I checked out Disneylands website and here are the attractions that are listed, I've highlighted the non-rides in
red
:
Davy Crockett's Explorer Canoes
Frontierland Shootin' Exposition
Mad Tea Party
Roger Rabbit's Car Toon Spin
Starcade
Tarzan's Treehouse™
Tom Sawyer Island
Big Thunder Mountain Railroad
Indiana Jones™ Adventure
Matterhorn Bobsleds
Space Mountain
Splash Mountain
Star Tours
The Disney Gallery
Innoventions
Main Street Cinema
Astro Orbitor
Buzz Lightyear Astro Blasters
Gadget's Go Coaster
Haunted Mansion
"Honey, I Shrunk the Audience
Jungle Cruise
Mr. Toad's Wild Ride
Pirates of the Caribbean
Snow White's Scary Adventures
Alice in Wonderland
Casey Jr. Circus Train
Chip 'n Dale Treehouse
Donald's Boat
Dumbo the Flying Elephant
Enchanted Tiki Room
"it's a small world"
King Arthur Carrousel
The Many Adventures of Winnie the Pooh
Peter Pan's Flight
Pinocchio's Daring Journey
Storybook Land Canal Boats
Disneyland® Monorail
Disneyland® Railroad
Fire Engine
Horse-Drawn Streetcars
Horseless Carriage
Mark Twain Riverboat
Omnibus
Sailing Ship Columbia
By my count there are 34 "rides" at Disneyland. Do you think it is possible to ride them all in one day?
Is anybody here interested in coming up with a way to try and do all 34 rides in one day and make a kind of "Gumball Rally" out of it?
A bit of history for our younger Micechatters...
"Gumball Rally" was a movie that came out in the late 1970's that was essentially a non-stop cross-country car race that started in New York City and ended in Los Angeles. It was a pretty funny film as I recall.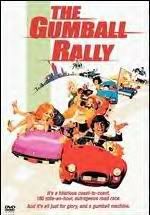 Anyways, I was thinking that it might be possible to come up with a date that would be agreeable to a number of interested Micechatters and we could all descend on Disneyland, bright and early on the appointed date.
As soon as the "rope drop" occurs at the end of Main Street, the race begins. Teams of 2 or more could try any type of touring plan that they think will be most effective for them.
Obviously, the point is to try and ride as many rides as you can between the rope drop and when Disneyland stops allowing guests on the rides.
The only way that I could think of confirming your passage on the attraction would be to take (or have taken) your picture on the ride as it's in motion. Any other suggestions for verification would be welcome.
Whoever has been on the most rides in the shortest amount of time,
WINS!
I haven't come up with a prize yet (which my wife and daughter insist are absolutely necessary for any contest to be worth competing in), but I would appreciate any suggestions in that department as well.
This is just an idea... it can be modified, improved upon, changed, etc.
It may even be possible to come up with a way to do this on different days, because it may not be possible to do it on one specific date.
Sooooo, there you have it. What do you think? Should we try it?
Just think... You may be able to compete in the 1st Annual Dsineyland Gumball Rally!!