DISNEYLAND RESORT ANNOUNCES DEBUT OF DISNEY'S CALIFORNIA FOOD AND WINE WEEKENDS 2006 APRIL 27 - MAY 21
Inaugural Event Provides a Menu of Celebrity Chef Dinners, Culinary Demonstrations, Winemaker Dinners, Sommelier Seminars and Festival Marketplaces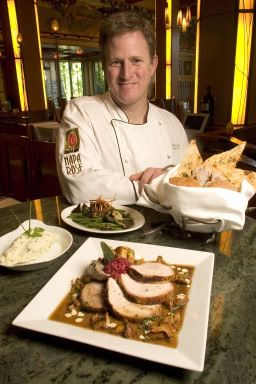 ANAHEIM, Calif. (April 10, 2006) - - An adventure in culinary delights and spirits await guests to the first-ever presentation of Disney's California Food and Wine Weekends 2006 (April 27 – May 21) at the Disneyland Resort in Southern California, part of the continuing Disneyland 50th anniversary celebration. Four extended weekends (Thursday – Sunday) will welcome everyone from fine wine connoisseurs and skilled epicures to lovers of good food and wine neophytes wanting to experience and learn more about the world-renowned flavors of California cuisine.
"This all-new event will allow us to engage our guests in a series of unbelievable culinary showcases that will not only highlight some of the greatest chefs and winemakers in California, but also many of our award-winning resort restaurants," said Matt Ouimet, president of the Disneyland Resort. "From the marketplace food samplings in Disney's California Adventure to the amazing celebrity chef dinners at the Napa Rose, this is just another great highlight of our 50th anniversary celebration."
Each weekend begins Thursday evening with a reservation-only
Celebrity Chef Dinner
at the acclaimed Napa Rose restaurant at Disney's Grand Californian Hotel. Guests can mingle with stars of the culinary world as they present their own signature vintners' menus including wine pairings that showcase their gastronomic talents in this exciting experience. Participating chefs include Chef Michael Cimarusti from Providence (Los Angeles), Chef Carl Schroeder from Arterra (San Diego), Chef James Boyce from Studio at the Montage Resort (Laguna Beach) and Chef Michael White from Fiamma (Las Vegas).
Friday evenings come alive with a series of exquisite
Winemaker Dinners
featuring a multi-course meal with outstanding wine pairings. Each dinner will be hosted by a renowned winemaker including Charlie Campbell (Silver Oak Vineyards), Brian Harlan and a representative from Sauza Tequila (Reisling & tequila pairings), Dan Karlson (Chalone Vineyards), plus Scott Mcleod and Rebecca Chapa (Francis Ford Coppola's Winery "The Rubicon Estate"). The location for the 6:00pm reservation-only dinners will alternate weekly and include, The Vineyard Room at the Golden Vine Winery at Disney's California Adventure Park and Granville's Steakhouse at the Disneyland Hotel.
Each weekend (Friday, Saturday and Sunday) will also feature a series of events inside Disney's California Adventure park including Festival Marketplaces, Wine, Beer and Spirits Seminars and Culinary Demonstrations:
•Festival Marketplaces
in the park's Bountiful Valley Farm and Pacific Wharf areas will offer a delectable array of appetizer-size gourmet food samplings ($4-$5 each).
•Wine, Beer and Spirits Seminars
at the Golden Vine Winery will be led by a noted winemaker, master brewer or Disneyland Resort sommelier. Each day features four complimentary 45-minute sessions that showcase selected wines, beers or spirits from the event
•Culinary Demonstrations
- Four complimentary cooking demonstrations presented by Disneyland Resort chefs take place each day and last approximately 45 minutes during this al fresco culinary experience on the Vineyard Room terrace located in Disney's California Adventure.
A highlight of each Saturday from 10:00am – 1:30pm is the reservation-only
Napa Rose Cooking School
featuring Executive Chef Andrew Sutton or Executive Sous Chef Jeffrey Cummins of Disney's award-winning Napa Rose restaurant. Sutton or Cummins will facilitate an interactive cooking and learning experience where Guests will create a themed meal together and enjoy it with appropriately paired wines at the conclusion of the class. The class is located in the elegant Napa Rose at Disney's Grand California Hotel.
On Saturdays and Sundays guests will literally be able to
Lunch and Learn
as they enjoy a three-course lunch prepared by Disney chefs and learn as they watch them demonstrate their cooking expertise during this unique experience. A notable wine principal will also be on hand to present wines with each course. Noted Chef Jamie Gwen will be hosting the proceedings on April 30 and May 7. One seating is scheduled per day from 12:00 p.m. to 2:00 p.m. at the Disneyland Hotel or Disney's Paradise Pier Hotel.
Designed to give a balanced academic and tasting introduction to the major wine styles and regions, the Sunday
Guest Sommelier Education Seminars
round-out the weekend's festivities. The Sommelier Seminars include basic training in wine tasting as well as key features of labeling laws, grape varietals, viticulture and vinification. Seminars are scheduled for 12:00 p.m. and 3:00 pm on Sundays only and run approximately 90 minutes in length. Seminars take place at the "Seasons of the Vine" attraction in Disney's California Adventure.
More information about the Disney's California Food and Wine Weekends 2006 (Calendar of events, prices, etc.), Disneyland's 50th anniversary celebration and vacations at the Disneyland Resort is available at
www.disneyland.com
, by calling (877) 700-DISNEY, or by visiting local travel agents.
-------------------------------------------
http://www.register123.com/event/pro...ID=0x422573ea3