So I took a little trip to the Oakland California Museum to see this exhibit.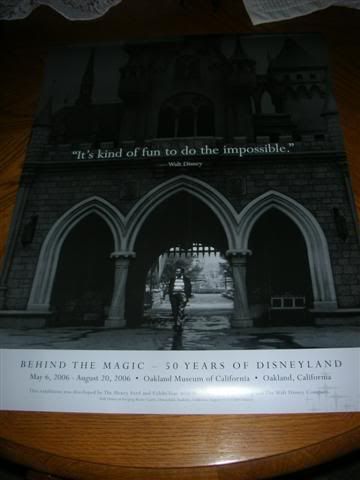 http://www.museumca.org/exhibit/exhi_disney1.html
First off No one was allowed to take Photos. They had security everywhere, not to mention lots of tiny cameras.
Here's a list of a few interesting things I personally had seen before or had not seen in a while and or
As you walk up you see the classic photo of Walt before Opening day, with a Giant Classic "D"
-Different angles of Main Street under Construction, facing the train Station, -Blacklight Painting of Disneyland done by Peter Emmerich,
-Herb Ryman sketch and the actual pitch folder for presenting Disneyland plan to the ABC television company, (too anyone who went please add more, --please help me out here. I'm trying to remember it all.
-Many videos of Disneyland and the different lands of the park, mostly that are on the Disney Treasures, also saw some that were playing on July 17th 2005 and more that I had not seen.
-Different videos and artwork,
-Swiss Family Tree sign, A Jungle Cruise Sign that had a quote, that I wish I could remember.:blush:
-Menus from the Blue Bayou,Tahatian Terrace,Disneyland Hotel
Disneyland Hotel Carpet samples,tiles, linolium, (I know for some whoopiee!
-Disneyland Employee Manual, and you were allowed to thumb thru it.
-A sketch of a ride called the "Reel" Ride where your favorite Cowboy Star chases a Villain, with Mechanical Horses for the audience to ride, that never came to be.
-Two of the original Pirate shooting arcade games
-Davey Crockett merchandise hat,
Two of the Disneyland themed trash cans
-All the fortune Cards from the Pirate Fortune Teller. There was alot more in the first section. More to come....