Yet another update! Here we go:
SAM McKIM WINDOW
Just a couple days ago, a window on Main Street was dedicated to
Sam McKim
, a Disney Imagineer who is most noted for his large Disneyland souvineer maps. The window is located right above the Main Street Photo Supply store at the end of Main Street USA.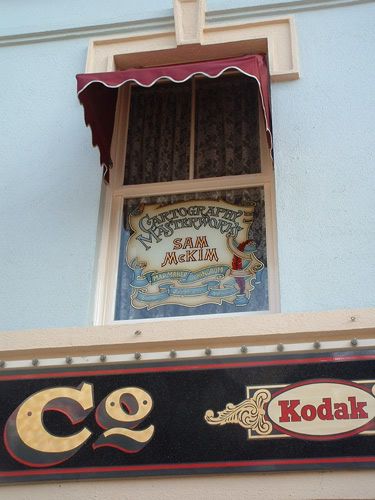 INSIDE PIRATES OF THE CARIBBEAN - Part 4
Pirates of the Caribbean is once again filled with water. Who knows for how long though or for why, as we're all very much in the dark as to what's going on behind those doors.
The four following photos were lightened in Adobe Photoshop so you could see everything a little bit better. Aside from lighteningh the images via adjusting their levels, there was no doctoring or anything done to these pictures. There are links to the original photos as well.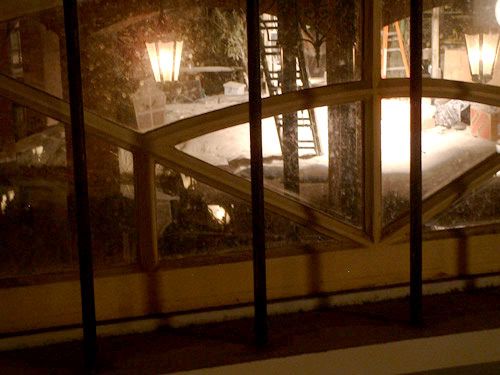 [ click here to see the original image ]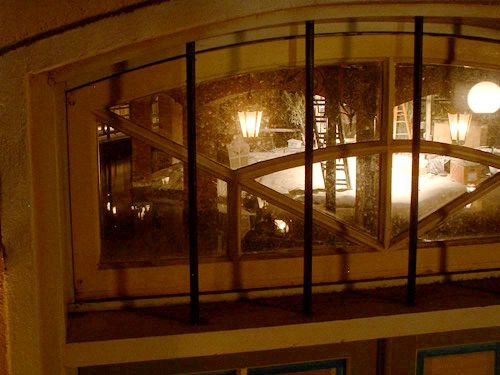 [ click here to see the original image ]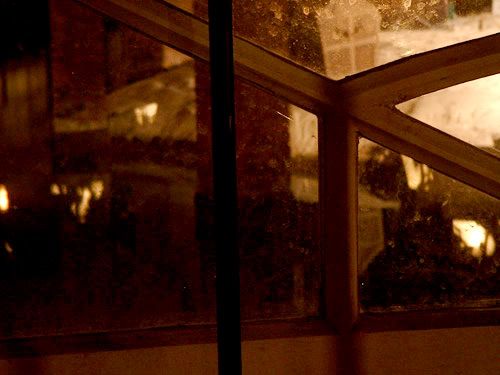 [ click here to see the original image ]
[ click here to see the original image ]
PIECES OF EIGHT AND CAFE ORLEANS
A couple pictures of what's going on inside Pieces of Eight: Lots of construction. The new store concept sounds pretty neat. Imagineer Kim Irvine is behind the store redesign and the store is being transformed into a setting similar to the "Captain's Quarters" scene in the attraction. One of the original paintings by Sam McKim from Pieces of Eight when it was a Pirates Arcade is returning. Also, the nicely polished woodwork in the store has been beaten up with hammers and chains to give it a more "rustic" feel, according to Irvine in her interview in the Backstage Pass Annual Passholder newsletter - "We just beat the woodwork up like crazy and made it look like an old weathered inn."
"One area will look like a trasure trove of jewels, coins, and swords. Hanging from the ceiling will be all types of fine fabrics, necklaces, diamonds and emeralds and pearls."
... "Also, many will recognize the Captain's canopied bed, which will be somewhat recreated as a merchandising wall bay!"
"The cashier's counter is going to look like the harpischord from the attraction, with a big ship's stern window behind it. I'd have to say that's definately one of my favorite things"
Sounds interesting, no?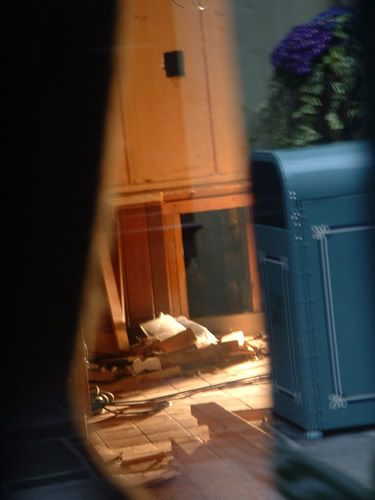 something strange happened when i took this picture and it merged the inside of the store and the outside of New Orleans Square. Weird!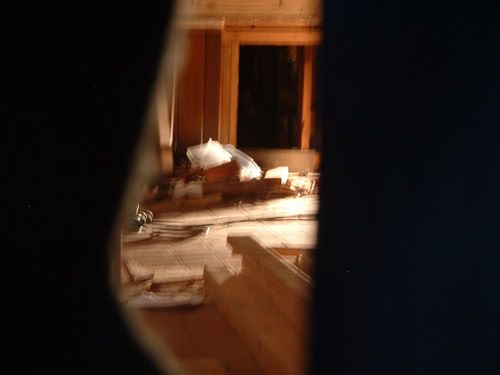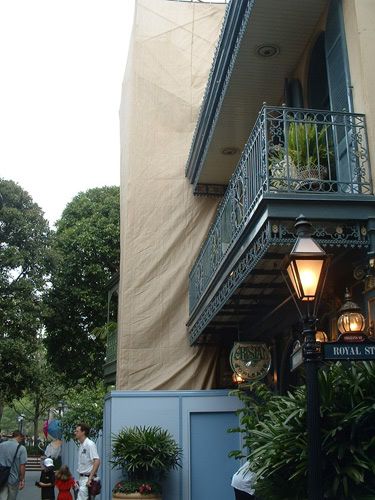 And some scaffolding/work on the side of Cafe Orleans.
STAR TOURS FASTPASS IS GONE!
FastPass at Star Tours is now completely gone. That awning is still there though, and has been painted to match the new blues of Tomorrowland. The FastPass queue entrance sign is still there though, but is turned completely off. These pictures were lightened in Photoshop so you could see the FP area.
MISCELLANEOUS
Inside the Tower of Terror basement: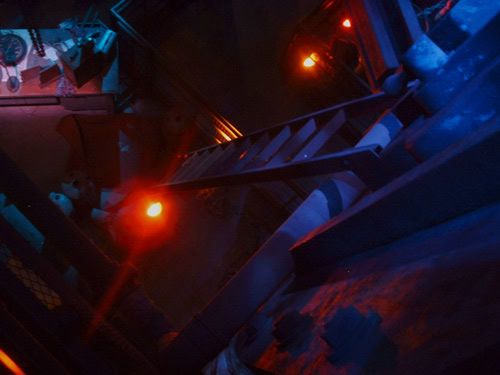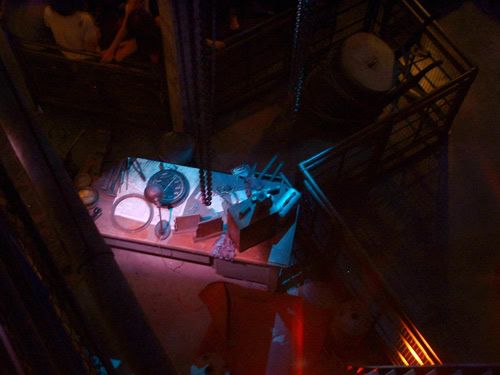 A blurry frontside and backside of water: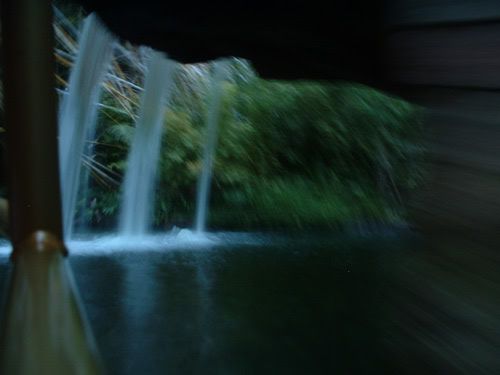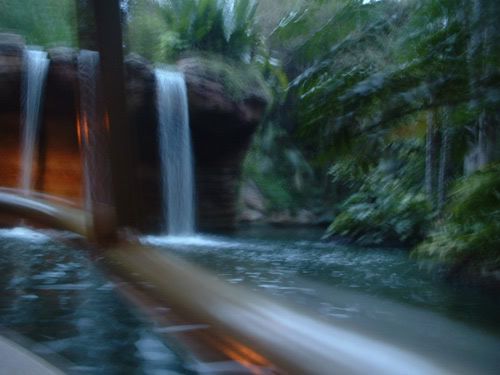 ...and Space Mountain: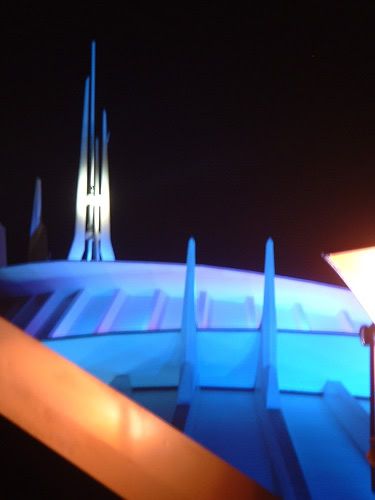 strobe lights!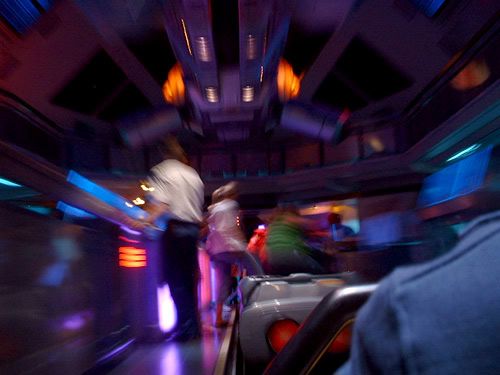 A blurry re-entering of Station 77.
Alright, that's it! Hope you enjoyed the update!