What a great day at the park! May 21st was the One year Anniversary Single Riders meet and we all had a WONDERFUL DAY despite the clouds threatening to rain on our parade.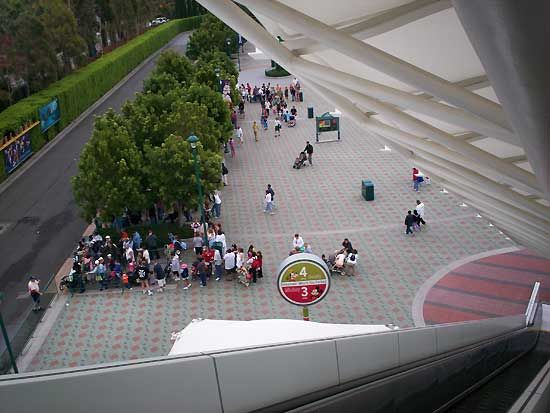 Dusty and I got to the park at noon just as the meet was starting. Fashionably late as usual. The Trams were running at a brisk pace and we got on easily. Grumpy4 was awaiting our arrival.
We trudged through the gates and braved the moderate crowds on Main Street to get to the Hub.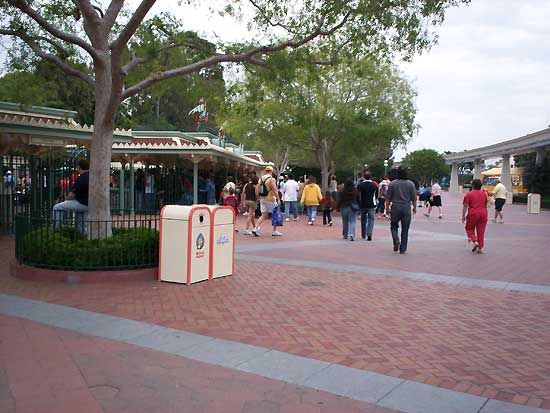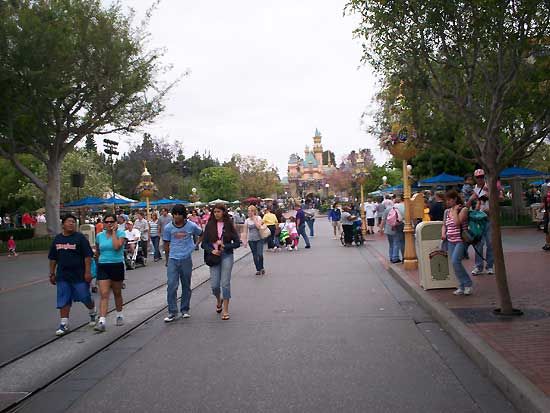 It was a great meet.
nocturne and Fishbulb
The amazing Circarama
Aladdin smiles for the camera
Eyore says hello to us at the meet
Darkbeer, Micechat's resident shutterbug, orchestrated a recreation of the original Single Riders meet Picture taken a year ago.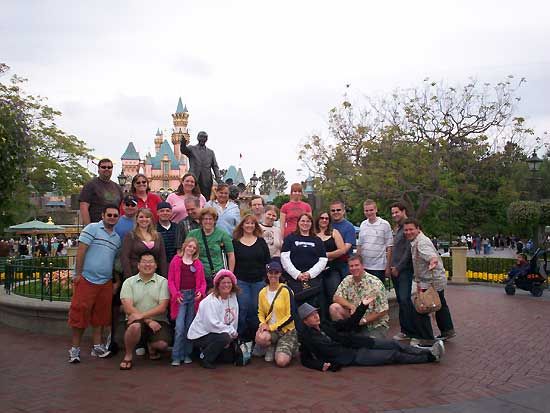 After the meet we all headed over to the Hungry Bear Restaurant for some tasty vittles. NO not the canoe boys, real food.
Sunnygirl and Anders, Fishbulb and Dustysage: MiceChat Power couples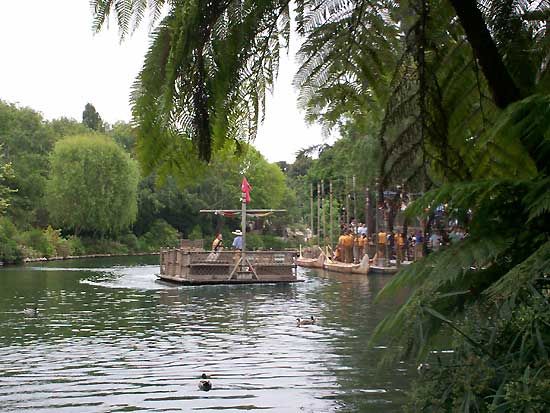 After a nice meal with the gang we all headed over to the wishing well for the One Year Anniversary Singler Riders meet.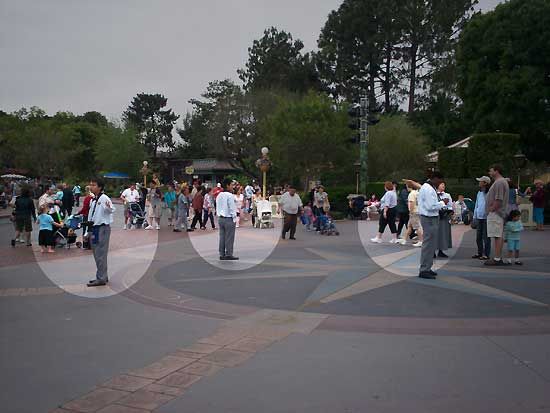 Photographers, 4 OF THEM stand in front of the castle making it impossible to take your own family photo without being offered a "Disney" Brand photo.
New single riders showed up to check out the scene too. It appears that as long as there are rides to be had, there will be single rider's out there to ride with.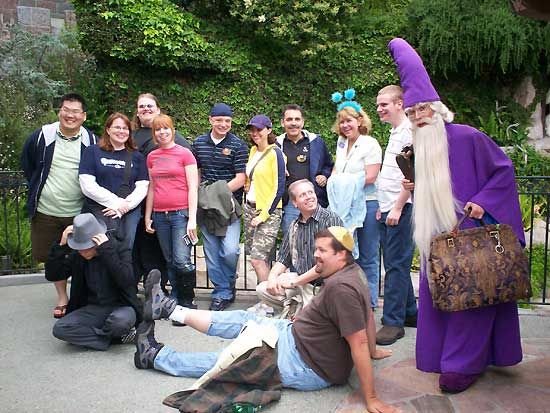 The group of Single riders at the meet. Who want's to play match up?
Much had changed in that year. Many who were at last years meet found love in the most unexpected of places. Sometimes it was right in front of them all along.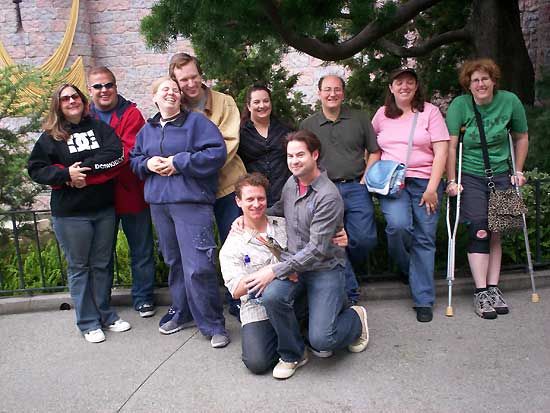 The Group of Couples or coupled showing support for the Single riders meet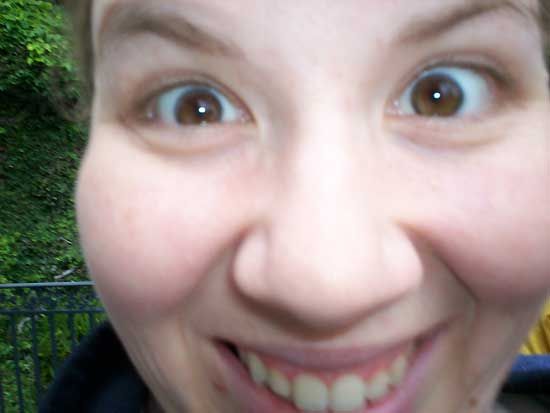 eaglewingz says "Peace!"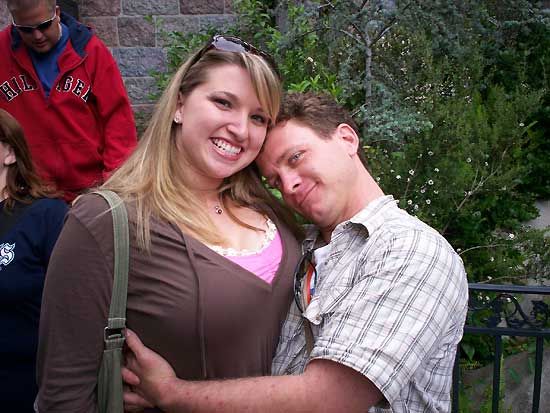 I'm sorry, but who CAN'T love MissChristine?
Hector thinks about it.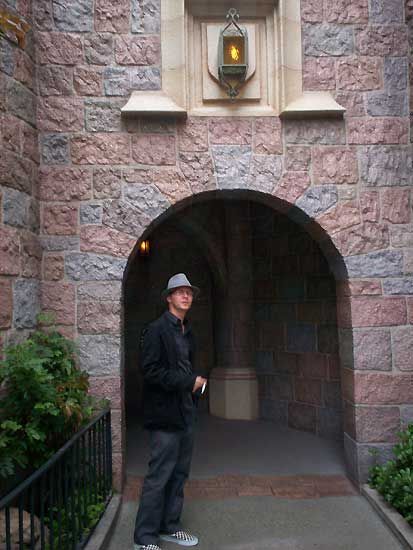 TheBob stands alone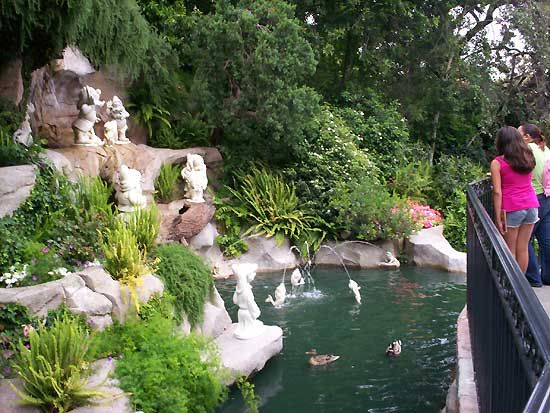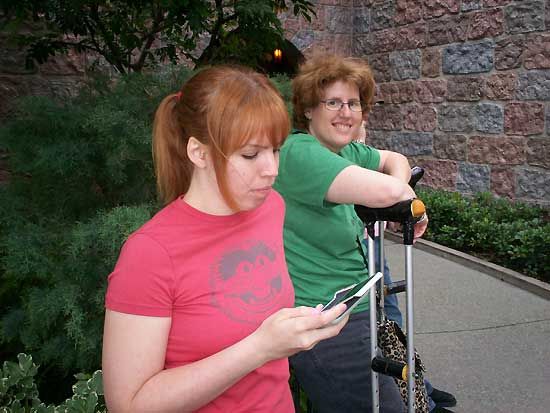 Super_Keith sports his new blue doo
To commemerate the event we also took a ride on It's a small world and filled up THREE BOATS!!!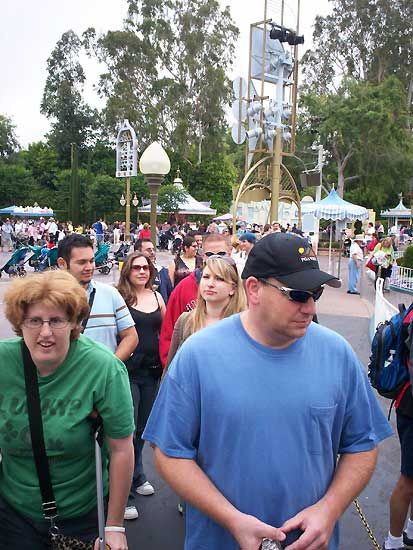 Grumpy4, Fishbulb, and Dustysage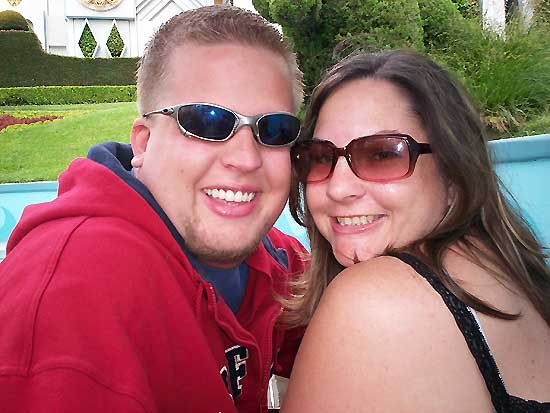 Anders and Sunnygirl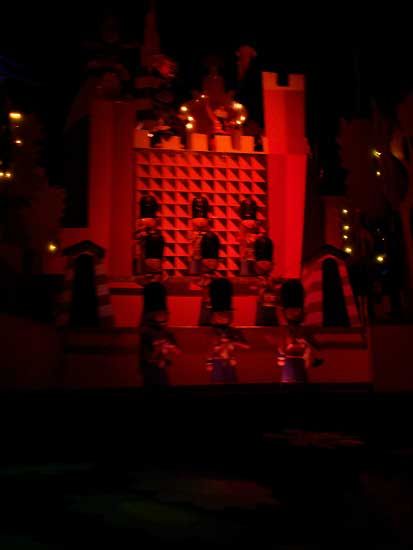 The first boat was a little on the heavy side and, well, we had quite a back up.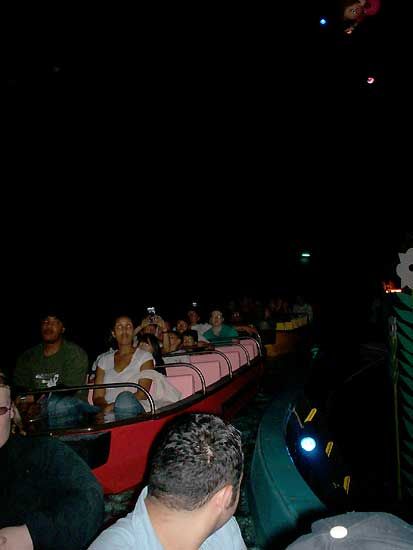 Boats back up in IASW.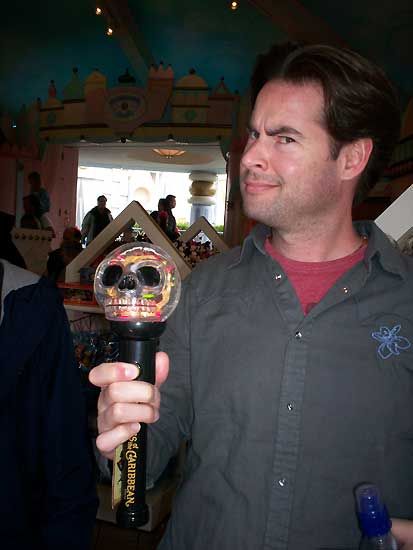 Okay, so why is Pirates Merchandise in an "It's a Small World" Shop?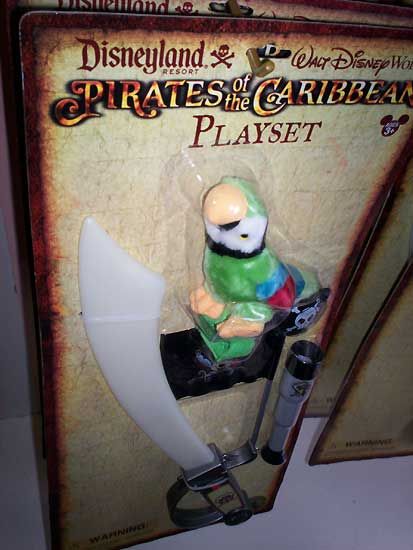 After riding around a flume, listening to dolls sing to us about world peace we decided to climb aboard the Train at ToonTown Station. Our timing was terrible as the Parade of Dreams caused major delays in the departure of trains.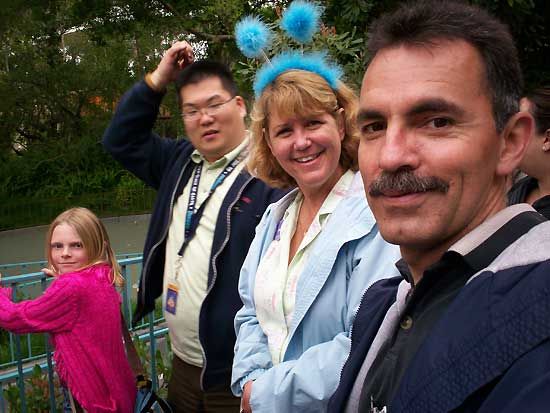 Wolfette, nocturne, Speederscout and company
We waited a good 20 mins before we could board a train and get over to New Orleans Square for the Haunted Mansion.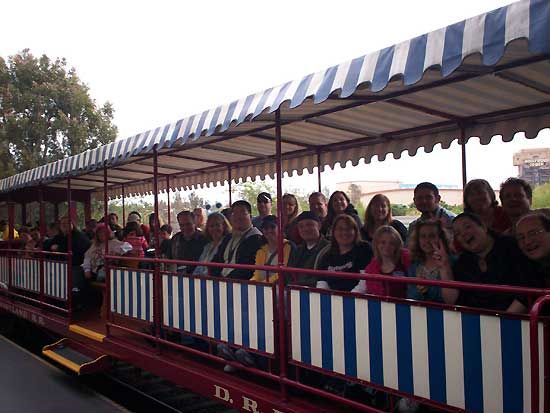 After we got off of the Haunted Mansion we wondered what to do next? The large group of MiceChatters moved on to the Mark Twain for a ride around the Rivers of America.
A shot from the Mark Twain towards Pirates reveals roof work being done to the show building. They are really going all out for this refurb I am told.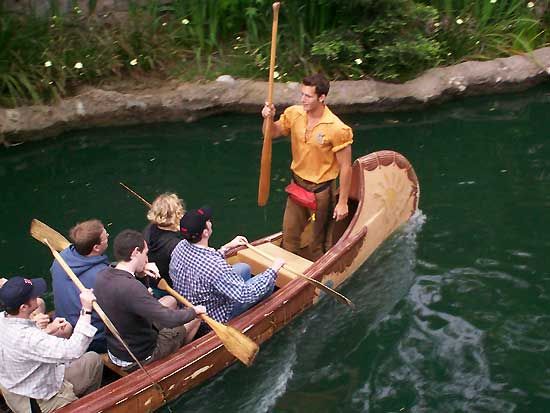 OH LOOK AT THE TIME!!!! It's time for Space Mountain!!!!!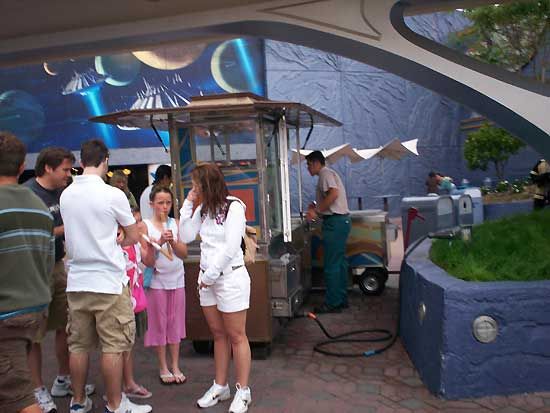 The VOMIT Smell is back! YUM!
Our Group of now 16 Micechatters trekked over to Space and boarded a train. However, right as our FULL TRAIN of Micechatters were about to make a right up to the lift hill, the sound in our train went off and we veered to the left to a service area.
The sound in our train was malfunctioning and we were escorted off of the ride, through a back door, past where all the show effects are monitored, and out to the loading dock again.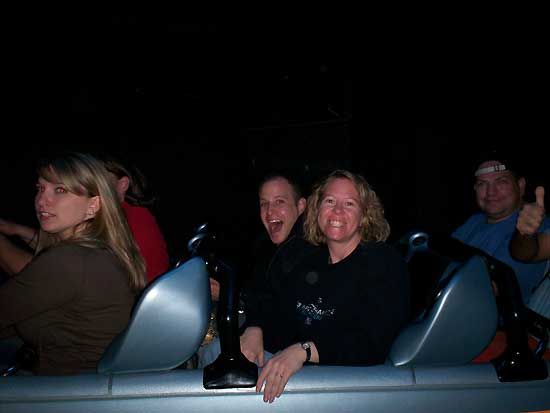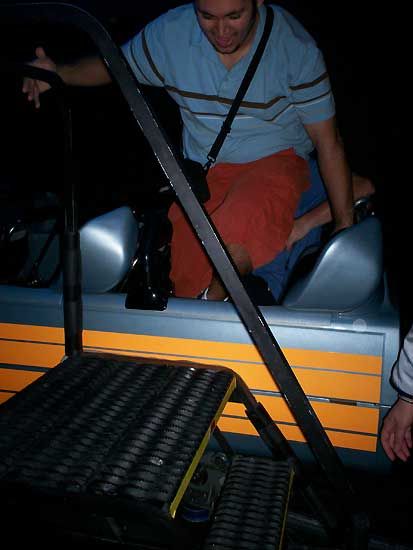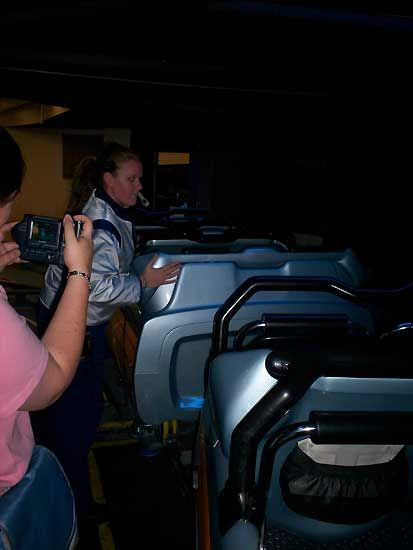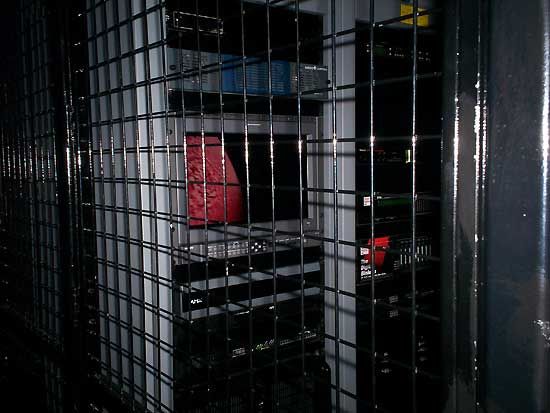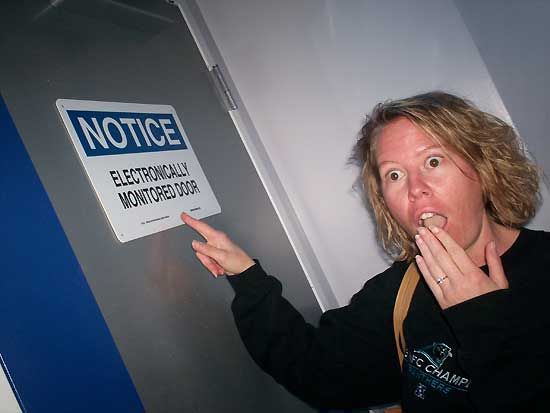 YIPEEE!!!! FRONT ROW OF SPACE MOUNTAIN!!!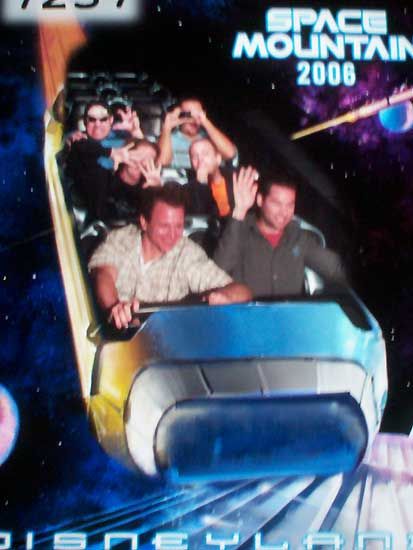 Well it was about 6pm and DustySage and Fishbulb were now beat. We said goodbye to the group and headed out Mainstreet. Dusty got some coffee...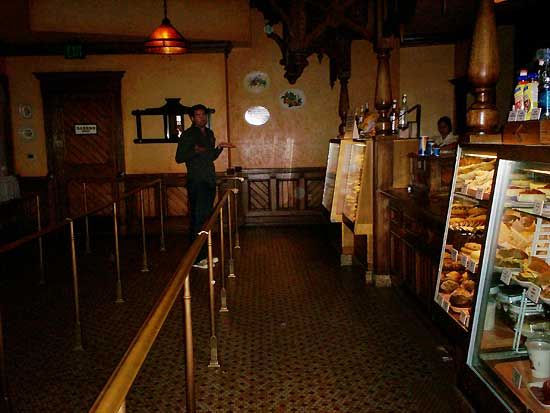 Dustysage waited for someone to help him while he watched the 8 castmembers behind the counter try to figure out whose orders were whose. It took a total of 20 minutes to get a small soy vanilla latte and even then the castmember was not sure if the drink he gave Dusty was Soy or not.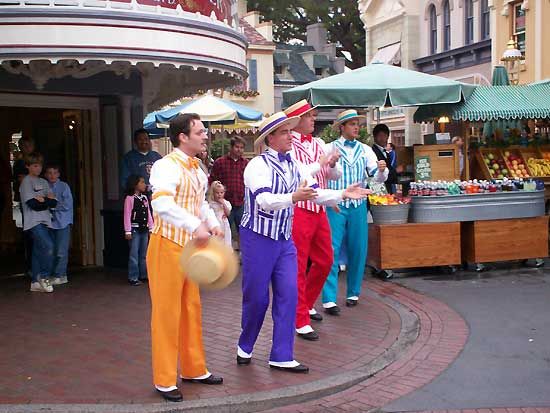 ...while I took in the local entertainment, and then I ran into Purpledove on my way over to City Hall to compliment a cast member.
Purpledove is all smiles.
Well as we made it to our spot in the Parking Structure we saw yet another Familiar face.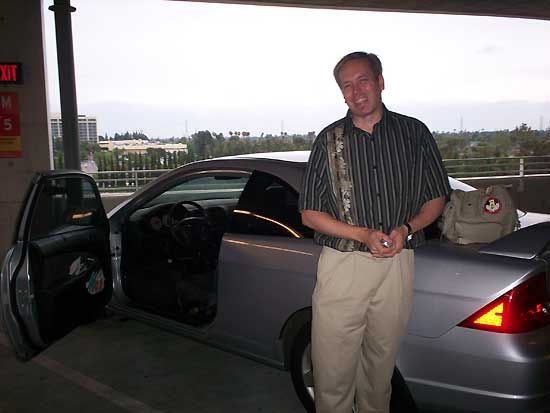 Aladdin and the Car of Wonders.
And then we sped off into the cloudy sunset. Overall it was a beautiful day at the park. It was wonderful to see such a great turnout for the One year anniversary of the Single Riders Meet and to be able to spend nearly the entire day with my fellow MiceChatters. They really are a great bunch of people. The best part of the day, to me, was the fact that whether you were Single or not, young or old, gay or straight, whatever nationality, we were all there because we had a common interest in Disneyland and were able to use that to break the ice and get to know one another a little better. It worked for last year's group of Singles and who knows what will come of this meet. Thanks to all who showed up and I look forward to many more meets to come!