Last weekend, my wife and I visited Disneyland, and while we there, we were asked to by a couple of golden mouse ears for a couple about to celebrate their 50th anniversary. They asked that the hats have the names "Memaw" and "Pop Pop" put on the back since this is what they have always called their Dutch grandparents.
When we asked the CM to put those names on the back, we were told that we could put Grampa, Gramma, a variation of these 2 nicknames, or there proper names on the hats but not Memaw or PopPop. My wife (who was very aware of the line behind us) decided against arguing with a CM and simply asked for their proper names to be put on the hats.
Visibly upset by all of this, I told my wife that we should go to City Hall and ask if something could be done about this. We went to City Hall and talked to a really understanding CM who was not aware of the nicknames Memaw and Pop Pop, and asked if it was a cultural issue. We told her that the grandparents were from a Dutch descent and that on the east coast the aforementioned nicknames were not uncommon. She contacted the manager of the Madhatter and told him the situation, and then she told us that he was going to make us a new pair and he would run them over to City Hall, which he did.
In talking to the helpful CM, we found that Disneyland is having some issues dealing with the numerous cultures that make up this melting pot we call America, and that the hat embroidery issue is being addressed at this time because of issues such as ours.
They have their work cut out for them. I googled Memaw and Pop Pop, and one of the hits had a list of just grandparent names form various cultures.Here is the list that I came across on google:
Memere, Pepere, Poppy, Poppie, Mamie, Mayme, Meema, Meme, Nana, Da, Papa, Glam-ma (for the glamorous grandma), Grandpa, Granddad, Gramps, Baba, Grammy, Bubbe, Nanny, Mamaw, Papaw, PawPaw, Mema, Pop Pop, Bop Bop, Gram, Gigi, Oma, Opa, Grampie, Poppa, Grandmom, Grandmother and Grandfather.
This doesn't even include the nicknames for moms, dads, aunts, and uncles. I told the CM that I don't envy Disneyland trying to come up with a policy that is going to work for everyone.
I realize that Disneyland had to do this because somebody thought it would be cute to sneak in an offensive word in another language, but why do they have to change policy because one person tries to pull a fast one at the Park, instead of confiscating the offensive mouse ears from the offender?
Anywho, we got the ears for the dear old couple. After 50 years together, they deserve more than mouse ears... they should get a trip to Disneyland!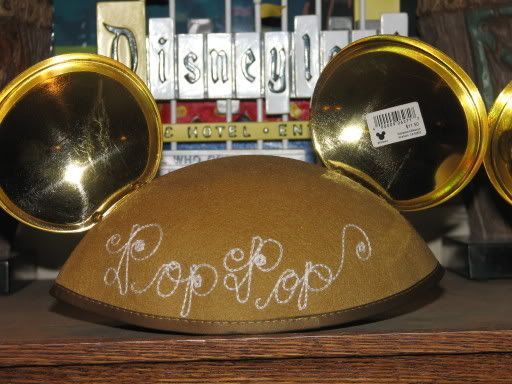 P.S. As a sidebar, we were told that Disneyland is still planning on getting rid of the manual hat writing machines that are still in use in the Park.
</IMG></IMG>