Went to Disneyland for the the weekend to celebrate both a graduation (MiceSteak's) and a birtday (my 19th). I didn't have too much time to snoop around the parks for some sneaky pictures because MiceSteak and I were treated by the amazing Peoplemover1 to the 50th Anniversary "From Imagination to Celebration" tour. It was so, so much fun and our
tour guide Karen
was so nice and funny. Even though most of my day in the park on the 2nd was taken up by the great tour, I still managed to get a few pictures for all of you
Enjoy!
STAR TOURS FASTPASS
It's been a few weeks now since Star Tours' FastPass was removed for good. Yet, the signage for FastPass has remained, in a slightly altered version. They've placed (hopefully) temporary signage over the permanent signage. Hopefully this more permanent queue entry signage will be removed and replaced with something less ugly. The temporary signage looks pretty cheap and like a quick-fix until something better comes along - so let's hope that's just what it is... a quick fix.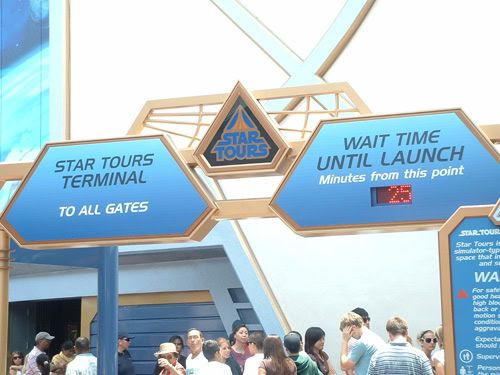 MAIN STREET OPERA HOUSE REFURB
There are some construction walls up inside of the Opera House exit lobby. It smelled like paint, so I'm guessing its just some painting going on inside, but the walls took up a big area of the exit lobby, so maybe there's more going on? One can guess, but there probably isn't.
INSIDE PIRATES ... NO MORE!
They've found me out. Or at least I can pretend I had something to do with it, but for some reason or another, Disney has covered up the remaining windows into Pirates of the Caribbean. Unfortunately, this means the end of my "Inside Pirates" picture updates. Luckily, we're getting closer to the re-opening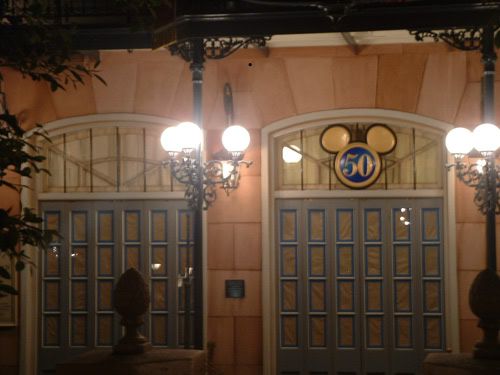 I used to crouch down very low, on the landing right in front of the Galery window (print-on-demand room) on the left Disney Gallery staircase and snap the pictures while my friends while my friends would let me know if people were coming, trying to get by. With the windows covered now, I won't be able to do this anymore.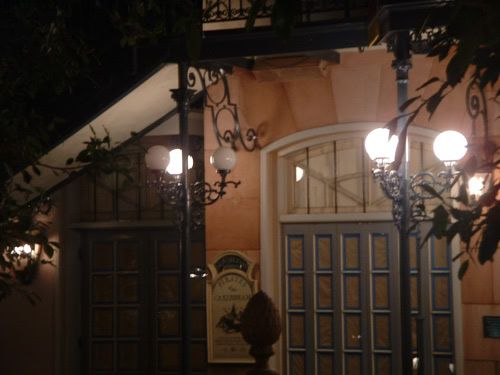 SPEAKING OF PIRATES...
They've re-released the 33rd Anniversary Pirates of the Caribbean soundtrack album that was produced by RedDotNet. The CD features new much better, stronger, cleaner album art and a tracklisting on the back which features the same exact tracks as the old CD, but with new track names. Sorry for the blur on the next picture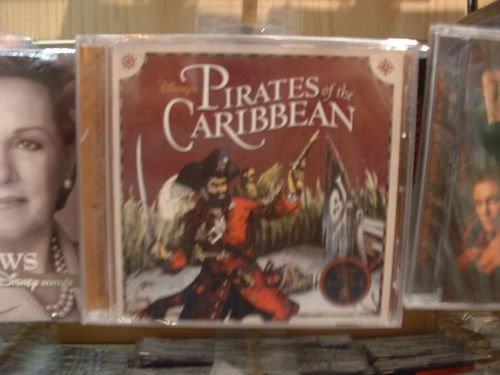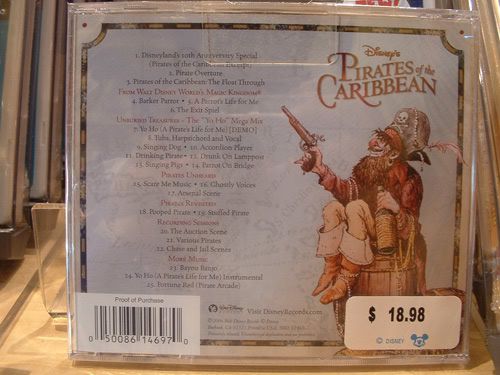 Here's a picture of the old album (which I own a copy of), sorry for the blur.
And I know that this display has been up for a while now in DCA, but I really thought its really nicely done. The skeleton parrot in there is animated and moves it's wings and swings on the rope. Really nice for an in-store display!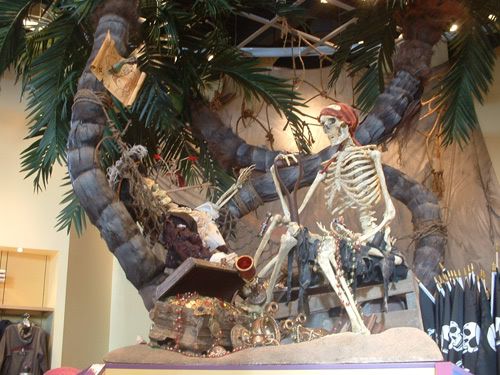 ...Speaking of DCA...
How long has this brown wall in front of the former Hollywood and Dine building been up? I thought they were using the tables and umbrellas that are behind that wall for a seating area for the little food truck?
COMING SOON TO DOWNTOWN DISNEY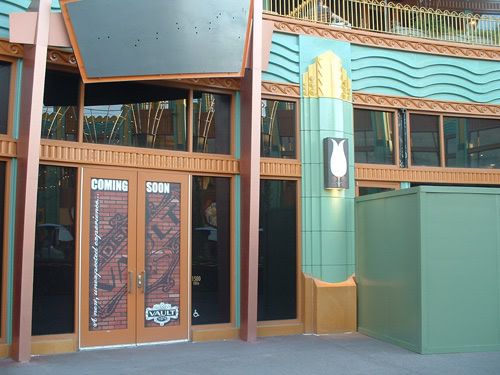 The new Vault 28 store is in the works in Downtown Disney. The tagline on the door says "a new, unexpected experience..."
I like the new logo for the store, but the brick background design is ugly. I hope bricks aren't part of the themeing for the new shop... It reminds me too much of my local Hot Topic store.
Illuminations is closed. A small sign on the window said it would be re-opening mid-June, I believe.
--- MISCELLANEOUS ---
Here are some just general shots of things around the Resort. A new book, a new guide map, Space Mountain, the Disneyland Hotel, and more...
DISNEYLAND HOTEL
I really love the grounds of the DLH at night.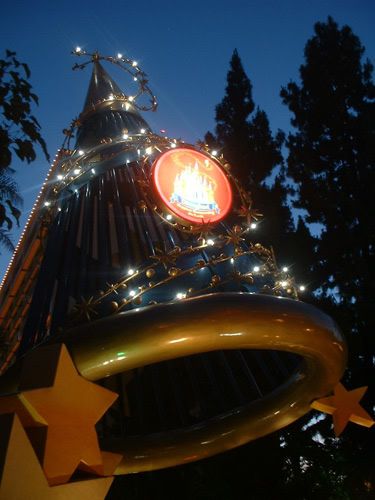 The waterfalls are.... just... wow.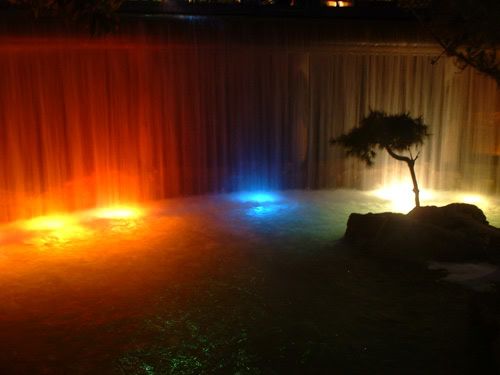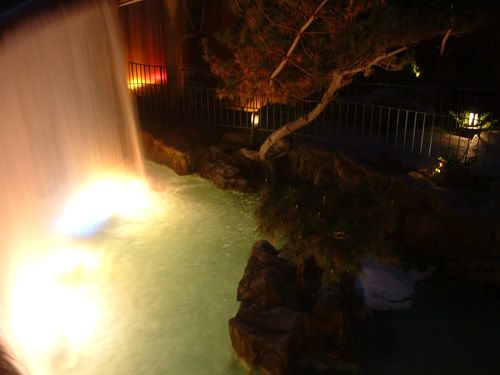 FIREWORKS
Is this haunted room
actually
stretching?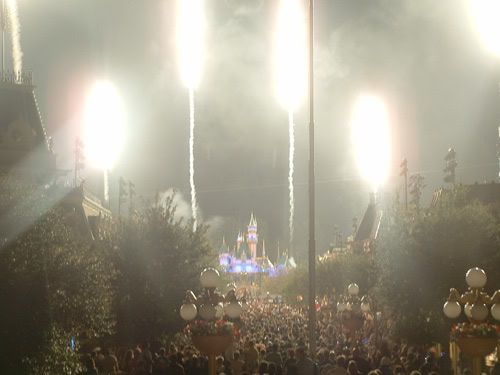 TOMORROWLAND AND SPACE MOUNTAIN
I just kind of liked this shot - Space Mountain reflecting in the windows of the upper level of the Starcade: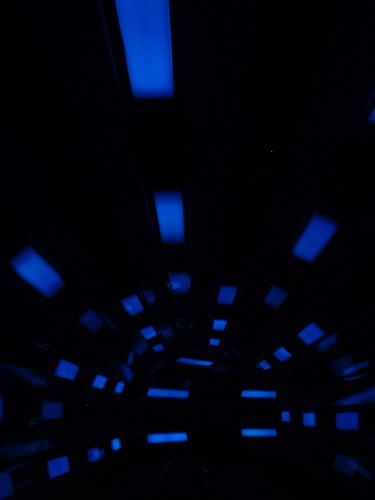 NEW EPCOT IMAGINEERING BOOK
I think it's strange that they're selling these all over the Disneyland Resort since it isn't Walt Disney World, but I guess its all in the same company, right? Anyway, they've released the next book in the "Imagineering Field Guide" series.
....And lastly...
They have a new guide map for families with "little ones." The map features a mixture of Shag's 50th Map and "5 Lands" artwork and other art which tries to match that of Shag's. It's really kinda cute and has very simplified maps of both parks with lists of attractions in each land of both parks that would be best for families with "little ones." I didn't feel like scanning the inside tonight, but if you for some reason would like to see it, I'll be happy to scan it for you. Here's a photo of the front of the map:
Anyways... that's it. I hope you enjoyed the update.
If you want larger versions of any of the pictures reply here or PM me and I'll see what I can do for you