I didn't take many pictures (I was too busy having fun!) I do have a few photos though. But first I'll tell you about my birthday, demon, anniversary and non ambi-turner disneyland day. Ya It was pretty eventfull.
If you have ever watched the movie Zoolander. You'd know what being a non ambi-turner was. My boyfriend and I made a bet that the moment we walked through Disneyland gates we were not allowed to make left turns. Which is really hard especially at Disneyland. So we basically looked like dorks turning in circles to the right, when we wanting to go left. (It's really funny looking when your waiting in line.) I lost the bet I kept forgetting.
We arrived at Disneyland around noon-ish. I was amazed to see it was barely crowed. We first went over to DCA, got our birthday stickers, then went on Soaring. We got lucky and sat in the front row. Next, we proceeded over to Monsters Inc. we sat in the back. I was happy because Roz talked to us. She asked me if my boyfriend was my husband, said if he caused trouble, to come to her. (I feel special.) Then off to California Screaming, sat in the back of that as well.
Those being the only rides we wanted to go on in DCA, we left for Disneyland, and didn't even have to wait in a big ol' line to get in. We then went on It's a small world. Scared my boyfriend, the little children can be scary sometimes but either than that, it's just fun to clap and sing along. Then, we headed over to Toontown. We wanting to go on Roger Rabbit, but it was closed. The cast member said that it would be closed for 45 minutes so we waited at the fountian til it opened which took only five minutes. After that it was off to the Matterhorm. My boyfriend waited in line while I went to go get fastpasses for us for Space mountain. I suggest that you not do that, didn't realize how quick the lines moved, by the time walked to Space and ran to the Matterhorn my boyfriend was already in front of the line. Just as we were seated and buckled into our bobsleds the ride broke down.
We didn't want to wait 45 minutes for the ride be working again, so we got out of line, walked over to Adventureland rode the Jungle Cruise and had a very odd birthday song sung to us. After that we rode The Haunted Mansion. The ride broke down for a couple of minutes. We stopped right next to the new bride. Didn't know her expressions were so funny looking. After that it was Splash mountiain and then Winnie the pooh. I don't think pooh's a very popular ride the line was only five minutes long, actually it was shorter than that. We headed over to Fanstasyland and rode on Snow white and Peter Pan. It was sad though a some little kid lost their doll on that ride. When I was waiting in the queue area of Peter Pan I was near the enterance, just before you enter the childern's room I looked down at the rooftops, I saw a Rainbow Bright doll laying on the floor.
Next, I took Hilsbro_Mclemington_III's advice and rode Mr. Toad's six times. Although we weren't able to go on it at six. It was eight-thirty by the time we got out. After that, It was Indy which sort of broke down. It was after the rolling boulder scene we were looking at Indy next to the broken boulder, for a couple of minutes. We ran over to Buzz, I was beating my Boyfriend pretty badly at the beginning, but at the end of the ride he won, I was at level 2, he was at level 4. Just as we got out of Buzz, the fireworks were just about ready to start, so we ran over to the Matterhorn, and waited in line, while Tinkerbell flew down to her tree. We boarded the bobsleds, and as we were riding we watched the fireworks. It's really fun to do that because your not paying attention to the ride except for the yeti that screams at you. We finished our day, by riding Space mountian, then getting sick on Stars Tours, and getting on the very last Train and rode it on a round trip around disneyland.
Well that was my Disneyland and I enjoyed every moment of it.
Here are the pictures I took not very many but oh well.
(And yes I know the dates are wrong. Also sorry about the size I can't resize them. My program to do so isn't working right.)
R for my name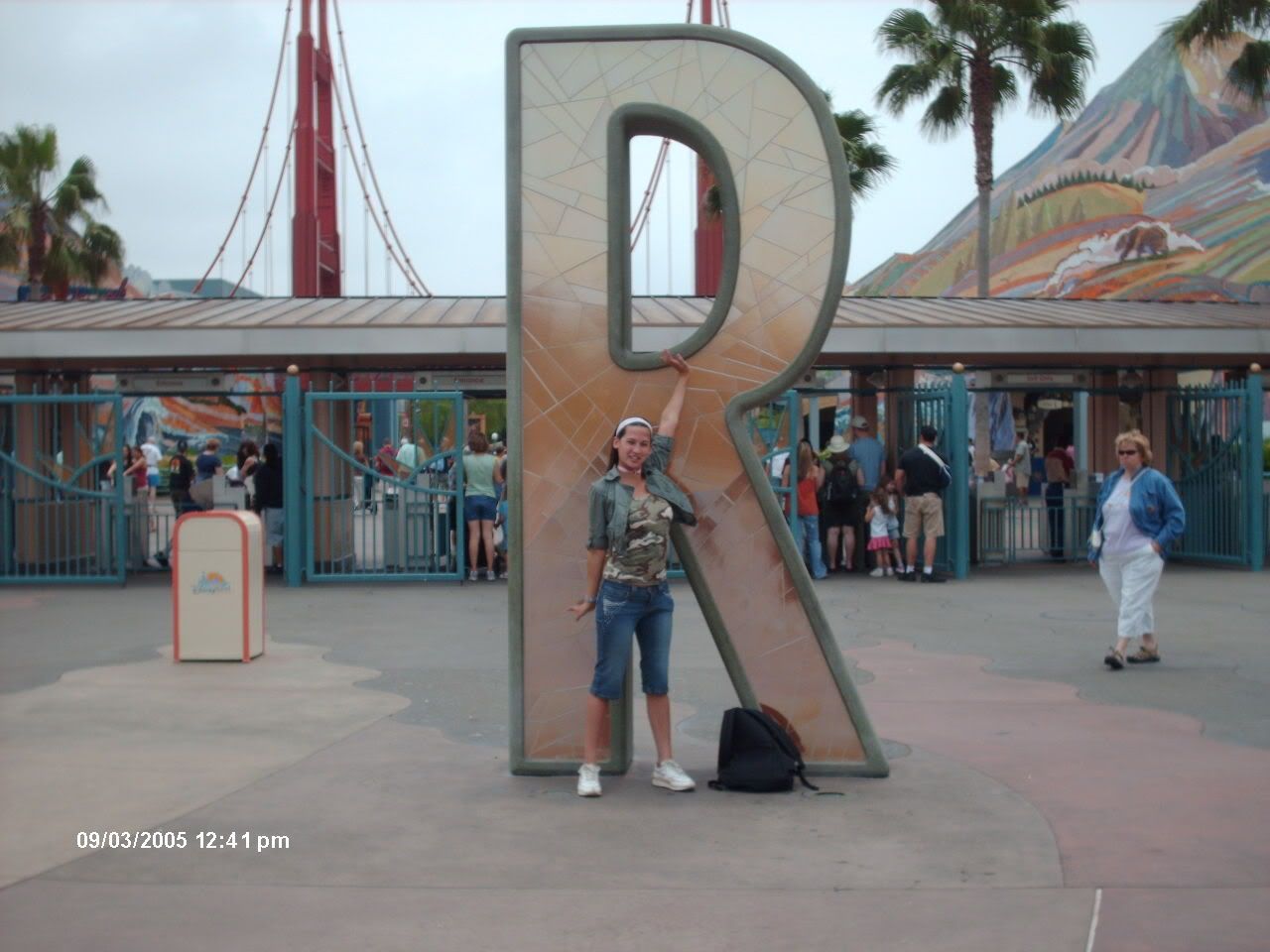 C for his last name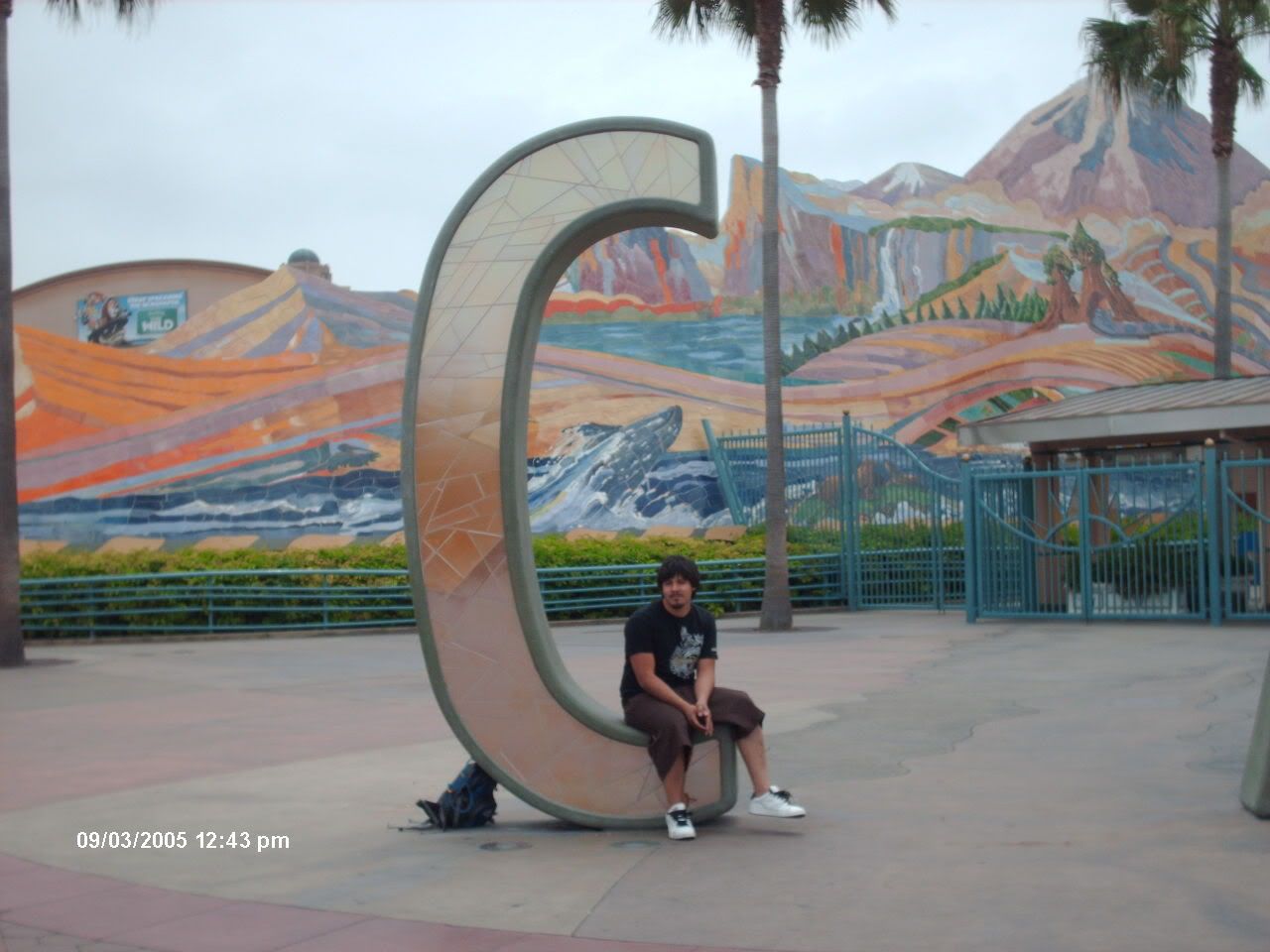 He thought Pluto was Goofy :lol: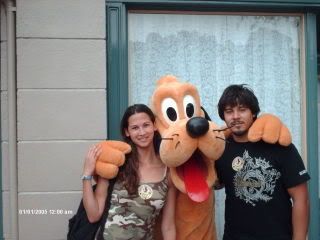 He he I had to do it again!:yea: :yea: