OK, let's get started...


And once again, this photo update is
Better
than any photo update Master Gracey has ever done. Guaranteed.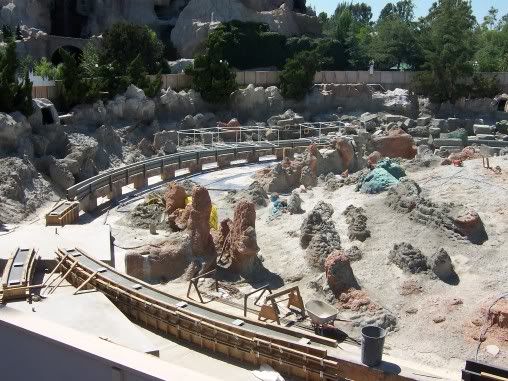 I bring you- subs.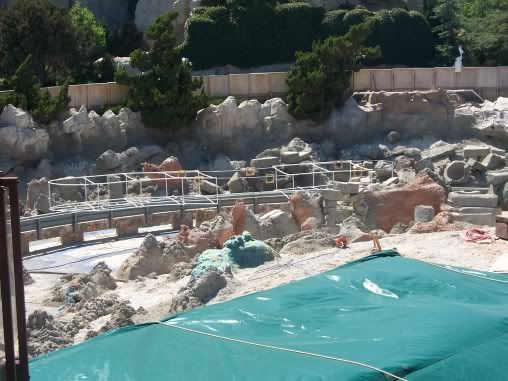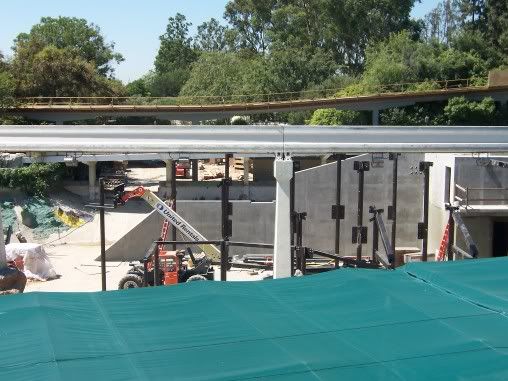 The black structures to the left of the concrete show building, seen here, is the most recent addition.
Closer shot.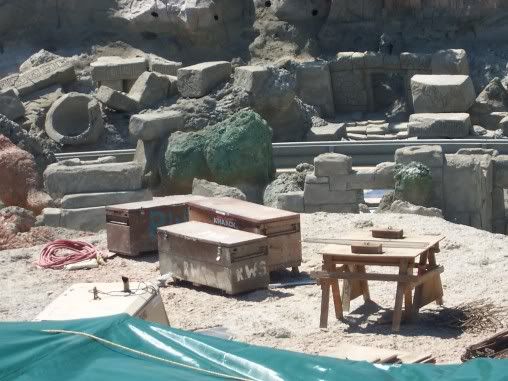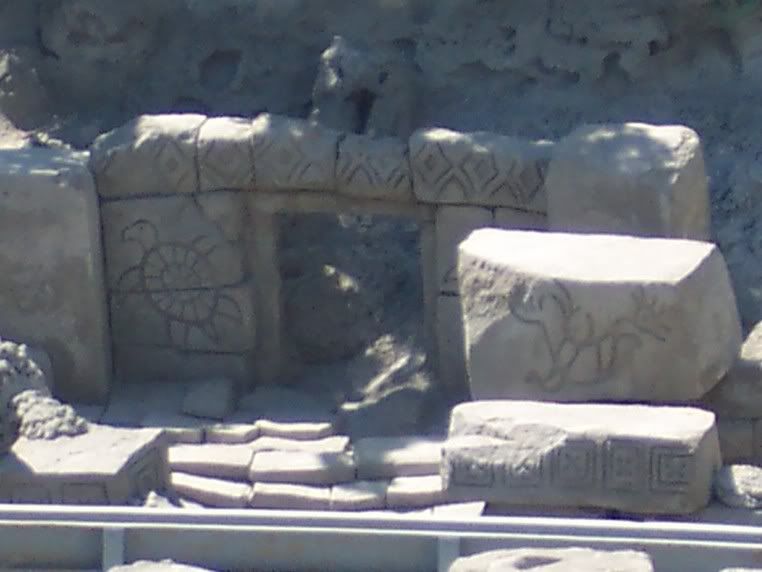 The zoom on my camera sucks.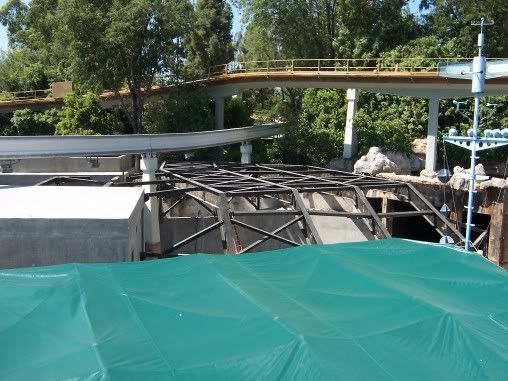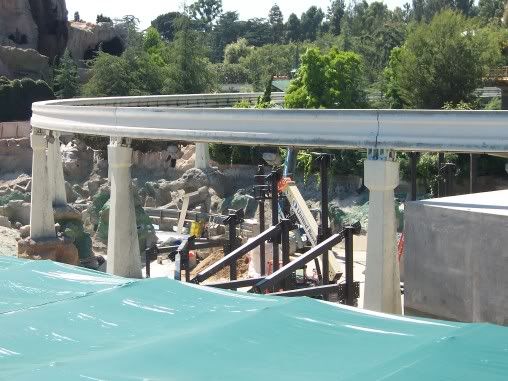 A final look back at the new stuff.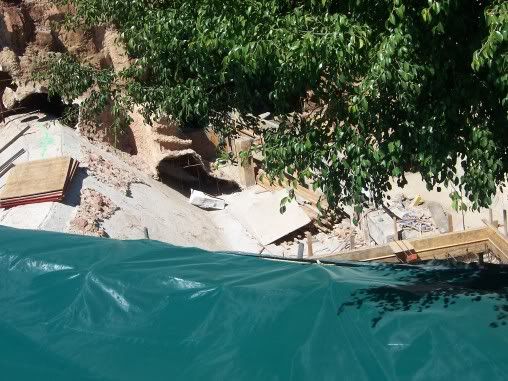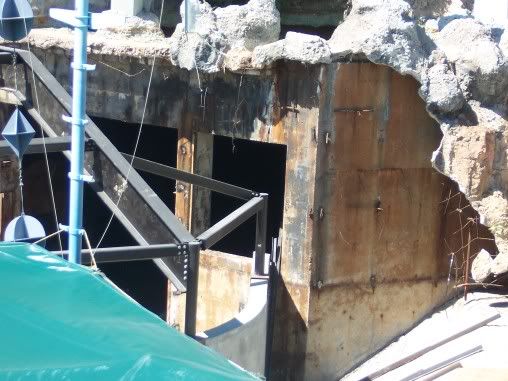 See, isn't this photo update great?? It's better than Andy's already! :ap: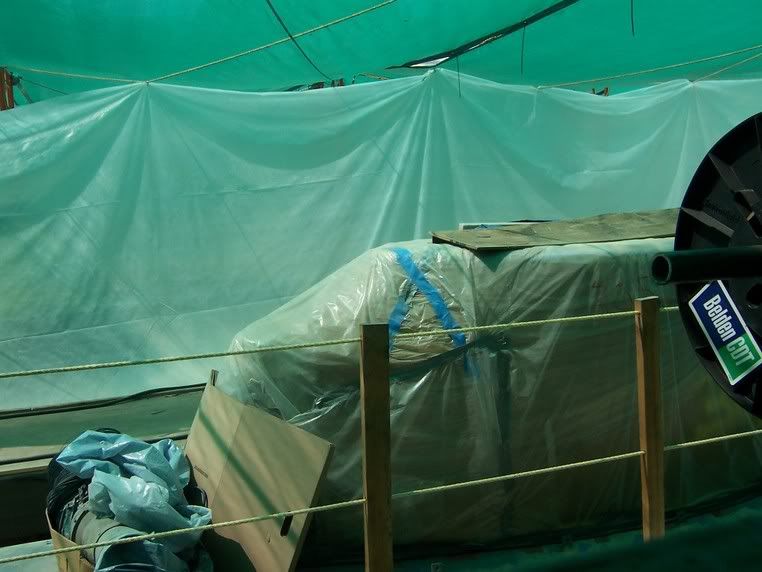 There's a flap in the tarp just for me in the Autopia shop. I stuck my head in.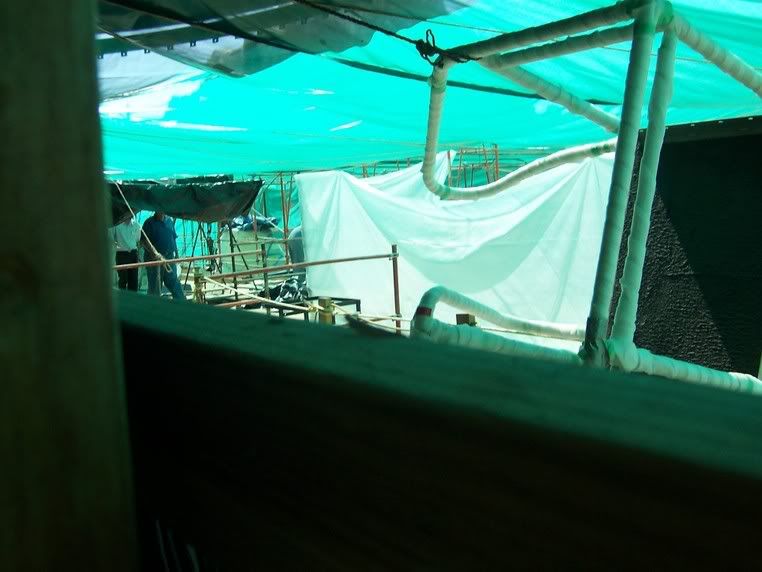 That guy over there saw me peeking in. He didn't look too happy about that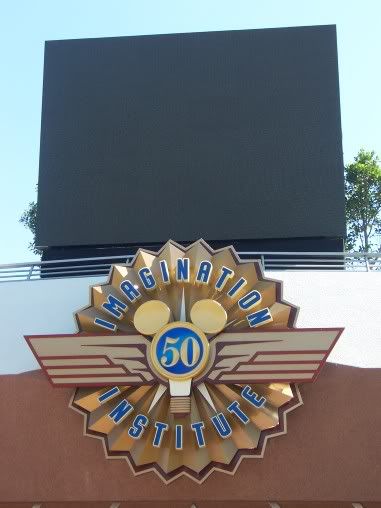 ...You know, it would have been innovative to use that LCD screen meant for GradNite to promote HISTA. Goodness knows the show could use some, and Space Mountain was broken down when I took this shot! I didn't see many takers for the show.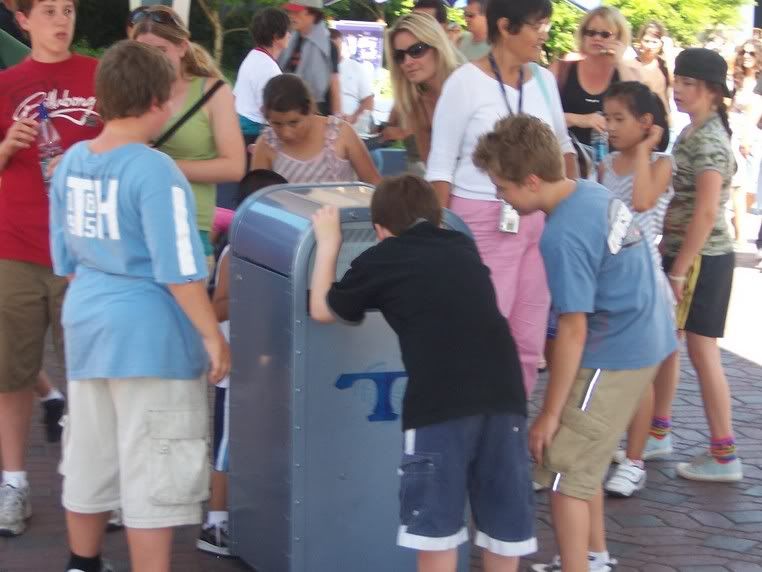 Fuzzy shot, but it's fun to watch how kids react to Push.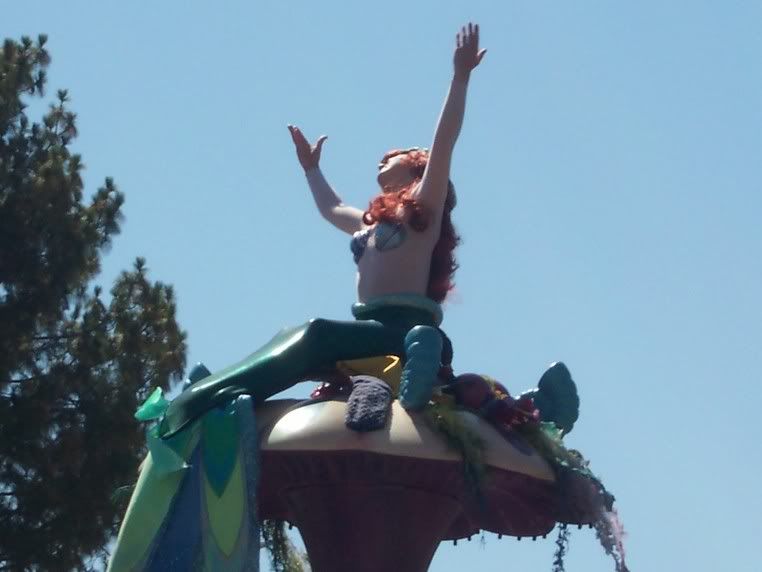 Taa Daa!
:blush: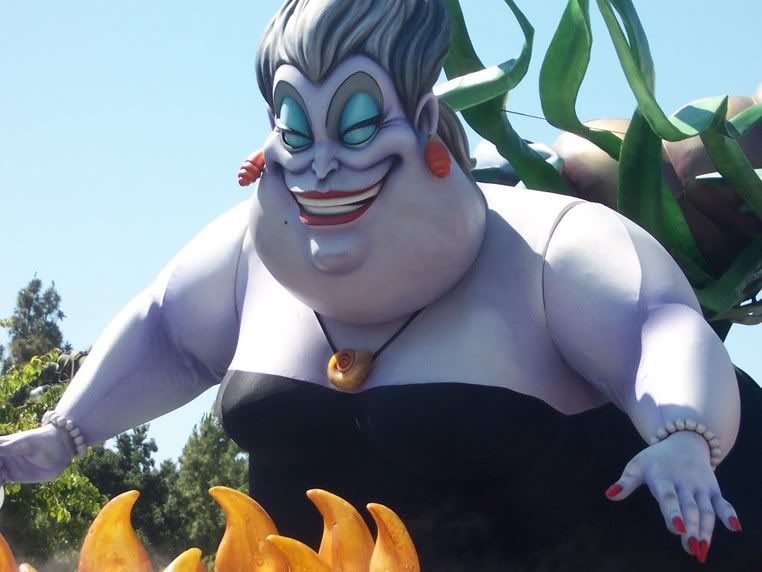 Ursula- "Ha! Now you can't see me!"
j/k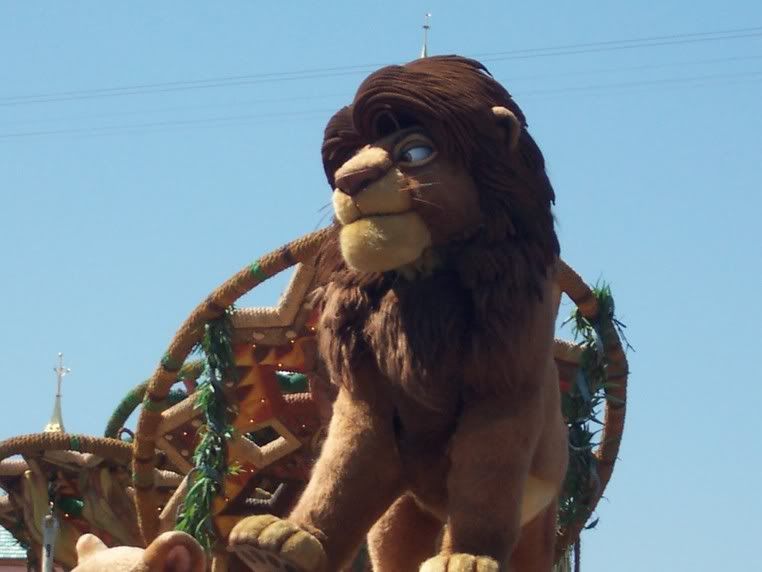 Isn't this shot cool? Look, Simba is crowned by the top spire of the castle!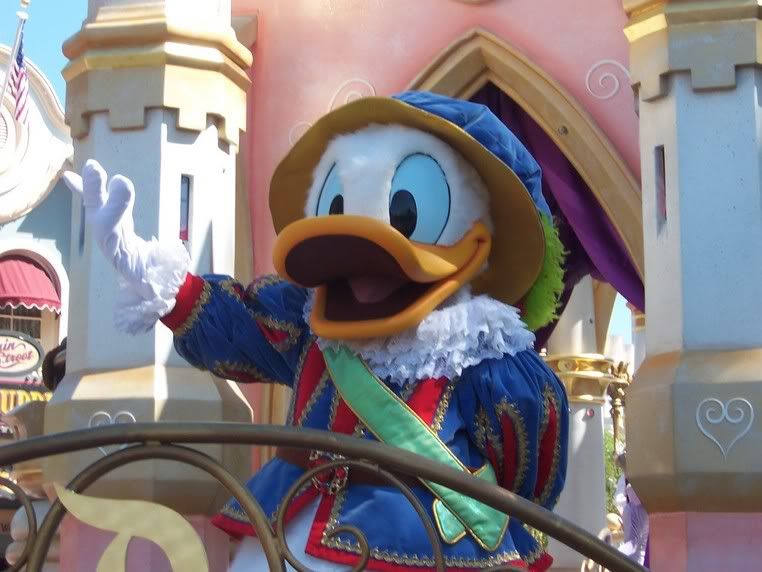 Who's got the sweetest disposition...
...one guess, guess who!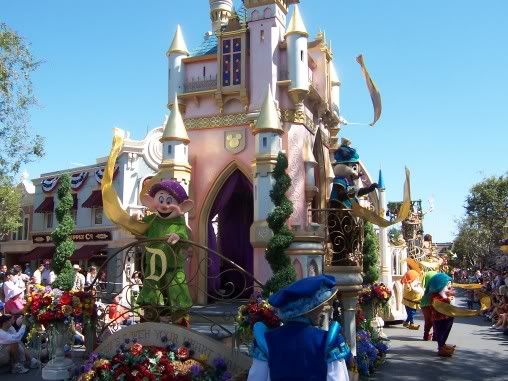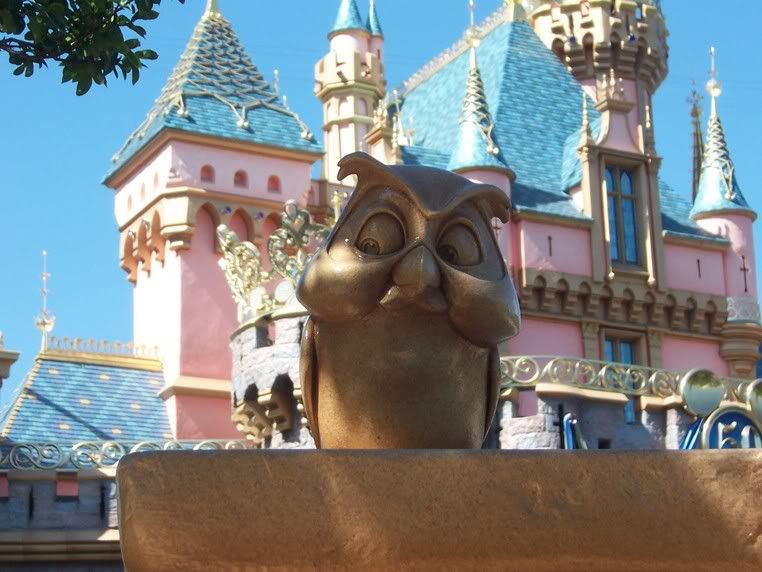 Whooo, me??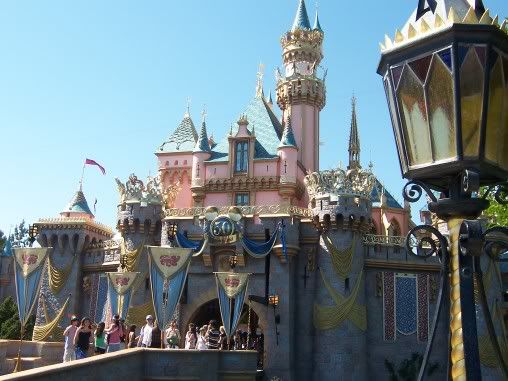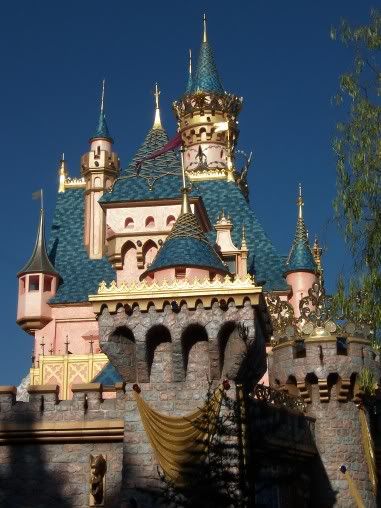 This is by far my favorite shot. I sat down at a table near Carnation Stage and this was essentially the view I had while I was studying for my history final on Vietnam. I took the final today- I got a D+ on it LOL.
) But it's OK because I've had like 100% all semester, so I'll still get an A in the class. Still though, it's obvious I was....distracted.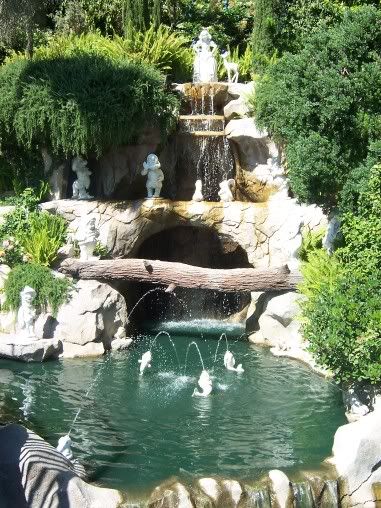 Oh yeah, Snow's show is a go!
Aww, no more showings for today.
Next time!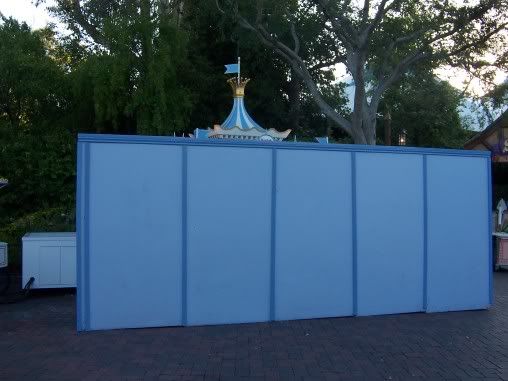 Now this part is especially for DaddyB. In a recent update he pointed out how bad a condition this historic once-upon-a-ticketbooth ODV has been allowed to be in. Well now it's getting some serious TLC.:yea: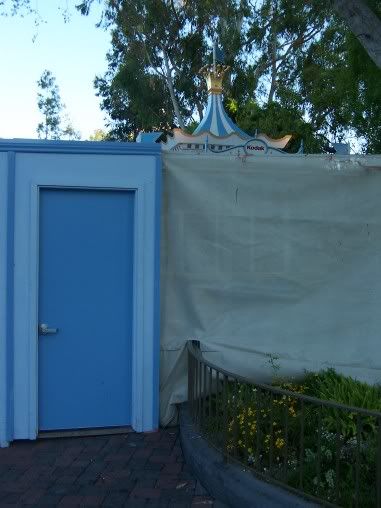 A peek inside the gauze-y tarp stuff reveals that the paneling, which has been in a sad chipped state, has been replaced, or at least painted. I hope it's the former, but it's hard to see exactly.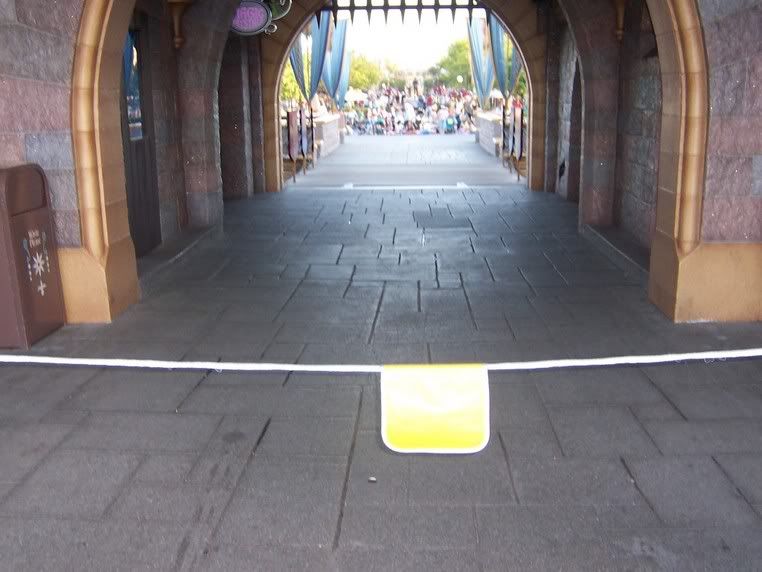 I know the park closed at nine and CMs are preparing for Grad Nite, but why on earth did the castle need to be barricaded at five in the afternoon? Too early.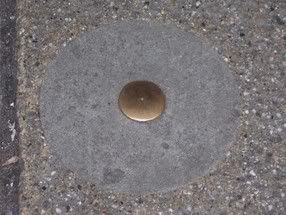 On the bright side, I got this shot. Yay for the geographical center of 1955 Disneyland!
See, Master Gracey would never even
think
to show you
that
!!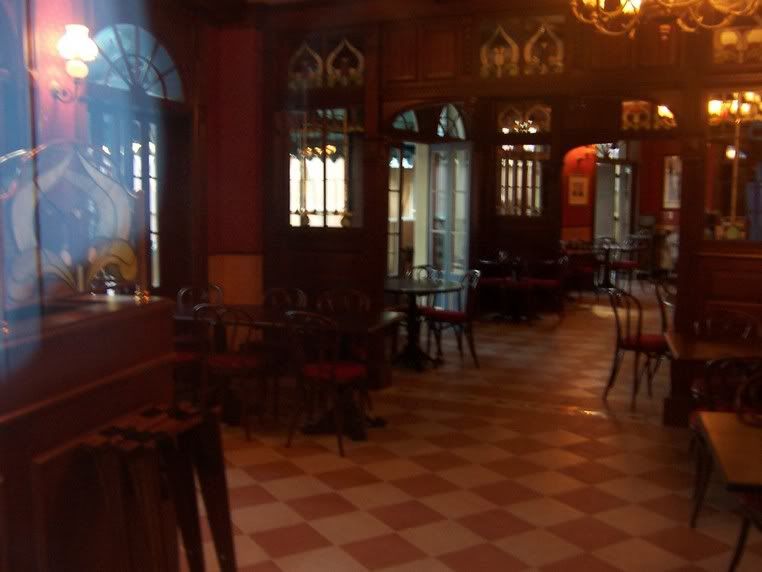 A look inside Cafe Orleans. Opens very soon!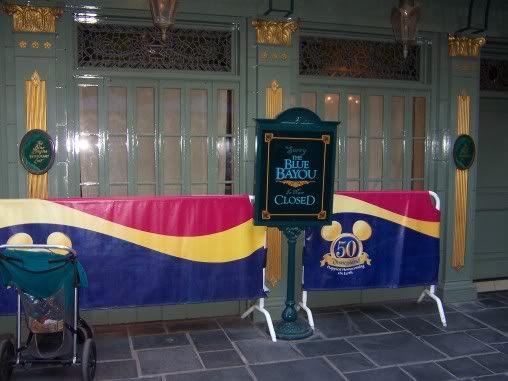 As does this...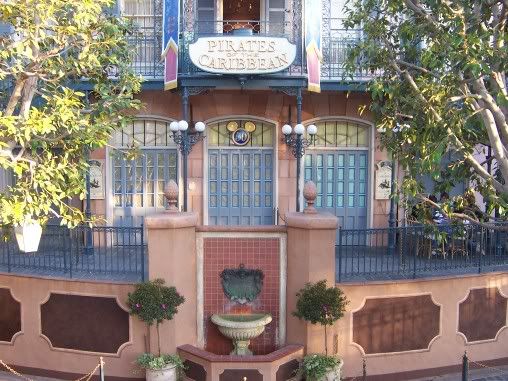 ...and this.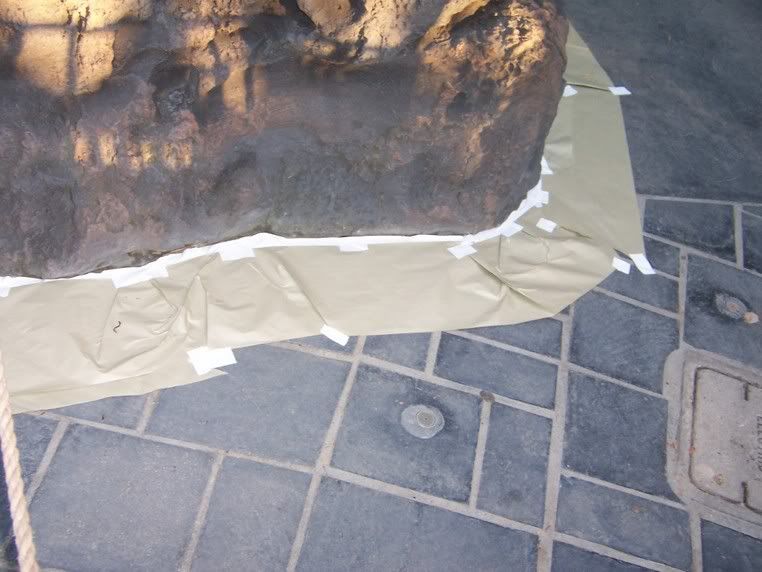 This is looking at the ground at the Tarzan's Treehouse/POTC border, where there's a bit of outdoor queue used for Pirates. Hmm...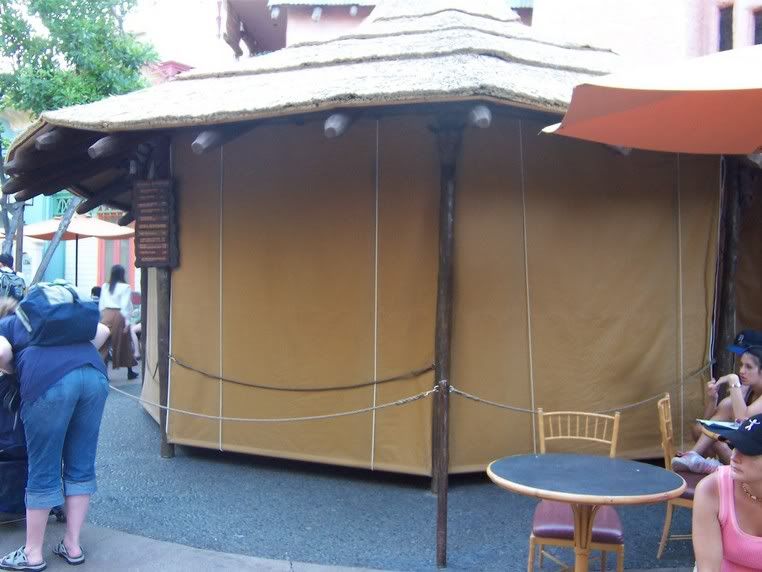 Bengal Barbecue closed during dinner hour. Hmm.
(Master Gracey would never even
consider
placing a moon shot in an update either!
))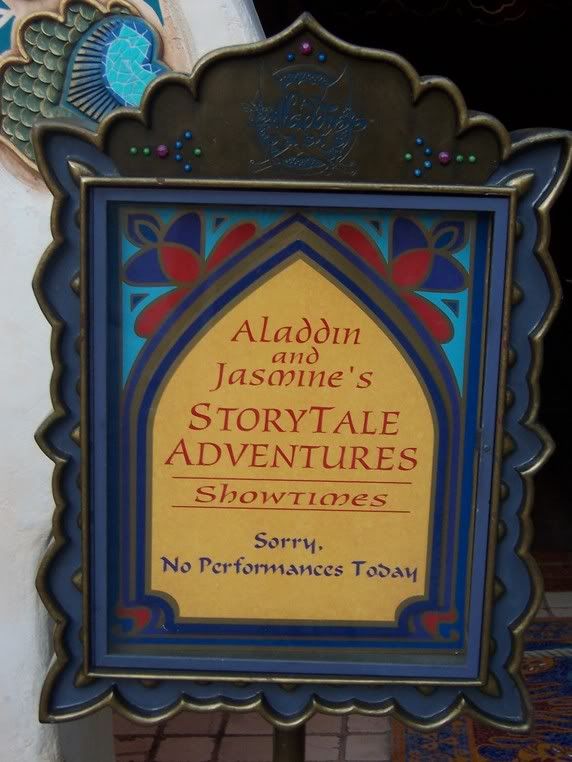 Meanwhile, no Aladding performances either. Hmm!
I'll betcha my CM ID that no one would have even noticed this duck in the water beside the Frontierland entrance if I hadn't been trying to take a picture of it. You'd have thought people hadn't seen a duck before. The shot is blurred because a kid knocked my elbow while moving in to see. I left and came back five minutes later, and
they were still there
.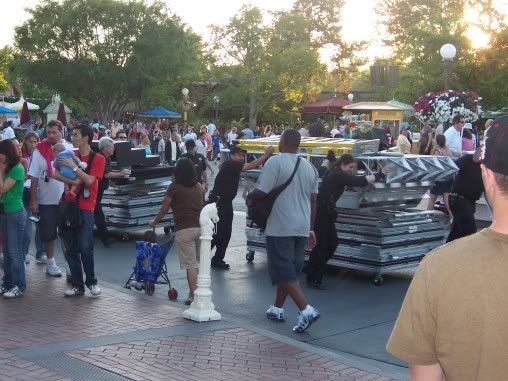 If I were going to Grad Nite, I would have applauded the CMs moving some stage pieces across Main Street.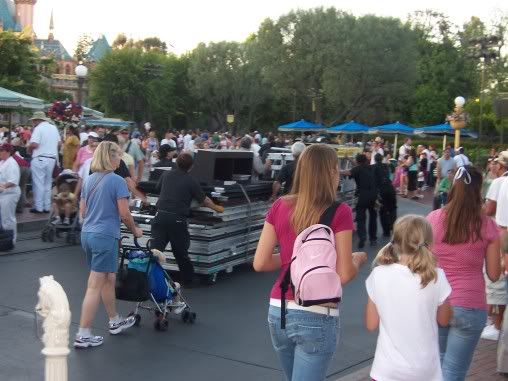 But I'm not, so I didn't.
Still, it's not something you see every day.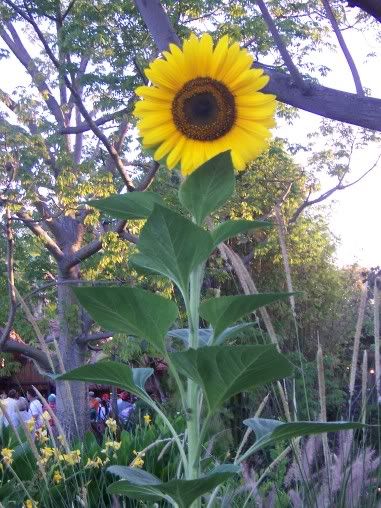 These sunflowers are growing inbetween Frontierland and Adventureland.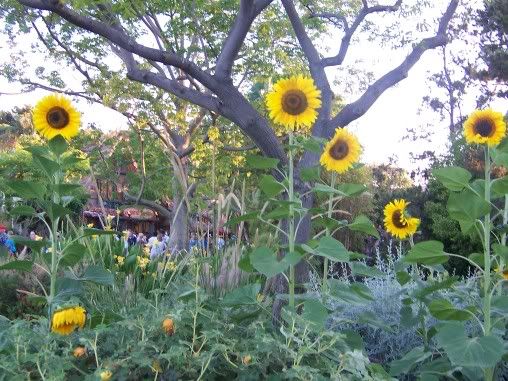 Another tribute to DaddyB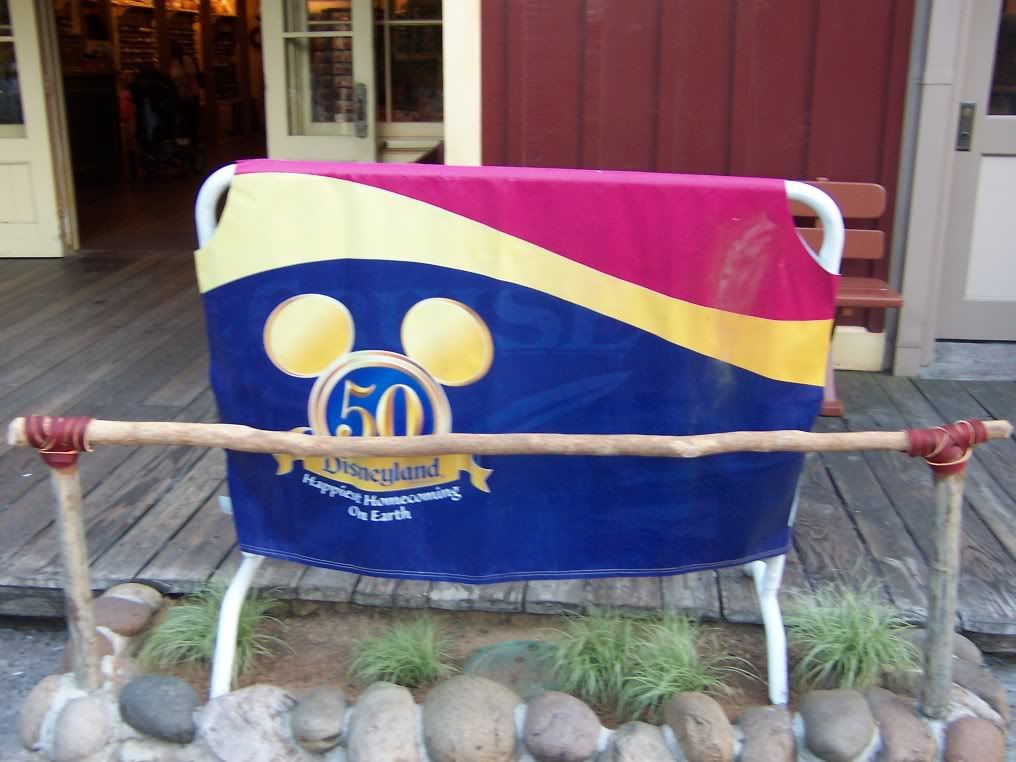 Don't lean on the rail, I guess.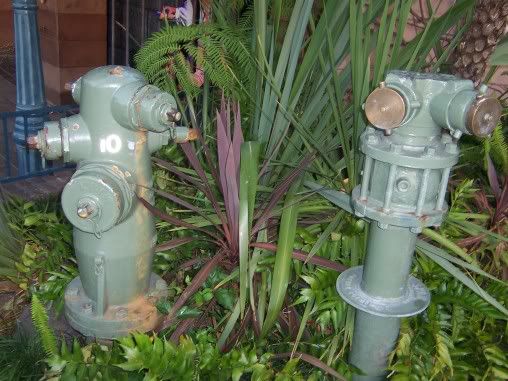 I never noticed these fire hydrants in the planter next to the Pirates entrance...
..And neither would MasterGracey!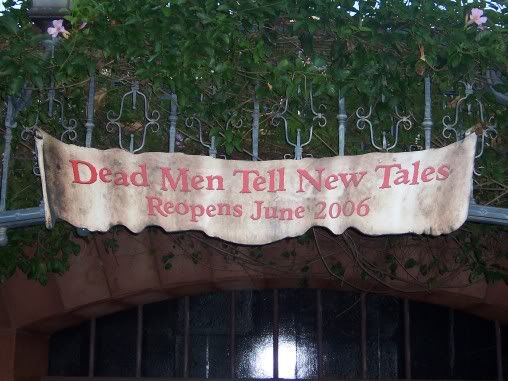 I'm sure you're all very acquainted with this sign, but it won't be long until we'll never have to see it again.
It's only a matter of days now...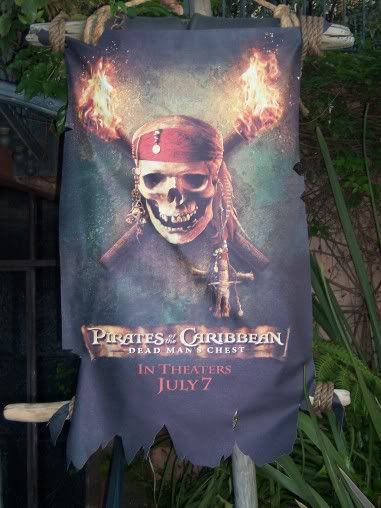 Not long until the movie premiers, either.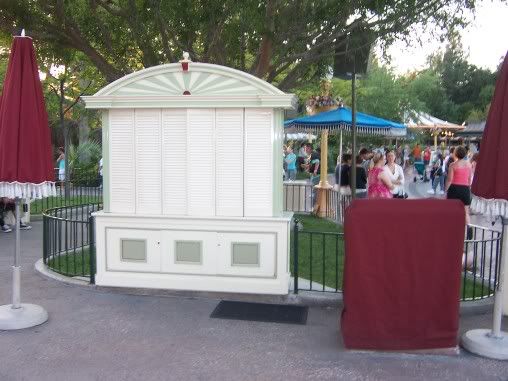 It's Over!