Breaking news...breaking news...the furor over open doors near the soon-to-be-reopened Pirates Of the Carribean attraction took another turn, when a crazed man nearly revealed everything (of the ride, that is
) while posing for some rather silly pictures Sunday morning.
Steve, who goes by the nickname "TicToc" was holding the camera when the unidentified large man decided to pose with a cardboard cut-out in front of the closed attraction. At first, it was innocent enough...
The man told authorities that he'd recently lost his own dog...and felt sorry for this one, real or not.
But then things took an ugly turn when the man posed with the pirate in the other cutout. He told authorities that he lost his balance a bit, and grabbed onto the bucco, and LOOK WHAT HAPPENED NEXT...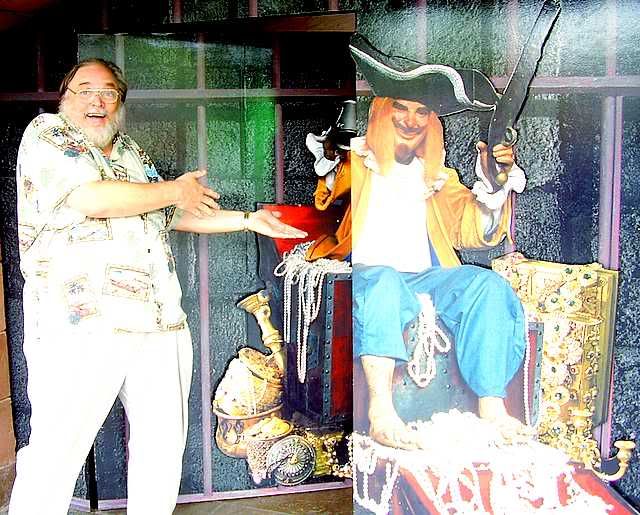 The man said he never meant to open the closed door (he didn't even know there was a door there!), saying something about the hysteria over open doors recently on a fan website called "MiceChat".
The man, at the time a 49-year old recluse living in a bohemian beach enclave, took one look inside...said he saw the "cursed treasure"...and hurriedly left saying something about "telling no tales".
His picture-taking friend swore off any knowledge of the crazed man.
An investigation is continuing.