Unlike most MC'ers who rushed to POTC after the Sunday meet, I headed off to lunch with a few others at Cafe Orleans. I got there after fightingmy way through Adventureland and the crowd exiting POTC along with aerinpegadrack. The host was accomodating to us as with aerinpegadrack we became 9 rather than the table for 8 we had... once we found the host. This here is where the big problems for this restaurant start.
The menu itself is actually pretty nice. Unlike the Blue Bayou, the soups (Gumbo
or
French Onion) and salad are considered starters rather than included with the meal, and the portions of these are sizeably larger. However if you do come here for lunch, let me recommend the Garlic Fries. Truly delicious with just the right amount of salt to counterbalance the garlic. And do yourself a favor and get an order just for yourself. Sharing these can be hazardous.
The entrees as well are pretty balanced. They have a few salads, regular or three-cheese Monte Cristo and crepes. Average prices around $13-$15, which is a lot more reasonable than a certain other locations prices. I had the regular Monte Cristo and it was like feeding off the divine ambrosia. The cheese was melted just right unto the meat, and it was in fact only slightly fried, to perfection. The berry puree that accompanies it is almost a requirement, although they might not give you enough to accomodate the size of the sandwich. It really depends on how much you like it. I personally think the puree was a neccessity because it was a nice colder catalyst to bring out the flavor of a warmer sandwich. Some people tried the chocolate crepe for dessert and for the sounds I heard, it was just as good as the rest of the meal.
The ambience is currently a problem. It was very noisy and we found it hard to hold a regular conversation, but I'm willing to overlook that for now given the bleachers still being in place. Maybe next time eating in the indoor portion would be a better choice.
My biggest problem with the restaurant is the service. First of all, we saw our server so rarely that we didn't even know who she was. It took calling her through 2 different servers just to get our drinks! It was yet another good while before we got to finally order our food... and my biggest pet peeve... my drink was empty for a good 20 minutes before I was able to find our server and actually have to
ask
for a refill. And when we finally got said refill, instead of taking my empty glass and replacing it; she brings out (I kid you not) a pitcher of Mint Julep and just pours it into my glass. Part of why I love the Mint Julep is the presentation. In one smooth gesture, she turned my liquidy Fountain of Youth into Beer at the Local Pizza Joint!!!
IN CONCLUSION:
Cafe Orleans might just actually have the best food I've ever tasted
anywhere
inside DLR, and this includes Downtown Disney. Unfortunately the ambience and the service are just nowhere near even average at this point. Hopefully this will change soon with the removal of the bleachers... and maybe partly staffing issues. Now if only I could get my meal from Cafe Orleans to-go and eat it at the Blue Bayou...
THAT
my friends, would truly be divine.
The menu for Cafe Orleans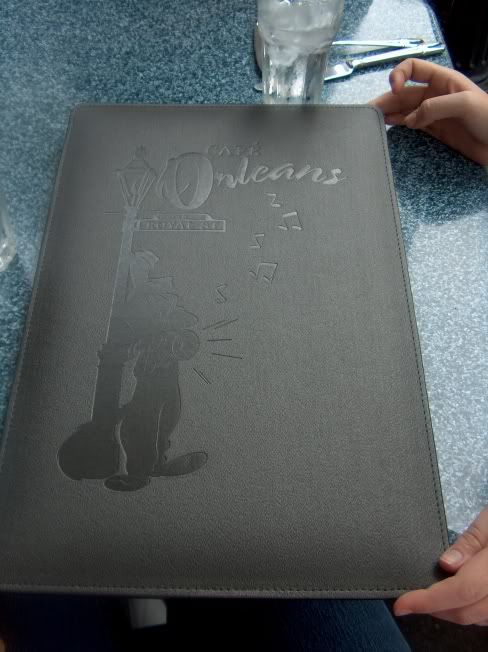 My Fountain of Youth has arrived!
My own personal Monte Cristo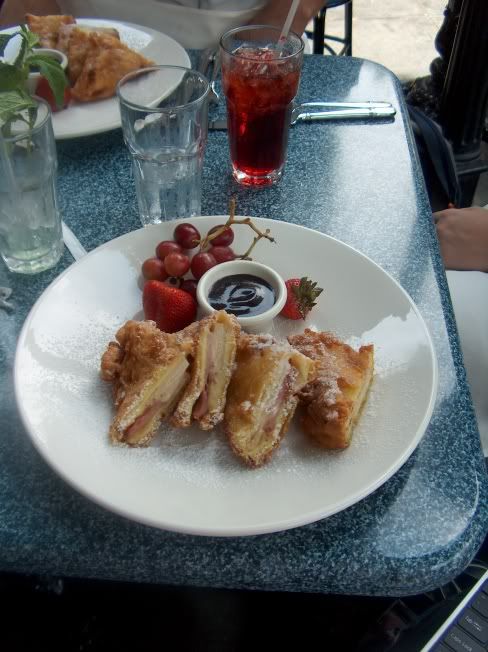 The Three-Cheese Monte Cristo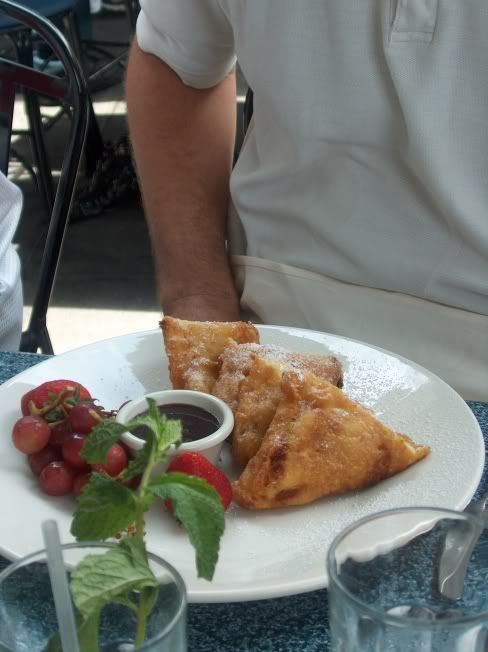 Crab-Salad Sandwich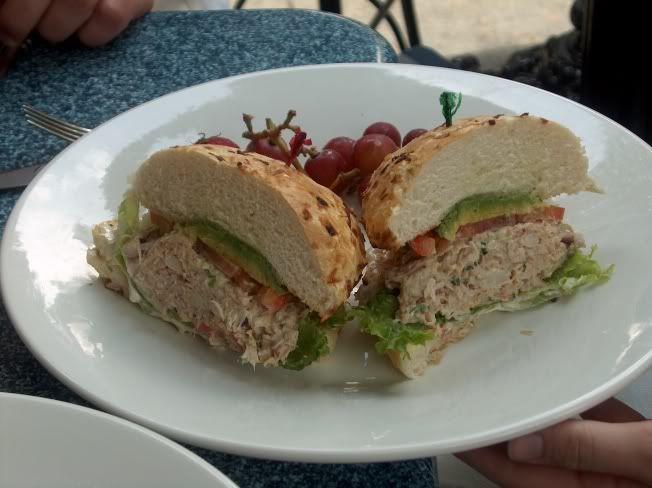 Seafood Crepe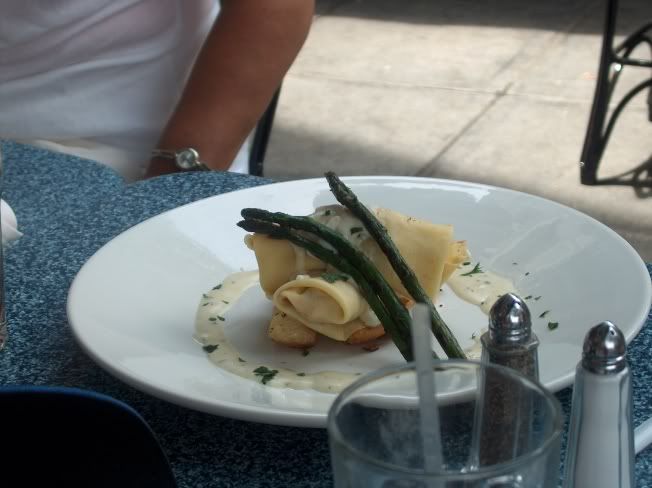 Chocolate Crepe Souffle!
Good Food, Good Friends!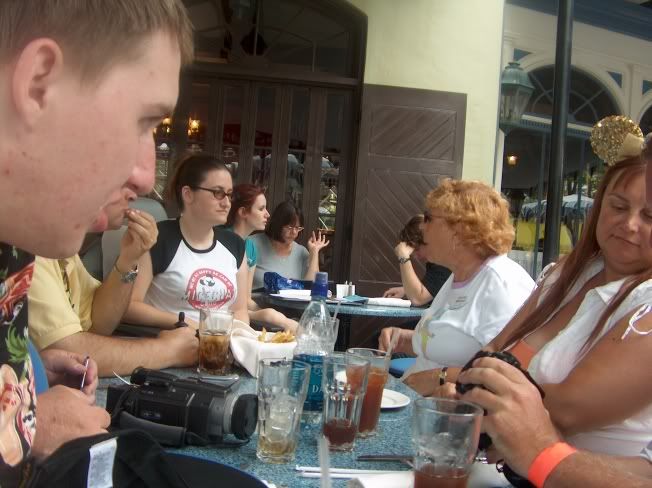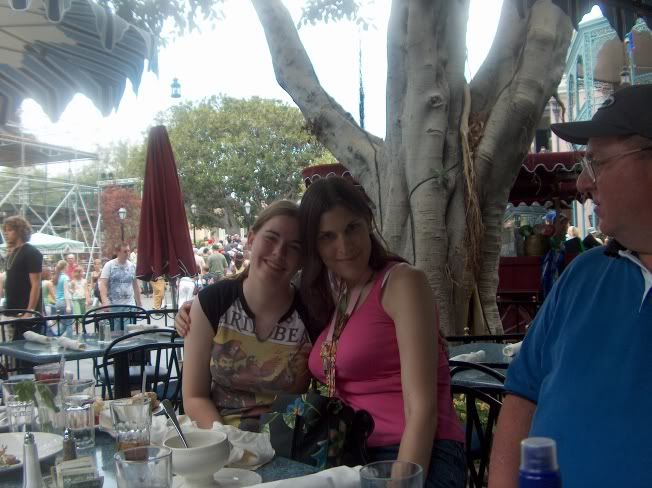 UNACCEPTABLE!!!