Hello again. Today I am going to share some pics from my Xmas 1986 trip.
First some background. I was 10 years old and it had been 7 years since I had been to Disneyland. My little sister was born in '81 so she had never been. Unlike my previous trip I remember quite a bit of this trip. We travelled down to my cousin's house in Danville CA (by San Francisco) for the holiday. Christmas morning after opening our presents (I got the Decepticon Trypticon transformer woo-hoo!) my parents and aunt and uncle announced that we were leaving for Disneyland the next morning. WOO-HOO! So at some ungodly hour my father, mother, uncle, my 2 sisters, 3 cousins, my cousin's Teddy Rupskin and I all loaded into the van and started driving. My aunt is an accountant and had business that day so she was going to fly down and meet us there. My mother hated the drive. Why? Well you can imagine having to entertain 6 kids on the way to Disneyland is a challenge in a packed van. To add to her misery 1 cousin had a bad cold and my little sister had left her pacifier at my cousin's house and was going through withdrawls. Oh and have I mentioned that I was coming down with the Chicken pox? lol. Anyways we survive and my aunt is hanging out in the hotel bar sipping wine when we got there. My mother still talks about wanting to kill her for that one.
Anyways here are the pictures.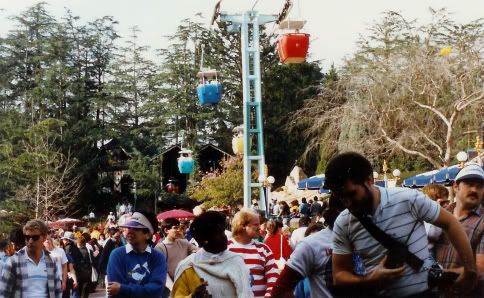 Here we have the skyway. Notice the crowds. Yep just like now on the 27th of December it was packed. My little sister got separated from the family twice on this trip. Luckily in both cases I was with her so I was able to get us back to our family quickly. I knew to stay in one place and that paid off.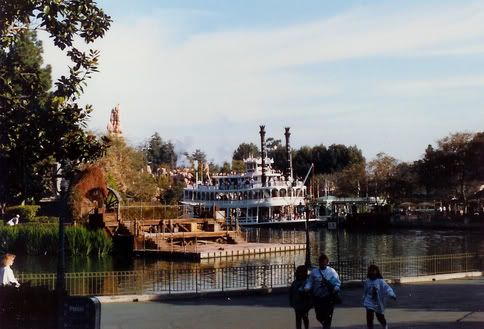 hmm, I don't know where the crowd is here, but I wanted to share this picture because this is the only picture of the Mark Twain my mother ever took (except for in Fantasmic). On my 1979 trip my mom took tons of pictures, but outside of parades and family pictures she took very little on this trip.
Here's the parade shots.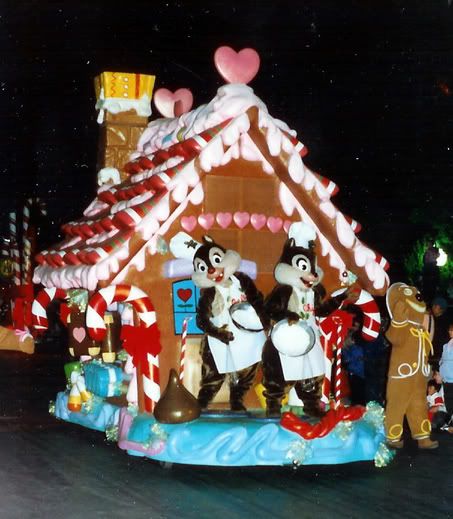 I always liked this float. Interestingly enough this float and the related gingerbread men inspired my mom and dad to create a new yard display with gingerbread men. We decorate our front yard with displays during Christmastime.
One of my biggest complaints about this trip was that I never got to see Donald outside of the parade. The other was that Star Tours had not opened yet and my father and I are huge Star Wars fans so to miss out on that was painful. We wouldn't get our chance to ride until the 90's.
I am posting this picture because it is the same float that they used in the parade in 1979. Do they still use these units in the christmas parade?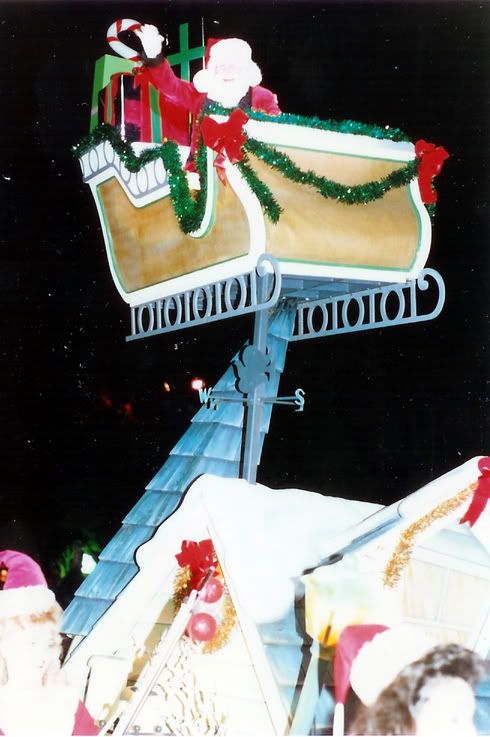 SANTA!!!!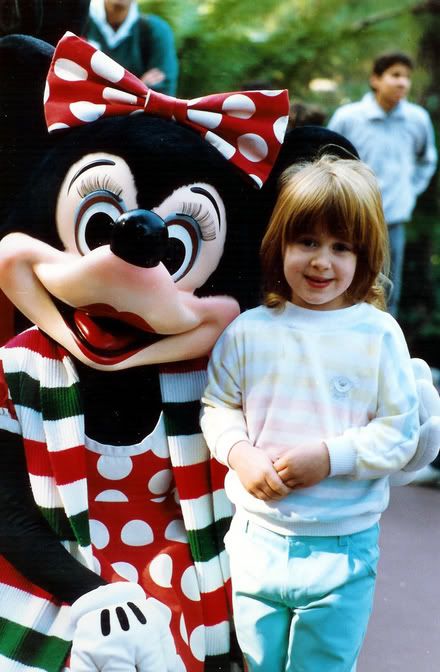 In my other 2 picture threads I have posted a picture with my sister on her first trip in 1974 and one of me in 1979. So in keeping the tradition I present my little sister (5 years old) and Minnie Mouse. This is one of my favorite pictures of my sister (others are a snowboarding picture and in her college graduation gown). Anyways that is all for pictures for now.
I'm going to take another look at that album and see what else I can scrounge up.