We were part of the boat sinking fun on POTC on Sunday, prior to that we hit Splash, HM, POTC(about 10 times during the 3 days :lol: it's my youngest's favorite)Autopia , Buzz and Talking with Stitch(another thing my 7 year old loves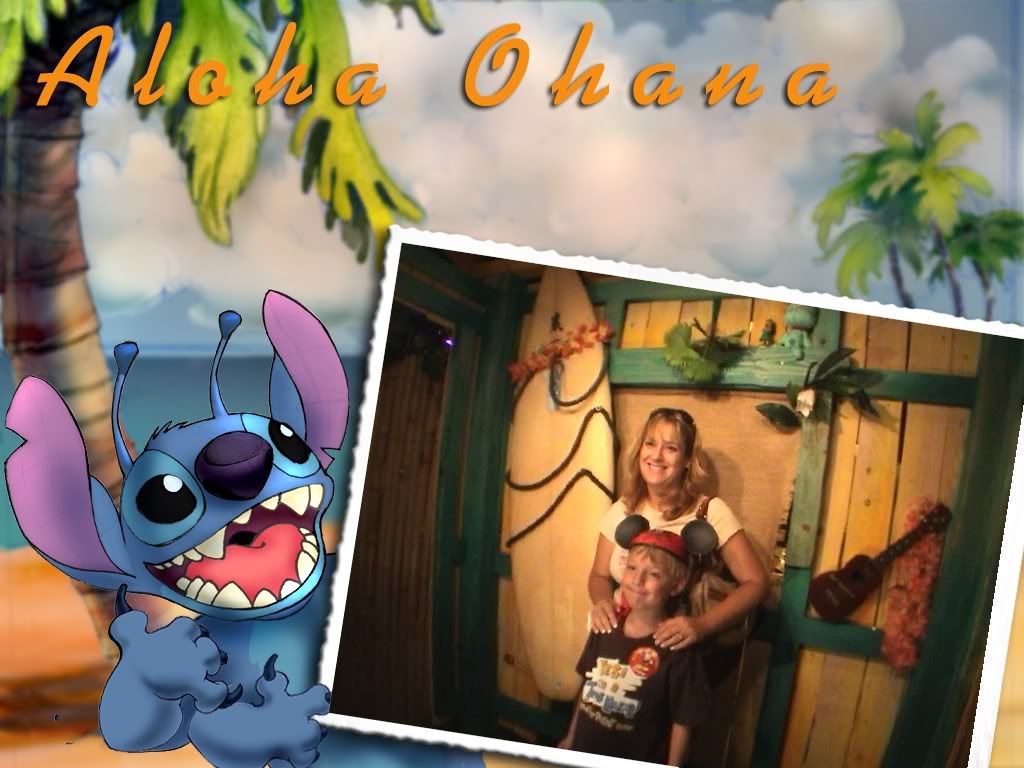 We had fun at the meet, where my 7 year old discovered the glory that is Dustysage, and he STILL hasn't stopped talking about him :lol:
It was great to see so many friends at the meet and to get that ginormous DMCA pictures :clap:
We had a great stop at the Cover Bar for lobster nachos and some great conversation. So great to meet Mcow and the Clinksalot!!
Monday, we were at the park at opening and got through Fantasyland in record speed
BUT before that both boys got their "magic moments" my youngest is a HUGE Peter Pan fan and Peter was there right in the front playing with the kids, he got his autograph and picture and was beaming.
Right after that we saw all the suits lined up and saw Matt Ouimet, my oldest is a big fan of his, he even did a book report on him last year and interviewed him by email. I talked to a castmember(who was WONDERFUL)and she took my oldest over to Matt Ouimet and introduced him to my son and my son got to talk to him for a few minutes and then CM Matt asked to take a picture with him, Kyler was BEAMING!! :love: He was shaking afterwards, it was great. Thanks to All Aglow for getting a great picture of it!!
We watched the birthday celebration, did some more rides and hit that meet where my youngest and Tinkerbelle's youngest meet and bonded within 10 seconds.
The best part of the shot is they were singing "yo ho yo ho a pirates life for me" together!! They were beyond adorable. We did some pictures with the incredible Never Grow Up(awesome photographer, can't say enough good!!)
We gave up on more pictures due to the heat and humidity and headed over to HM where my oldest caught a ride with Limperbelle aka Tinkerbelle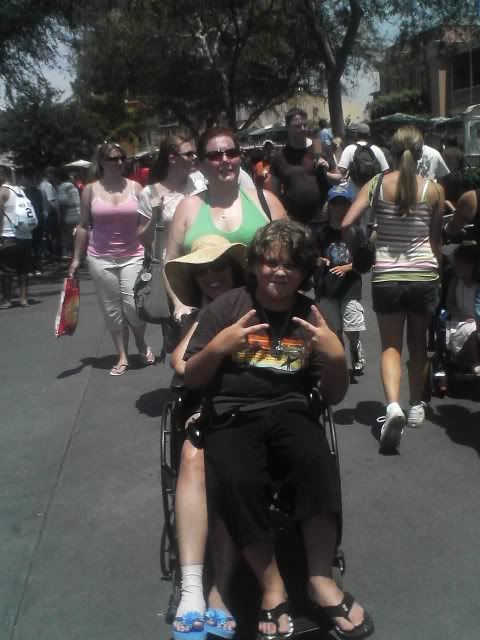 We had collected Where's Barbie, Pixie Chick and Pixie Chick's adorable son, who was the third to the triple threat of my son and Tinkerbelle's son. I took all three of them in one doom buggie on HM, that was an experience!! :lol: They were soooooooo funny!
After splitting up with Tinkerbelle and her adorable son we stopped by first aid for an ice pack for my oldest and low and behold Mickey, Minnie and Aurora were there!! So my two boys and Pixie Chick's son got one on one time with three of them unteruppted!!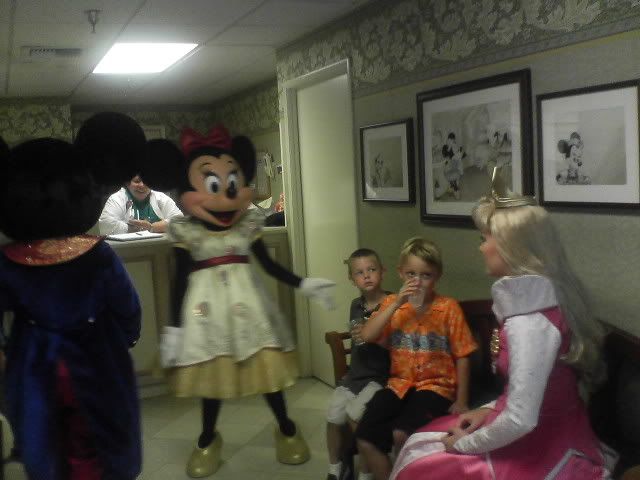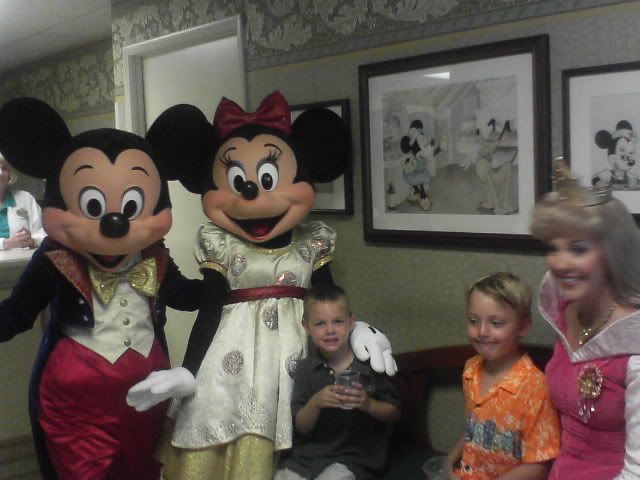 After that we stopped by the Hearthstone and visited more, and did some rides in DCA. We got great right in front of the castle spots for the fireworks, great spots and after that my youngest pooped out while the oldest stayed with our friends from Stockton and Mtngirl and her husband(who so totally rock)
Tuesday was great with a wonderful long leisurely lunch at Blue Bayou, all though I was completely underwhelmed with my first ever Monte Cristo :mob: sorry and underwhelmed with the Blue Bayous new menu period. BUT the Creme Brulee Trio was heavenly
Lunch was wonderful :love:
I finally got a chance to get on TOT thanks to G4 sitting with my youngest who refuses to ride it without Dustysage :lol: then I got to ride Space finally! due to the wonderfulness that is Mtngirl, whom my kids absolutely adore!!
My youngest pooped out and we left but my oldest got to stick around and see the Electrical Light Parade, which he took pictures of with his cell phone and sent to my youngest back at the hotel :love:
My youngest and I visited with Grumpy4 at the hotel briefly while he ate a late supper and then we watched fireworks in the parking lot of the hotel.
Wrap up
*Sheraton Anaheim was a WONDERFUL stay yet again, we are liking this hotel more and more with each stay. Their shuttle is theirs and theirs only and prompt and quick. The rooms are large and comfy and the deli downstairs is great for a quick breakfast!
*Disappointed that there was no "official" group singing of Happy Birthday to Disneyland on Monday, but moved by the ceremony
*Disappointed in the menu changes at Blue Bayou, but impressed with the dessert! Next trip Cafe Orleans
*So much fun sinking the boat on POTC
*Dustysage has fans of all ages