I took a quick trip to DLR Thursday after class, and quick it was. We had an early-out so three friends and I headed down to Anaheim to get my friend her annual pass and to get in a couple rides (we only got in three rides total.)
We arrived at the parks at 4:45 and Disneyland closed at 7 and DCA closed at 6. I felt bad for all the people visiting, all the big families scrambling at the World of Disney after the parks closed to get last-minute souvineers for family back home. Seemed like there were a LOT of out of towners who got jipped with short park hours.
Anyway, here are some pictures... Theyre all just pictures of stuff thats already been photographed and posted at the MouseInfo boards... but what the hey- I took the pictures- why let them go to waste, right?
Hope you all enjoy- see you at Disneyland May 5!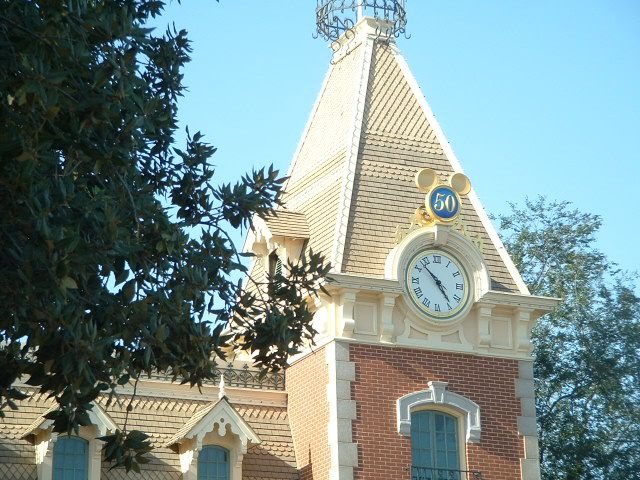 The Main Street Train station has a prominent 50th logo. These things are popping up everywhere... even on the Columbia.. theres a photo of that a little later..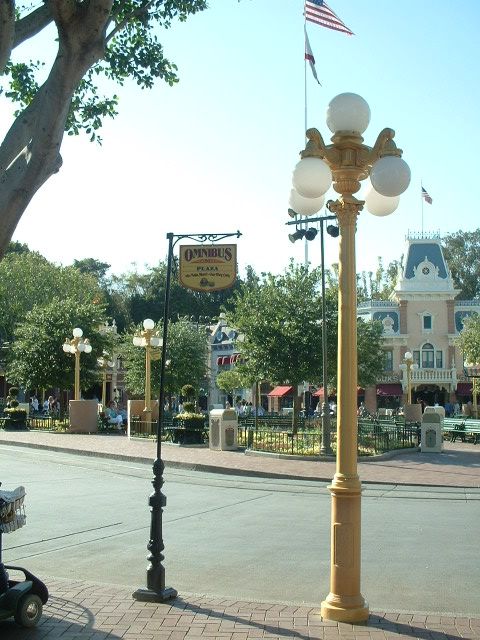 Lampposts are turning gold throughout Town Square and onto Main Street.
The Opera House/Lincoln Theater doesnt have anymore construction walls.. It still had some when I was there last in late March... A nice golden lamppost is in front of the theater.
50th logo on the HISTA theater... Who knows why HISTA got one. Does anybody even go to this anymore?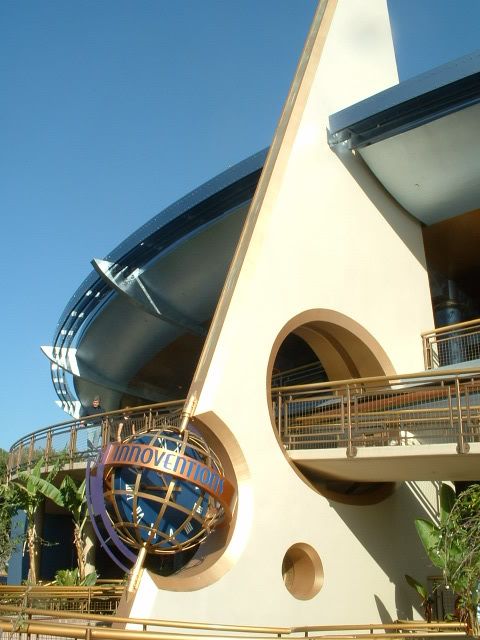 I was tempted to venture inside Innoventions for once because of the nice new paint... But I realized it was all a trick... even if it is a really good-looking trick... New paint doesnt fool me! (it also kinda reminds me of swiss cheese)
This cracked me up - two parents have their daughters pose on the newly re-done Club Buzz stage, completely ignoring the sign RIGHT INFRONT OF THEM telling people NOT to get on the stage. ...they just don't care, do they?
New Buzz Happiest Faces mural. It's pretty high up, so good luck finding your photos! I heard the Winnie the Pooh one is just as bad/high/weirdly located/positioned.. I didn't have a chance to actually see it though- no time when the park closes at 7 pm!
Paint continues its progression through Tomorrowland at the old PeopleMover station
50th logo at Pirates.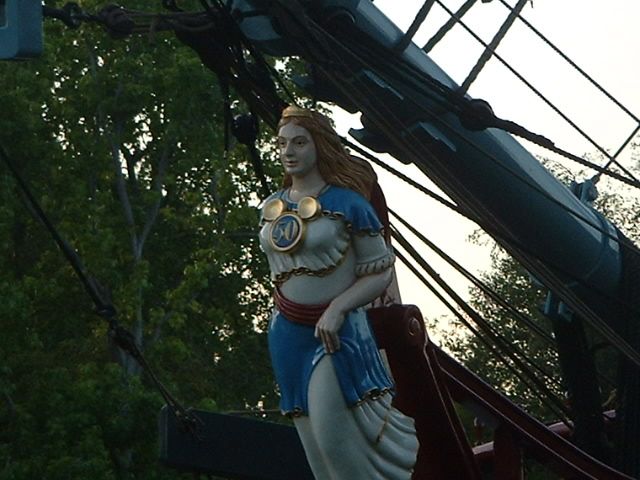 I dont know, but this 50th logo seems like its just in a weird spot...
And some Monsters Inc photos... Some Cast Members were walking by talking about it... they were specifically talking about the Monsters Inc theme of the ride and how theyre so excited for it. I just stood in the shadows until they passed so I could get some photos.. haha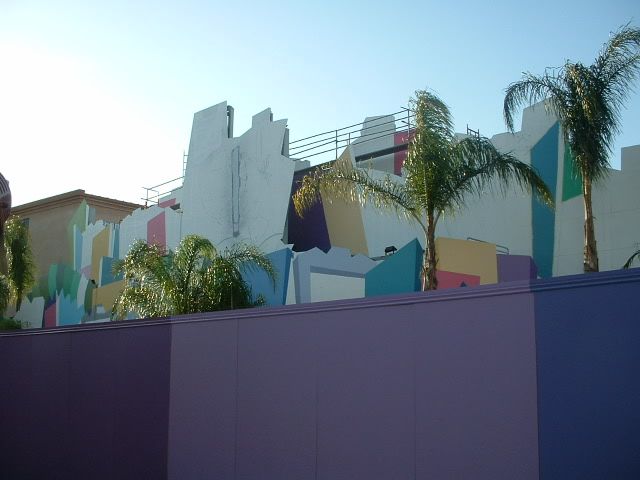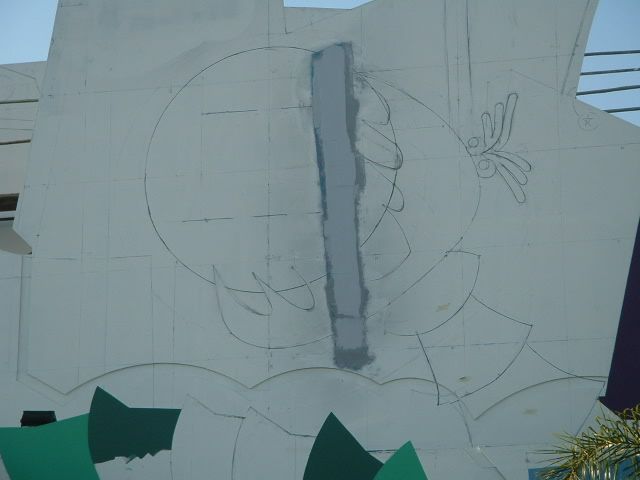 And I snapped this close-up of the Block Party cone by the parking structure... Lettering is already peeling off it. They must not be planning on keeping them around any longer than May 5, when the festivities begin..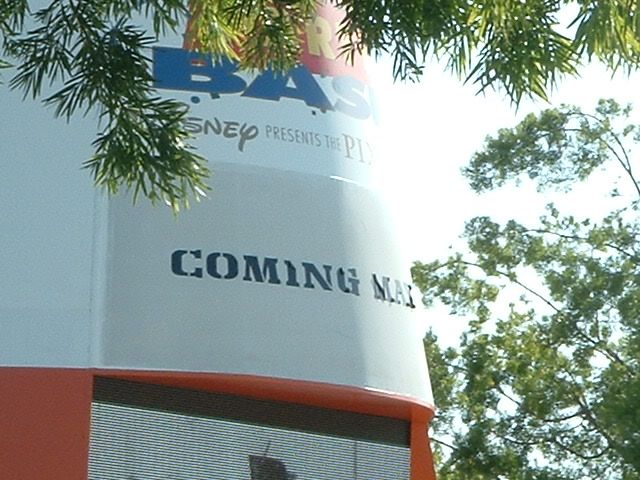 And here's one to show you the full cone and how big it is ... The commercial it shows is really short and just loops over and over again... It would have been nice if it were longer... at least for the one near the Parking Structure.. waiting for the tram can take a while sometimes... they could have just chopped it down for the one in the esplanade so people could see it quickly before walking into DCA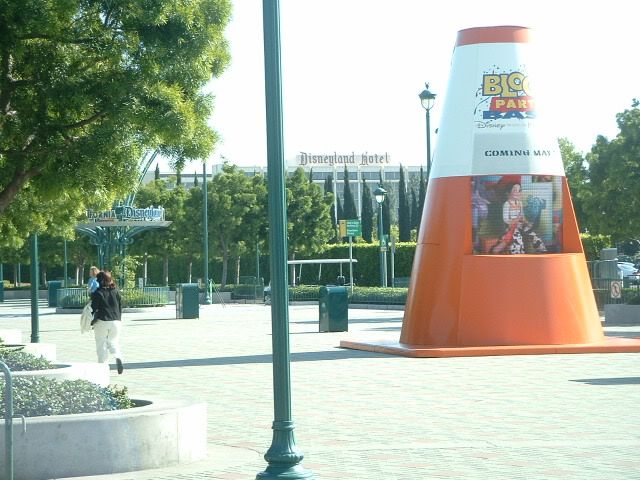 and the one in the esplanade...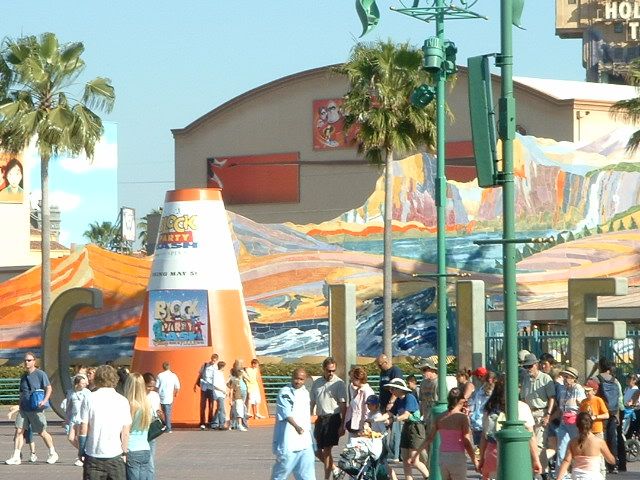 Well, that's all. Sorry I couldnt get more photos of more interesting things.. Trust me, I wanted to... but my group wanted to get a few rides in beofre the 7pm closing after travelling those two and a half hours down to Anaheim... can you blame them?
I'll have a ton of photos on May 5 (and possibly May 4, if my friend can weasel his way in via his DLR connections
)