Take a stroll down memory lane from the past year!
Now that the Disneyland 50th celebration has passed the official one year marker (July 17th, 2006) and we are winding down to the Holiday Season what were some of your celebratory memories that you will retain? Not restricted to the park!
For me:
1. My son being born in March. (yeah I know but who could resist his My First Disney Bear pics)
2. Rugrats first trip to Disneyland!
3. Seeing all the preparations going into the DLR before May 05, 2005.
(NO PICS)
4. Soft opening of Space Mountain (been waiting 2 fricken years!)
5. Disney Magic Cruise (and 10th anniversary) out of San Pedro.
6. Saying goodbye to the Disney Magic as she departs SoCal only to return sometime in the future?
7. Hollywood Bowl celebrates Disneyland's 50th Anniversary Happiest Music Performance On Earth.
8. Waiting in line at DTD 0500 on July 17th 2005 waiting to get in.
9. Just being at the park on July 17th, 2005.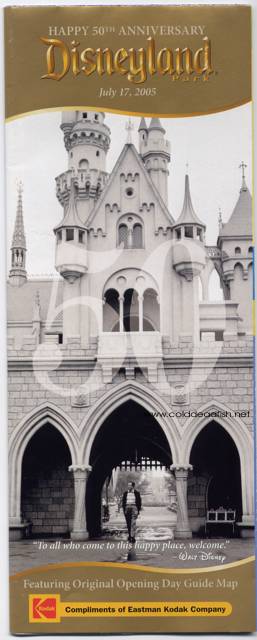 Ooooooooo Coming Soon
10. Hearing Walt Disney's original speech on July 17th. Very inspirational.
(Not my pic)
11. "Remember" fireworks.
12. Xmas Holidays 2005 (during 50th Celebration)
Singing Mele Kalikimaka with Santa for about 5 minutes was really fun!
13. Cars premiere at the El Capitan.
14. Pirates of the Caribbean - Dead Man's Chest premiere at the El Capitan.
Just had to throw this one in too!
15. Opening of the "new" Pirates of the Caribbean ride.
16. Photomosaics (submitted mid 2004)
DW in middle
DW and me when we were young and skinny
Our Club 33 gang trip celebrating 33 years of life
DW Christmas mid 90s
17. Halloween 1st Annual Mickey's Halloween Treat (2nd actually)
18. Candlelight Processional 2005
HERE IS TO ANOTHER 50 YEARS (AND THE UPCOMING HOLIDAY SEASON!)