MY Goodness what a trip! Okay before I start,

Hakuna Makarla

this TR is for you, secondly

Grumpy4

this report CONTAINS IMAGES FROM SNOW WHITE'S SCARY ADVENTURES so when you see this...

**********************

Scroll until you see the next ...

**********************

Now. Today was a very important meet as BarbaraAnn, Migo and PrincessButtercup and her family were all going to be visiting. Dusty and I made it to the Tram load area at 12:15. That's good for us!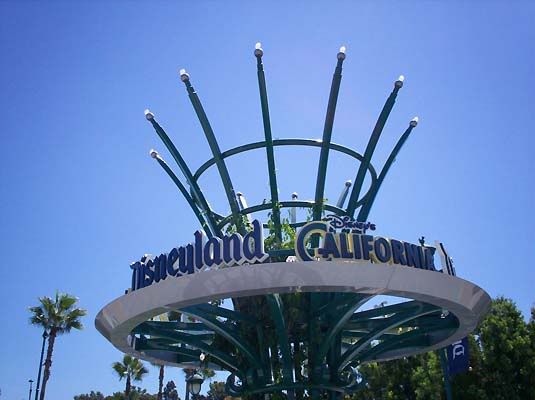 Hey we are getting better.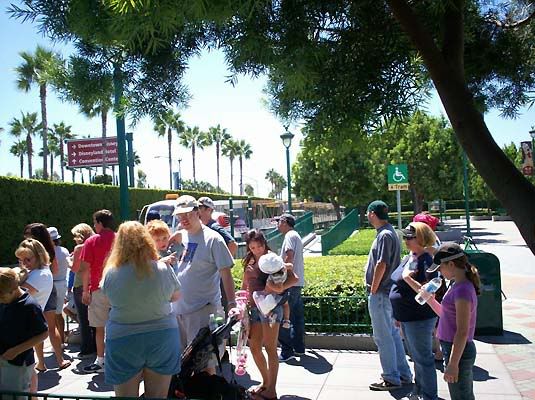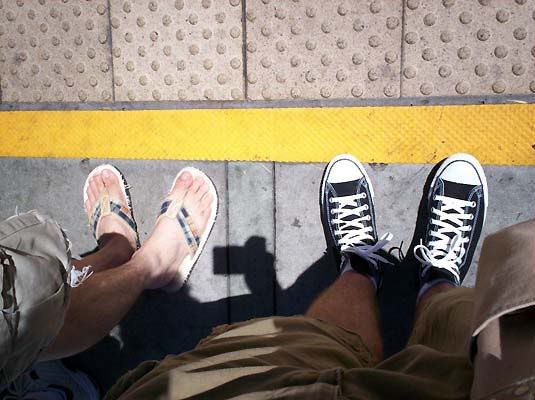 Despite the glacial pace of the trams we patiently
waited behind the yellow lines.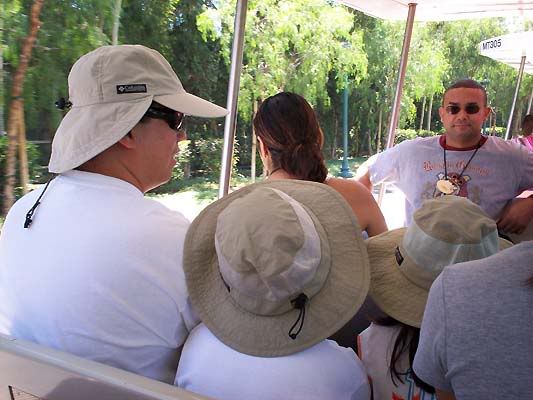 How cute! A gaggle of tourists.
We breezed through the security tents and up to the front gates.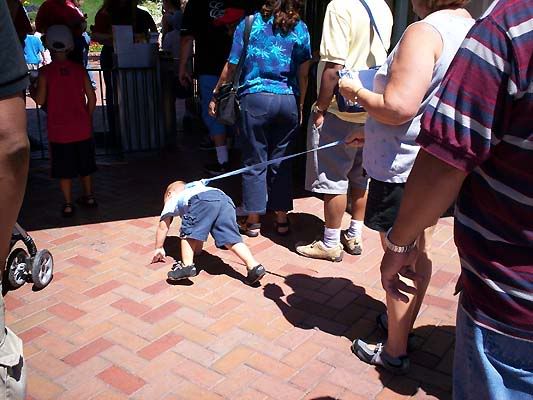 A child at the front gates literally writhed and clawed at the ground
while waiting to enter the park while his mother did
nothing, other than tug on his leash, to control him.
Racing up Main Street we sped through the bustle...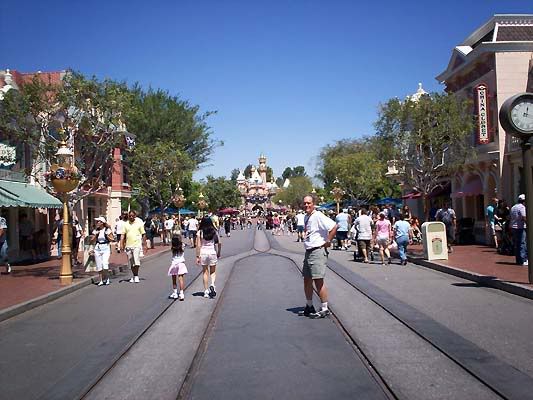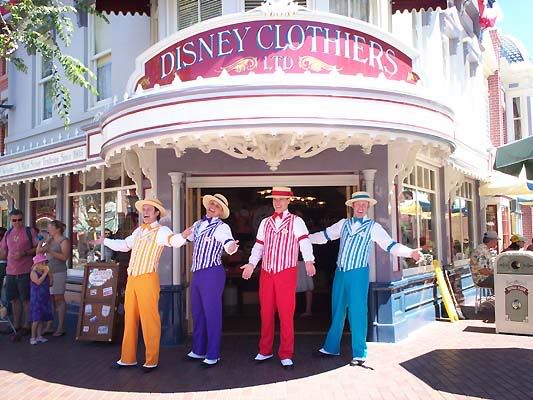 to BarbaraAnn who met us at the front of the hub.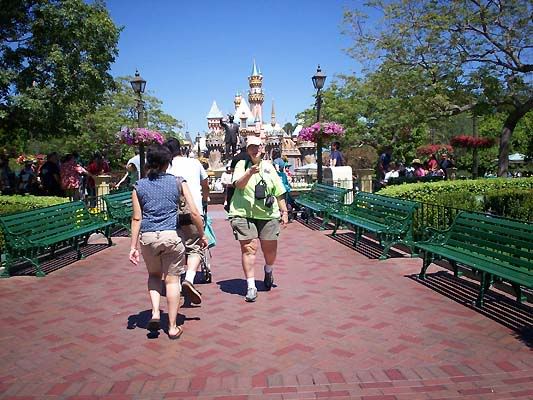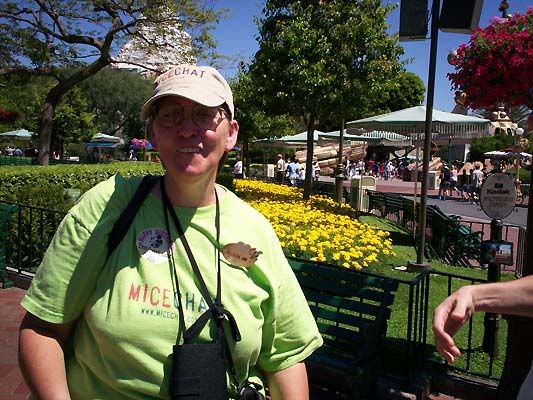 BarbaraAnn greeted us latecomers with her usual friendly self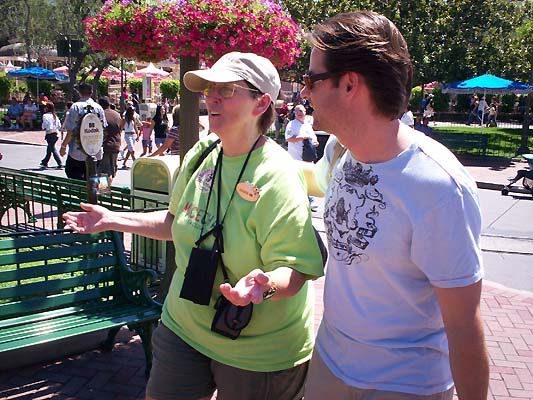 We joined the meet already in progress. Here is the meet thread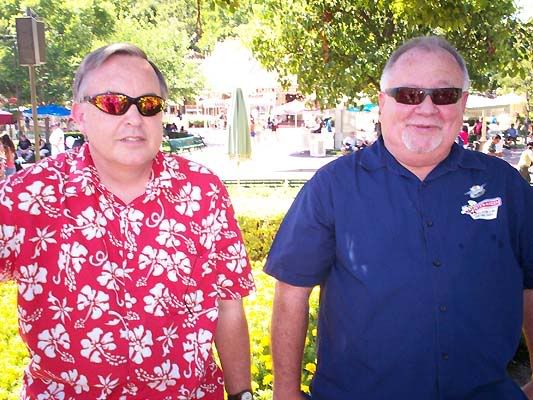 Mickey Maxx(Right) and his partner in crime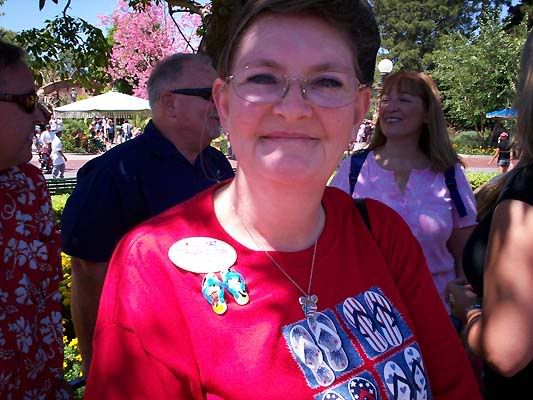 First time meeter
Magiklvr
was so sweet!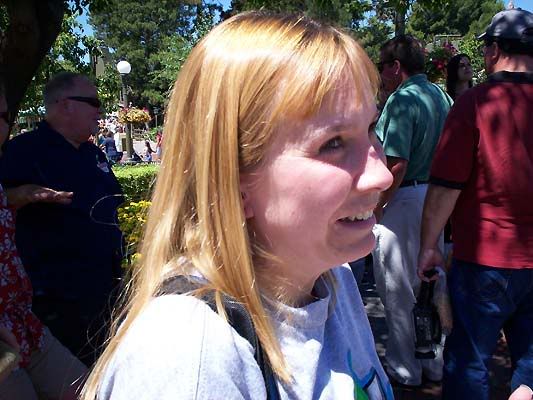 BarbaraAnn's friend was shy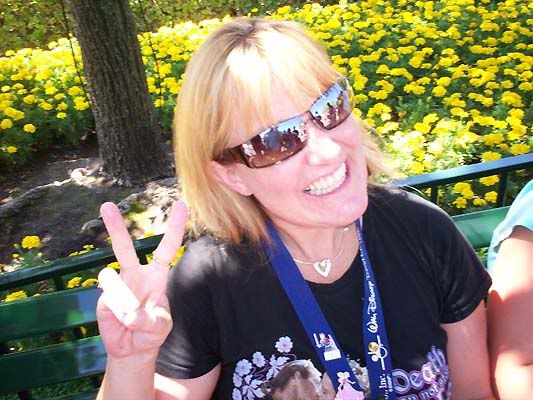 PrincessButterCup!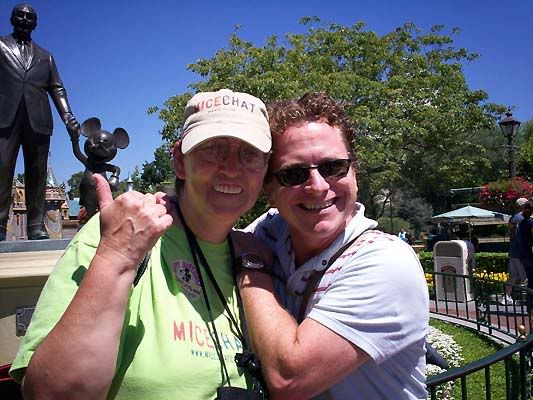 BarbaraAnn and Fishbulb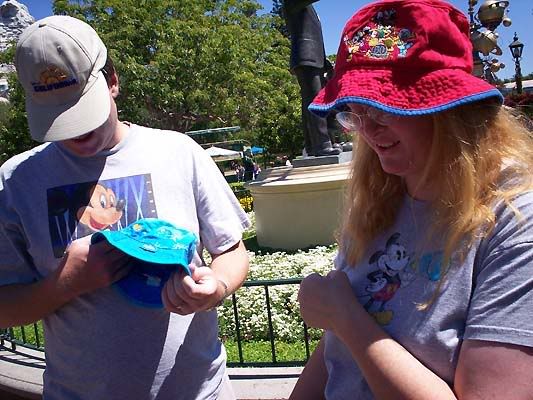 DisneyRedhead(right) and her husband and child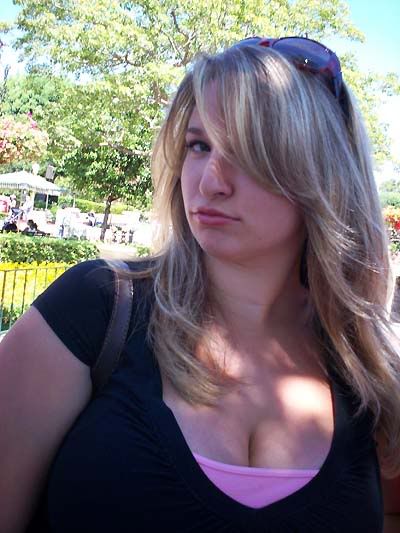 Another sexy look from MissChristine
David Lane scans the area
This poor guy was pooped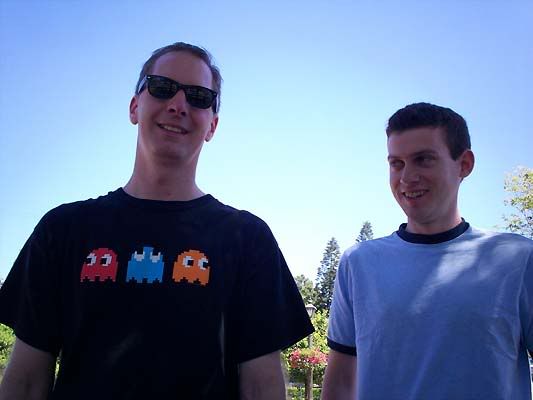 Dan and Capt.Phoebus showed up super late
After some visiting, meeting new friends and talking to familiar ones we all decided to go eat at Rancho Zocalo.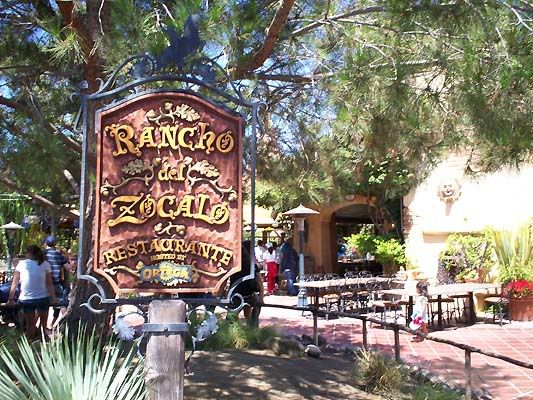 Zocalo was packed out.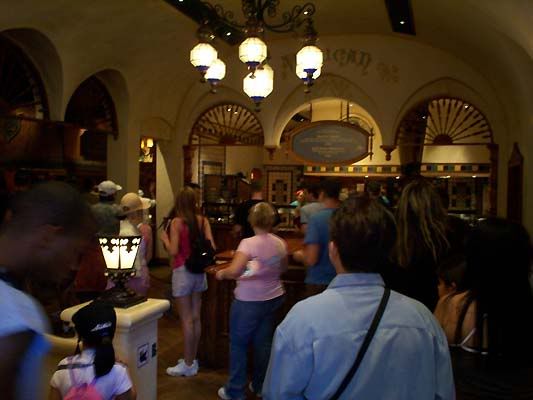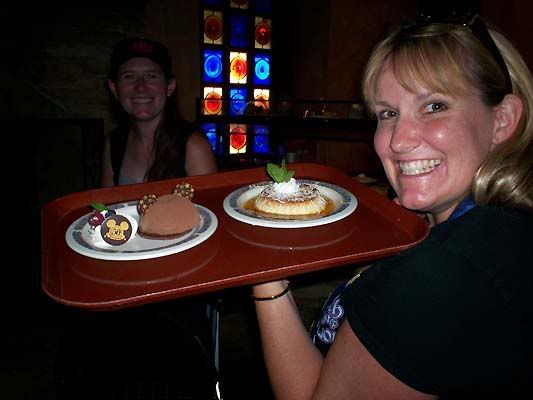 Dan ordered the Chicken Tacos and they were filled only with a sorry amount of chicken.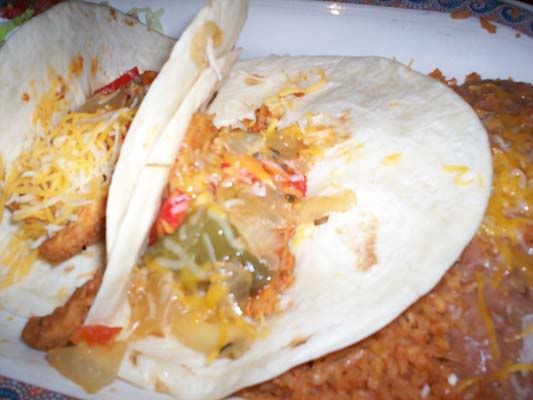 Dan's chicken Tacos did not have much to them.
When alerted, a manager gladly offered more food to offset the lack of it in Dans tacos. However, despite the best of intentions, the result wasn't that appetizing.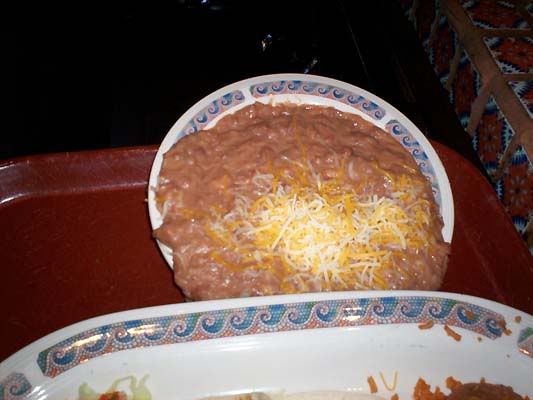 Dan's consolation beans had a hard time staying put
We all ate and had a wonderful lunch. I found out that PrincessButtercup had not yet ridden the new Pirates. "Well we gotta ride it together for your first time!" I insisted. "Okay!" She agreed and we high fived eachother.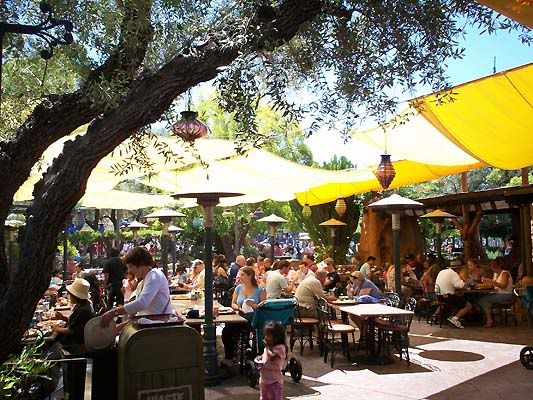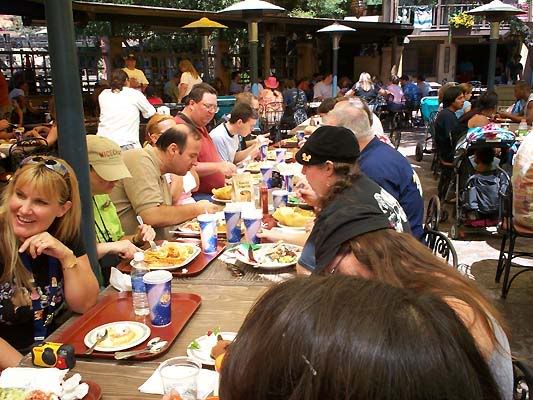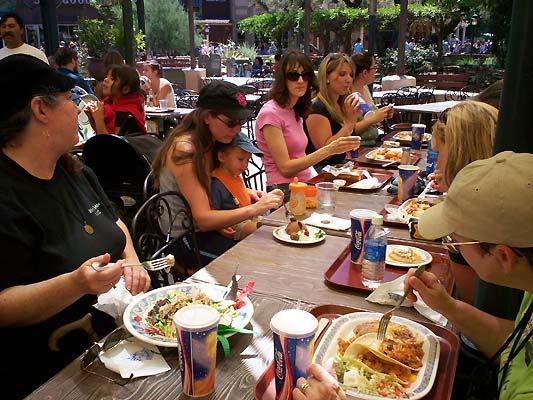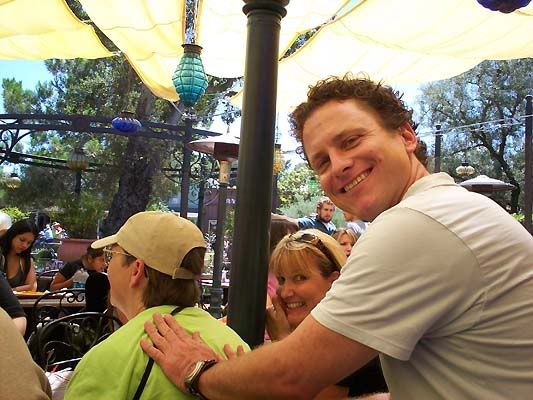 BarbaraAnn gets a backrub (who doesn't) from Fishbulb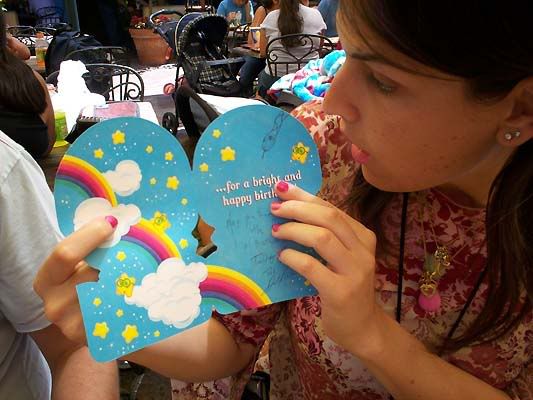 Dusty and I gave Sadako her belated B-Day card.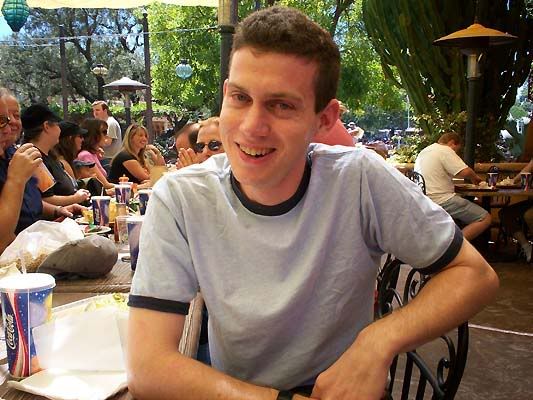 Capt.Phoebus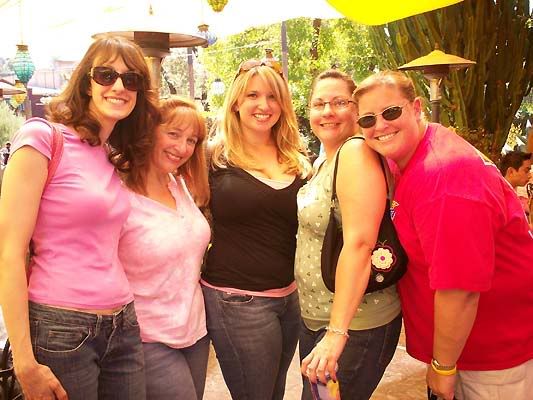 The D.M.C.A. Broads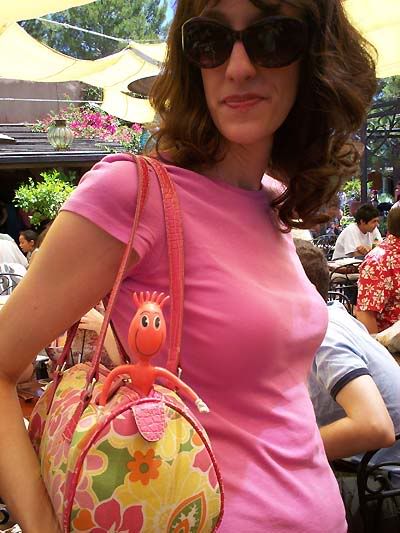 LOOK! IT'S A BOBBY LUCEY!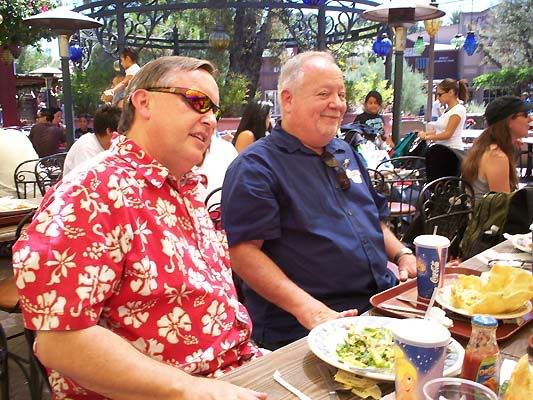 Mickey Maxx(right) and his partner chat with Al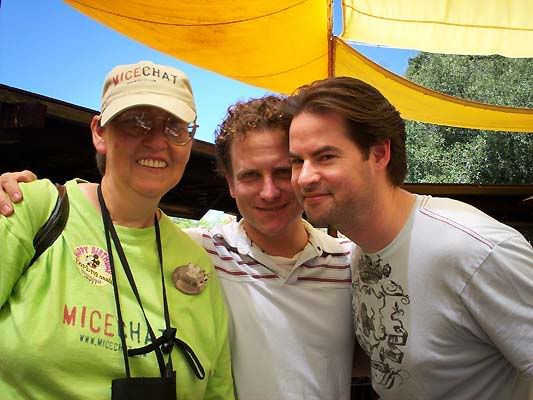 BarbaraAnn poses with Fishbulb and Dustysage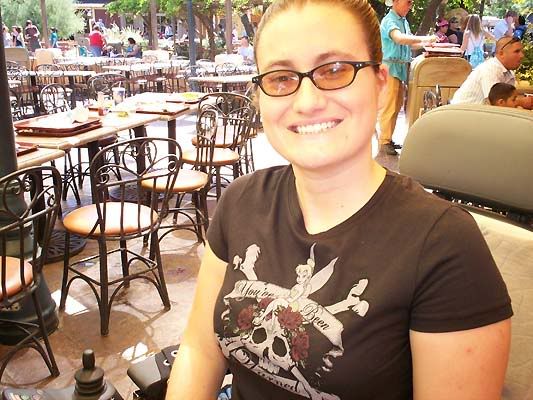 Crasylegs popped in to say HI!
After a protracted goodbye we (Sadako, Dusty, Me, PBC and Co., 12 in all) headed to Pirates. We joined the gruelingly hot line with determination and good humor.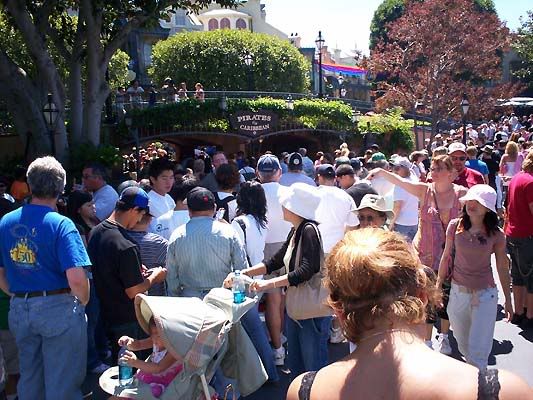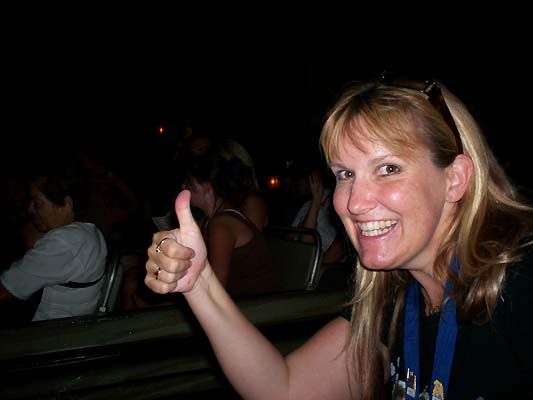 PBC was very excited in the queue.
We requested the front and were given it gladly.
[i]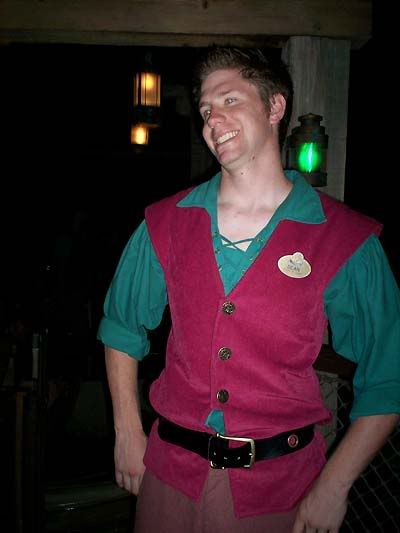 Front row for PBC!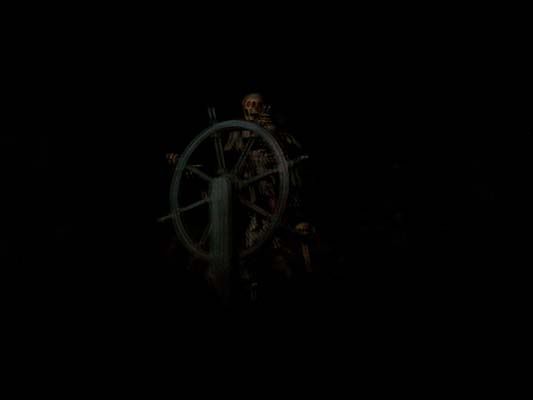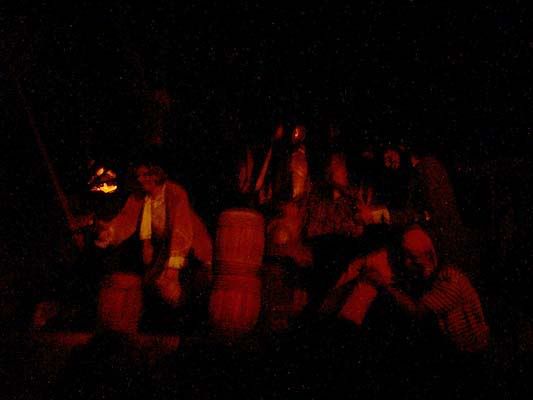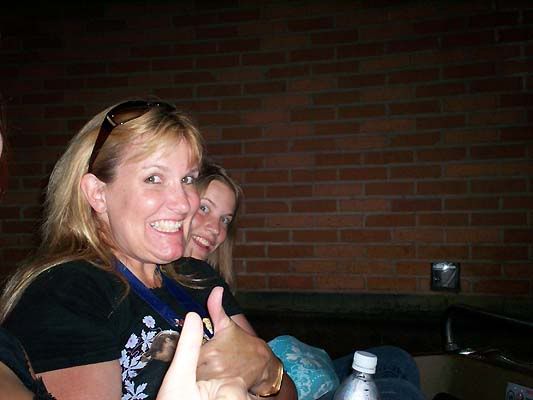 She said she loved it.
Well after the ride we wandered into a shop and soon after had to leave.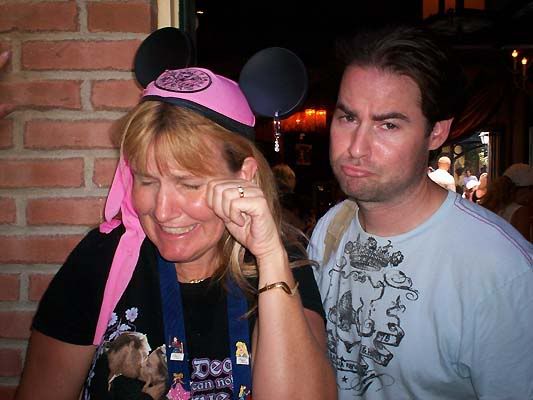 PBC cries because Dustysage won't buy her the
coveted Pink Mickey Pirate Hat.
We said our goodbyes to all and headed back to Frontierland.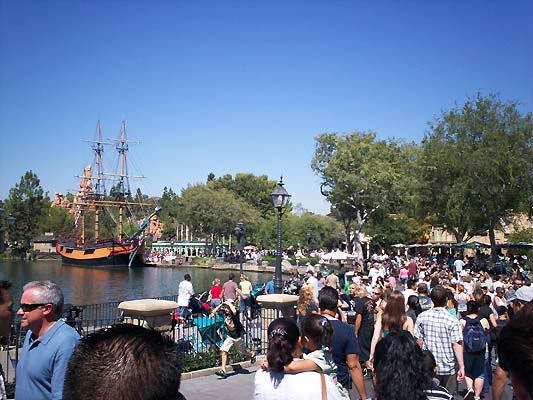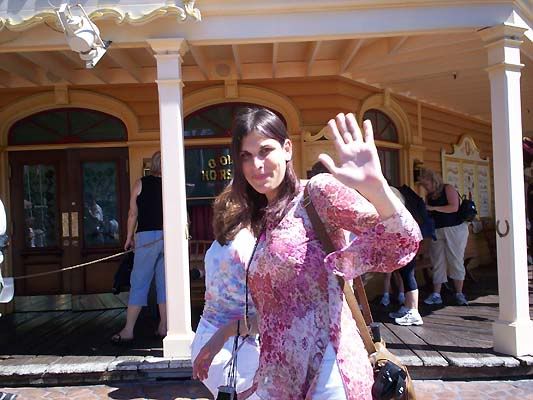 Sadako waves goodbye as we head for the Columbia.
After departing from Sadako, Dustysage and I climbed aboard the Columbia for a trip around the Rivers of America.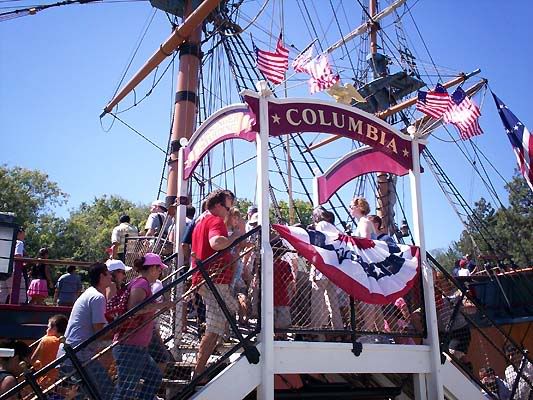 While onboard a Caribbean Pirate took over and gamely entertained the crowd.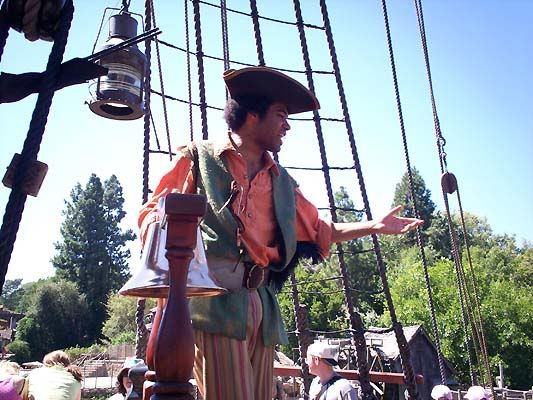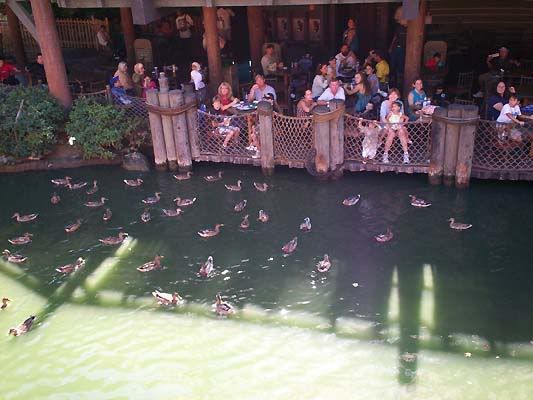 Feeding frenzy at the Hungry Bear.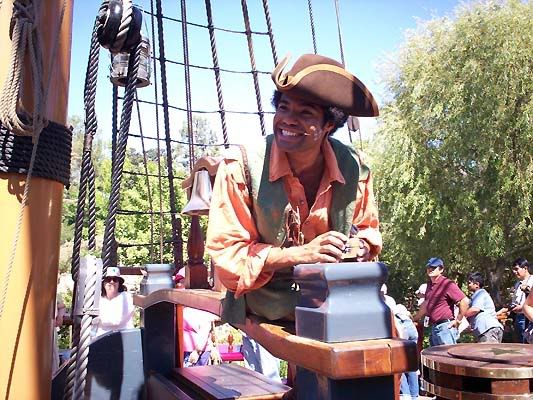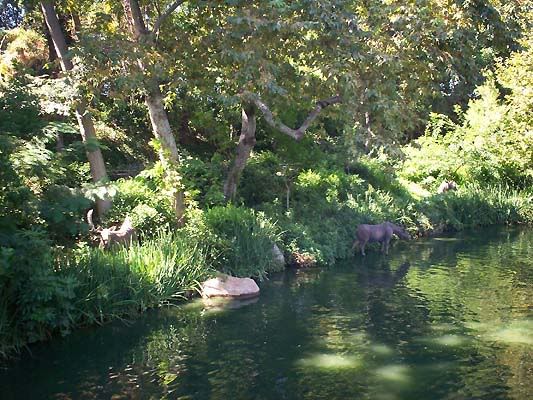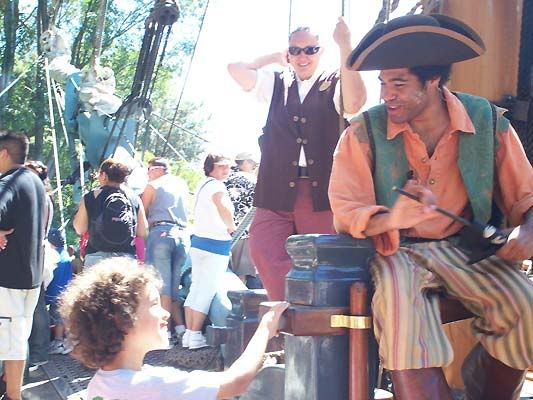 Despite the high energy the cast member had I don't feel the appearance of a "Pirate" Character really does much. This guy was entertaining enough, but it seemed that maybe he could use a costar to play off of.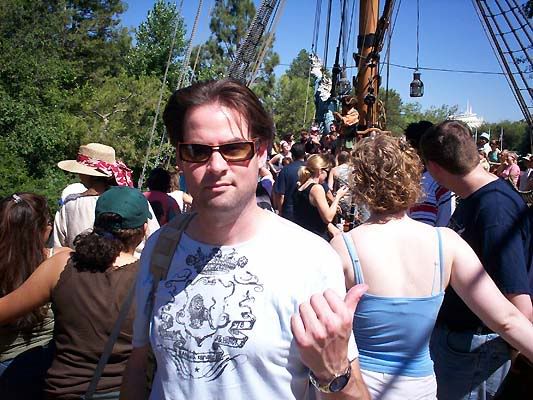 Dusty was getting thirsty and wondered if MissChristine would
be waiting at the exit of our ride with a powerade.
Leaving the Columbia we ventured into Adventureland for a Red Powerade for Dusty then headed into the cool shelter of the Golden Horseshoe where another meet was going on.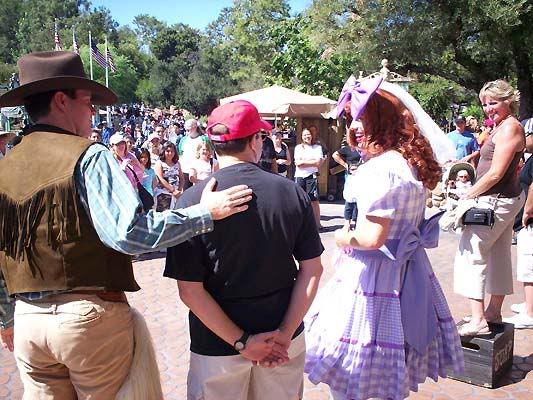 The entertainment out in front of the Horseshoe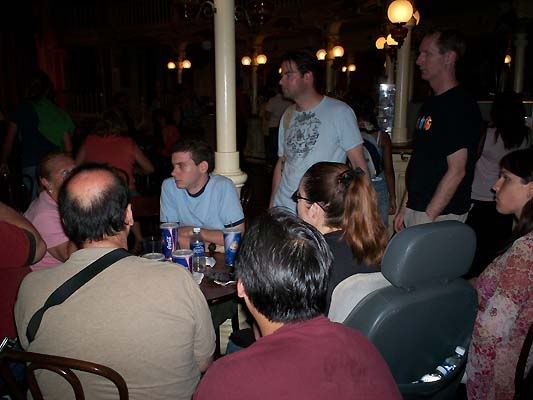 The GH meet (no not General Hospital)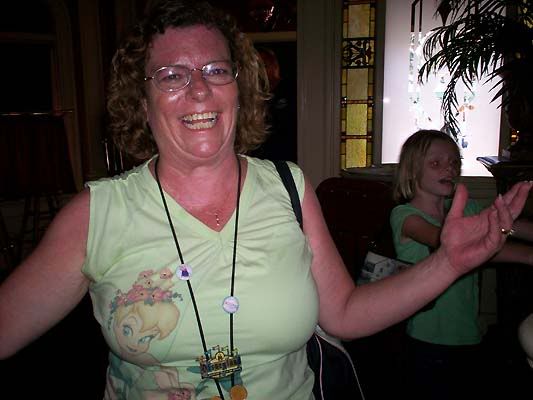 Wolfy999 showed up with Wolfette and MrLightyear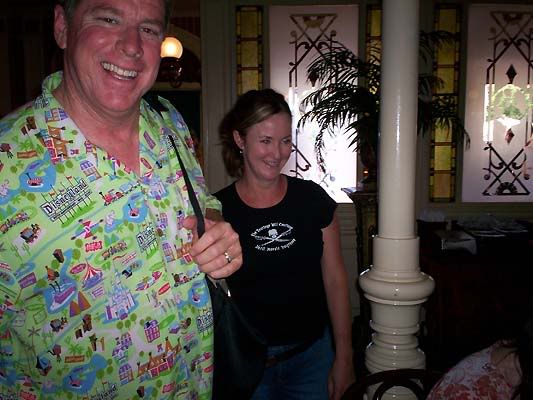 Circarama and the lovely Tigerlilly appeared again.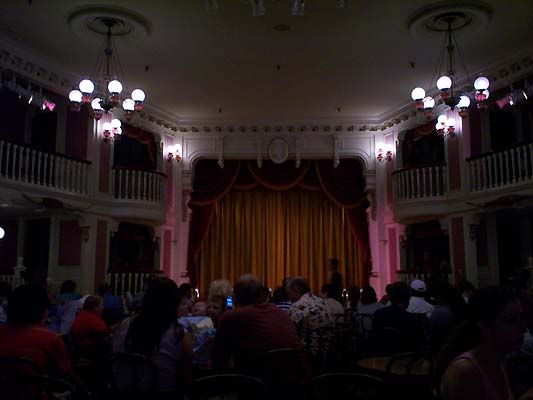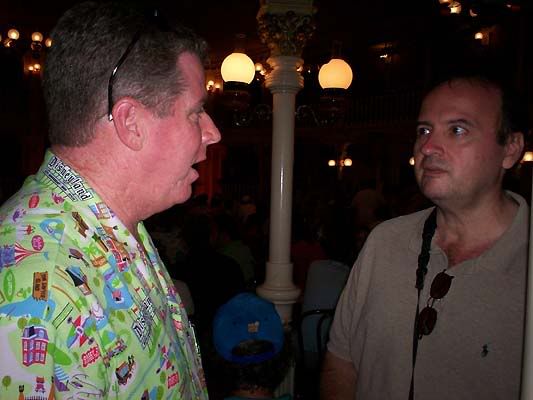 Circ finally gets to meet Al
After the impromptu Horseshoe meet we decided to take a spin on some Fantasyland rides.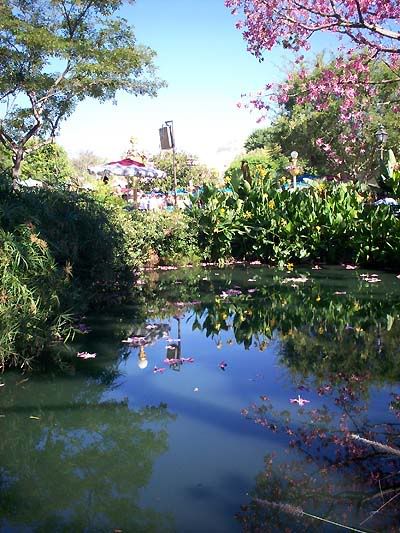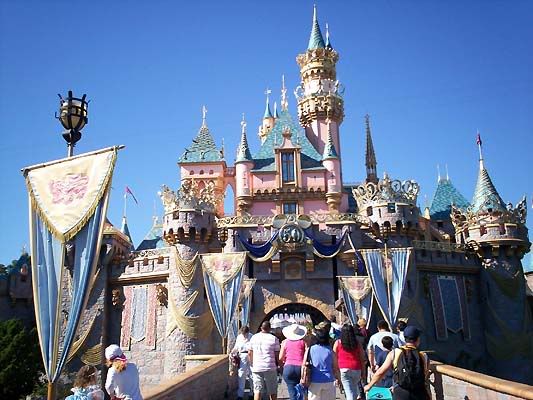 Faded Glory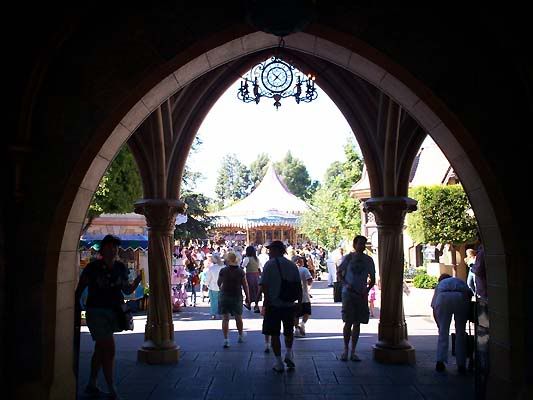 ************************************************** *******
We first went on Snow White's Scary adventures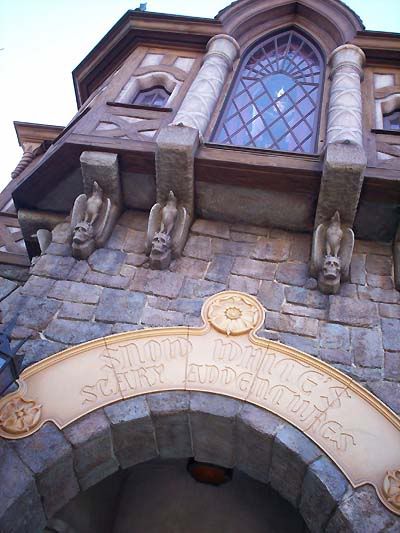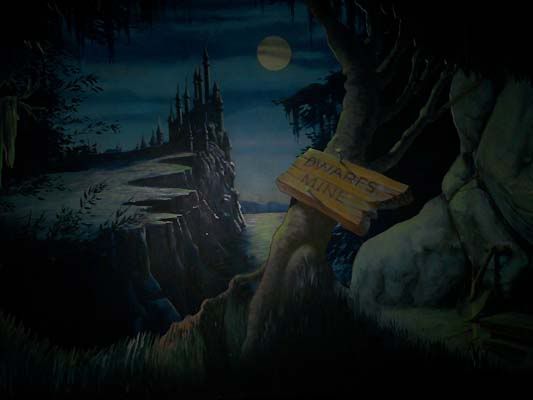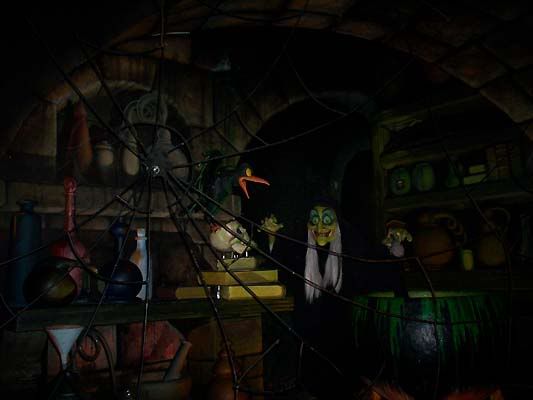 ************************************************** *******
Then decided to pop into Pinnochio.
Well it was time to head out. BUT WAIT! Crazylegs wanted to say hey to us before we left so we met her near the Carnation Plaza.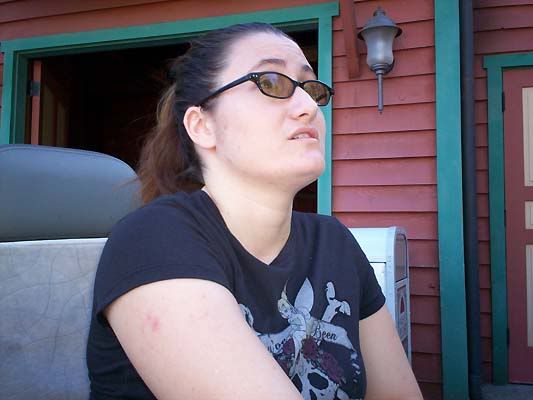 I offered her some chocolate. She ate a BIG HUNK of it.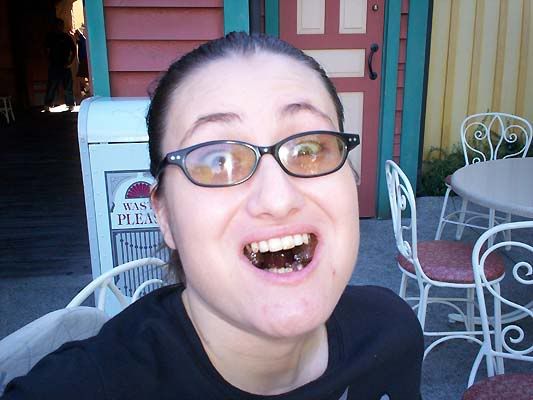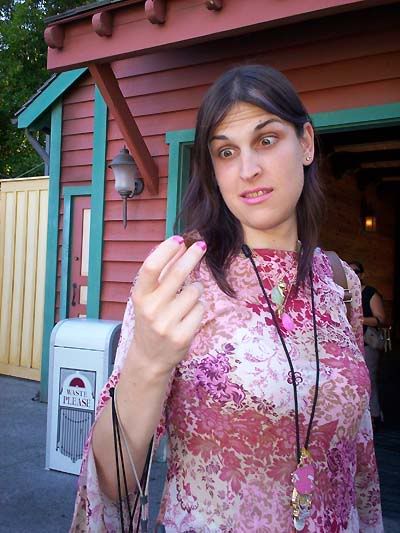 I offered Sadako some of my chocolate when she showed up again
Well again we really needed to take off so Down Main Street again we went.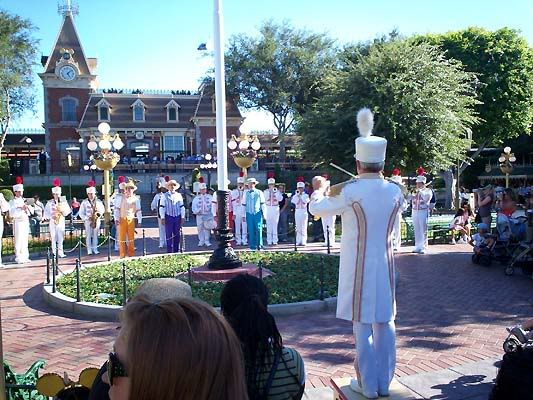 Sadako Joined us for the ride back to the structure and we parted ways.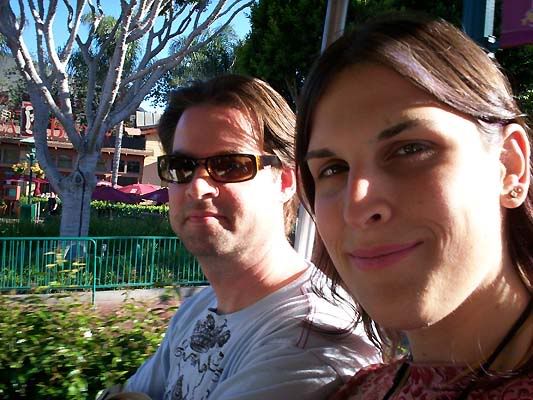 This was a nice trip. It was a gorgeous day and there were SO MANY new people there. We got to meet BarbaraAnn, PirateMickey, we missed MIgo
, but we also met up with PrincessButterCup who is just one of the coolest people ever. I mean hey, she loved Snakes on a Plane!
Thanks so much to everyone who showed up and made this trip one for the books!
THE END!